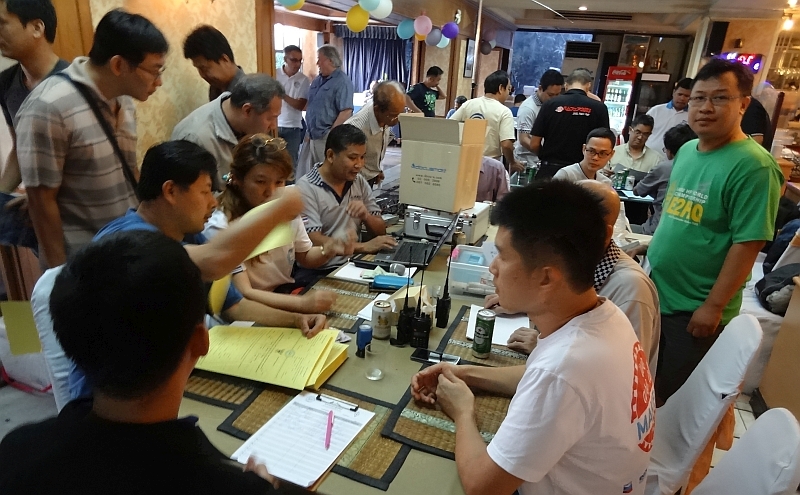 The table distributing the yellow forms to sit the next Intermediate class exam in May was crowded during the February meeting.
Over 70 members and guests attend February RAST meeting
Over 70 members and visitors attended the February RAST meeting at Sena Place Hotel on Sunday February 4, 2018 where application forms to sit the next Intermediate Class amateur radio examination which will take place in May were available for Thai novice licence holders who would like to take the exam.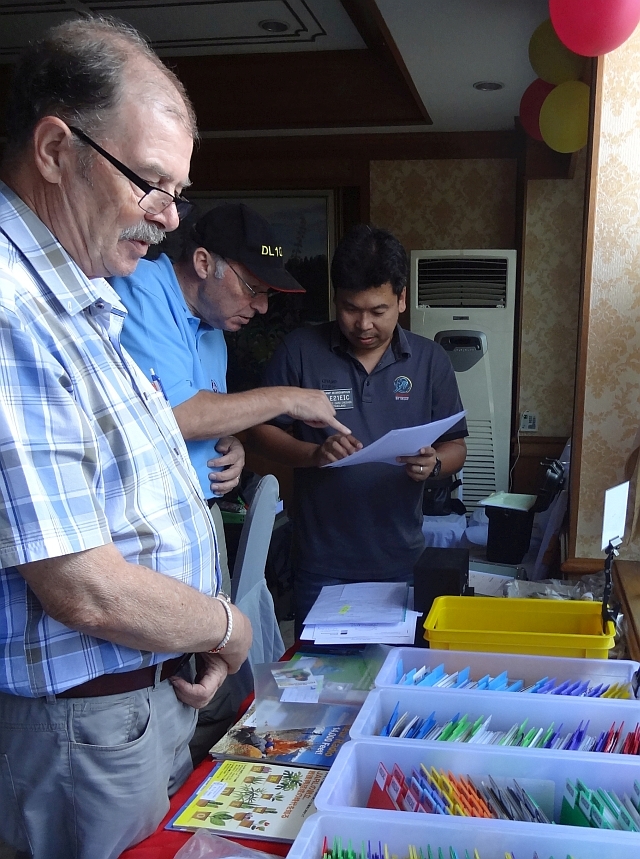 There were several new faces at the meeting, along with some returnees, plus at least one expatriate, Ernst, DL1GES, who is now resident here and who would like to apply for a Thai amateur radio licence.
After the buffet lunch, members were advised that the RAST Forum, a website for discussions about amateur radio issues in Thailand, is now down since, without notification, PayPal had suspended auto-payments to the website host for the past three years. RAST is now looking into this and may authorise a new web host for the forum and we will notify readers accordingly as soon
as we learn of the outcome.
Next weekend will be the CQ WPX RTTY Contest and the RAST club station HS0AC will be participating for the 48 hours of the contest (February 10-11) at its new location at
Rajapruk University
in Nonthaburi -- members interested in participating or in visiting the station during the contest are welcome.
RAST Secretary Champ, E21EIC then took the microphone to outline the Eritrea DXpedition that took place from January 14 to January 22 when a total of almost 34,000 QSOs were made by himself, Zorro, JH1AHT and others on the team.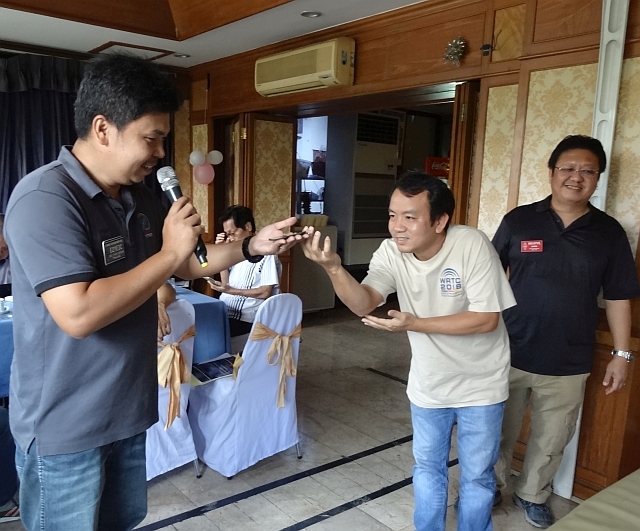 He then awarded souvenirs to two Thai stations with the most QSOs on different bands with the station, including to Nikorn, HS5NMF, a RAST committee member
(pictured at right)
.
RAST President Jack, HS1FVL also made a few other announcements and ended the formal session of the meeting by inviting everyone to attend the Annual General Meeting of RAST on March 4, 2018 when a new President and committee will be elected for a two year term.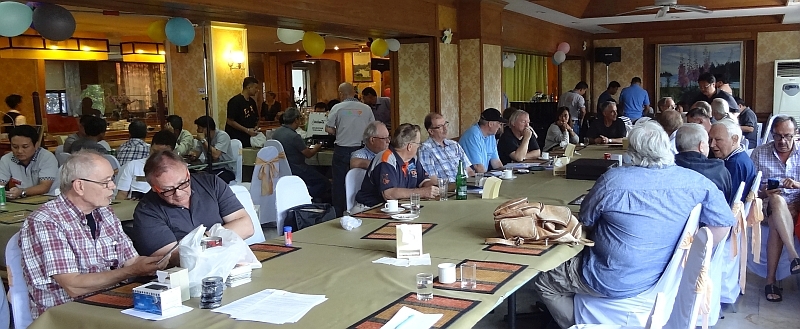 ---
The RAST New Year Party on January 14 was a big success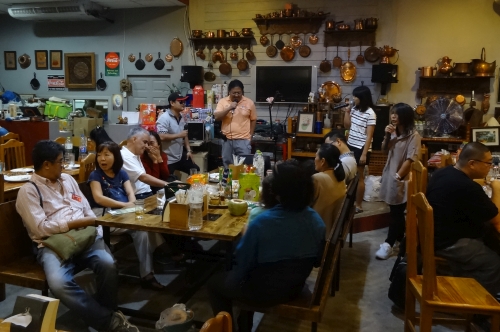 RAST President Jakkree, HS1FVL (at left) takes the microphone during the New Year party on Sunday, January 14, 2018.


---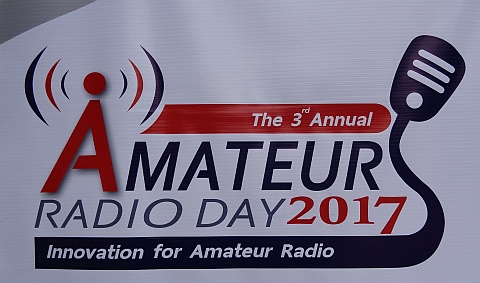 Amateur Radio Day 2017 a success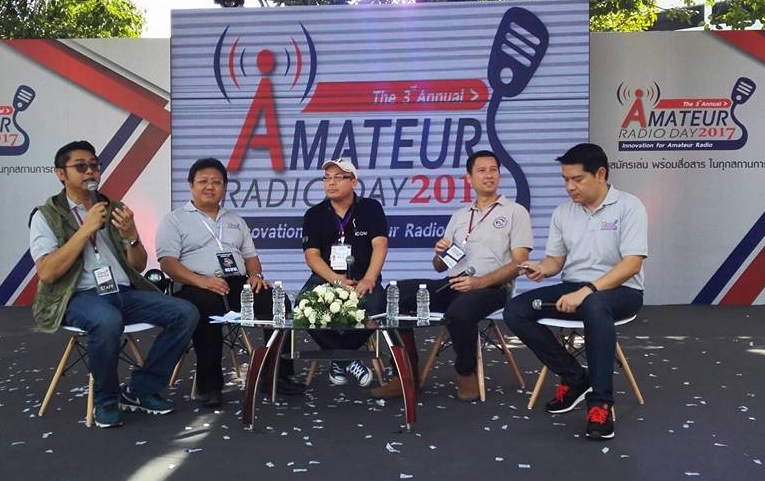 "Innovation for Amateur Radio" was the theme for the day-long event at the NBTC Secretariat
Thailand's regulator, the National Broadcasting and Telecommunications Commission (NBTC), staged "Amateur Radio Day 2017" on Saturday, December 2 in the grounds of its secretariat where amateur radio clubs from all over Thailand converged to particpate with booths and exhibits.
With the theme being "Innovation for Amateur Radio," the annual event featured a series of seminars where the speakers included President of the Radio Amateur Society of Thailand under Royal Patronage (RAST) Jakkree Hantongkom, HS1FVL, Nimit Hongyim, HS1IFU, and former RAST President Pornchai Semjang, HS2JFW
(pictured together on stage above)
.
Along with Suebsak, E20JFX, Deputy Secretary of the Telecommunications Assocation of Thailand (TCT) under Royal Patronage, they spoke about technology trends for amateur radio in Thailand.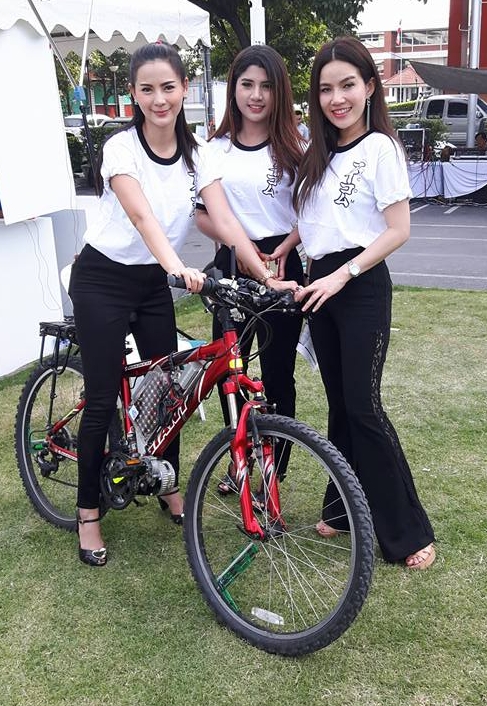 The event's theme of innovation was also reflected in a competition that displayed equipment that had been created by Thai hams to help out in emergencies, to save on energy resources and to help cultivate crops.
Various products in four different categories were on display, including a battery-powered bicycle, a bicycle that can charge a battery, portable equipment for use in emergencies, including a mobile repeater and equipment for smart farming.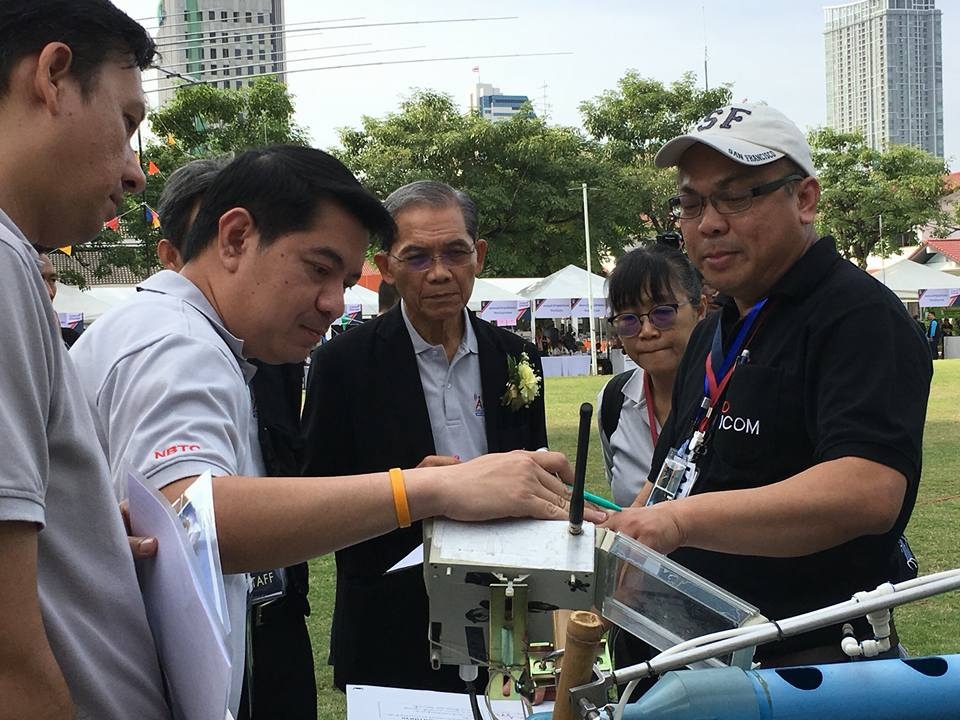 A team of judges evaluated the equipment in each entry and listened to the contestants' explanations as to how it operated and was beneficial before awarding prizes in the evening.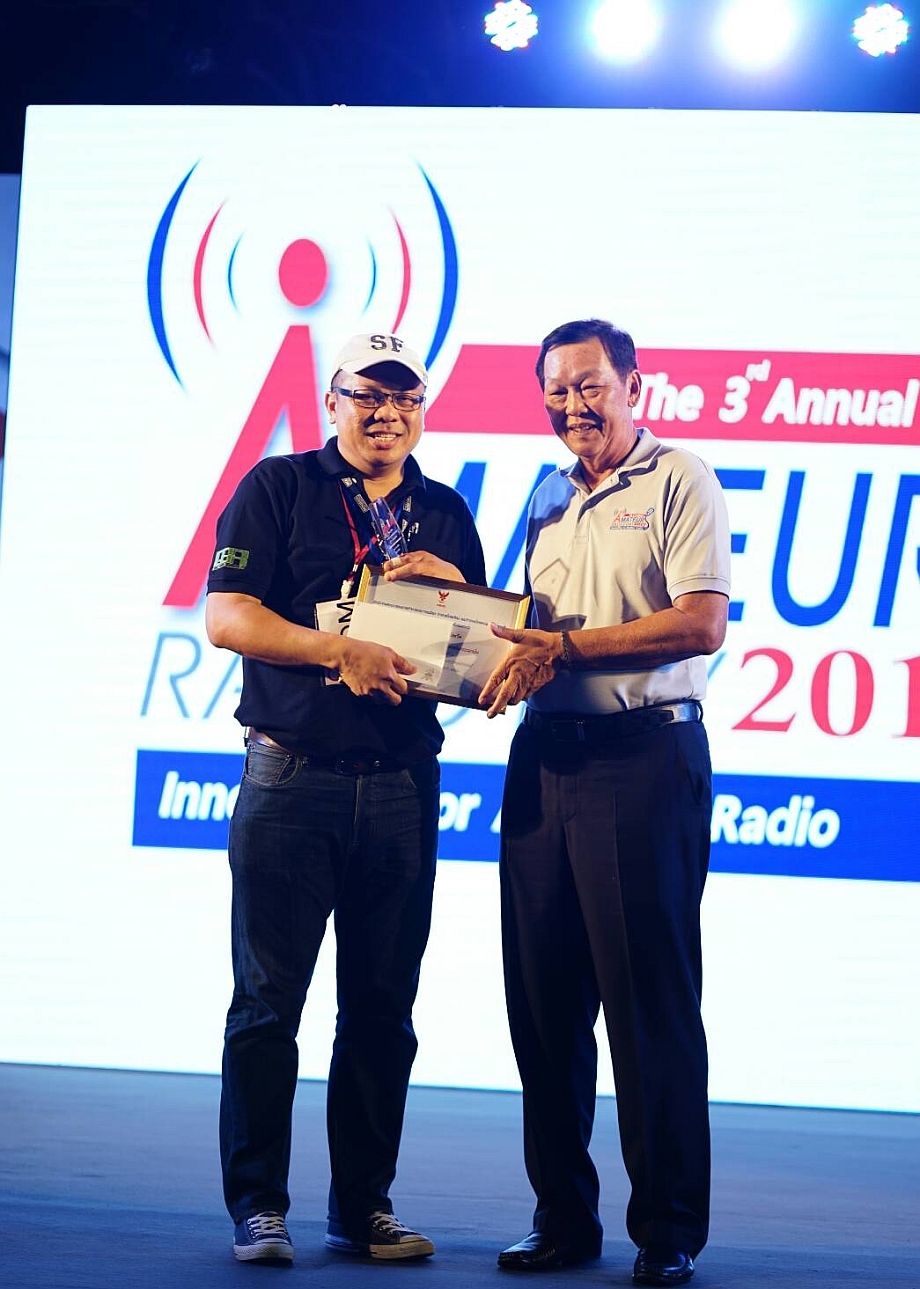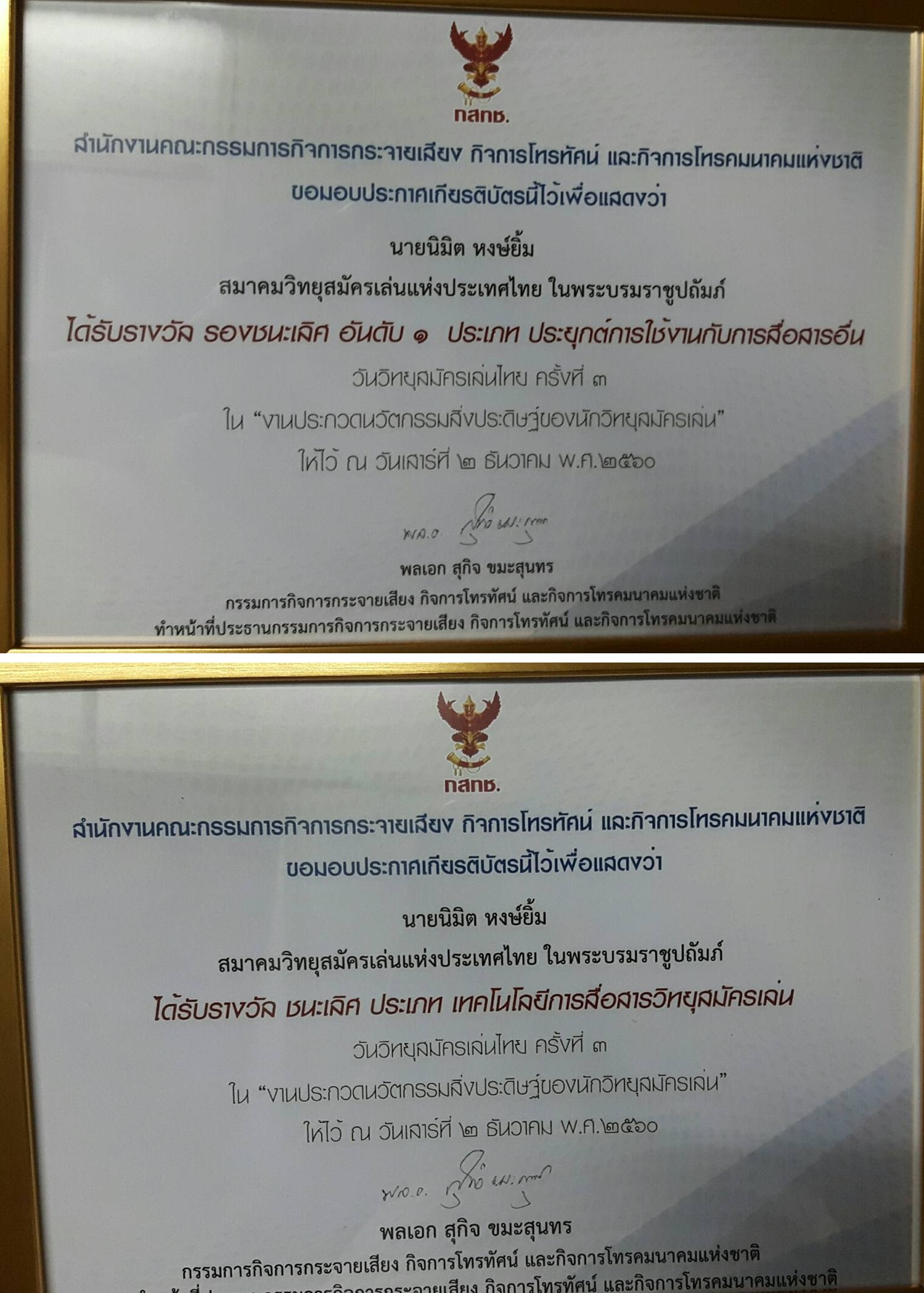 Nimit, HS1IFU won two of the awards (shown at right) and NBTC Commissioner Gen Sukit Khamasunthorn presents one of them during a ceremony on Saturday evening.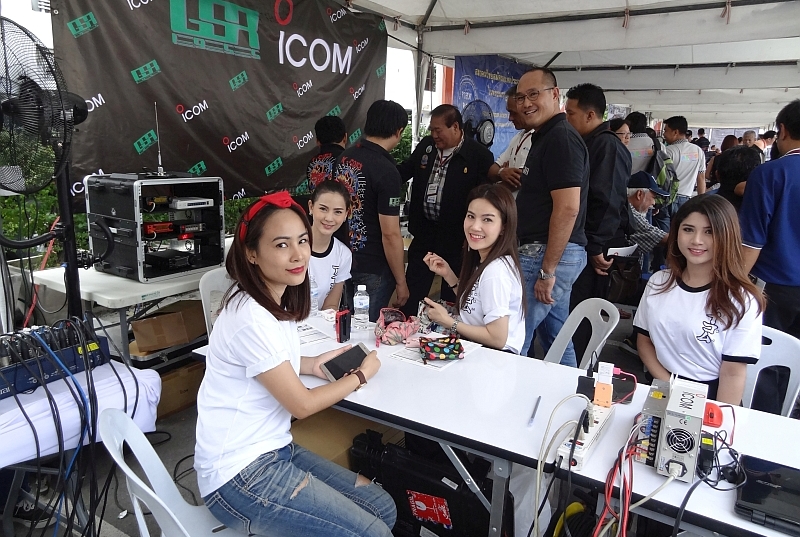 The Icom booth (above) was popular while at the RAST booth, which was next to it, the society was demonstrating operating on HF using the special callsign HS17NBTC, along with a VHF station and also a satellite station that made contacts over the LAPAN-A2 (IO-86) Indonesian satellite.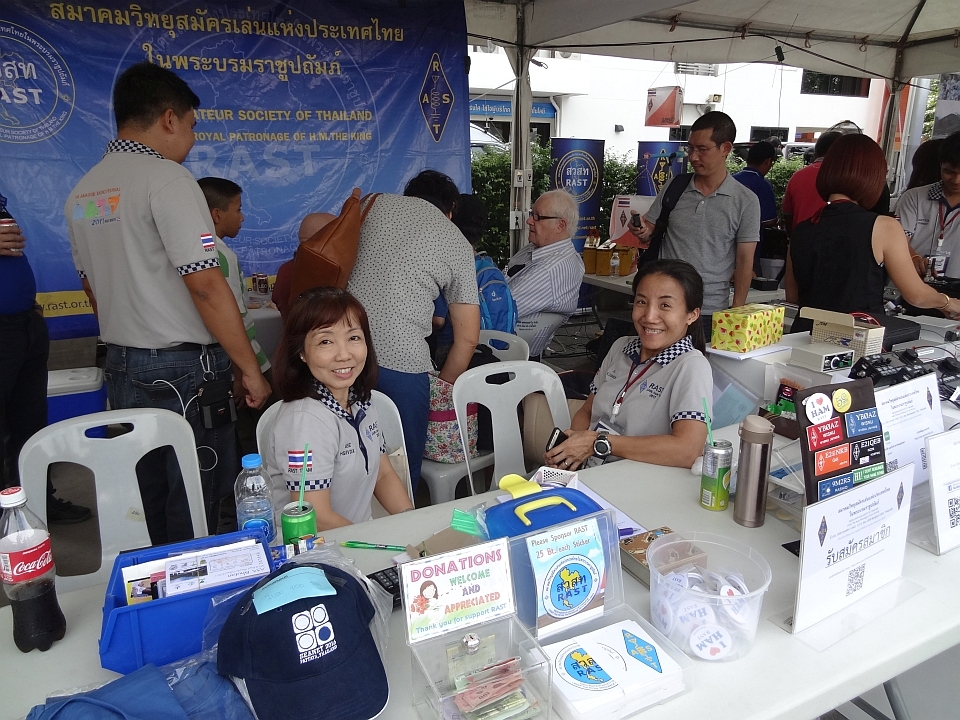 There was also a presentation about the role of amateur radio in case of an emergency or a national disaster when the speakers were Voluntary Radio Association (VRA) Deputy President Manas Songsaeng, HS1DE, Gen Sawasdi Sawateuk, E24SCW of the National Disaster Warning Centre and Thida Denpreuktham, HS1ASC, Editor of 100 Watts Magazine.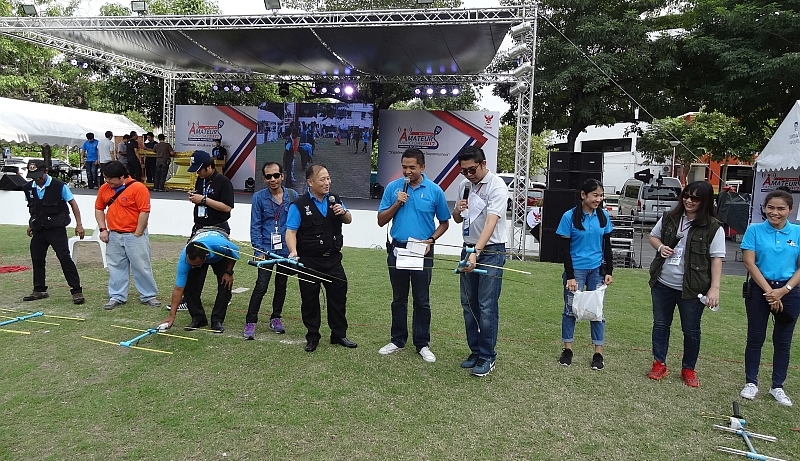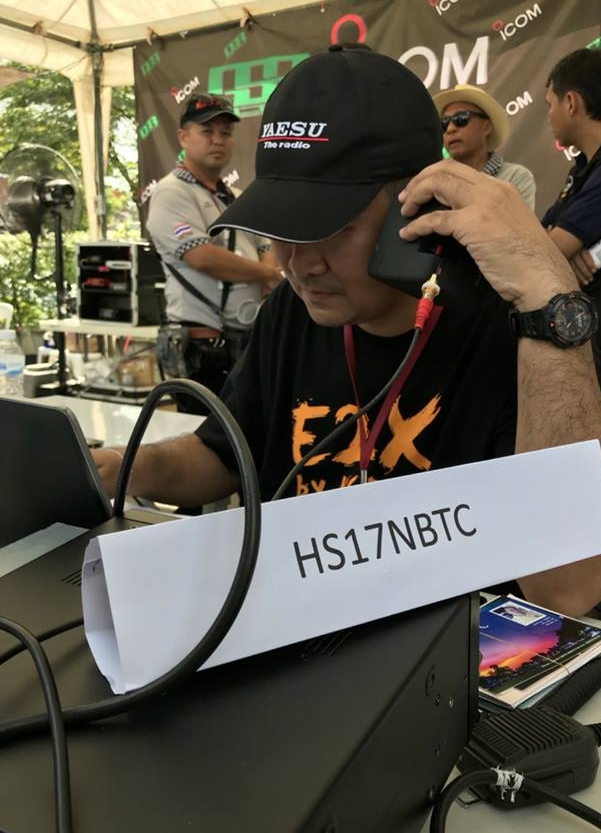 In the afternoon there was a fox-hunting (ARDF) competition in the extensive grounds of the NBTC Secretariat which is in the northern suburbs of Bangkok off Phaholyothin Road.
Amateur Radio Day has been staged by the NBTC since 2014, although last year the event was cancelled to respect the passing of His Late Majesty King Bhumibol Adulyadej. This year, Amateur Radio Day began with a ceremony in respect of the late monarch, who was the patron of RAST and had held the callsign HS1A, as well as VR009, and who had been an inspiration to all Thai radio amateurs.
There was also a display of His Late Majesty's radio equipment at the exhibition and in the evening the event concluded with a memorial ceremony with candles in his honour.
Photos: Tony, HS0ZDX, Champ, E21EIC, Nimit, HS1IFU and Tim, HS6MYW
RAST to host ARDF Championships on December 17, 2017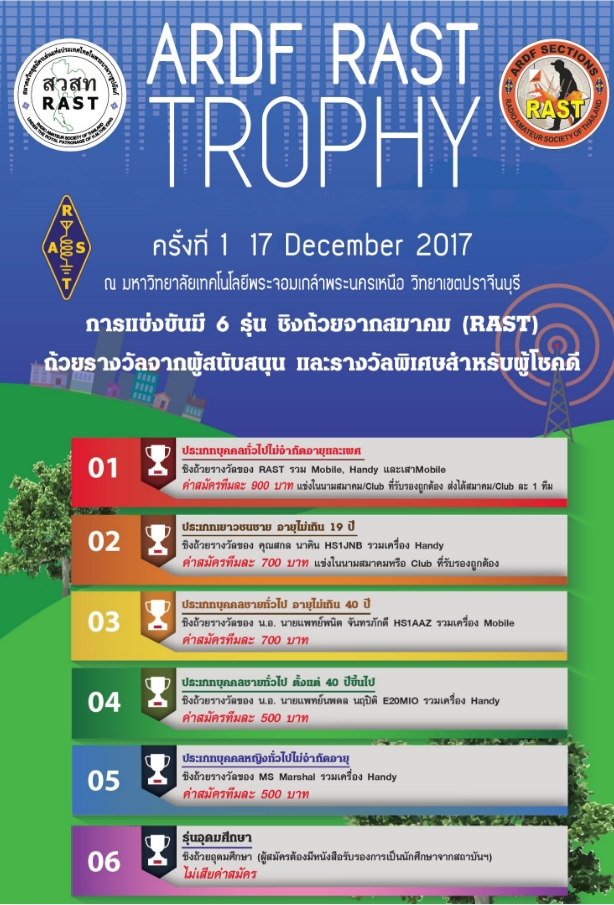 On December 17 RAST will be conducting the first ARDF Trophy Championships at the King Mongkut's University of Technology North Bangkok (KMUTNB) Prachinburi campus.
There will be six categories for winning contestants to receive a trophy from RAST in conjunction with our supporters and there will also be a special prize for a lucky contestant.
Details can be found in Thai in the poster above and contact information is on the RAST Thai-language website
here
.
KMUTNB's Prachinburi Campus is located at 129 Moo 6, Tambon Noenhom, Amphoe Mueang, Prachinburi 25230.
Many new faces at the November RAST meeting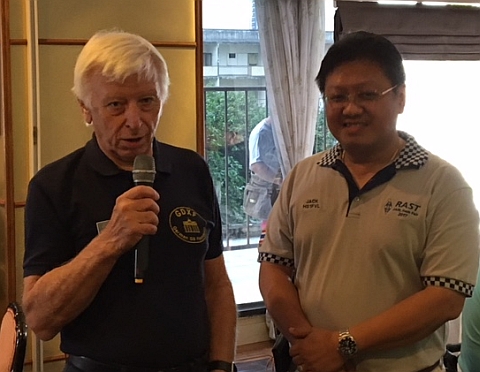 German DX Foundation (GDXF) President Franz Langner, DJ9ZB and HS0ZLP, introduces himself during the November RAST meeting while RAST President Jakree (Jack), HS1FVL (right) looks on. Franz was in Bangkok following two recent DXpeditions to Bhutan with Champ, Zorro, JH1AJT, and Jin, JF1IST from the station A5A. The main purpose of the trip to Bhutan was to support the launch of the Paralympic Committee in Bhutan with Bhutan Olympic Committee.


No RAST December meeting this year
There was a good turnout for the November RAST meeting at Sena Place Hotel with many new faces and a couple of returnees.
Attending a RAST meeting for the first time were Franz Langner, DJ9ZB and HS0ZLP, Somsak, HS7JPW, Worayot, E22QJZ, Kampanart, E25APP, Pakorn, HS1EFA, Attawit, HS0QNI, Noratigorn, E24YVI, Titigan, E24VRP and Capt Suriyan, HS5YSU of Thai Airways International.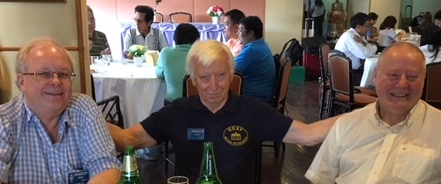 In addition, returning to a RAST meeting after a long absence were Stig, HS0ZGD and LA7JO
(pictured at right, with Sam, HS0ZDY and Franz, HS0ZLP)
along with Naomichi Numatan, HS0/JK1GVN who previously had attended a RAST meeting 24 years ago.
After the buffet lunch, RAST President Jakkree (Jack) thanked the RAST members who had helped out at the HS0AC club station as net controllers to receive tributes over the air from Thai amateur radio operators to mark the royal cremation of His late Majesty King Bhumibol Adulyadej, HS1A.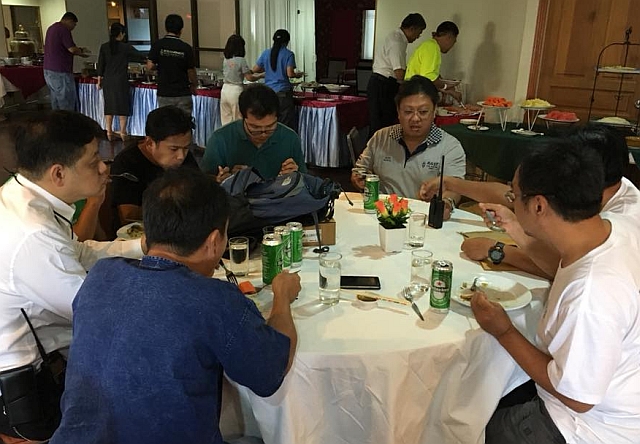 Jack, HS1FVL, also described the atmosphere during the CQWW SSB contest at the HS0AC club station, which had been relocated earlier this year to the campus of Rajapruk university in Nonthaburi.
It was also announced during the November meeting that there will be no RAST meeting in December since on the first weekend of next month the National Broadcasting and Telecommunications Commission (NBTC) will be hosting its annual "Amateur Radio Day" exhibition from December 1-3, with the highlight of the event being on December 2 with the exhibition on the grounds of the NBTC Secretariat on Phaholyothin Soi 8. RAST will have a booth there and all members are invited to attend.
The next meeting of RAST will be in January when it will take place on the second Sunday of the month with a New Year Party hosted at Rot Meu Mae restaurant in Nonthaburi. The party will be on January 14, 2018 and will begin at 3 p.m. To view the location in Google Maps please click
here
.
Directions: Head north from Bangkok along Vibhavadi Rangsit Highway and after the Ngarmwongwarn Road intersection take the frontage road. Turn left into the road signposted "North Park" (2.25 km beyond Ngarmwongwarn intersection). Follow this road for one and a half kilometers to a roundabout. Exit left and after 100 metres the Rot Meu Mae restaurant will be on your right.
Those attending should bring a gift-wrapped present valued at 500 baht or more for exchange during the party.
Among the guests at the November meeting was Franz, DJ9ZB who had accompanied Champ, E21EIC and Zorro, JH1AJT to Bhutan to put this rare DX country on the air from a special event station A5A which had been active from September 29 to October 8, 2017 and again from Oct 27 - November 3, including during the CQWW SSB contest. Franz, DJ9ZT and also HS0ZLP, is the president of the German DX Foundation (GDXF) and he was invited up to say a few words during the meeting.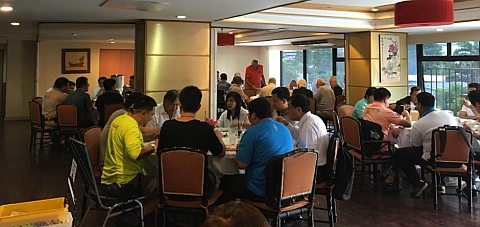 Thanks to Champ, E21EIC for the update and the photos from the November meeting -- HS0ZDX.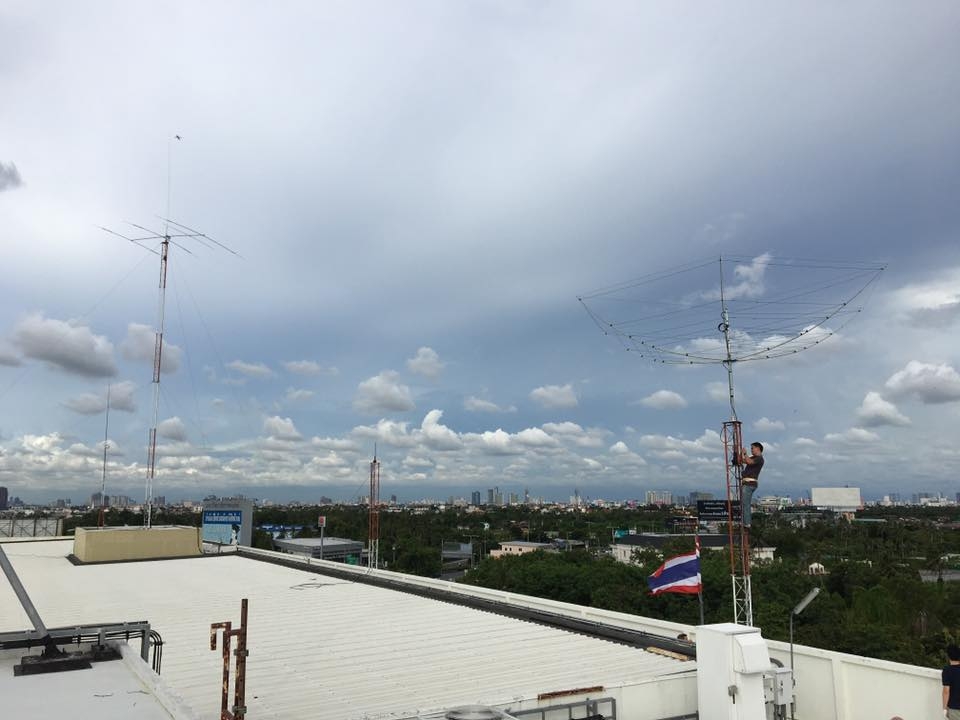 Antenna towers now adorn the rooftop at Rajapruk University above the HS0AC club station.


HS0AC update at the October meeting
An update about the RAST club station HS0AC at its new location at Rajapruk University in Nonthaburi headed the announcements made by RAST President Jakkree Hantongkom, HS1FVL at the October meeting at Sena Place Hotel.
He told the gathering of some 45 members and guests present that there were now three operating positions for HF and that three new transceivers had been donated to the station. Antennas had been erected and work on the new station was 80 percent complete, he added.
Dr Panit Chantrabhakdee, HS1AAZ had donated two Icom transceivers, an IC 7800 and an IC 7700, while G. Simon Radio had donated an Icom IC 910 to the station and members applauded the generosity of the donors for their contributions to the station.
Antennas erected will enable communications on the amateur bands from 1.8 MHz to the VHF bands, with satellite communications being possible. Work would be completed this month and Jack thanked RAST committee member Nikorn Deesai, HS5NMF for helping to co-ordinate the efforts.
The RAST meeting had begun, as usual, with newcomers and returnees introducing themselves to those present.
The RAST President then referred to the recent meeting of the National Broadcasting and Telecommunications Commission (NBTC) Secretariat at the beginning of September when it had been announced that the two-metre band allocation had been expanded to cover from 144-147 MHz. However, currently there were no transceivers on sale with the capability of transmitting above 146 MHz.
In addition, RAST has been assigned to endorse applications for amateur radio club stations with HF capabilities while it had also been announced that in future the NBTC will use computer terminals for candidates taking amateur radio examinations.
Jack also announced that the issuance of a 1-kilowatt station licence to holders of advanced class amateur radio licences had been suspended, with the limit remaining at 200 watts, based on advice from the Thai military. However, licences already issued would still be valid.
Those present at the meeting were also informed that the next FCC VEC examination to be conducted by RAST would take place on October 14 in Maha Sarakham Province in the Northeast.
RAST Secretary Champ, E21EIC was not present at the October meeting since, at the time of the meeting, he was participating in a micro DXpedition to Bhutan, operating with the callsign A5A and he would be there until October 7, Jack explained.
Champ has been an active participant in many DXpeditions that include the recent DXpedition to Eritrea, operating as E31A. Indeed, Champ was honoured at the 2017 Japan International DX Meeting during the JARL Tokyo Ham Fair on September 2 by having been invited to give an account of that DXpedition to everyone there.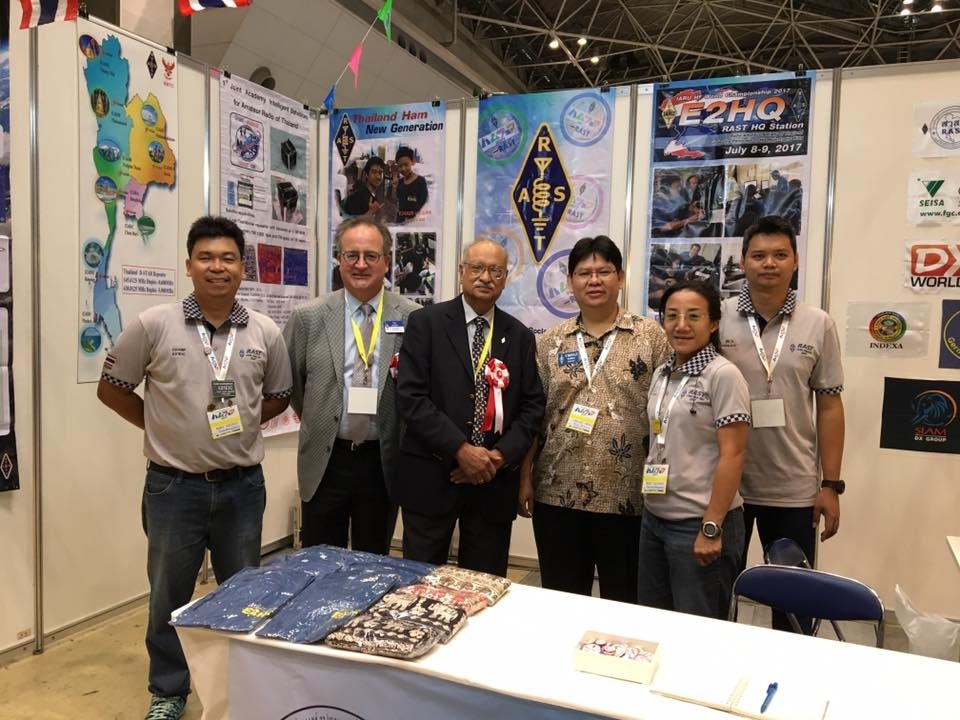 RAST Secretary Champ, E21EIC (far left) and JC Goi, E20NKB (second from right) with IARU President Tim Ellam, VE6SH (second from left) and IARU Region 3 Chairman Gopal Madhavan, VU2GMN (third from left) at the RAST booth at the JARL Tokyo Ham Fair.
RAST committee member Nukul, HS7BHK
(left)
related this after being invited to say a few words about the Tokyo Ham Fair which had been attended by a total of seven RAST members this year. In addition to the RAST booth at the event, there were also booths from the Malaysian Amateur Radio Society (MARTS) and the Indonesian society (ORARI) while new equipment had been launched during the event by Icom, he said.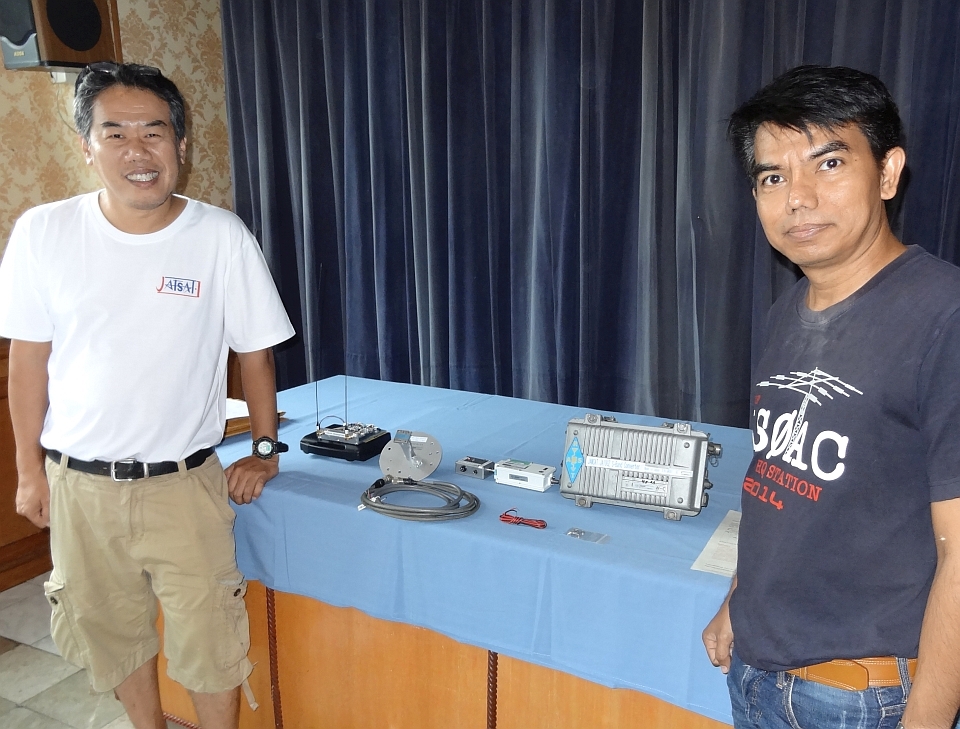 After the announcements from the RAST President, the JAISAT-1 satellite pioneers Tanan, HS1JAN and Anant, HS1GAB
(pictured above with some of the equipment they described)
took the microphones to provide an update about progress of the work on the amateur radio satellite, while some of the components and circuit boards were on display during the October meeting.
The next RAST meeting will be held on Sunday, November 5, 2017 at Sena Place Hotel.
---
RAST introduces young students to amateur radio at Satit Kaset school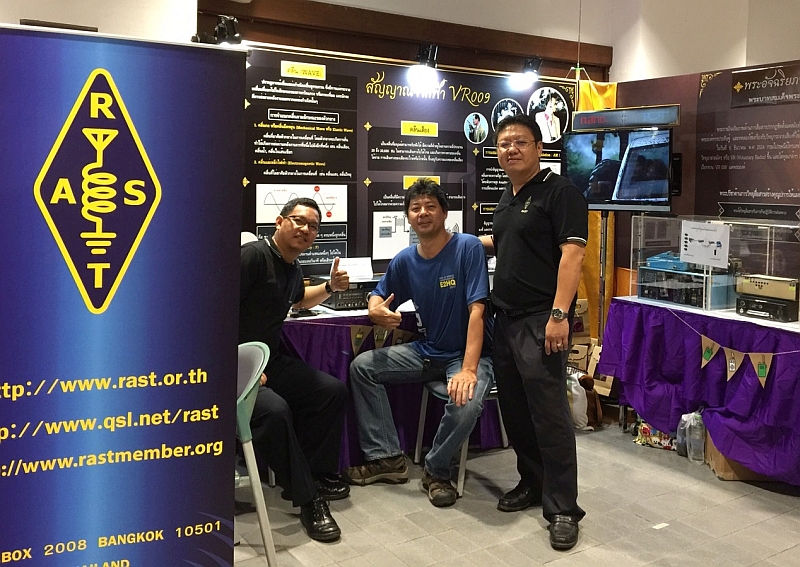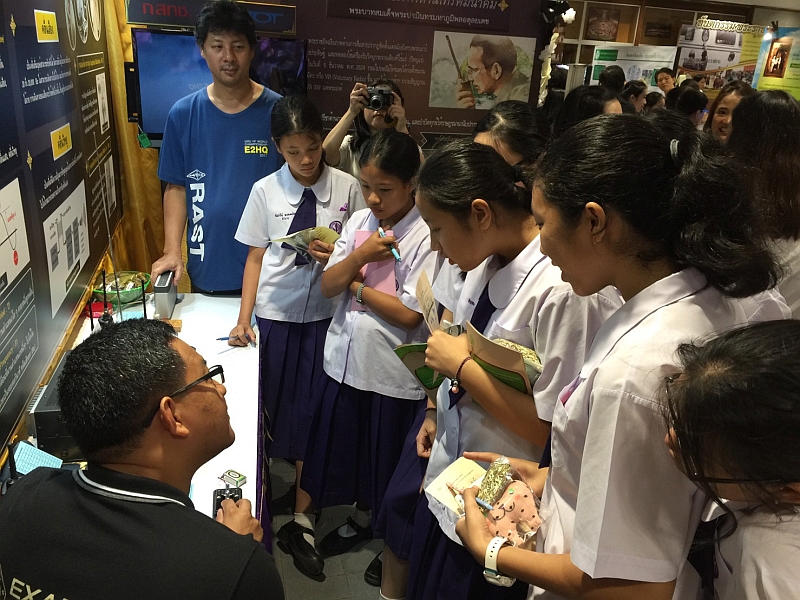 On August 22-23, 2017 RAST president Jakkree (Jack) led a team of RAST committee members and volunteers to help train young students at the Kasetsart University Laboratory School Center for Educational Research and Development, informally known as Satit Kaset, in Bang Khen where amateur radio equipment was set up along with a booth to honour His late Majesty King Bhumibol Adulyadej, HS1A and VR009.
Demonstrations included sending Morse code and operating on both HF and VHF bands. - Thanks to Champ, E21EIC for these photographs


RAST provides training in HF operating to new Intermediate Class hams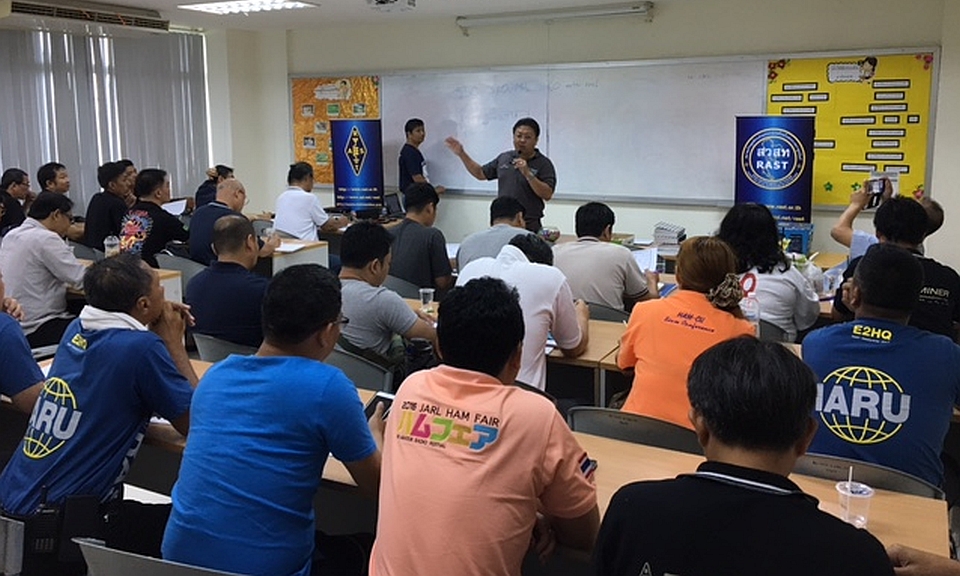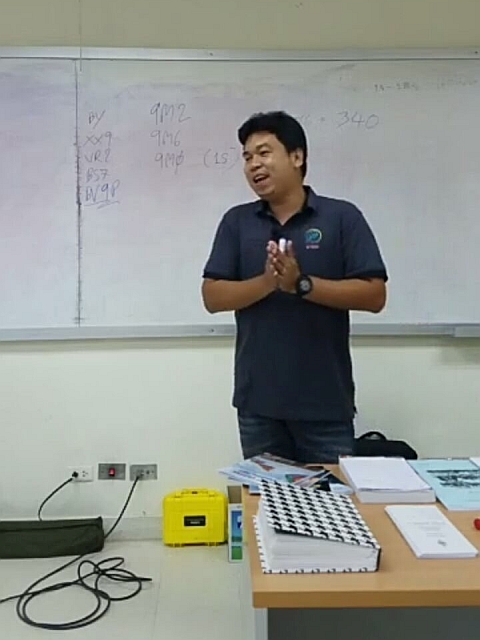 On Sunday, August 20, 2017 a team of RAST committee members led by President Jakkree, HS1FVL conducted a series of presentations about operating on the HF amateur radio bands at Rajapruk University for those who had passed the recent Intermediate Class amateur radio examination conducted by jointly by RAST and the National Broadcasting and Telecommunications Commission (NBTC) on May 21, 2017.
- Thanks to Champ, E21EIC for these photographs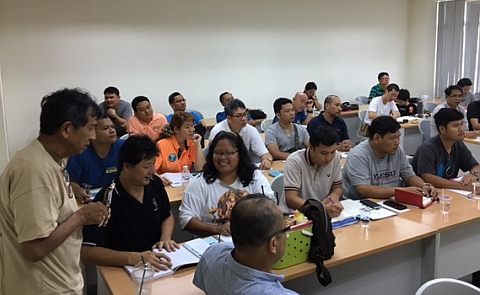 Please click on
this link
to view the archives of the RAST website for the past year.