Good turnout for RAST's February meeting at Sena Place Hotel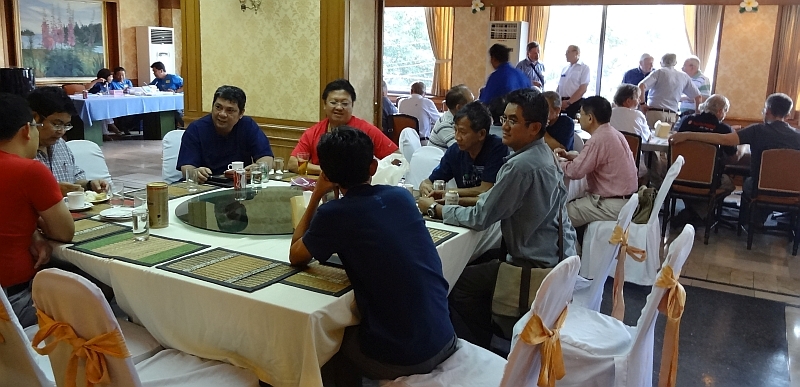 The February 2016 RAST meeting saw a good turnout with over 40 members and guests present.
RAST President Jakkree (Jack) Hantongkom, HS1FVL reminded those present at the February RAST meeting that the next monthly gathering of the society will be its annual general meeting (AGM) and this year there will also be an election of the society's president and committee for a two-year term.
All members were encouraged to attend the upcoming AGM on March 6 at Sena Place Hotel while members should also receive a formal letter of invitation by postal mail.
Regulations now stipulate that at least 50 members must be present, along with two-thirds of the RAST committee, in order for there to be a quorum before an AGM can begin so the attendance at the March meeting needs to be good.
The February RAST gathering which was on the eve of Chinese New Year was well attended with slightly over 40 members present and, as usual, a buffet dinner was available.
After introductions from a few first-time attendees at the meeting, the RAST President reminded everyone that the society would be hosting the 44th annual SEANET Convention later this year in Pattaya.
Jack then announced the name of the convention hotel, which has been decided upon. This is the
Discovery Beach Hotel
, also known as D-Beach, (the image above is from the hotel's website) a four-star hotel located on Pattaya Beach Road next to Soi 6/1 and not far from Central Festival.
Please check out the
SEANET 2016 website
for the latest information about the convention which will take place from November 18-20. The US$499 registration fee covers everything including airport transfers from Don Mueang, Suvaranabhumi and U-tapao airports, hotel accommodation, all meals and gala dinners, shows and tours.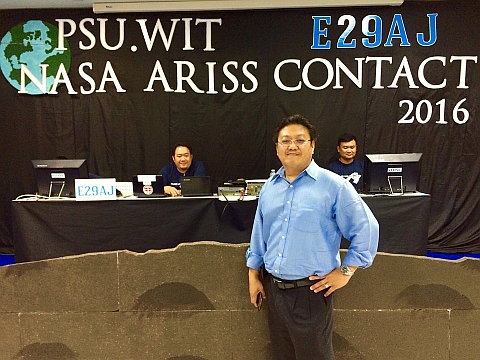 Photo by Damrongsak, HS8GLR
During the meeting, the RAST President also announced a successful demonstation that was conducted jointly by RAST and NASA, the National Aeronautics and Space Administration, at a school in Hat Yai, Songkhla when amateur radio was used to contact the International Space Station (ISS). On January 30, Jack himself had led several RAST committee members who helped to conduct the demonstration at the PSU Witayanusorn School when 18 students spoke to astronauts in space using the callsign E29AJ. YouTube videos such as
this one
capture the event.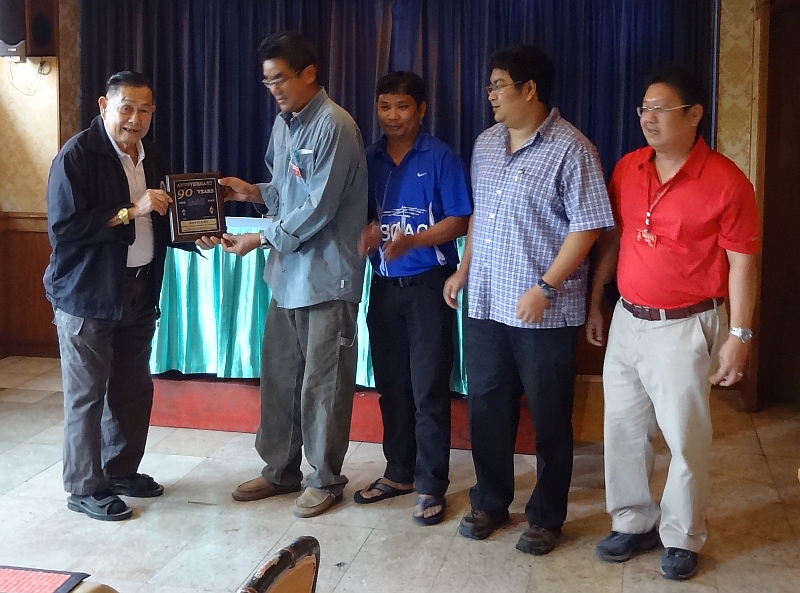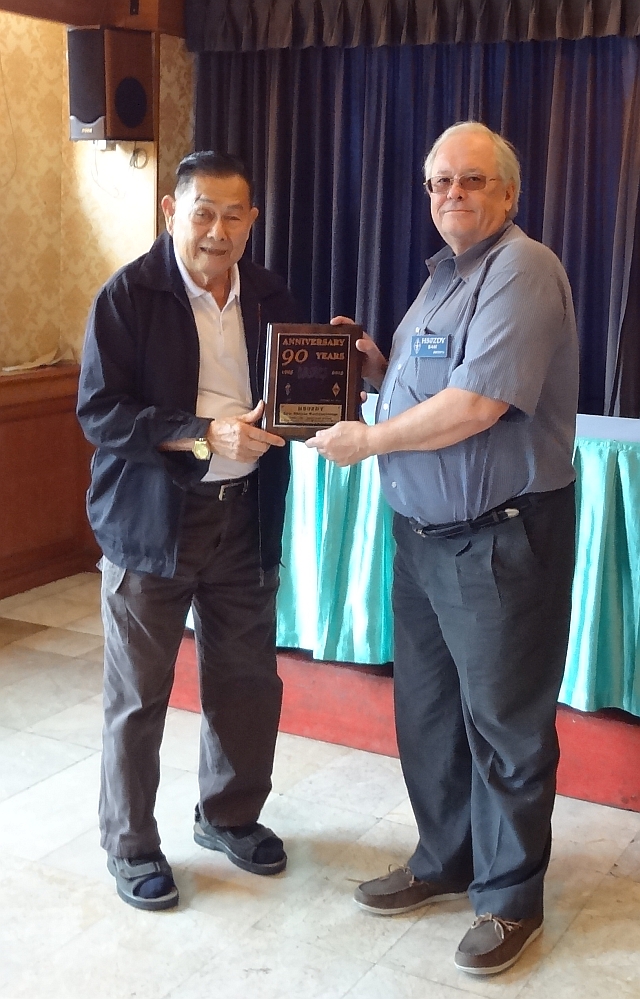 Following the announcements, Jack invited RAST Secretary Chalermphol (Champ), E21EIC to award some plaques to members and, in turn, Champ invited Gen Prasit, HS1DN, a RAST advisor and committee member, to make the presentations. The plaques were issued by the International Amateur Radio Union (IARU) for activities supporting its 90th anniversary celebrations last year and some of the operators of HS90IARU stepped forward to receive the plaque that was issued to RAST (above) while RAST member and DXer Svante (Sam) Nordenstrom, HS0ZDY (pictured with Gen Prasit right) received a plaque for contacting more than 20 different official IARU stations during the year 2015.
Report and photos by Tony, HS0ZDX
---
Above: RAST President Jakkree (holding the microphone) introduces some of the RAST committee members to the guests at the New Year Party on January 10 at the Rot Meu Mae restaurant.
RAST hosts New Year party
Over 70 members and guests attend
celebration at a restaurant in Laksi
More than 70 RAST members and guests attended the New Year Party on January 10 at Rot Meu Mae restaurant in Laksi in the northern suburbs of Bangkok when gifts were exchanged and lucky draw prizes were awarded.
The RAST New Year party began at 3 p.m. with food being served inside the restaurant as well as outside at tables where there were also many demonstrations of amateur radio activities, including the assembly of kits along with operating on the HF bands using portable antennas that has been set up for the event.
As darkness approached, everyone moved inside when, at around 6.30 p.m., RAST President Jakkree Hantongkom, HS1FVL welcomed everyone to the party and wished them a Happy New Year before inviting Wanlop, HS6MYW to take the microphone for the lucky draw awards. Nimit, HS1IFU/K6XOX helped translate the announcements into English.
There were many gifts to be awarded and the presentations took around two hours to conclude before the party wound down and guests started to head home. Thanks to donations, plenty of refreshments, including beer and wine, and been available throughout the party.
Hopefully, the photographs below capture some of the atmosphere at the event.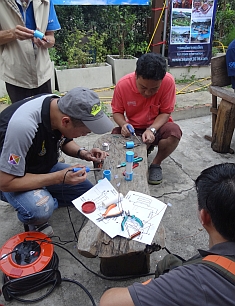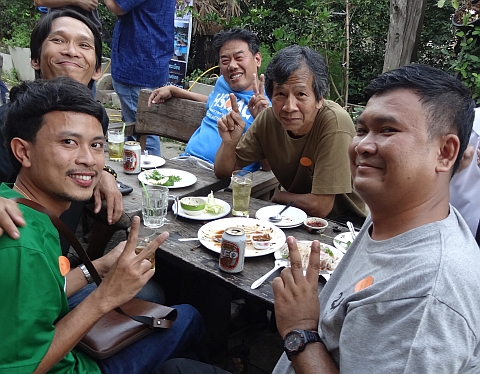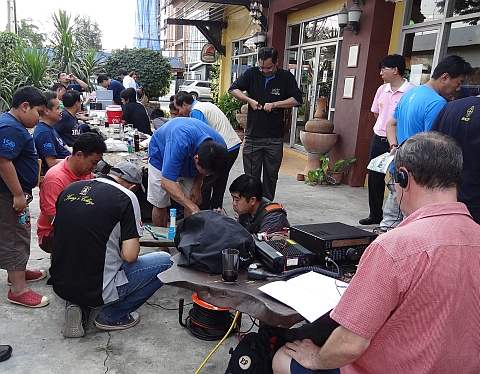 Photos by HS0ZDX
---
Amateur Radio Day 2015
Thousands attend Thailand's three-day
hamfest hosted by the NBTC
The following pictures provide some glimpses of the RAST booth and of gatherings of some of the thousands of radio amateurs from throughout Thailand who attended the three-day event hosted by the National Telecommunications and Broadcasting Commission from December 18 to December 20, 2015 at the commission's secretariat on Phaholyothin Soi 8.
RAST had extensive displays of equipment as well as operating an HF station using the special callsign HS90IARU during the event and many RAST committee members led by RAST President Jakkree (Jack) Hantongkom, HS1FVL took part in the hamfest.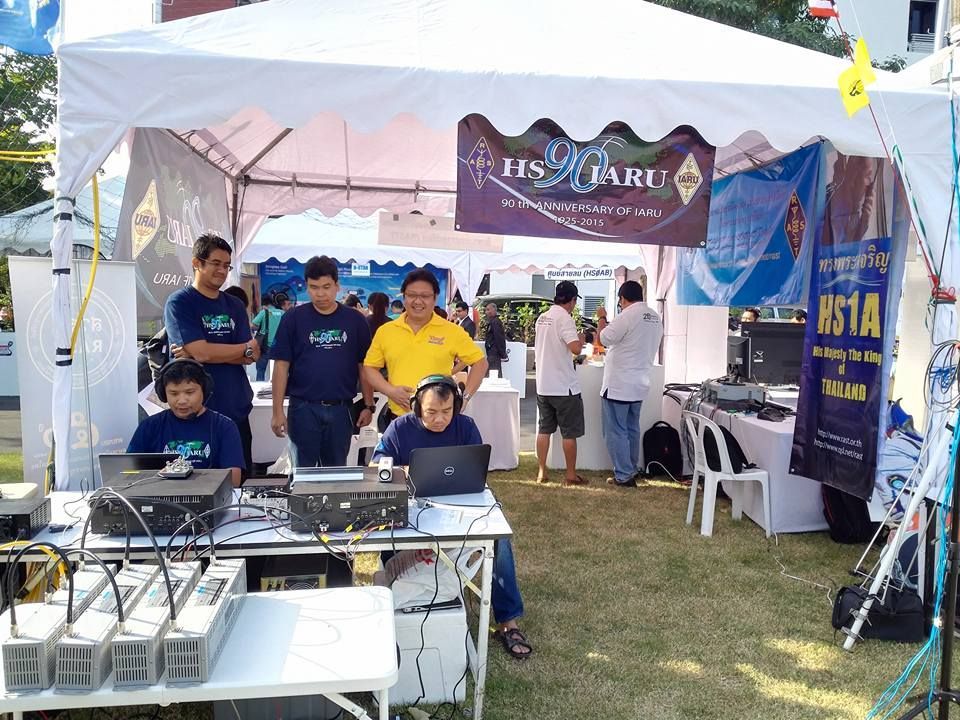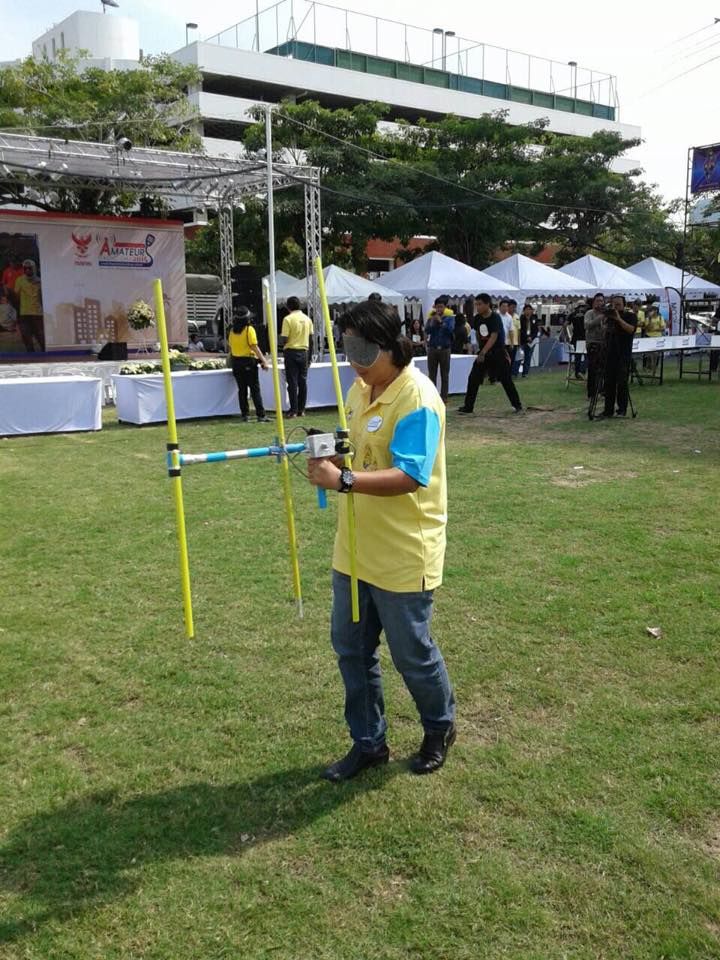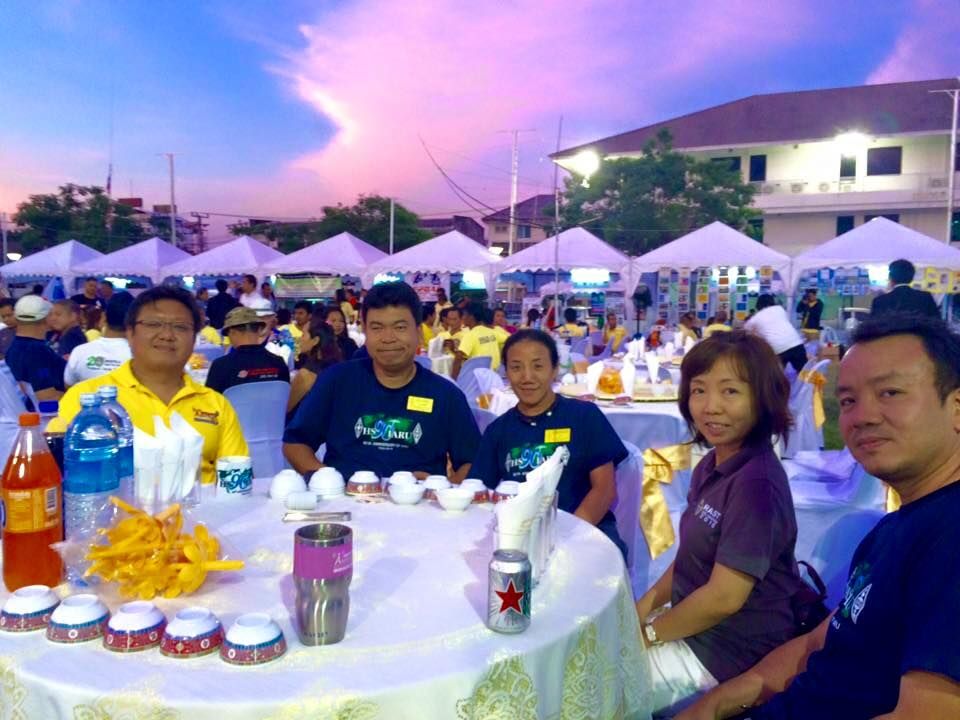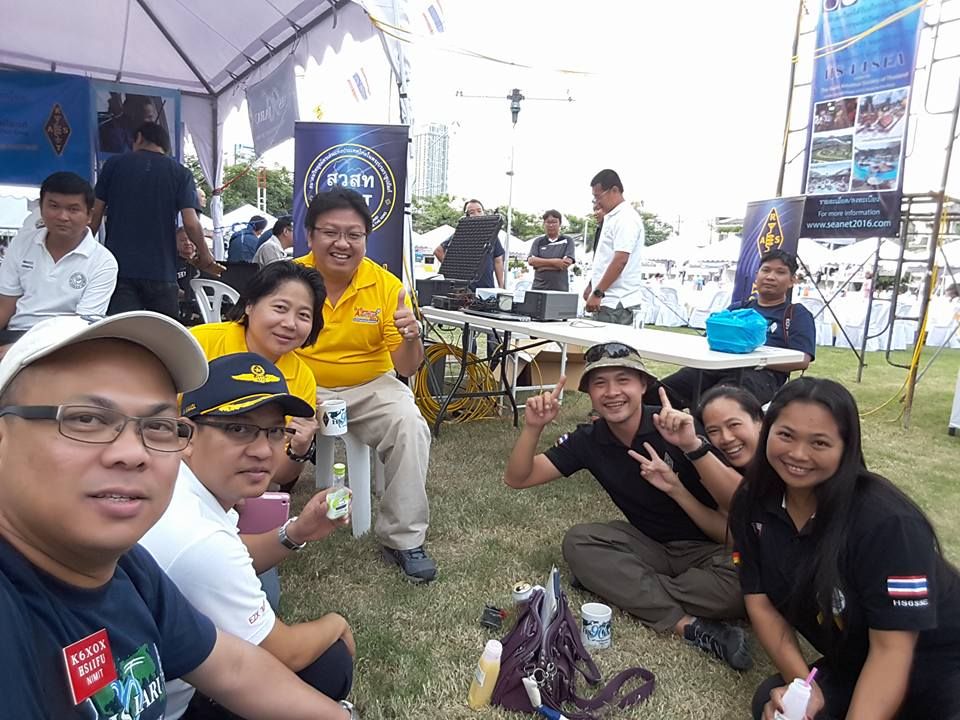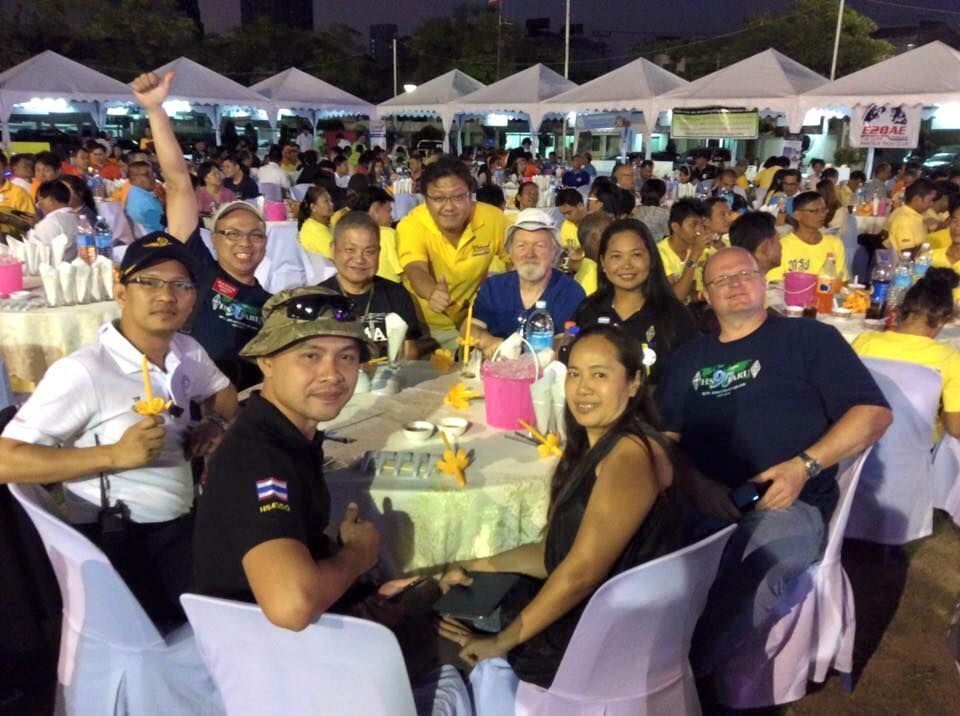 RAST December meeting

Many members living overseas return to attend December RAST meeting
The December 6 RAST meeting at Sena Place Hotel had a good turnout with many members who attended the meeting having returned to Thailand from overseas for the "holiday season".
Among the returnees introducing themselves at the meeting were Fred, K3Z0 and HS0ZAR, John, W2YR and HS0ZDJ, Stig, LA7JO and HS0ZGD, Renato, HB9BXQ and HS0ZLN, David, HS0ZLG and his XYL Judy, KD6BBO and Akira, JA1NMH.
Also present as returnees or newcomers were Pittaya, HS1FRU, HS7IRS, E24MTA and HS1HQT along with Kamol E20EHQ.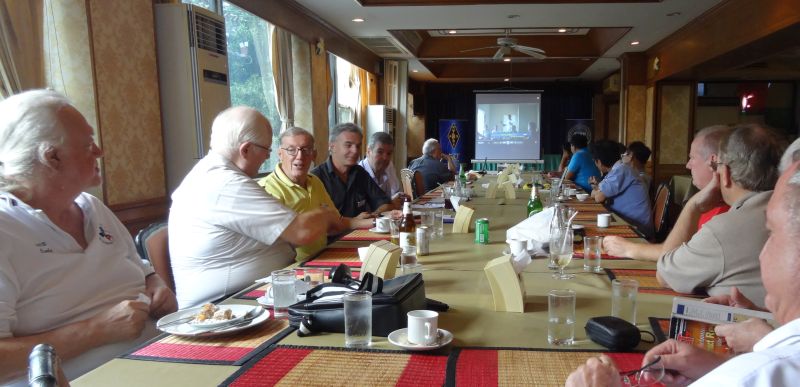 Video of K1N DXpedition precedes announcements
Following a
video presentation of the K1N DXpedition to Navassa Island
last year, RAST President Jakkree (Jack), HS1FVL announced that the special event callsign HS90IARU was now on the air from stations authorized by RAST since December 1, 2015.
Permission to use this special callsign to mark the International Amateur Radio Untion (IARU)'s 90th anniversary this year has been received from the National Broadcasting and Telecommunications Commission (NBTC) and will be used until the end of this month.
Any licensed Intermediate Class amateur radio operator who would like to use this special event callsign can seek permission for this from either Jack, HS1FVL (HS1FVL (AT) gmail.com) or RAST Secretary Champ, E21EIC (E21EIC (AT) gmail.com).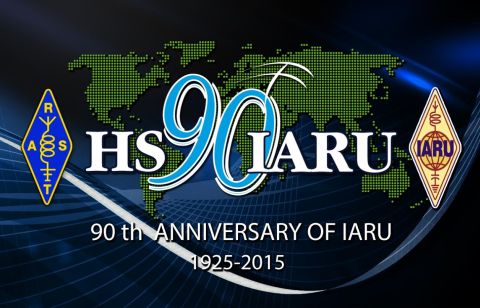 The HS90IARU QSL card designed by E20PFE
All modes and all bands can be used with this callsign and so far, since December 1, a total of 3,500 QSOs had been logged, Jack said.
Later in December, the NBTC will be hosting Amateur Radio Day, this year to be a three-day event at the NBTC Secretariat on Phaholyothin Soi 8 from December 18 to December 20 when there will be seminars and an exhibition, along with free refreshments for visitors.
RAST will have a booth at the exhibition in which all amateur radio societies from throughout Thailand will be participating and representatives from the society will also be making presentations in the seminars.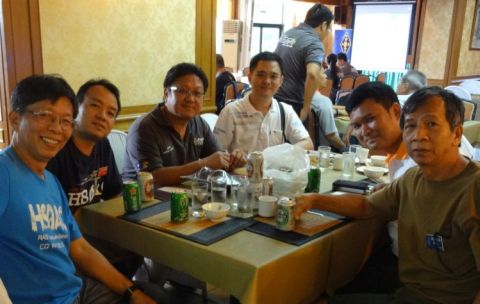 Jack also announced at the December meeting that RAST will celebrate the New Year on January 10 with a special party a "Rot Meu Mae" (Mother's Touch) restaurant which was the location of the New Year party almost two years ago in 2014.
This will be in lieu of the regular monthly meeting and will be the next opportunity for RAST members to get together. The restaurant is located in the northern suburbs of Bangkok near North Park Golf Course.
Please see the map below for details about the location where you can also find directions as to how to get there.
The party will begin at 3 p.m. on Sunday, January 10 and will continue until around 9 p.m. All guests are invited to bring a gift-wrapped New Year present valued at 500 baht (or more) for exchange during the party, while food at a buffet will be provided to all who register at the cost of 350 baht per person.
During the December meeting, Jack also announced that there had been progress in the preparations for the launch of the Joint Academy for Intelligent Satellites for Amateur Radio of Thailand (JAISAT-1) satellite sponsored by RAST by the team headed by Tanan, HS1JAN and that Ueda Hozuma had attended a RAST committee meeting on behalf of JAMSAT, the Japan AMSAT Association, at Sena Place Hotel earlier that day.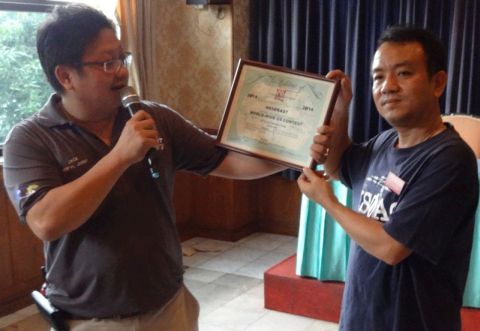 Finally, Jack presented a CQWW award to HS50RAST to HS0AC Station Manager Nikorn, HS5NMF for coming in first place in the SSB Multi-two category for Thailand (and sixth in Asia) in the 2014 CQWW contest for 2014 with 1,266,640 points.
For earlier news about RAST meetings and activities in the second half of 2015 please click on
this link
.