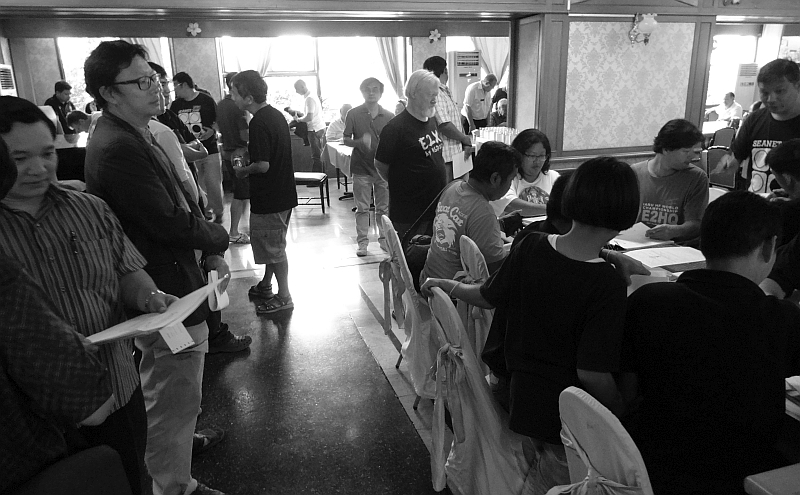 The distribution of forms at the February meeting to apply to sit the next Intermediate Class exam ensured a big turnout
Candidates line up to apply for next Intermediate Class exam
The February RAST meeting at Sena Place Hotel provided an opportunity for would-be candidates seeking to take the upcoming Intermediate Class amateur radio examination scheduled for May 21, 2017 to obtain an application form and consequently there were scores of visitors queueing up for the forms.
Many of these would-be candidates filled out the form to apply to sit the exam at the meeting but, while a few of the visitors stayed on for the meeting, most of them departed after submitting their completed application form to RAST officials.
For a while, it was "standing room only" while the forms were distributed and filled out.
For the latest information (in Thai) about the applications and how many vacant seats for the exam are left, please check the Thai-language RAST website
here
.
Meanwhile, members who were coming for the social aspects of the meeting and for the buffet lunch were also arriving at the Sena Place Hotel restaurant.
As usual, QSL cards were also available for members from bureau chief Champ, E21EIC while application forms for membership of RAST were available and were being accepted by J.C. Goi, E20NKB, the RAST registrar.
RAST President Jakkree (Jack), HS1FVL began the formal part of the meeting by referring to the upcoming Intermediate Class exam that will be administered by RAST in conjunction with NBTC officials on May 21.
He also reminded everyone that the annual Amateur Radio Direction Finding (ARDF) Championships would be held in Nong Prue, Chon Buri -- just outside Pattaya -- in two weeks' time. This will be on the weekend of February 18-19 when the Princess Sirindhorn Trophy will be awarded to the winning team. Applications have come in from amateur radio associations around the country and attendance should be high. More details can be found
here
.
President Jakkree also announced that he was part of a team of officials who were conducting a survey to examine levels of interference on the 50-54 MHz (six metre) band. This was part of an investigation to help resolve the issue between the NBTC and the Royal Thai Army following the regulator's assignment of the band to amateur radio on a secondary basis.
In addition, Jack said that RAST was also assisting the NBTC in helping it to work out the equivalent Thai HF licence class -- intermediate or advanced -- for holders of reciprocal licences based on their home licences.
Once this has work been finalized, many foreigners with Thai calls in the HS0Zxx series will be able to upgrade to a Thai Advanced Class licence, he observed.
This work should be concluded by the middle of the year and an announcement should come before the end of the year, he added.
There was also news about an upcoming micro-DXpedition to Bhutan and using the callsign A5A by "Zorro" Miyazawa, JH1AJT, along with Champ, E21EIC and J.C. Goi, E20NKB. The DXpedition will be active from February 10 to February 17, 2017.

Form-filling time -- shortly after 11 a.m. at Sena Place Hotel on February 5, 2017.

---
Announcement in mid-January 2017
Thailand's regulator, the National Broadcasting and Telecommunications Commission (NBTC), has announced that any amateur radio licence that has expired for a period of more than two years must be renewed before January 28, 2017. Otherwise the callsign will be revoked and may subsequently be reissued.
Members of the Radio Amateur Society of Thailand under the patronage of His Majesty the King (RAST) can check the validity of their licences along with the expiry date at the
NBTC website
.
Amateur radio licences may be renewed in person at the NBTC Secretariat on Phaholyothin Soi 8 (Soi Sailom) in Bangkok or with the assistance of the RAST registrar JC Goi, E20NKB.
If any member needs assistance in renewing an expired licence they should please contact RAST by email at rastmember@gmail.com
---
For a summary and pictures of the RAST New Year Party on January 15 please click on this link


December 2016 meeting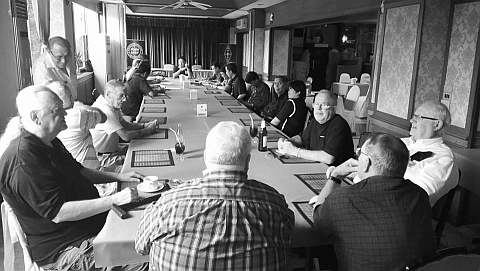 It's shortly after 11 a.m. on December 4, 2016 and RAST committee members are meeting at the far end of the table while guests at the December RAST meeting are seated in the foreground.


RAST to host New Year party on January 15 at Rot Meu Mae restaurant
RAST President Jakkree (Jack), HS1FVL began announcements at the December meeting at Sena Place Hotel by thanking the team of RAST staff members who had helped the society host the 44th SEANET Convention two weeks earlier in Pattaya which was a big success.
The event was well-attended with around 150 delegates from some 18 countries while Indonesia will host the 2018 event in Jogjakarta after a unanimous vote in favour of this proposal. Next year,
the 45th SEANET Convention
will be held in Cambodia at Siem Reap.
For full coverage and photographs of the Pattaya SEANET Convention please follow
this link
which has coverage of the welcome dinner and which contains links to six other web pages covering the entire event.
After applause from the audience in appreciation for the success of the event and for the efforts put into this by the RAST organizing team, Jack invited newcomers or returnees to the RAST meeting to introduce themselves.
There were many faces, both old and new, at the December meeting, including Don Craft, HS0ZBG, Rudy, HB9MHB, John, W2YR, Mike, HS0ZIU, Fred, K3ZO, Phoom, NO6A, Chris, G3VBL, along with Ritthichai, HS7JEN and Chalermpol, HS7EI and another HS7 from Nakhon Pathom.
Next month RAST will host its New Year party and this will be at the same location as last year, which is Rot Meu Mae restaurant in the northern suburbs of Bangkok, beginning at 3 p.m. on January 15, 2017. Please
click here
to view the location on Google Maps.
Directions: Head north from Bangkok along Vibhavadi Rangsit Highway and after the Ngarmwongwarn Road intersection take the frontage road. Turn left into the road signposted "North Park" (2.25 km beyond Ngarmwongwarn intersection). Follow this road for one and a half kilometers to a roundabout. Exit left and after 100 metres the Rot Meu Mae restaurant will be on your right.
The party will last until around 8 p.m. and guests will be invited to pay 320 baht (the same as for buffet lunch at Sena Place) for the banquet dinner.
Those attending the December meeting were also informed that the RAST club station at the Asian Institute of Technology is suffering badly from subsidence with major cracks in the building, which had been repaired and reopened in 2014 following the severe flooding in 2011.
The station is now off the air again and RAST is looking for a new location for its club station and, if possible, it would also like to establish a headquarters office as well. We hope to publish some photographs here shortly that show the extent of the damage to the station.
Jack explained that RAST had set funds aside for this, but the society was also seeking help and soliciting suggestions as to the availability of an inexpensive plot of land of approximately one rai in area in the vicinity of Bangkok where it could build these facilities, along with erecting towers and a "shack" to operate from.
This month, the National Broadcasting and Telecommunications Commission (NBTC) has cancelled "Amateur Radio Day" following the passing of His Majesty King Bhumibol Adulyadej but Jack said that the NBTC may reschedule such an event some time next year when RAST would participate.
On December 6, several RAST representatives will be participating in an NBTC seminar to which amateur radio societies throughout the country have been invited when Jack, HS1FVL and Joe, HS2JFW will make a presentation about repeaters.
Jack also announced that later this month RAST would be proposing to the NBTC that reciprocal licence holders in Thailand whose amateur radio licences are equivalent to the Thai Advanced Class licence be eligible for a Thai Advanced Class licence, rather than an Intermediate Class licence. Hopefully there will be an update about this soon.
There is also a new date for the ARDF Championships to be hosted by RAST that were postponed from the beginning of November and now they will take place in Nong Prue, Chon Buri -- near Pattaya -- on the weekend of February 18-19, 2017. Earlier they had been rescheduled to January 28-29 but this coincides with Chinese New Year, hence the new dates in mid-February.
Finally, RAST Secretary Champ, E21EIC will lead the VEC team to host the next FCC amateur radio examination for a US amateur radio licence to be held on January 7, 2017 in Chiang Rai Province from 1 p.m. to 4 p.m. For more details click
here
.
44th annual SEANET Convention
a big success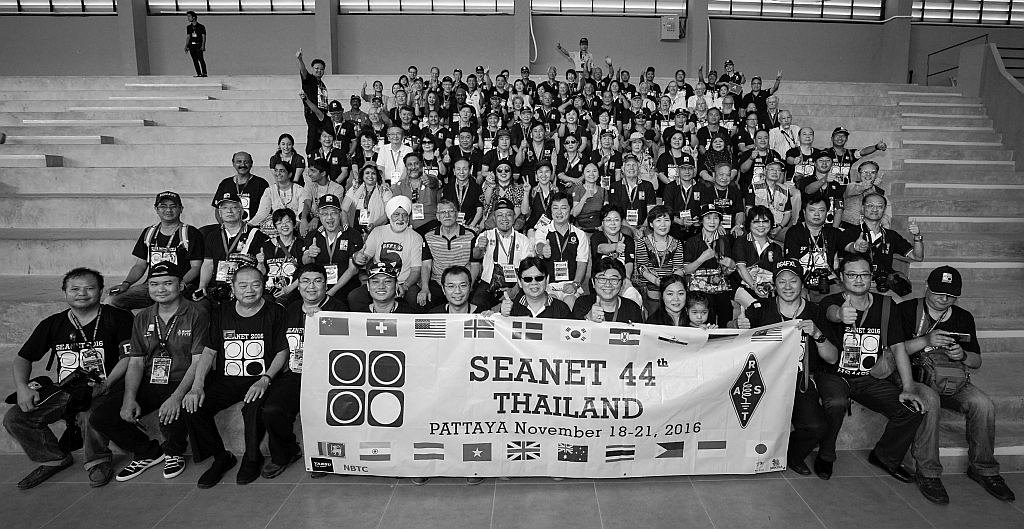 A group photograph of delegates taken at Nong Nooch Garden on Sunday, November 20
A solemn November meeting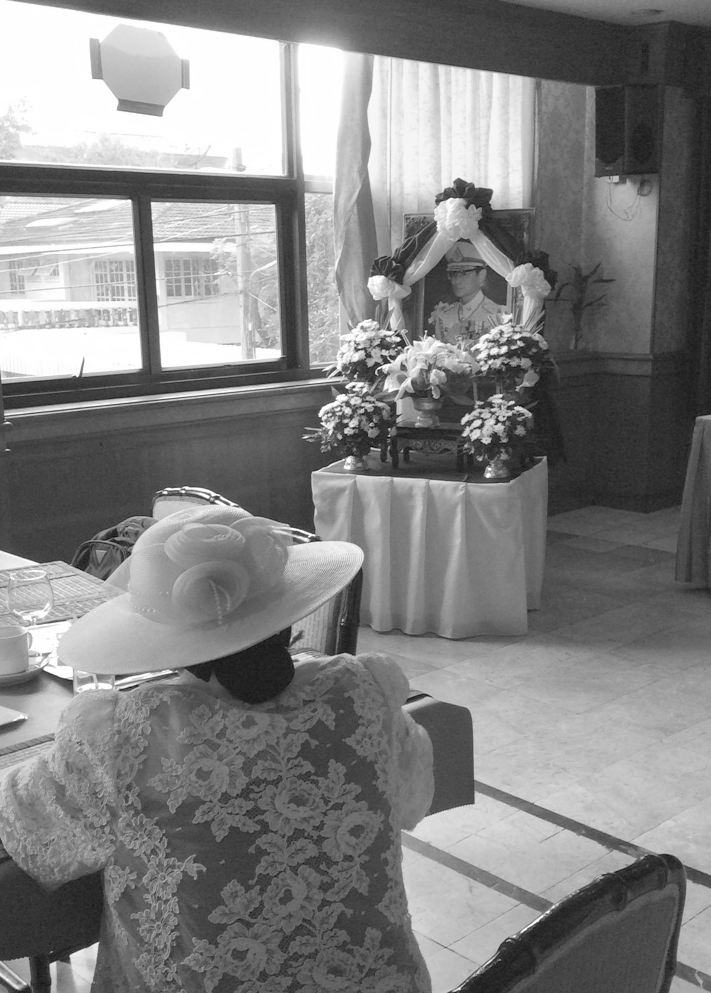 Prior to the November RAST meeting on the morning of Sunday, November 6 RAST President Jakkree Hantongkom (Jack), HS1FVL had paid homage in a bereavement ceremony to His Majesty King Bhumibol Adulyadej, HS1A-SK, the patron of RAST who passed away on October 13, 2016.
The monthly meeting was held at Sena Place Hotel following the postponement of the ARDF Championships to late January in a mark of respect to His Majesty while the upcoming SEANET Convention on the weekend of November 18-21 had dominated a committee meeting of RAST officers that was held before the main meeting began.
Visitors included Kuny Nakada, 7L1FPU (AH0BT, who is the father of Yoshiki, KH0UA).
The formal part of the meeting began with everyone standing to respect the passing of His Majesty King Bhumibol Adulyadej.
Later there was a presentation of an Icom IC-9100 transceiver that RAST had purchased from G. Simon Radio for the ground station for the ongoing JAISAT satellite project which will use the callsign HS0AJ The ground station is to be located at the Rangsit campus of Bangkok University.
Among the announcements during the meeting was that the special callsign HS70A is now being used on two metres to commemorate the passing of His Majesty King Bhumibol Adulyadej by enabling radio amateurs to express their condolences over the air between November 1 and December 31, 2016 on the amateur radio bands from every province in Thailand.
There is an online logbook of these QSOs and a summary of all contacts will be sent to the National Broadcasting and Telecommunications Commission (NBTC) which will forward the log to the Royal Palace. More details can be found at the following link:
http://www.rast.or.th/announcements/hs70a
The online log can be viewed at this link:
http://www.rast.or.th/hs70a
During the meeting plans for a micro DX-pedition to Myanmar from November 15-22 were announced when the callsign may be XZ1A with the operators being JH1AJT, Zorro, DJ9AB, Andre, W5MJ, Madison, E20NKB, JC and E21EIC, Champ.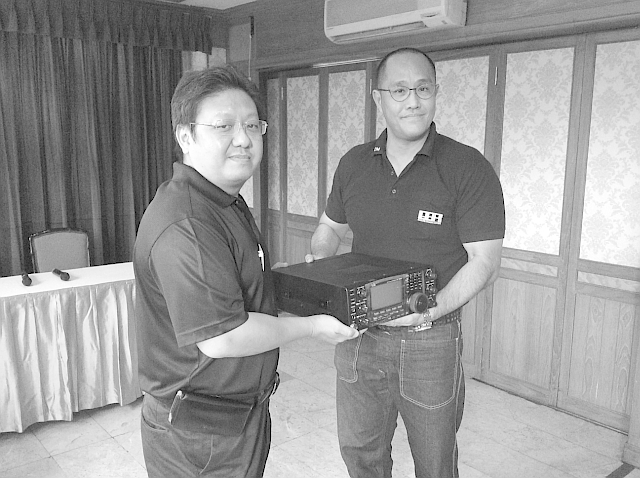 Nopanant, HS0JSB, (right) of G. Simon Radio makes the presentation of an Icom IC-9100 transceiver to RAST President Jakkree (Jack. The radio will serve as the ground station for the JAISAT satellite.
ARDF Championships postponed
The ARDF Championships which had been planned for November 5-6 at Nong Prue near Pattaya have been postponed to the weekend of February 18-19, 2017 to respect the passing of His Majesty King Bhumiphol Adulyadej on October 13.
RAST regrets any inconvenience this may cause and will announce further details later.
RAST to host Sunday meeting at Sena Place Hotel instead
Instead, on Sunday November 6, 2016 RAST will host its November monthly meeting at Sena Place Hotel from 11 a.m. onwards and all RAST members and any amateur radio operators visiting Thailand at the time are invited to attend.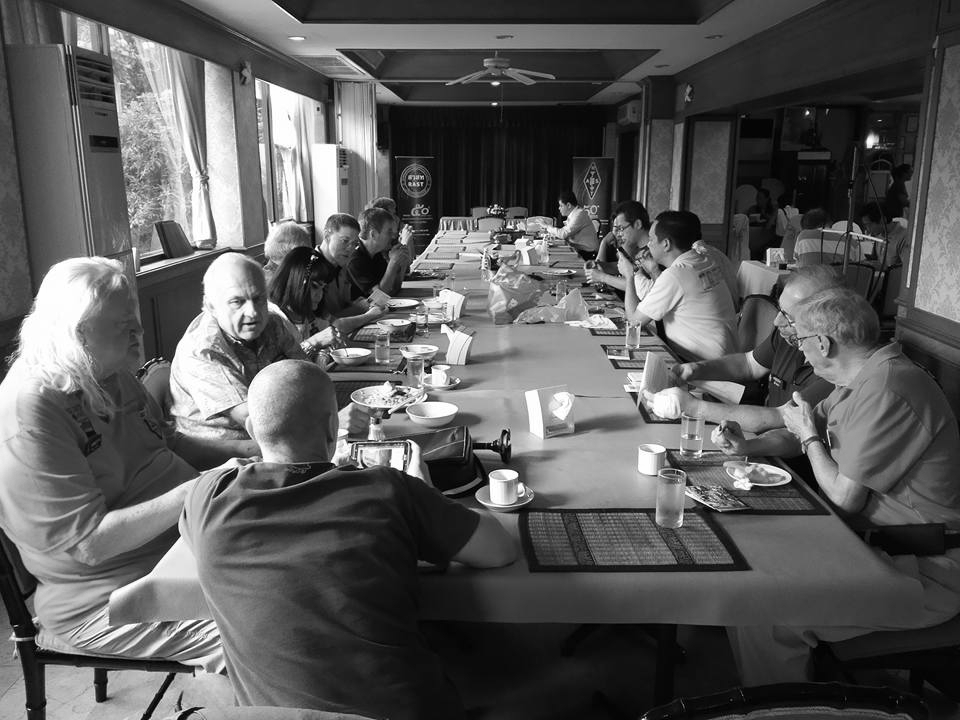 ARDF and Seanet Convention dominate October meeting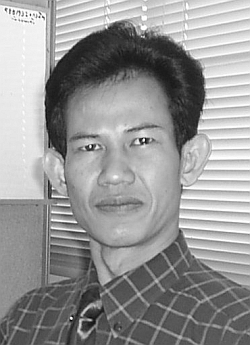 Announcements at the October RAST meeting at Sena Place Hotel, attended by some 50 members and guests, began with everyone standing for a minute of silence in respect for Sawat, HS1HQT (pictured at right) a former RAST member but now a silent key who had passed away from heart failure following the September meeting. May he rest in peace.
The upcoming ARDF Championships on November 5-6 and the SEANET Convention in Pattaya from November 18-20 will be keeping RAST busy next month and these topics dominated the announcements.
Having been the society that won the Princess Maha Chakri Sirindhorn ARDF Trophy last year, RAST has the honour of hosting the direction-finding championships this year and these will take place at Nong Prue in Bang Lamung, Chon Buri on the first weekend of next month. Nong Prue is on the outskirts of Pattaya and the municipality is located about six kilometres inland. Here is a
link to the location on Google Maps satellite view
and this link shows the
map view
.
There will be various activities and details of the event can be found
here
. On that Sunday there will be no regular RAST meeting at Sena Place Hotel but all members are welcome to attend the ARDF Championships at Nong Prue Municipality when food will also be available.
The RAST committee meets at Sena Place Hotel prior to the main meeting on Sunday, October 2, 2016.
As for the 44th SEANET Convention at Discovery Beach Hotel in Pattaya, the convention will begin on the evening of Friday, November 18 with a welcome dinner and there will be a gala dinner on Saturday. Details of the programme can be found
here
. There will be a special event station using the callsign HS44SEA which has been authorised by the NBTC Secretariat and there will also be tours to Suan Nongnooch and other attractions.
As for transport to the SEANET Convention from Bangkok, RAST will be providing minibuses which will depart regularly from both Don Muang and Suvarnabhumi airports on Friday for the Discovery Beach Hotel in Pattaya and members are welcome to avail themselves of this means of transport. Alternatively, of course, they may drive down to Pattaya or take a bus or tour bus from Ekamai or Morchit bus stations. The journey to Pattaya by car usually takes less than two hours via the Motorway (Route 7) or the Burapawithi elevated toll road (Route 34) followed by Route 7.
For some the tables at Sena Place Hotel are for enjoying the
buffet lunch while for others it makes a good workplace!
For earlier reports of activities in 2016 please click
here