---
Prayong, HS4BPQ is a silent key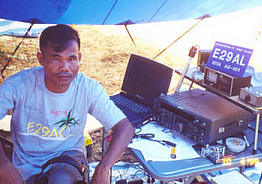 RAST life member and active DXer Khun Prayong Dungnoei, HS4BPQ died tragically in a car accident in Krabi Province on August 18, 2014.
He had been a marine with the Royal Thai Navy based in Narathiwat Province.
He will be missed by his family and friends. May he rest in peace.


Guenter Philippe, HS0ZFF a silent key
On Saturday, August 23, 2014 RAST life member Guenter Philippe, HS0ZFF and DK1KM, passed away, aged 77.

He had been residing in Phanom Sarakham in Chachoengsao Province and Guenter had attended RAST meetings regularly.
He will be missed by his many friends.

May he rest in peace.


---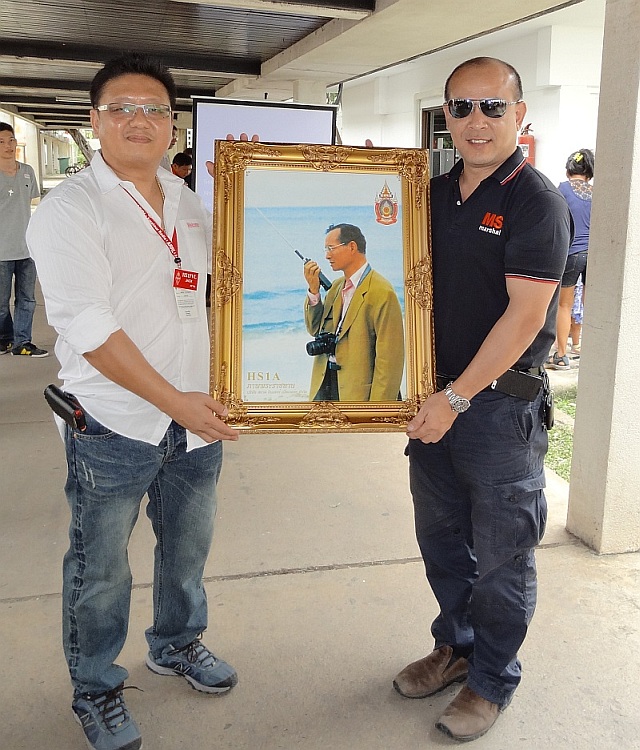 Sarawut Pitaksinagorn, HS1WNT, the owner of Siam Inter Network (right), presents a portrait of His Majesty the King, HS1A to RAST President Jakkree Hantongkom, HS1FVL at the HS0AC Open House event on August 3 at the club station on the campus of the Asian Institute of Technology (AIT).
August meeting
Almost 100 attend the RAST 'Open House' at AIT
To celebrate the rebirth of HS0AC
Almost 100 members and guests, including representatives of amateur radio societies from several provinces, attended RAST's HS0AC Open House on August 3 at the newly-refurbished club station at the Asian Institute of Technology (AIT) on the northern outskirts of Bangkok.
Former RAST presidents Mayuree Chotikul, HS1YL, Chaiyong Wongwuticomjon, HS1QVD and Pornchai (Joe) Semjang, HS2JFW were present at the event along with almost the entire RAST committee and they welcomed visitors from Pathum Thani, Saraburi, Lop Buri, Chiang Mai and Khon Kaen provinces.
Also attending were visiting hams from Laos and Hong Kong and there was a video presentation entitled "The Rise of HS0AC" prepared by Tony, HS0ZDX along with a presentation from Dan Van Hoy, VR2HF about the Dayton Hamvention.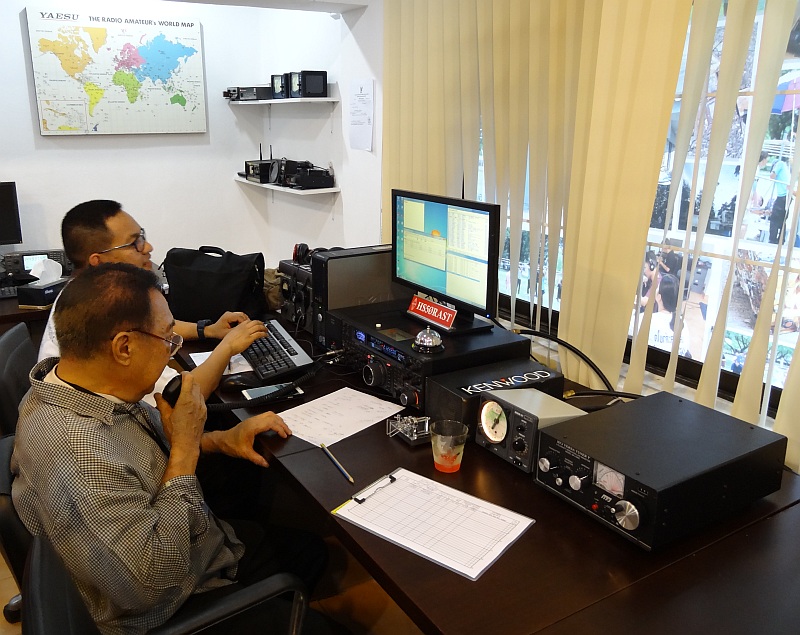 Inside the shack, operators were working DX on 15-metres while an array of snacks and cocktail drinks were available for members and guests.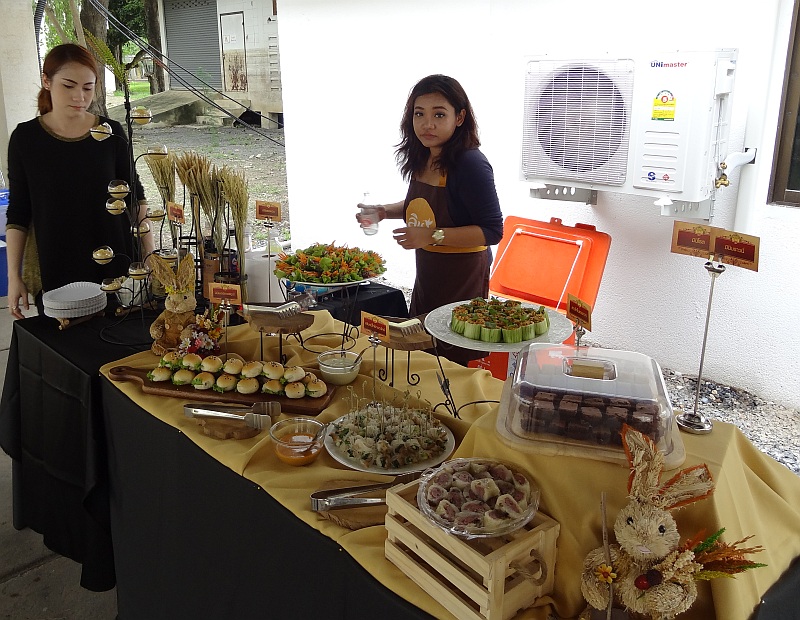 With Pomchanok (Ray), E23PKO as emcee, the event kicked off in front of the shack at 2 p.m. with RAST President Jakkree (Jack) speaking about the gravity of the floods and how deep the flood water had been, and why RAST had gone to great expense to restore the HS0AC clubhouse and outfitted it with new equipment.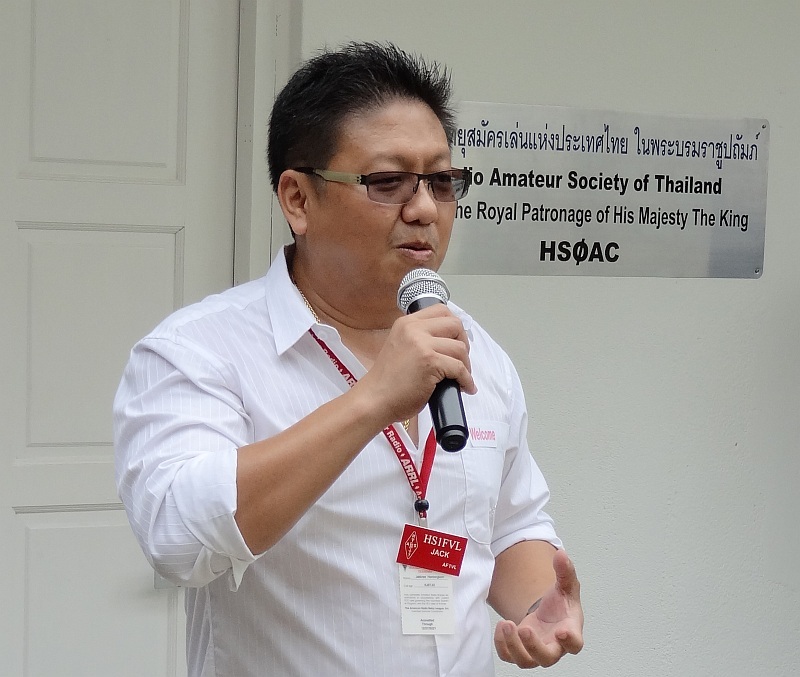 The total cost of the restoration had been at least a million baht, he said, but we had done this because this club station is a symbol of amateur radio in Thailand and of the Radio Amateur Society of Thailand under the royal patronage of His Majesty the King.
Jack (pictured at left) also mentioned the teamwork that had made the recovery of HS0AC possible, noting that for the three-element monoband Yagi beam for 40 metres almost 50 people had been present to help raise that antenna to the top of the tower.
He added that there should be an advanced class examination held next year, adding that RAST had no policy to distinguish between novice, intermediate or advanced class amateur radio operators. "It is one hobby -- one society," he said.
Pictures of the flood-damaged station and of the recovery efforts were displayed on a large poster affixed to the front of the club house bearing the slogan "The Rise of HS0AC."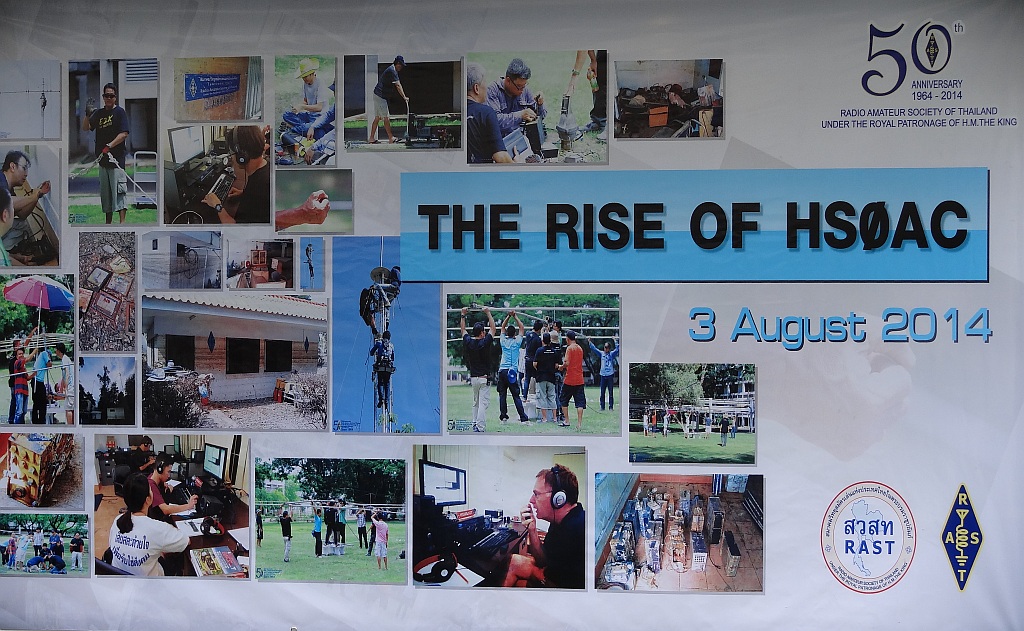 Coincidentally, this was also the title of a 10-minute video that Tony, HS0ZDX had put together for the upcoming Global Amateur Radio Emergency Communications (GAREC) conference to be held in Huntsville, Alabama on August 14-15 and which was previewed at the Open House event.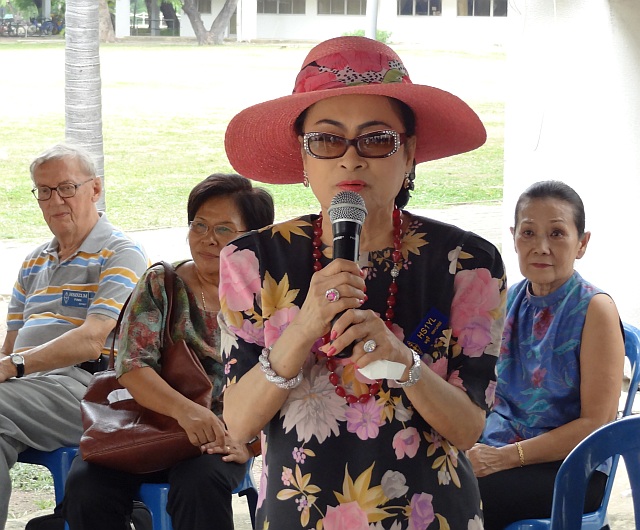 Jack then invited the former presidents of RAST and Prasit, HS1DN to say a few words before members of the RAST committee elected or appointed in May 2014 stood in front of the club house and introduced themselves.
Then the representatives of the visiting amateur radio societies each said a few words before there was a presentation to RAST of a portrait of His Majesty the King, HS1A from the owner of Siam Inter Network Sarawut Piaksinagorn, HS1WNT.
This was followed by a donation to RAST by Watcharapong (Tof), HS1NNU on behalf of the club station E2X of a mounted ARRL Amateur Radio Map of the World.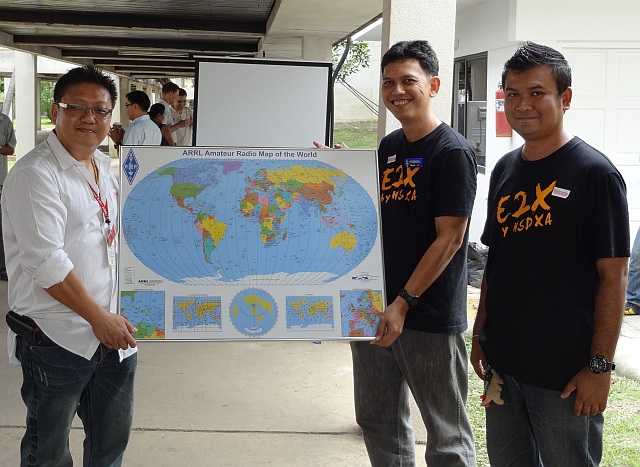 Finally, Dan Van Hoy, VR2HF and K7DAN gave a short illustrated talk about the Dayton Hamvention, which is the biggest amateur radio convention that is held annually in Dayton, Ohio.
This year some 25,000 people had attended the event and Dan (pictured at left) assured everyone that it was worth the trip.
Most of the activities were conducted outside in front of the club house and along covered walkways and while the sky was overcast with a sprinkling of drizzle at times fortunately the rain held off during the meeting.
There was no formal update during the Open House meeting about the new regulations, but regarding the new bands, a sub-committee is working on details for a band plan for six metres which will be authorized on a shared basis with the army.
This should come into effect next year.
For the importation new equipment and type approval, the NBTC hopes to have the manufacturers of HF/VHF equipment assist with type approval assessments -- since they have the technical specifications -- and after this all approved equipment should available through any dealer or distributor.
As for novice amateurs operating on the 10 metre band, this privilege will only be allowed from club stations and under the supervision of an intermediate class operator to enable novice operators to learn the proper operating procedures.
Any additional information about the new regulations will be posted on this web site as soon as details are received.
-- HS0ZDX
---
New Thai amateur regulations
enacted on July 24, 2014
Six metres opened up, 2-metre band expanded, UHF bands allowed,
novices may use 10 metres
Thailand's regulator, the National Broadcasting and Telecommunications Commission (NBTC) has approved the new regulations to govern amateur radio that the agency has been working on for almost three years.
These regulations, which were published in the Royal Gazette on July 23 and will become law on July 24, 2014, allow operations on six-metres (50-54MHz), expand the 2-metre band by 500 KHz (up to 146.5 MHz) and activate the advanced class with privileges that will allow power output levels of up to 1,000 watts.
Restrictions on HF radios that include six metres will be removed and type-approval restrictions will be eased so that Thai radio amateurs will be able to purchase new models of transceivers.
Additional spectrum is also authorised in the 160- and 80-metre HF bands while the VHF and UHF bands above 2-metres are also to be opened up as can be seen in the proposed
frequency allocation table
.
The new regulations were signed by the Chairman of the NBTC on June 20, 2014 and will now become effective following their publication in the Royal Gazette. You can view or download the details (in Thai) in a PDF file by clicking on
this link
However, while the law becomes effective on July 24, 2014 licensed Thai amateur radio operators will need to observe implementation guidelines that will be published in additional documents from the NBTC. As further information is received regarding this it will be published on this web site.
Other changes include:
Novice Thai operators will be able to operate on 10-metres (28-MHz) although the NBTC has set conditions that they must receive a certificate from an authorised trainer first.
Operators on two metres will be allowed to use up to 60 watts and club stations 100 watts. More club stations and contest callsigns will be issued.
Those who do not hold an amateur radio licence may operate under supervision at a club station.
Callsigns that have expired, if not renewed within two years, will be reassigned.
The Morse code test will remain as a component of the intermediate and advanced class amateur radio examination in Thailand, however the test will be for the ability to receive CW only.
RAST would like to extend its congratulations and thanks to the former President Pornchai, HS2JFW (Joe), RAST officers Narissara, HS1CHB, Thida, HS1ASC, Chalermphol (Champ), E21EIC, Jakkree, HS1FVL and all others who worked with the NBTC in public and private hearings to help draft and revise these new regulations that will now become law.
RAST would also like to thank the NBTC Chairman, commissioners and officers who have helped amateur radio in Thailand to take a big step forward with the enactment and passing of these new regulations.
You can download the regulations in Thai or view them online from
this link
(right click and select "save as" to download).
The new band plan can be viewed
here
.
More information will be posted on this website as details are made available. -- Tony Waltham, HS0ZDX
---
The 42nd SEANET Convention in
Bali from Nov 14-17, 2014
The Sanur Beach Hotel in Bali
An invitation from Gjellani J. Sutama (Jel) YB1GJS
Greetings from Bali island, Indonesia!
I am honoured to invite you to our country for the 42nd annual SEANET Convention, hosted after a long time missed in Indonesia. Our convention is truly a worthwhile endeavour as it affords us the opportunity to meet face-to-face and strengthen our bonds of friendship and learn from each other through sharing and discussion of our mutual interests.
Because I have had the opportunity to attend and participate in a number of our conferences, I have visited many countries and gained a greater understanding for various peoples and cultures that I may not otherwise have known. Further, I have deepened some of my SEANET friendships to consider many to be a part of my extended family.
Understandably, some travellers may have concerns when visiting Indonesia with the current political climate. However, everyone who travels to Indonesia comes to see it is a safe, warm and welcoming city where tourists can comfortably enjoy sightseeing and walking throughout its cities.
Bali is a magical island blessed with beautiful people and places, filled with art, music and festivals. Majestic volcanoes, enchanting heritage, mystical rice terraces and long sandy beaches are just the start of a highly uplifting and rewarding experience. Bali is so much more than people ever expect. From its varying landscapes to its incredibly rich culture and wonderful people, it is a destination that provides huge diversity, one that will ensure that even after a short programme each of us will form a bond with the island, its people and its magic, as well as with each other.
Combining Bali's local charms with its cosmopolitan dining scene, out-of-this-world hotels and resorts and an extensive range of modern meeting venues and facilities to fit all budgets, you can be sure that from the moment your delegates step off the flight until their return, that just as with the people of Bali, there will be smiles all round.
We're sure that your visit to Bali, Indonesia for SEANET 2014 will inspire you to return with family and friends to explore its history, natural wonders, and come to know its people and culture.
Our convention will be held at the
Sanur Beach Hotel
, a four-star international resort which commands a strategic location on the beach while being just minutes from a great shopping experience and not far from the cultural and natural attractions of Bali.
All categories of the guest rooms surround a tropical garden courtyard and an expansive pool environment.
Dear SEANET friends, on behalf of Organisasi Amatir Radio Indonesia (ORARI) and all Indonesia Amateur Radio operators, I await your arrival and look forward to welcoming you to Bali.
Due the high seasons of our venue in Bali island, we really need your co-operation to confirm, book and register your plans to come and join our SEANET Convention this year from November 14 to 17, 2014.
Please contact me directly at my email address ( yb1gjs@gmail.com ) regarding your confirmation / booking and registration at our website
http://orari.or.id/seanet2014/
.
73 es 88 TU de
SEANET Convention 2014 Chairman
Gjellani J. Sutama (Jel) YB1GJS
Mobile : +62 811 106 289
---
For earlier news about RAST and developments regarding amateur radio in Thailand, please check our most recent archive here. A list of links to archives that date back to 2005 can be found on the right-hand side of this page.