RAST conducts Intermediate Class exam
On the morning of April 18, 2015 RAST conducted an Intermediate Class amateur radio examination in conjunction with the National Broadcasting and Telecommunications Commission (NBTC) at Bangkok University's Rangsit Campus for 200 candidates that included a Morse code receive-only component.
The video below was compiled by Peernat Wiswapalanont, E20PFE.


This was the second intermediate class exam to be conducted jointly by RAST and the NBTC with the previous Intermediate Class exam having been held on May 28, 2012.



Choon provides account of IOTA DXpedition during April meeting
At the April RAST meeting held at Sena Place Hotel on Sunday, April 5, Choon, E20HHK provided an account of the recent IOTA DXpedition to Koh Maeo in the Gulf of Thailand off Songkhla.
A team of more than eight operators operated from the island, AS-145 from March 13.15, operating in SSB, CW and RTTY modes on the HF bands when around 2,800 QSOs were made. The operators included E20HHK, HS0FVS, HS3NBR, HS4RAY, HS7BHK, HS8GLR, E22WWZ and HS9ZKE using the callsign E20HHK/P. QSL information is via E20HHK.
During the meeting, RAST President Jack, HS1FVL also provided an update about the Thai amateur radio satellite project (JAISAT) supported by RAST. Plans include a 145 to 435 MHz linear transponder for SSB/CW communications, APRS, a packet bulletin board system (PBBS) and a HD camera for imaging.
The project, under way since June 2013, intends to launch an amateur radio satellite later this year and RAST is now seeking 10 million baht in funding for this.
The next meeting of RAST will take place on May 3, 2015.



---
The March 2015 AGM at Sena Place Hotel was well attended.
Many attend RAST AGM, regulations are revised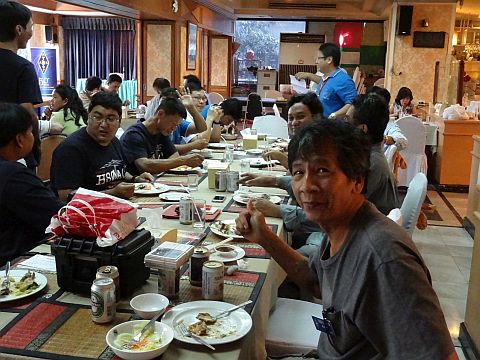 Over 60 members and guests registered for the AGM meeting of RAST on Sunday March 1 at Sena Place Hotel and RAST President Jakkree (Jack), HS1FVL kicked off the proceedings at 11.30 by declaring the meeting open while a count was made of those present.
Since there were not enough members present to constitute a quorum of 100 members the AGM was deferred for one hour, in accordance with RAST regulations, and members took advantage of the break to have a buffet lunch.
An hour or so later, at 12.35 the meeting was declared open and Jack welcomed everyone and began by announcing that on the following Sunday, March 8, there would be a special training session for candidates who will be taking the next Intermediate Class examination that is scheduled for April 18.
This training course, which will feature several speakers from RAST, will be conducted at Nonthaburi Withayalai School from 9 a.m. to 4 p.m. and Karn, E20ZFD told members that 47 people had registered for the training while many others were expected as walk-ins next Sunday.
The Intermediate Class exam itself will be conducted at Bangkok University's Rangsit campus and the maximum number of 200 candidates had already registered for the exam that is scheduled to take place between 9 a.m. and 12 noon . This time around, there will be 100 multiple choice test questions that need to be answered within one hour and a receive-only Morse code test.
Then RAST Secretary and QSL Manager Champ, E21EIC was invited up to give a RAST QSL Bureau report for 2014-2015 and for the period from March 1, 2014 to 28 February 2015 the number of incoming QSL cards were up slightly, from 22,054 to 22,123 while outgoing QSL cards were up by a dramatic 67 per cent from 12,154 to 20,308 cards. For full statistics, please see details in the chart at right that covers the past six years.
After these announcements, Jack asked members to vote to approve the minutes of the 2013 AGM meeting which had been sent out to everyone by registered post and this was followed by a report from the RAST President about RAST's activities over the past 12 months, beginning with the RAST New Year anniversary party on January 12, 2014 and ending with the MS-BAT 4 ballooning exercise on December 21 followed by a summary of members who became silent keys during the year.
A full summary of these activities appears on this website
here
. Jack observed that this had been the first time in many years that RAST's revenue that had exceeded expenses before he sought approval for the appointment of an auditor for the society's accounts. He nominated RAST's auditor for the past several years, Prateep Saengthammarat, who was unanimously approved.
This was followed by a summary of RAST membership statistics before the issue that took the most time during the meeting was raised and this was a proposal to revise the requirements for convening the annual general meeting according to the
RAST regulations
.
The proposed changes were about some requirements in parts 22, 23 and 26 of Section 6 of the regulations, and, in particular, regarding the policy that, in the event of there not being a quorum for the meeting, the meeting should wait for one hour and, after that, those who were present would constitute the quorum.
Former RAST President Pornchai (Joe)
(left, with RAST President Jack standing next to him)
explained that he had been informed last year when he had been president that this requirement did not conform with government regulations regarding societies and so it needed to be revised. He took the microphone to propose that a meeting be called for late February, while there were other proposals from the floor of the meeting, including changing the number of members who comprise a quorum -- which currently stands at 100 members.
The proposal for late February was revised to the first Sunday in March -- the month in which the regulations specify the AGM should take place.
In the end, the proposal that was voted on was to reduce the requirement for a quorum to 50 members being present, with an additional requirement that this number should include two thirds of RAST's committee members who must be present at the meeting.
If these numbers could not be met then a second meeting would be called in 14 days and those attending that meeting would comprise the quorum. This proposal was voted for with overwhelming support by a show of hands.
The RAST President then proposed that the membership fee for organizational members of RAST should be increased from 500 baht to the standard life membership fee of 2,100 baht and this was also approved by a show of hands.
There was also a proposal from Gen Prasit, HS1DN that RAST should help take care of any members who fell sick or who were in hospital and this was agreed to with Jack asking those present to inform rhe RAST Secretary if they knew of any members who were hospitalised.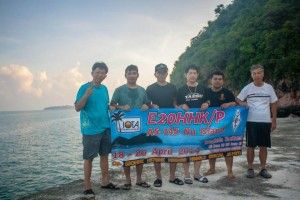 Jack also announced that Choon, E20HHK would be leading a DXpedition to to activate IOTA AS-145 on Koh Maew in Songkhla Province. RAST is supporting the team effort with a 3,000 baht donation and members at the March meeting contributed over 5,000 baht in additional support. Choon will be acompanied by HS0FVS, HS3NBR, HS4RAY, HS7BHK, HS8GLR and HS9ZKE between March 13 and March 15 and the team will be active on the HF bands on CW, SSB and RTTY running 100 watts. QSL via E20HHK or the RAST QSL Bureau.
Finally TAMSAT representative Tanan, HS1JAN
(above right)
provided a brief update about TAMSAT, detailing some features of the cubesat on a laptop computer before the meeting ended at around 14.30.
Earlier, in a committee meeting, RAST officers voted in support of a proposal that the Association Burundaise des Amateurs Radio et Television (ABART) be accepted as a member of the International Amateur Radio Union (IARU) and this support will be conveyed to the IARU headquarters in Newington, Connecticut in the United States.
---
RAST AGM: Sunday, March 1
On Sunday March 1, 2015 the Radio Amateur Society of Thailand under the patronage of His Majesty the King (RAST) will hold its annual general meeting at Sena Place Hotel on Phaholyothin Soi 11.
The AGM will include a review of the society's activities over the past year (a summary of these appears
here
) and a statement of accounts and all RAST members are invited to the meeting which will begin at 11.30 a.m.
An invitation along with the agenda of the meeting has been mailed to all members and a buffet lunch will be available.
RAST President Jakkree Hantongkom, HS1FVL will also bring members up to date with news of any developments regarding amateur radio in Thailand as well as about the upcoming Intermediate Class amateur radio examination scheduled for April 18 for which RAST is organizing a special day-long training course at Nonthaburi Wittayalai School next Sunday -- click on
this link
for more details (in Thai) and a chance to sign up for this.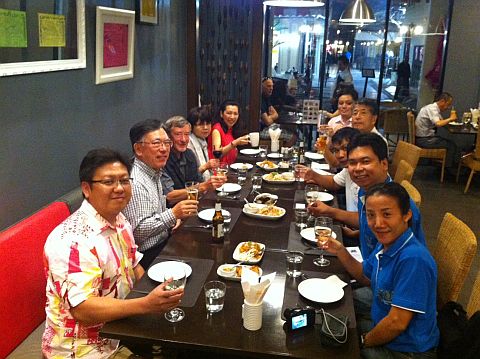 RAST President Jakkree (Jack) (seated far left) and RAST officers including RAST Secretary Champ (second from right), RAST Registrar Jaycie (far right), along with RAST committee members Dr Panit, HS1AAZ and Nukool, HS7BHK host a dinner for IARU Secretary Ken Yamanoto, JA1CJP (second from left), IARU Director Peter Lake, ZL1AZ (third from left) and IARU Director Shizuo Endo, JE1MUI, third from right (betwen Nukool and Dr Panit) at the Taling Pring restaurant on Soi Pan, off Silom Road.
RAST hosts dinner for IARU Secretary and directors
RAST President Jakkree (Jack) Hantongkom, HS1FVL, RAST Secretary Chalermphol (Champ) Muangamphan, E21EIC and other RAST officers hosted a dinner for IARU Region 3 Secretary Ken Yamamoto, JA1CJP and IARU Region 3 directors Shizuo Endo. JE1MUI and Pater Lake, ZL2AZ on Saturday February 14. The IARU officials had been attending a meeting of the Asia Pacific Telecommunity (APT) in preparation for WRC 2015 at the Shangri-La Hotel in Bangkok.
The IARU is now busy lobbying for a possible new allocation to the amateur service in a band from 5275 kHz to 5450 kHz which has been identified as a very important item for radio amateurs as it bridges the gap between 3.5 and 7 MHz.
RAST, in the meantime, has been lobbying for this with officials of the National Broadcasting and Telecommunications Commission (NBTC) and the RAST representatives and IARU officials were able to compare notee on this during the dinner meeting which took place at the Taling Pring restaurant on Soi Pan off Silom Road.
RAST President Jakkree presents a RAST 50th anniversary flag to IARU Secretary Ken Yamamoto, JA1CJP during the dinner.
RAST President Jakkree presents a RAST 50th anniversary flag to IARU Director Peter Lake, ZL2AZ.
Jakkree, HS1FVL presents a RAST anniversary flag to IARU Director Shizuo Endo, JE1MUI.
Our thanks to Champ, E21EIC for these photos.


February meeting looks ahead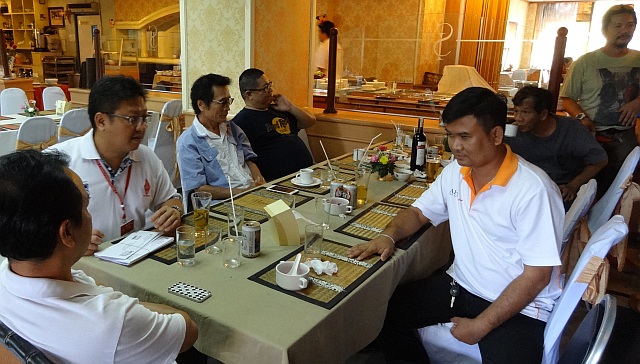 RAST President Jakkree (Jack) (second from left) shares a table with several other RAST committee members during the Febuary meeting at Sena Place Hotel on the first Sunday of the month.
RAST President Jakkree (Jack), HS1FVL began the February RAST meeting by thanking everyone for their support for the RAST 50th anniversary banquet on January 24, 2015 which had been attended by over 500 guests, including more than 10 presidents of provincial amateur radio associations.
Jack said that the event had been very successful and he added that several people had asked when the next such RAST event would take place -- to which Jack said he had replied by saying that this would probably be RAST's 60th anniversary.
Later on guests at the meeting would applaud RAST and the 50th Anniversary Organizing Committee for their efforts in hosting the successful event following a suggestion from Sam, HS0ZDY/SM3DYU.
With slightly over 30 members at the meeting at Sena Place Hotel on February 1, Jack then moved on to announce preparations for the next Intermediate Class amateur radio examination which is set to take place on the morning of April 18.
The venue for the exam, organized by RAST for the NBTC, will be Bangkok University's campus in Rangsit and Jack noted that anyone interested in taking the exam -- which is open to Thai novice amateur radio operators -- should apply quickly since there would be a limit of 200 candidates. Details can be found on RAST's
Thai-language website
.
The other major event on the horizon is the 44th annual Southeast Asia Net (SEANET) convention which RAST will be hosting in Pattaya in October next year and he said a working committee was being set up to manage this event.
Over the past four decades RAST has hosted several SEANET conventions in Bangkok as well as in Chiang Mai, Koh Samui and previously in Pattaya in 2000. Jack said he expects around 200 delegates to attend the event in 2016.
After these announcements, Jack asked if there were any questions from the floor and Koess, HS0ZLA asked if RAST would again be participating in the Friedricshafen Ham Fair later this year.
Jack replied, saying that he was not sure yet since RAST was engaged in many activities including participation in the IARU Region 3 Convention in Indonesia, in the SEANET Convention -- both by joining the event in India this year and preparing to be the host in Pattaya in 2016 -- as well as having a booth at the Tokyo Ham Fair again this year.
Then there was a question from Rudy, HS0ZEA regarding permission to operate on six metres to which Jack explained that there has been opposition from the Royal Thai Army which uses FM on a frequency in this band, with equipment that operated on the band.
Jack explained that the Army's objection was that this would compromise national security while the RAST President observed that today anyone could buy a Software Defined Radio (SDR) device to plug into a computer's USB port and then all radio frequencies transmitting that were not encrypted could be monitored.
He added that RAST would continue to work hard to gain permission to operate in the six-metre band and he said that the society was now working very closely with the NBTC, helping them to draft regulations three days a week.
The question of operating on 70cm was also raised by Koess, HS0ZLA and Jack said that RAST had been pushing for this. "If we get lucky" we will have a portion of the 70cm band soon, probably from 435 MHz to 438 MHz, he added.
Mike, HS0ZIU then asked about gaining permission for DMR (digital mobile radio), an open international digital radio standard supported by Motorola and Hytera, in Thailand. Jack replied that digital modes were permitted in the 2-metre band on 145.012 MHz and 145.7875 MHz (simplex) with tests now being conducted using Icom's D-Star equipment. However, one of the problems with digital modes was the availability of equipment, he said.
The next meeting of RAST will be at Sena Place Hotel in Phaholyothin Soi 11 on March 1, 2015 and all members and any guests or radio amateurs visiting Thailand are welcome to attend. -- HS0ZDX
Pictured during the meeting, seated at the table from left: John, HS0ZDJ/W2YR, Sam, HS0ZDY/SM3DYU, Mike, HS0ZIU/WS2E, Choon, E20HHK, and Charly HS0ZCW/K4VUD. Finn, HS0ZLM/OZ1HET is standing while seated behind are former RAST President Chaiyong, HS1QVD, RAST Treasurer Pornpimol, HS0VDX and former RAST President Mayuree, HS1YL (partially obscured).
.
RAST Celebrates 50 years
NBTC Commissioner and Chairman of the Subcommittee on Amateur Radio General Sukit Khamasundara (right) addresses guests at RAST's 50th anniversary dinner on Saturday, January 24 at Sanam Suapa Reception Hall. Over 500 attended the event, including representatives of amateur radio associations from across Thailand and from overseas.
From left, RAST committee member and presenter Wanlop Tadsri, HS6MYW, RAST Vice President Tony Waltham, HS0ZDX, NBTC Commissioner Gen Sukit Khamasundara and RAST President Jakkree Hantongkom, HS1FVL stand to attention as the national anthem is played. -- HS1AL photograph


RAST marks 50th anniversary with celebratory banquet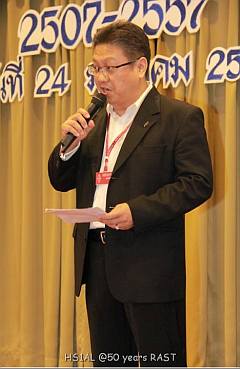 Over 500 members and guests, including representatives from amateur radio association from across the country, attended RAST's 50th anniversary celebratory banquet at the Reception Hall at Sanam Suapa on the evening of Saturday, January 24, 2015.
The event was presided over by RAST President Jakkree Hantongkom, HS1FVL
(making his opening speech in this picture)
with the Chairman of the National Broadcasting and Telecommunications Commission Subcommittee on Amateur Radio General Sukit Khamasundara giving a keynote address.
The Chinese-style banquet was well attended and the Reception Hall was overflowing with guests with tables spilling over into the lobby and in rooms off to the side of the main hall, while there was a table well stocked with prizes that included an Icom IC-718 HF transceiver along with many VHF transceivers and hand-helds.
Former RAST President Mayuree Chotikul, HS1YL was among the many guests at the event, seated second from left at this table.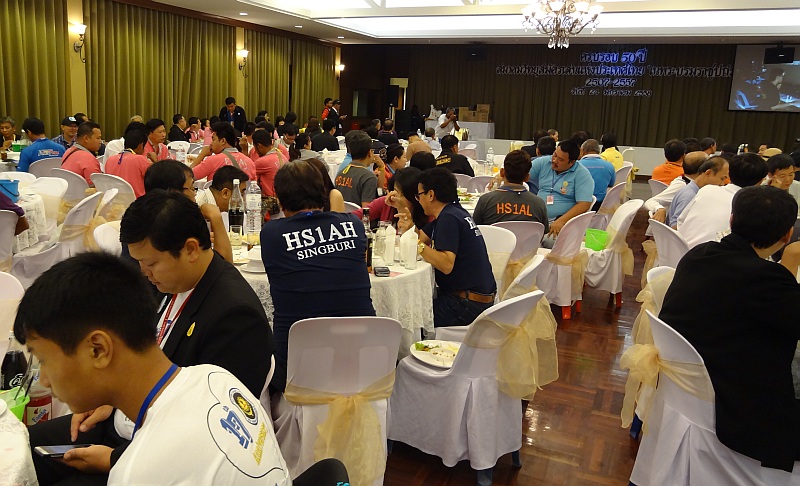 Many tables had been booked by provincial amateur radio associations with the HS1AH table from Sing Buri and the HS1AL table from Lop Buri visible here.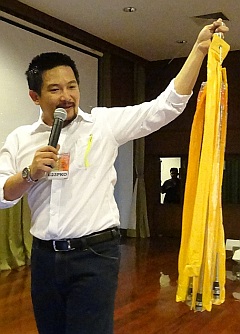 Indeed, the drawing of prizes lasted for over an hour and there were winners seated at most if not all of the more than 50 tables in and adjacent to the hall.
Winners of the 100 Watts Magazine's Field Day contest also received awards during the event, while there was a video that provided an insight into the history of RAST and amateur radio in Thailand prepared by Champ, E21EIC.
Souvenirs were on sale at the reception area while caps, T-shirts and other mementos were distributed by the presenters "Ajarn Nuat", E23PKO
(pictured at right)
and Wanlop, HS6MYW.
As for the prizes, they were presented by sponsors, senior NBTC officials including Khun Sukit and Khun Manas Songsaeng, HS1DE, RAST committee members or senior guests from provincial amateur radio associations attending the event.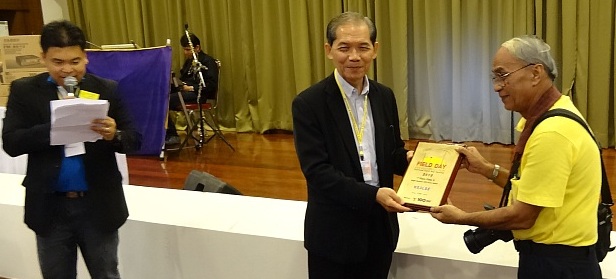 Khun Manas Songsaeng of the NBTC presents a Field Day award to Supichan, HS3LSE from Surin with Chanp, E21EIC, at left, making the announcement.


Also present were former RAST Presidents that included Khun Mayuree Chotikul, HS1YL, Khun Pornchai (Joe) Semjang, HS2JFW and Khun Chaiyong Wongwuticomjon, HS1QVD while there were a lot of guests who have been members of RAST since the time that amateur radio was legalised in Thailand in 1987 -- and earlier.
Also attending were many expatriate members of RAST with the gathering was a truly international one.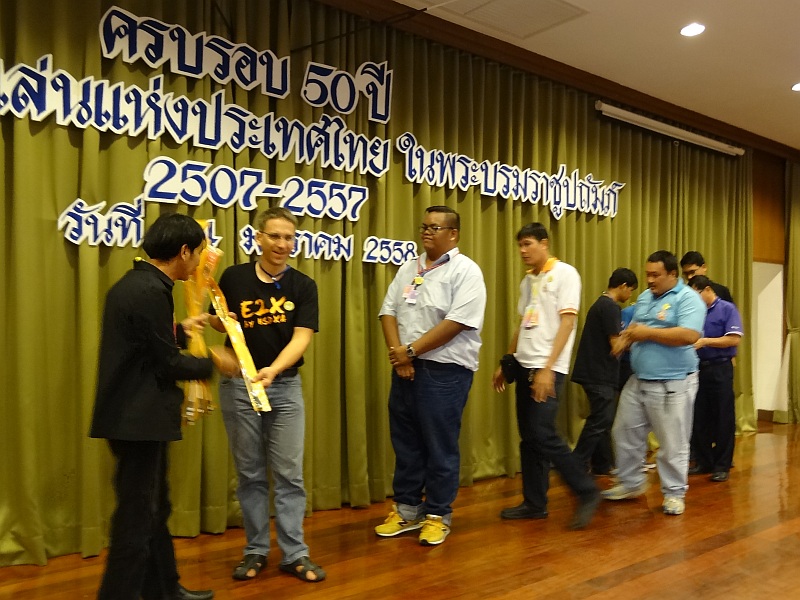 Swen Roeder, HS0ZFZ receives an antenna he won in the lucky draw while other line up to receive their prize as well.


Whenever prizes were not being awarded or announcements were not being made vocalists took to the stage to provide a soothing accompaniment to the excellent food that was served at the tables, while a variety of refreshments were available.
We hope that the accompanying photographs capture some of the atmosphere of the evening and that the captions help tell more of the story of the event.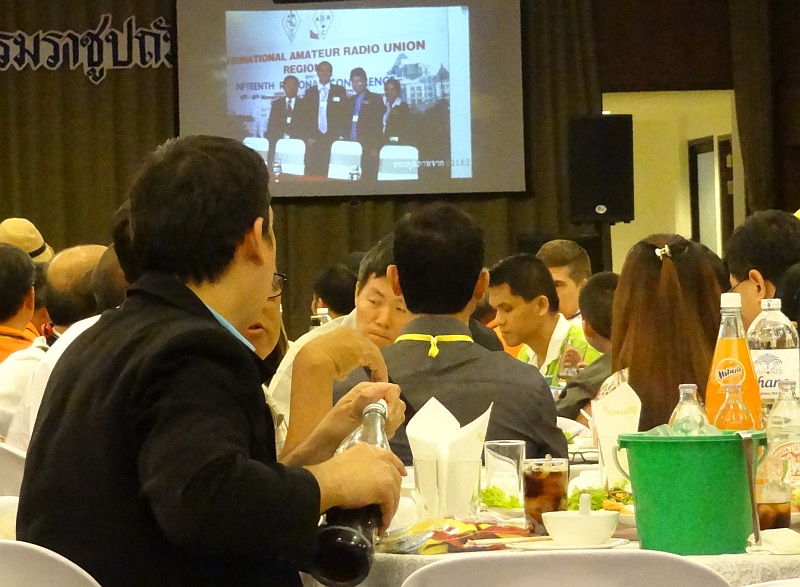 The history of RAST and of amateur radio in Thailand was recapped in a video that lasted for almost 15 minutes that was screened during the event. The video can be viewed on YouTube by clicking on this link.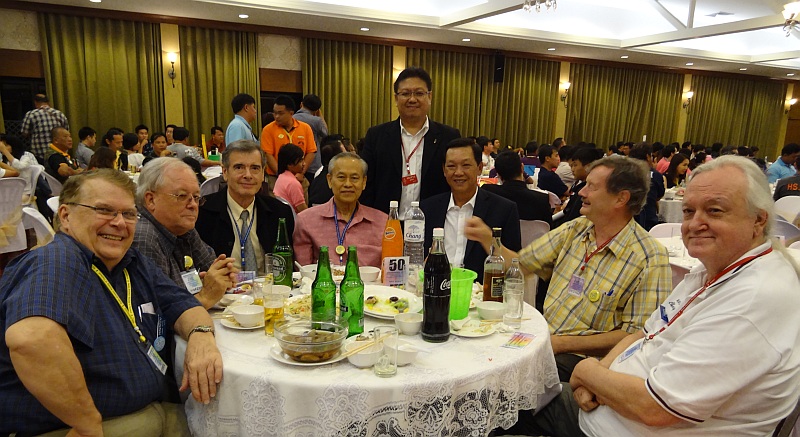 With NBTC Commissioner Sukit (seated fifth from left), from left: John, HS0ZDJ/W2YR, Svante (Sam) HS0ZDY/SM3DYU, Tony HS0ZDX/G4UAV, Chaiyong, HS1QVD, RAST President Jakkree, HS1FVL, standing behind Gen Sukit, DH5HSO and Charly, HS0ZCW/K4VUD.
Report and photos by HS0ZDX

.
For earlier news about RAST and developments regarding amateur radio in Thailand, please check our most recent archive here. A list of links to archives that date back to 2005 can be found on the right-hand side of this page.