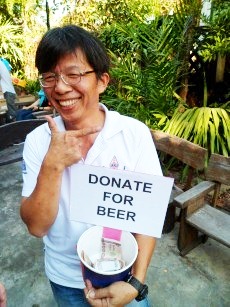 Over 85 members and guests attended the RAST New Year party at Rotmeumae (Mother's Touch) Restaurant in the northern suburbs of Bangkok near Laksi on Sunday January 12 that began at 3 p.m. and continued into the evening.
Amateur radio equipment was on sale, an HF station was operational using the callsign HS0AC and CW proficiency tests were conducted at the party. A buffet dinner of Thai food was available and refreshments were provided, with many guests chipping in with donations that ensured that beer flowed for everyone all afternoon and evening.
Most guests brought a gift with them and these were exchanged in a lucky draw while there were some bonus gifts including a portable 7-MHz antenna sponsored by the Club Station amateur radio shop.
After an excellent buffet dinner, RAST President Pornchai (Joe), HS2JFW began by wishing everyone a happy new year, adding that this would be a "year of change" for amateur radio in Thailand -- change that would mostly be positive when looking at the conclusions following the NBTC's recent public hearing.
New regulations had been approved and would likely become effective around March or April and they mostly reflected improvements, he said.
Pornchai (Joe) then went on to start the drawing of gifts along with RAST Secretary Jakkree (Jack), HS1FVL.
After most of the gifts had been exchanged, Joe then went on to announce some of the innovations that radio amateurs in Thailand can expect in 2014.
These included the advent of the advanced class licence for which exams would be administered and this would be equivalent to the US extra class licence.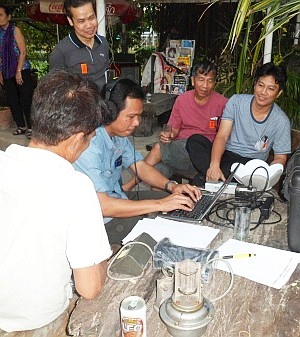 The main difference in operating privileges would be additional power output of up to one kilowatt being allowed compared with the current limit for intermediate class licensees which is 200 watts.
However, a RAST proposal to merge the points from the theory and Morse code components for intermediate or advanced class exams had been rejected and candidates will still have to attain a 70% pass mark in both the theory and the Morse code.
Joe added that a small portion of the six-metre band would likely be authorised for operating in 2014, and this would hopefully be a first step and we should see more spectrum allocated later, he predicted.
Meanwhile, in the 435-438 MHz band (70 cm) and in the 1.2 GHz band (23 cm) operations will soon be permitted for the first time -- but on the satellite uplink frequencies only.
Another big change will be that novice operators will be allowed to operate on the 10-metre HF amateur radio band but the responsibility for explaining HF operating procedures along with the need to conform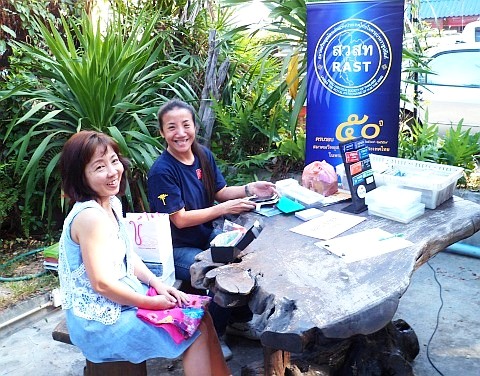 with the international band plan would be the responsibility of the provincial amateur radio associations, rather than RAST directly, the RAST President said.
However, RAST intends to organise briefing sessions for representatives of these assocations to offer guidance as to how they might oversee this.
Another aspect of the forthcoming permission to allow Thai novice hams to operate on 28-MHz is that the maximum power allowed will be 30 watts.
Joe also announced that this year the cost of the buffet lunch at Sena Place Hotel, RAST's regular venue for meetings, would increase by 40 baht from 280 baht to 320 baht and he sought any feedback on this while the consensus was that despite this increase the February meeting would be held Sunday, February 2 at Sena Place.
After these announcements the lucky draw of gifts resumed and the party later drew to a close at around 9 p.m. as guests began to make their way home.
-- Report and photos by Tony, HS0ZDX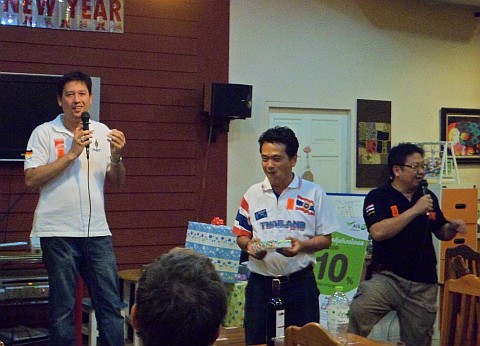 ---
Rana, WB4NFO, HS0ZBK is a silent key
RAST life member Pradyumna Rana, HS0ZBK and WB4NFO, died peacefully in his sleep from congestive heart failure on December 29, 2013 at the age of 76 in his house in Alexandria, Virginia where he had lived for 40 years.
Rana, as he was known to everyone, was originally from Nepal where he had operated as 9N1NFO, 9N33 and 9N38. He had made many visits to Thailand from his home in the United States and had been very active in the Southeast Asia net having attended several SEANET conventions in Bangkok.
Rana had become a ham as a young man in Nepal after being mentored by Father Marshall Moran, 9N1MM at St Xaviers School in Kathmandu. After school he began working for the American Embassy with assignments in Nepal and India and eventually emigrated to the United States in 1965.
Once in the States he pursued technical studies in electronics and eventually obtained his amateur radio licence. Rana worked for AT&T as a telecommunications specialist and retired in 1990. Rana had been a member of the National Capital DX Association (NCDXA) and had 335 confirmed in the ARRL DXCC mixed standings.
He had been a good friend of Fred Laun, K3ZO/HS0ZAR who recalls: "When Rana attempted to resign as a member at one of the NCDXA meetings due to his inability to drive to meetings by himself because of the loss of his peripheral vision, his request to resign was rejected by those members in attendance, which for me was one of the crowning achievements of the NCDXA during my years as a member.
"Such was the esteem in which Rana was held by our members that the thought of his resigning because of a physical problem was considered to be completely unacceptable," Fred added.
Fred also remembers how "as a 14-year-old boy Rana had been dispatched to India to accompany Father Moran and to serve as a guide when Father Moran entered Nepal for the very first time as a Jesuit priest from Chicago."
Rana leaves a son (Pravin); his wife (Rama); daughter-in-law (Himashree); three granddaughters (Nisha, Neha, Megha); his brothers (Ravindra and Dipendra); his sister (Shuvalaxmi); and extended family and friends in Nepal, US, Thailand and all over the world.
May he rest in peace.
---