The November RAST meeting at Sena Place Hotel saw a good turnout with some 60 guests attending including new members and returnees while Tanan, HS1JAN, accompanied by representatives from the King Mongkut Institute of Technology, provided an update about the Thailand CubeSat project.
Introducing themselves were returnees Gerd, HS0ZKF/DK5FJ and Steve, HS0ZLK/W7VOA along with newcomers Renato, HS0ZLN/HB9BXQ, Hugh, 9V1SWL a teacher who said that amateur radio had taught him diplomacy and made him an international citizen, along with Jean, F8CHM who said we was looking forward to getting an HS call and being active from Thai islands to provide IOTA contacts for French-speaking hams.
The formal part of the meeting presided over by Pornchai (Joe), HS2JFW began with a minute of silence for former RAST member Lars Aronsson, HS0ZGG/SM3CVM (pictured left) who passed away on October 22 in Ostersund, Sweden after succumbing to pancreatic cancer.
Lars had been President of the King Chulalongkorn Memorial Amateur Radio Society in Ragunda, Sweden that had established the station SI9AM in 2000 and which had maintained close ties with RAST. A classical Thai pavilion marks a visit by Thailand's King Chulalongkorn to Utanede in 1897 and senior Thai officials now make regular visits to the memorial and to the station.
A funeral will be held in Ostersund, Sweden on November 8 for Lars. May he rest in peace.

Members and guests enjoy the buffet lunch at the November meeting st Sena Place hotel in Saphan Kwai in the northern suburbs of Bangkok.
RAST President Joe began by announcing preparations for the
ITU Telecom World 2013
exhibition and conference from November 19-22 at the Challenger Hall in the IMPACT Arena Exhibition and Convention Centre where the society is assisting the International Amateur Radio Union (IARU) in the setting up and manning of a booth and amateur radio station at the exhibition.
A special callsign "HS2013ITU" has been applied for and RAST is providing a team of volunteers to be at the booth to respond to enquiries and to distribute publicity materials about amateur radio and the role of the
IARU
, as well as to operate the demonstration station.
RAST is also providing computers and large LED displays to show videos that will explain various aspects of amateur radio where activities range from providing communications after disasters to satellite communications while being an environment for self-training and helping people to develop communications skills.
100 Watts Magazine Editor Thida Denpruektham, HS1ASC (seated at right) displays a CubeSat satellite module at the November RAST meeting. Tanan, HS1JAN, one of the leaders of the Thai amateur radio satellite group, is seated at left (in the green T-shirt) while at right is a professor from the King Mongkut Institute of Technology.
The day after ITU Telecom World 2013 concludes Thailand's National Broadcasting and Telecommunications Commission (NBTC) will be staging a public hearing to review the draft modifications to amateur radio regulations. This will take place on Saturday, November 23 at the Rama Gardens Hotel. RAST will be participating in this event and RAST Secretary Jakkree, HS1FVL (Jack) invited all RAST members to contact him directly by email if they would like to attend.
Jack's email address is hs1fvl(AT)gmail.com and the plan is to attend the hearing to verbally propose some amendments to the regulations and then, after the hearing, to meet privately and then to draft a letter of proposals that will be formally submitted to the NBTC.
Any aspect regarding the regulations that govern amateur radio in Thailand is open to amendment while one of the controversial proposals in the new draft regulations is about plans to change the format of callsigns allocated to foreigners in Thailand.
In addition, the lack of a six-metre band allocation has also drawn criticism from RAST members, while many have expressed frustrations over the limited range of old equipment that is on a type-approved list of transceivers coupled with the high cost of inspections for newer equipment.
Pornchai, E20GJW demonstrates the 3D printer in action during the November RAST meeting. The screen behind him shows the computer interface. More details are below.
November is shaping up to be a busy month and from November 15-26 two RAST committee members -- Champ, E21EIC and his XYL, Jaycie, E20NKB -- will be joining up with nine other operators led by Zorro, JH1AJT on a DXpedition to Naypyidaw in Myanmar.
Three to four stations using the callsign
XZ1J
will be set up to run 24 hours a day on the 160- to 10-metre bands in CW, SSB and RTTY modes. The other operators will be Franz, DJ9ZB, Katsu, JA1DXA, Jay, JA1TRC, David, K3LP, Paul, N6PSE, Peter, PP5XX, Rafael, PY2NDX and Kazu, VR2KF.
Following the announcements, Tanan, HS1JAN took the microphone and he along with a professor and an undergraduate from King Mongkut Institute of Technology and representing the Thailand Amateur Radio Satellite Group provided an update about the CubeSat, a 10-centimeter cube that uses commercial off-the-shelf components (COTS).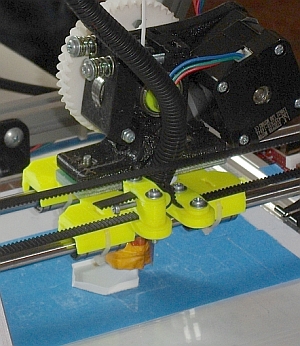 It was pointed out that this project required a good grounding in many fields of technology, ranging from circuit design to programming and communications while the next phase would be prototyping and testing of the various payload modules that comprise APRS and a beacon, a PBBS (packet bulletin board), ATV with an HD camera and a linear transponder duplex repeater.
Finally, Pornchai, E20GJW, formerly a lecturer at Mahidol University who is now retired, presented a compact 3D printer that can be assembled from a kit and he provided a full demonstration of the unit coupled with a notebook computer as it printed up an object made of plastic.
The demonstration generated a lot of interest as the printer set about its task while the computer interface was projected on the display. A bundle of samples that the printer had created was also circulated.
Pornchai said that the printers were available locally in kit form for 26,000 baht and if anyone had any enquiries they could contact him by email at e20gjw(AT)gmail.com.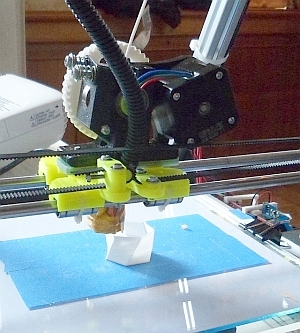 The three close-up photos above and at right show the creation of a decorative cup using the 3D printer and taken in succession during the demonstration. Below are some of the samples of objects created by the printer that Pornchai brought to the meeting and which are displayed here on a table napkin. - Photos by HS0ZDX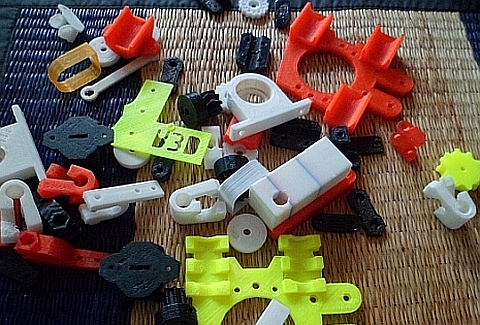 A major field day event beckons in Chiang Mai in early December, while amateur radio regulations are on the verge of a far-reaching revision by Thailand's regulator, the NBTC -- but there's still an opportunity for RAST to lobby for modifications or changes to the draft plans.
These were just two of the topics on the agenda of the October RAST meeting at Sena Place Hotel on Sunday October 6 which was well-attended with several teams of visiting hams who were present from Chiang Mai, Lampang, Khon Kaen, Maha Sarakham and Yala provinces.
The proceedings began by welcoming the many visitors from upcountry -- numbering almost 20 in all -- some of whom were attending a RAST meeting for the first time while others were returnees. Among them was Paul, G0MIH who introduced himself as a new RAST member, while Joop, PA0EDR had been to a RAST meeting before, as had Barry, UN7EY.
These introductions were followed by one-minute of silence for the late John Hugh Jones, formerly HS1AIT and WA3SLK, who had been a vice-president of RAST for three terms in the late 1970s and early 1980s and who had been responsible for inviting RAST to establish a club station on the campus of the Asian Institute of Technology (AIT) in 1983.
Professor Jones, or "Jonesy" as he was known to RAST members, had passed away on September 21, 2013 in Santa Clara, California, aged 94, but his legacy in the form of the RAST club station at AIT lives on today.
Back in 1983 Prof Jones' offer of a venue for a club station at AIT had enabled RAST to request permission to operate amateur radio on the HF bands during international amateur radio contests from a venue on an academic campus on a regular basis.
The regulator at that time, the Post and Telegraph Department (PTD) agreed to these requests and this proved to be a vital step forward for amateur radio at a time when all operations on HF from private stations had been forbidden while the PTD had been drawing up new regulations to govern amateur radio.
In the first contest operation from this station in 1983, HS0A achieved first place in Asia for the CQ World-Wide Phone Contest and it went on to win many other awards. Later, after the amateur radio regulations were promulgated and had become law in 1988, the club station callsign would change to HS0AC.
(A full obituary of Prof John Hugh Jones and an account of the role played by the club station at AIT that had used the callsigns HS0A and HS0AC can be found by following
this link
).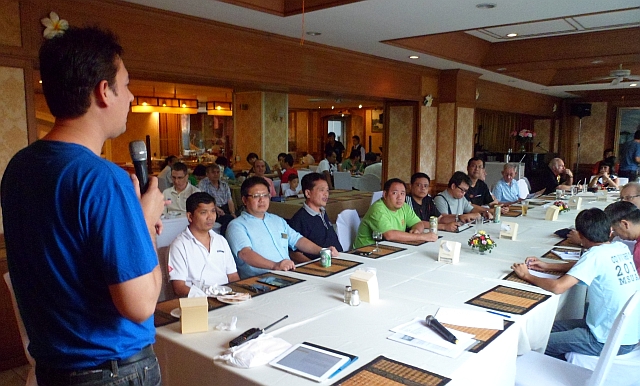 RAST President Pornchai (Joe), HS2JFW addresses the October meeting which had a good turnout with around 50 members and guests attending.
After one minute had passed, RAST President Pornchai (Joe), HS2JFW then followed on with news about the latest developments at AIT with an update about renovations to the club station there, announcing that work had been scheduled to begin last month, but that the company had been delayed by another uncompleted project.
However, work at AIT repainting and restoring the HS0AC club station would begin within two weeks and was expected to take one week to complete, he assured those present. And so Prof John Hugh Jones' legacy is set to continue...
The next item on the agenda was an announcement about a major field day event scheduled to take place in Chiang Mai on December 7 and 8 at a mountaintop venue as part of the celebrations to mark 100 Watts Magazine's 25th anniversary and which is sponsored by RAST.
This will be a field day activity with fox hunting, HF and VHF DX operations using the callsign HS25DX and an emergency communications contest that will take place near the peak of Doi Pui at Sri Neru village. This location is above Doi Suthep and some eight kilometres beyond Phuping Palace, being at an altitude of 1,400 metres above sea level.
President of the Chiang Mai Amateur Radio Association, Khun Thiradej, HS1LCI was at the October RAST meeting along with HS1NIV to provide additional information while more details in Thai can be found at the
100 Watts website
.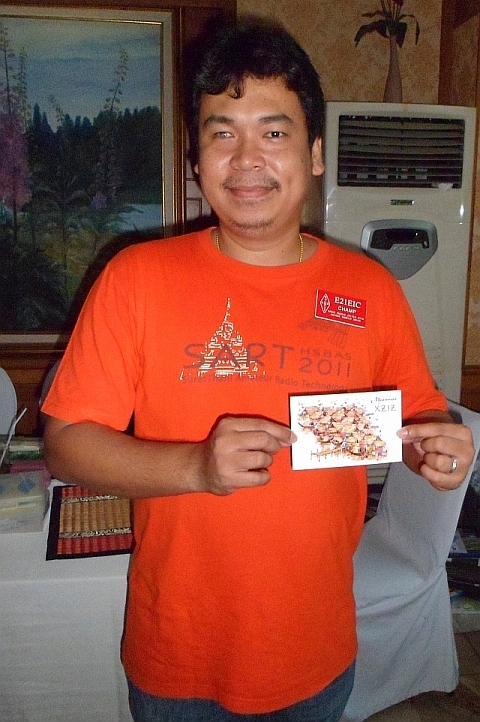 During the meeting, Ray, HS4RAY (in the photo at left) collected donations to help replace a tower at a club station at Maha Sarakham University that collapsed during a typhoon recently. At right, Champ, E21EIC displays a QSL card for XZ1Z, which he helped put on the air along with Zorro, JH1AJT and Ted, JJ1LIB, from Naypyidaw, Myanmar in September.
NBTC to revise amateur radio regulations
The National Broadcasting and Telecommunications Commission (NBTC) is in the final stages of revising the regulations that will govern amateur radio in Thailand and the proposed changes could have a significant impact on the hobby, RAST President Joe, HS2JFW explained.
Many changes are proposed to the regulations and the details in full can be found (in Thai) by following this link to
an article that reviews the new regulations
at the 100 Watts Magazine website and written by Joe himself.
At the RAST meeting, he outlined the relevant changes as follows:
-- Callsigns for foreign radio amateurs with Thai licences issued under a bilateral reciprocal agreement will change from the format of HS0Zxx to HS0/homecall, or HS/homecall, while the HS0Zxx callsigns already issued will be allowed to remain in use until it is time for the existing licences to be renewed.
-- The maximum power output for VHF will be increased to 60 watts, while for HF it will remain at 200 watts for Intermediate Class licensees, but it will be increased to one kilowatt for Advanced Class licensees. This raises the question as to when an exam for an advanced class licence will be conducted.
Joe also raised the question of whether those Thais who hold a US Extra Class licence will be able to equate this to a Thai Advanced Class licence? Another question would be whether foreigners with bilateral reciprocal licences would be able to equate their home licences with a Thai Advanced Class licence?
There was a question from the floor as to whether the 6 metres was authorised in the band plan and Joe replied that it was not included.
-- In another important change, under the proposed new regulations novice class operators will be able to operate in the 10 metre band (28.0 - 29.7MHz), and Joe suggested that RAST should be required to endorse applications to set up a station to operate on 10 metres in the same way that an endorsement from RAST is a requirement for intermediate class licensees to obtain a station licence.
He added that RAST would set up a subcommittee to provide education and training about HF operating procedures, such as the importance of complying with band plans and about QSling, for novice licensees seeking to operate on 28 MHz.
Such a RAST sub-committee should probably work with amateur radio societies in the provinces, Joe added.
There are more public hearings scheduled by the NBTC that RAST representatives will be participating in and if any members have any suggestions about these or other issues in the proposed regulatory changes, they should contact RAST President Pornchai (Joe) by email at hs2jfw(AT)yahoo.com.
Finally, the RAST President touched on D-STAR (Digital Smart Technologies for Amateur Radio) for which the 2 metre frequency of 145.500 has been assigned and plans are being made to establish a repeater for this mode. He said that the location could possibly on the NBTC premises at Phaholyothin Soi 8 (Soi Sailom), at the Software Park or at Bangkok University's Rangsit Campus.
Above right: RAST President Pornchai displays an Icom handheld for D-STAR operations during the meeting.
More information about D-STAR can be found at
Wikipedia
and at
D-STAR Info
.
Several RAST members attended the 41st Seanet convention in Yokohama
At the beginning of the meeting, those present had been reminded by Tony, HS0ZDX that the 41st Seanet convention was taking place in Yokohama, Japan with several RAST members participating, including Rudy, HS0ZEA, Ralph, HS0ZFL, Fred, HS0ZAR and K3ZO, Manfred, HS0ZEU and his xyl, along with Fred, HS0ZFA.
We thank Rudy for sending the above photograph that shows, from left: Fred, HS0ZFA, Fred, HS0ZAR and K3ZO, Rudy, HS0ZEA and Manfred, HS0ZEU in Yokohama.
To close out the October RAST meeting, Ray, HS4RAY, made an appeal for donations to repair a collapsed tower at a club station at Maha Sarakham University in the Northeast, with many members chipping in to help.
RAST Secretary Jakree (Jack) HS1FVL then thanked all the teams from various provincial club stations for coming to the meeting -- specifically the HS5AC team from Chiang Mai, the HS5AM team from Lampang, Art, HS4LKW from Khon Kaen, Ray, HS4RAY from Maha Sarakham and Sittigorn (Oh), HS8NBR from Yala.
Former RAST vice president Professor John Hugh Jones passed away in Santa Clara, California on September 21, 2013, aged 94.
John Hugh Jones (Jonesy), WA3SLK and HS1AIT, had lived in Thailand for 25 years, initially working at the SEATO Graduate School of Engineering which later became the Asian Institute of Technology (AIT) where he had been vice president of academic affairs until 1985.
John Hugh Jones had also been vice president of RAST from 1973 to 1977 and again from 1981 until when he left Thailand in 1985.
In December 1982 all private HF amateur radio stations in Thailand were required to go off the air while new regulations were being drawn up to govern the activity and John Hugh Jones then provided RAST with facilities to operate a club station from the campus of the Asian Institute of Technology during contests and for special events.
The close association established between RAST and AIT during that period still continues today.
After retiring from AIT, John Hugh Jones taught at the Institute of Technology Bandung (ITB), Bandung, Indonesia, for five years before retiring when he continued to make annual month-long trips to Bangkok for AIT graduations until he turned 90 years old.
He is preceded in death by his parents, and his wife of 56 years. He is survived by his son, David Bentley Jones, his two daughters, Gwyneth Jones Tracy and Megan Jones Morais, his six grandchildren, and six great grandchildren.
A celebration of John Hugh Jonesís life will be held at noon, October 5, 2013, at Acacia Memorial Cemetery, Modesto, California, where he will be interred next to his wife.