RAST plays a role in social networking to share information, pictures and videos of interest about amateur radio. You can follow developments on our
Facebook page
or by following RAST on
Twitter
or watch our videos on
YouTube
.
Click on the images at left or the links above to learn more.
---
June RAST meeting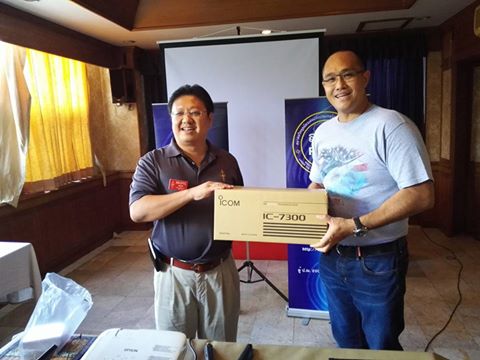 Nopanant, HS0JSB, (right) of G. Simon Radio makes the presentation of an Icom IC-7300 transceiver to RAST President Jakkree (Jack) at the June meeting of the June meeting of RAST at Sena Place Hotel. -- Photo: Wanlop Tadsri, HS6MYW
G. Simon Radio donates Icom IC-7300 transceiver to RAST
The highlight of the RAST meeting at Sena Place Hotel on Sunday, June 5 was the donation of an Icom IC-7300 transceiver to the society by G. Simon Radio, represented by Nopanant (Giant) HS0JSB who made the presentation to RAST President Jakkree Hantongkom (Jack), HS1FVL.
The transceiver will be used at the RAST club station, HS0AC, located at the Asian Institute of Technology, and the society is most grateful for the donation of the IC-7300 which is an industry first, being an entry level HF radio that uses new technology with an RF, Direct Sampling System.
The ability to digitize RF before various receiver stages reduces the inherent noise that is generated in the different IF stages of a radio and it has received many good reviews. It is available from G Simon Radio, located at Central Bang Na, for 59,000 baht.
Foreigners with a Thai licence need to send
an information update to RAST
During the June meeting, the RAST President made an important announcement regarding the society's need to comply with a request made to it by the National Broadcasting and Telecommunications Commission (NBTC) regarding information about its members.
He explained that, according to an NBTC announcement made in 2014, all amateur radio operators in Thailand are required to be a member of an amateur radio society that is approved by the NBTC.
Jakkree said that NBTC Secretariat has asked the registrars of all amateur radio societies to provide them with a summary of their members so that the NBTC will be able to provide a searchable database online and to comply with this request and ensure that its information is up-to-date RAST would like all its expatriate members who hold callsigns in the HS0Zxx range to provide the following information and to send it in an email to
[email protected]
or
[email protected]
-- a scan or copy of their passport or ID card;
-- a scan or copy of their HS0Zxx amateur radio licence;
-- a scan or copy of their RAST membership card.
RAST would appreciate it if all expat members can comply with this request before June 30, 2016 and an email will also be sent notifying them of this request.
But, if your licence has expired, this is what you must do
In addition, for any foreign amateur radio operator with an HS0Zxx callsign whose licence has expired for a period exceeding two years but who wishes to renew their licence, they must complete this licence renewal before December 31, 2016 or else their licence will be revoked and their amateur radio equipment will immediately become illegal to own or to possess.
To renew their licence they must take the following steps:
1. Fill out a
Chor.Gor.2 form
and a proxy form which can be downloaded from
here
;
2. Provide their original licence;
3. Provide a one- or two-inch recent photograph of themselves;
4. Provide a copy of their passport;
5. Provide a fee of 500 baht to cover expenses including for a new licence, excise duties and the cost of processing this;
6 Provide a 50 baht additional payment which is the fine for allowing the licence to expire.
These documents and fees should be provided to RAST Secretary Chalermphol Muangamphan (Champ), E21EIC or the RAST Registrar, Acting 2nd Lt Neeranuch Muangamphan (JC Goi) E20NKB. Again, the deadline for this is the end of this year but the sooner action can be taken, the better.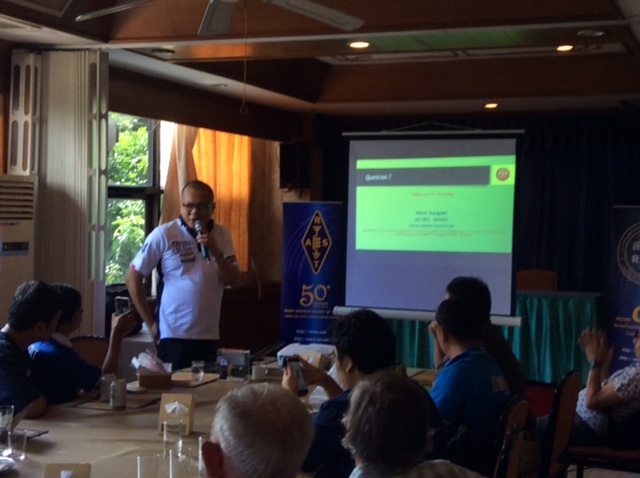 Nimit makes his APRS presentation during the meeting. Photo: Champ Muangamphan, E21EIC
APRS and JAISAT presentations
Later, during the meeting at Sena Place Hotel attended by around 40 members and guests and after the buffet lunch, Nimit HS1IFU and K6XOX, made a presentation about APRS (Automatic Packet Reporting System).
Then the JAISAT satellite team, led by Tanan, HS1JAN and Anant, HS1GAB, then summarised the progress of the project to launch Thailand's first CUBEsat amateur radio satellite.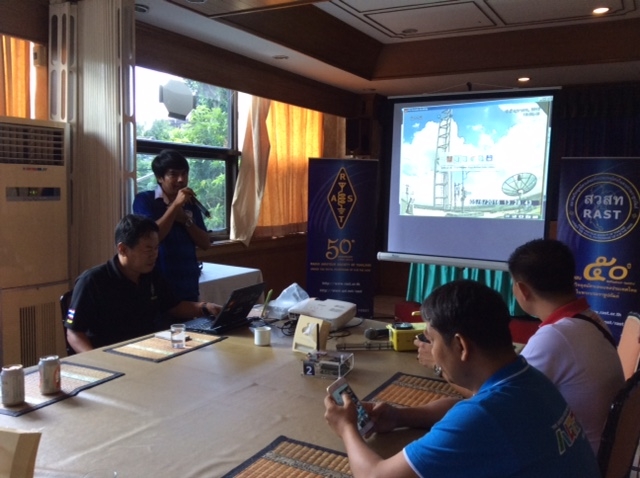 Anant takes the microphone while Tanan sits next to him during the JAISAT presentation. Photo: Champ
New faces attending a RAST meeting for the first time included 9M2CCO and 9W2MAH from Malaysia while members who had not attended a meeting for several months included Larry HS0ZJI, Hans, DF5UG and 9M2QQ as well as Boy, HS8GLR from Hat Yai.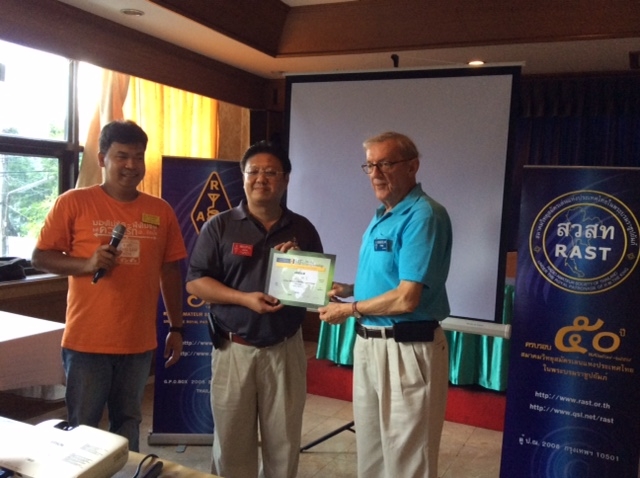 Finn receives an award for winning a certificate for his performance in the 2015 IARU HF Championship from RAST President Jakkree (Jack), HS1FVL as Champ looks on. Photo: Champ.


Contest certificates were then awarded with presentations made for the 2015 All Asian DX Contest to HS5NMF and HS7BHK and for the 2015 IARU HF Championship to HS0AC, the RAST Club Station at AIT and to Finn, HS0ZLM.
As usual, QSL cards provided by RAST Secretary Champ, E21EIC, were available for members to pick up at the meeting.
On the eve of the meeting RAST hosted a US VEC examination in the morning and in the afternoon, led by Champ and RAST President Jakkree.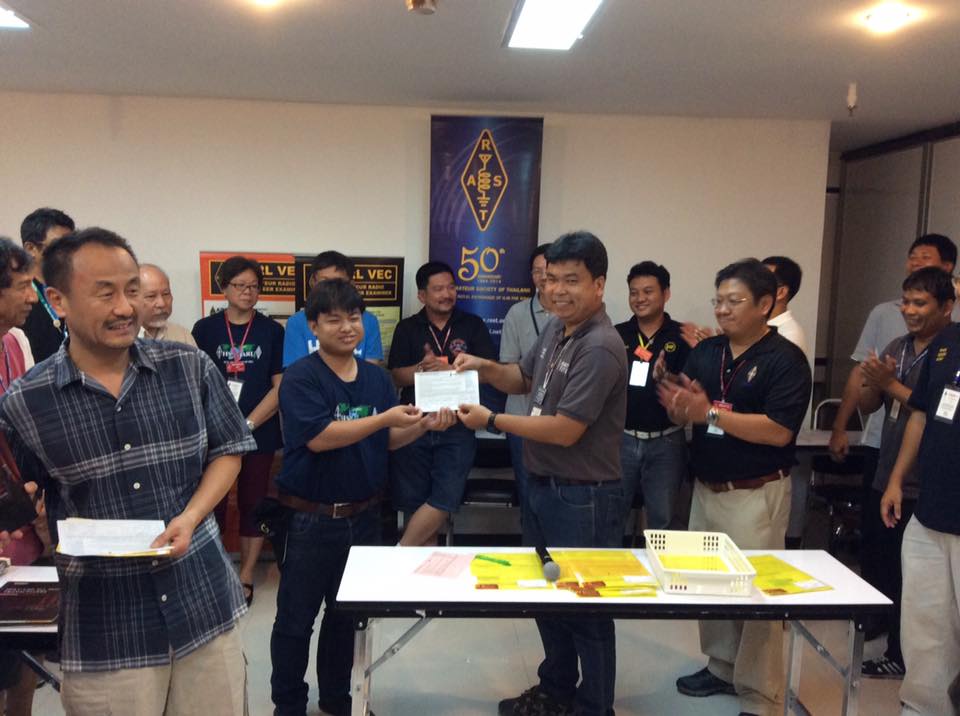 Champ (standing behind the table) presents a certificate to a successful candidate after he passed the US VEC exam in the morning of Saturday, June 4 while RAST President Jakkree is to his right. Photo: Champ
May RAST meeting
Presentation about JAMSAT 2016 Symposium at May RAST meeting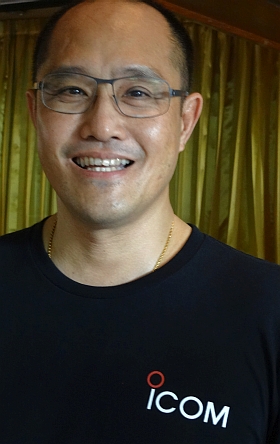 Around 40 RAST members and guests attended the May meeting at Sena Place Hotel on May 1 when Apiwat (Pao), HS4SCI (pictured above) gave a presentation about the JAMSAT Symposium 2016 held in Tokyo, Japan this year, during which he had made a presentation about RAST's JAISAT project.
JAMSAT is the Japan AMSAT Association and Apiwat is actively involved in Thailand's JAISAT - the Joint Academy for Intelligent Satellites for Amateur Radio of Thailand -- project which is now in the process of preparing an amateur radio CUBEsat satellite for launch in conjunction with ISIS (Innovative Solutions in Space) based in the Netherlands.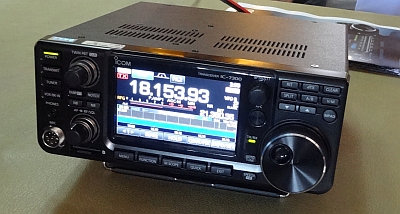 At the meeting, Nopanant (Giant), HS0JSB (pictured at left) of G-Simon Radio, which is located on the Bang Na-Trat highway close to Central Plaza, also provided demonstration models of Icom IC-7300 transceivers at the meeting.
These radios have been type approved by the NBTC and are now on sale in Thailand after their six-metre capability had been disabled by the manufacturer.
These transceivers are also available from the
Ten Meter Shop
in Ban Mor.
Several visting radio amateurs attended the May RAST meeting, including Chris, ZS6EZ and Goh, HL4CAN.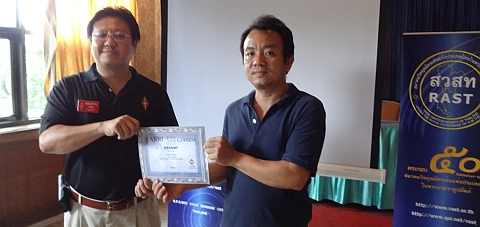 RAST President Jakkree awards a certificate to Nikorn, HS5NMF for the ARRL DX Contest during the May meeting.
RAST President Jakkree (Jack), HS1FVL also reminded everyone that next month there would be a US FCC examination on June 4 and Thailand's first advanced class examination on June 18. Please note that applications to sit for this examination are now closed - as of May 15, 2016 - and a list of candidates can be found
here
. Details of the FCC exam can be found at
e21eic.net
.
Nopanant of G Simon Radio presents Icom T-shirts to RAST members during the May meeting following the buffet lunch at Sena Place Hotel.
---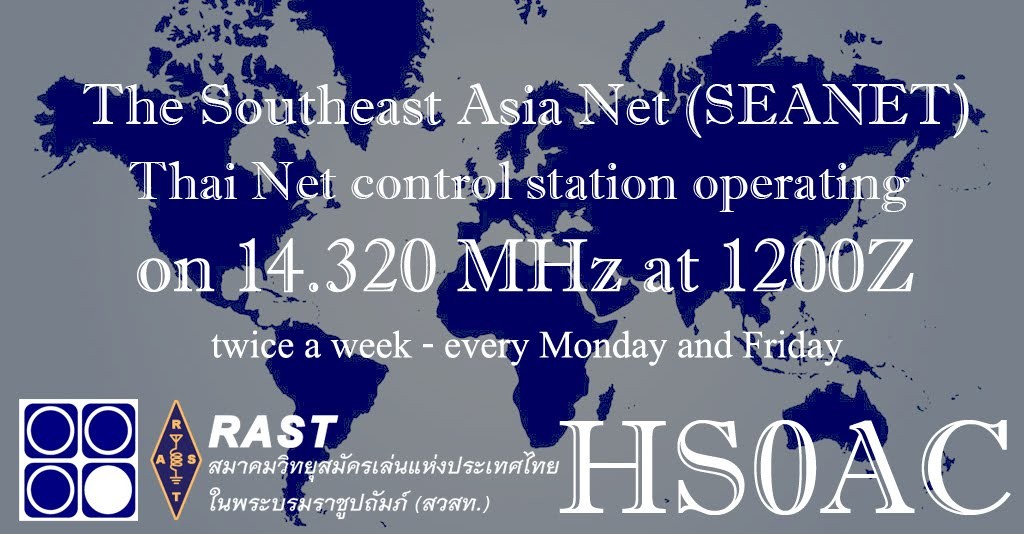 Southeast Asia Net reactivated
Scores of check-ins on April 11 with the net
lasting for an hour and 21 minutes
The Southeast Asia Net on 14.320 MHz was successfully reactivated on Monday, April 11 when Nuk, HS7BHK operating from the RAST club station HS0AC conducted the net with scores of check-ins from across Southeast Asia and Asia. He even had stations checking in from the United States and from Europe.
The net began, as has been customary since late 1963, at 12.00z and started with check-ins from Thailand and the net continued for an hour and 21 minutes.
RAST will be hosting the
44th annual SEANET Convention in Pattaya
on the Gulf of Thailand this coming November and recently re-elected RAST President Jakkree Hantongkom, HS1FVL along with many RAST officers agreed that the society would reactivate the net prior to the convention.
An announcement that had been published on several amateur radio websites was made prior to the net being conducted on April 11 while RAST members had been notified by email of the planned activity and many stations were waiting to check in to tne net on Monday evening. SEANET will be continue to be conducted by RAST at least twice a week, every Monday and Friday, leading up to the SEANET Convention.
The primary role of SEANET is to monitor for any emergency traffic and in the past SEANET has helped sailors and crew members on yachts in distress while also serving as a guide to propagation conditions and being a meeting point for hams in the region where they can meet friends before QSYing away from the net frequency for a QSO.
Every radio amateur is welcome to check in to SEANET and to obtain a signal report from the net control operator and there will be an opportunity to do this now -- at least on Mondays and Fridays, and we hope that other net control stations will pitch in and operate the net on other days.
April RAST meeting
The area around the reception desk at the April meeting (pictured above and below) was busy as members signed up and paid for forms to apply to take the first Advanced Class amateur radio licence in June.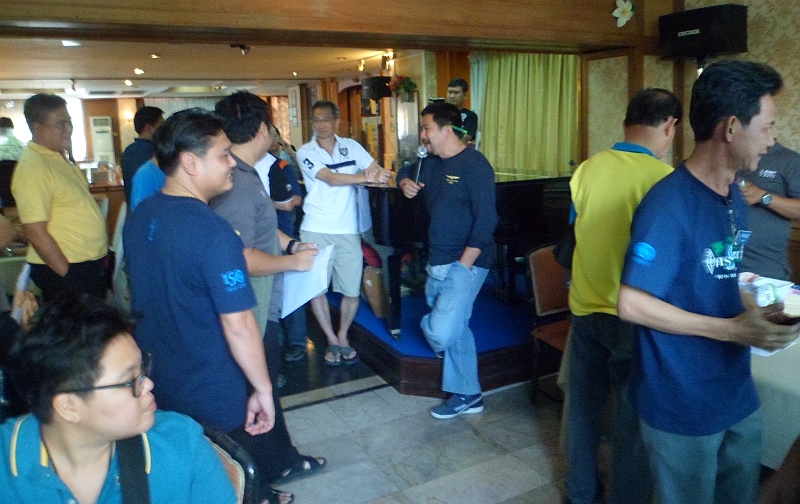 Many obtain application forms to take examination
for an Advanced Class licence at April RAST meeting
Bolstered by a large number of Intermediate Class amateur radio operators seeking application forms that will enable them to take the first Advanced Class amateur radio examination which will be held in June, 2016, attendance at the April RAST meeting was high. In all, around 50 applicants to take the exam showed up, along with over 40 members and guests who attended the buffet lunch at Sena Place Hotel.
Following lunch and after most of the application forms to take the exam had been disseminated (a total of 200 seats will be provided for the exam and, at the time of writing this report, forms were still available at the
RAST Thai-language website
) RAST President Jakkree (Jack) made some announcements.
The main news item and development regarding amateur radio in Thailand was that the first examination for an Advanced Class licence in Thailand would take place on June 18 and will be supervised and administered by RAST.
Other news items announced at the meeting were that things have been moving ahead well for the construction of the JAISAT-1 amateur radio satellite, Thailand's first, by Innovative Solutions in Space (ISIS) while a special rate to attend the 2016 SEANET Convention for delegates who are members of RAST will be announced shortly.
There will also be a rate for those who do not need to stay in the SEANET Convention hotel such as residents of Pattaya and those who have friends there that they can stay with and the details will be announced on this website soon.
In addition, RAST will begin conducting the Southeast Asia Net on the air at 12.00z on 14.320 MHz at least once a week leading up to the convention, according to the RAST President. Details will also be announced on this website and members will also be informed of this by email once the details about when hams will be able to check into the net have been agreed upon.
During the meeting Nimit, HS1IFU and K6XOX, suggested that RAST should stage events during its monthly meetings, such as a presentations or having lucky draws, etc. as a highlight and an attraction for each meeting. Jack agreed and we will keep you posted on any developments and plans here.
With the formal announcements concluded, Jack then invited Chawalit, E20KEW to address the floor regarding a request that he and some other amateur radio operators had drafted and submitted to RAST.
This had been in a letter, endorsed by several life members of RAST, requesting that RAST intervene in the case where the Armed Forces has filed a lawsuit against the NBTC regarding its bandplan for six metres.
To provide some background about this, the Nation newspaper reported on this in January 2016 and here are the first two paragraphs of the story:
"The Royal Thai Armed Forces Headquarters recently filed an unprecedented lawsuit against the National Broadcasting and Telecommunication Commission (NBTC) with the Central Administrative Court over the telecom watchdog's overall spectrum master plan, which would pave the way for amateur radio operators to share the Armed Forces' 50-54MHz spectrum range.
"Currently the Armed Forces alone use this band, while amateur radio operators use other bands. However, the master plan opens the way for amateur radio operators to use the Armed Forces' band."
The full story can be read
here.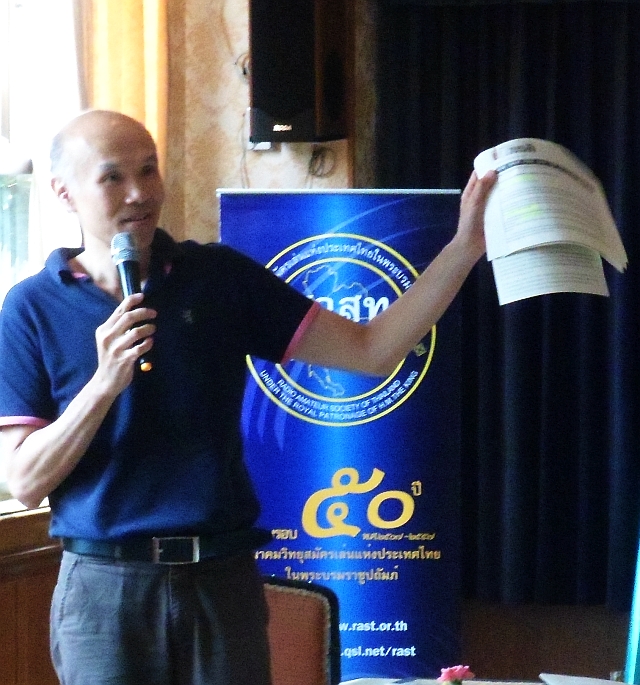 The letter suggests that RAST intervene and file a lawsuit in support of the NBTC. Chawalit also went into great detail to provide instances of how this case had been misreported by the Thai media, in some instances referring to amateur radio as "citizens band" and with other inaccuracies, along with concerns about reports citing the Armed Forces' claim of the threat to national security that the activity poses.
However, during a committee meeting earlier that day RAST directors had reviewed the letter and had carefully evaluated the request before voting unanimously against taking legal action.
This decision had been based on several factors, including the fact that amateur radio operators have yet to be authorised to use the six-metre band (except for special event activity during contests, etc.) and thus the society could not claim the status of being an injured party were the opportunity to use the six metre band to be denied for amateur radio.
Chawalit was then advised of this vote that had been made by the newly elected committee and RAST President Jakkree also explained to him that RAST's response to the letter had not been addressed earlier since he had wanted the new committee for 2016-2017 that had been elected at the AGM in March to make the decision since the outcome would be their responsibility.
The April meeting wound up shortly after 3 p.m.
---
RAST President and committee pay homage
to His Majesty the King, HS1A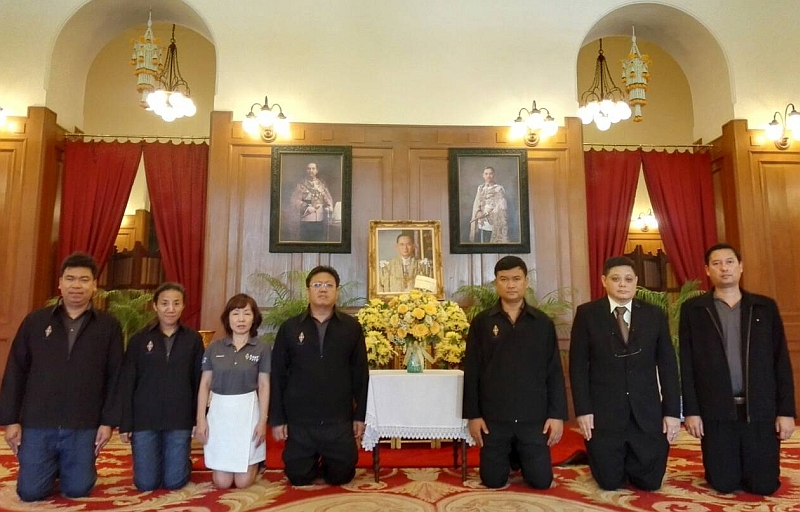 At 11.30 a.m. on Tuesday, March 15, 2016 the newly re-elected President of RAST, Jak"kree Hantongkom, HS1FVL (fourth from left) led members of the new RAST committee to pay homage to His Majesty King Bhumibol Adulyadej, HS1A, the patron of RAST, in a ceremony at the Sahathai Samakom Pavilion at the Grand Palace.

-- Photo by HS6MYW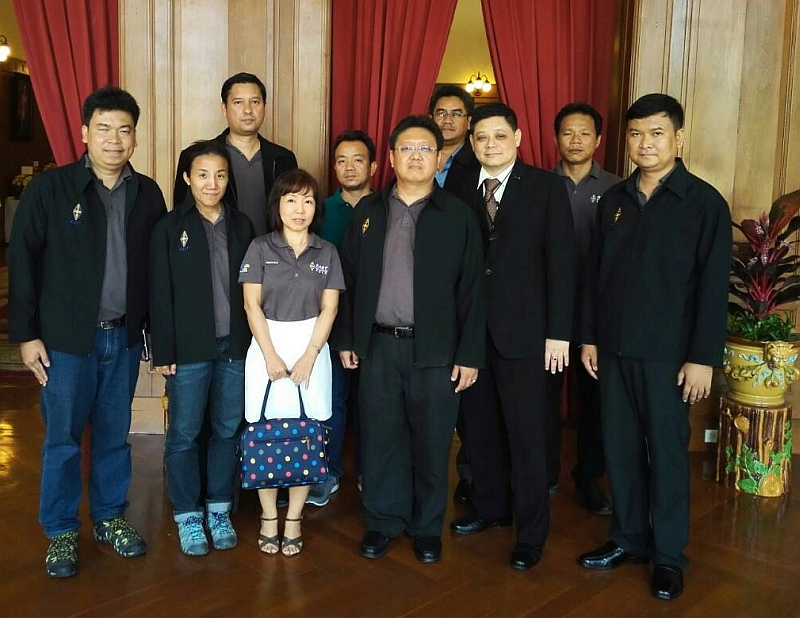 At the Grand Palace on March 15, 2016 from left: Chalermphol Muangamphan (Champ), E21EIC, RAST Secretary and QSL Manager, Acting 2nd Lt Neeranuch Muangamphan (JC Goi) E20NKB, Registrar, Pornchai Semjang, HS2JFW, Advisor, Pornpimol Suksansomphop (Nong Ee), HS0VDX, Treasurer, Nikorn Deesai, HS5NMF, HS0AC station manager, RAST President Dr Jakkree Hontongkom (Jack), HS1FVL, Apinant Kaeo-yu (Pop), HS1JZT, Emergency Communications Co-ordinator, and committee members Dr Panit Chantrabhakdee,(A), HS1AAZ, Sudhgate Maikami (Mike) E29BUQ and Wanlop Tadsri, HS6MYW.

-- Photo by E21EIC
RAST team introduces themselves to NBTC Commissioner Gen Sukit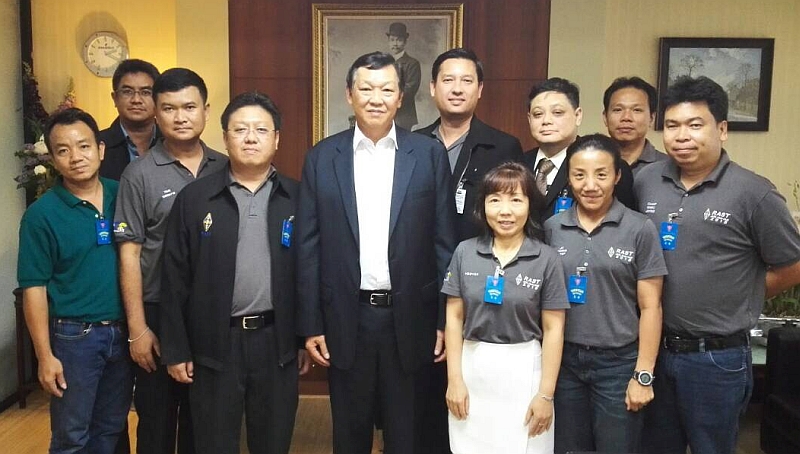 In the afternoon of Tuesday, March 15, RAST President Jakkree led members of the newly-elected committee for 2016-2018 to meet NBTC Commissioner Gen Sukit Khamasundara at the NBTC Secretariat to introduce themselves and to seek guidance in the administration of the society over the next two years.


-- Photo by E21EIC


More photos can be found on the Thai-language website here


---
RAST speakers explain amateur radio at
NBTC 'train the trainer' seminar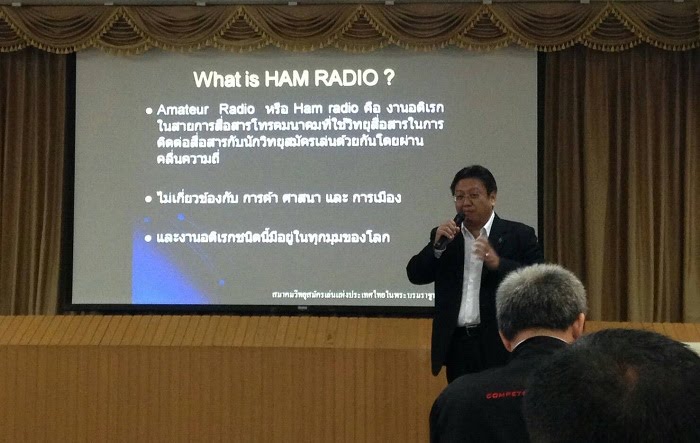 RAST President Jakkree Hantongkom (Jack), HS1FVL (above) and former RAST President and advisor Pornchai Semjang (Joe), HS2JFW (below) made presentations to staff members from Bangkok and all regions of the country of the Thai regulator, the National Broadcasting and Telecommunications Commission (NBTC).
The RAST representatives were honoured to be invited to help educate the NBTC officials about amateur radio in a two-day training session entitled "Train the trainer for Amateur Radio" conducted at the NBTC Secretariat on March 30 and March 31, 2016.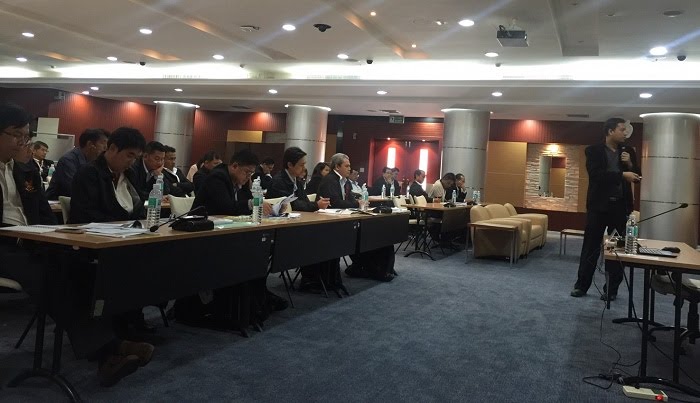 More photos can be found on the RAST Thai-language website


---
First Advanced Class exam to be conducted on June 18
The National Broadcasting and Telecommunications Commission (NBTC) has announced that the first Advanced Class examination will take place on Saturday, June 18, 2016 at the NBTC Secretariat.
To be eligible to take the exam, a candidate must be a Thai national who has held an intermediate class licence for at least one year.
The exam, to be held at the NBTC meeting hall from 10 a.m. until 12 noon, will be administered by RAST and will be limited to a maximum of 200 candidates who should obtain an application form from RAST.
(Details as to how to apply for the application form have been posted to the
RAST Thai-language website
.)
Application forms will be available from April 3 at the RAST meeting at Sena Place Hotel at a cost of 200 baht between 10 a.m. and 2 p.m. and following that they will be available for 250 baht by filling out a form the RAST Thai-language website from 10 a.m. on Monday April 4, 2016 onwards until sold out. (A total of only 200 forms will be available.)
A summary of questions (and answers) in Thai that Advanced Class candidates should be able to answer and approved by the NBTC can be also downloaded from the RAST website in Thai.
---
March AGM meeting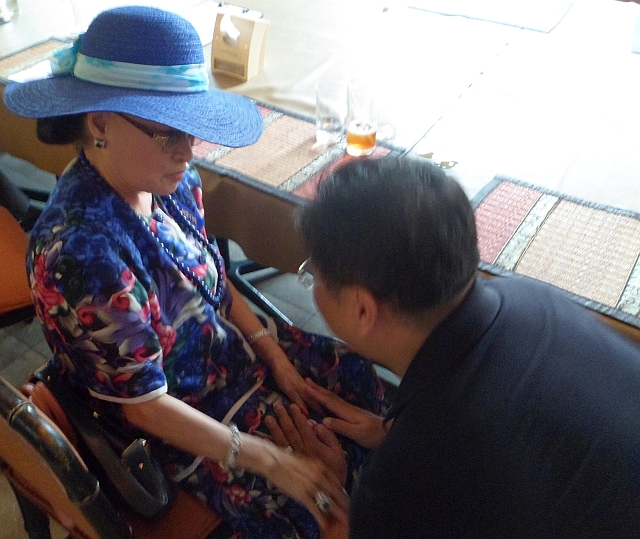 Following re-election as President of RAST for a second term, Jakkree Hantongkom (HS1FVL) pays respect to former RAST President Mayuree Chotikul, HS1YL and thanks her for all her contributions to the society over many years.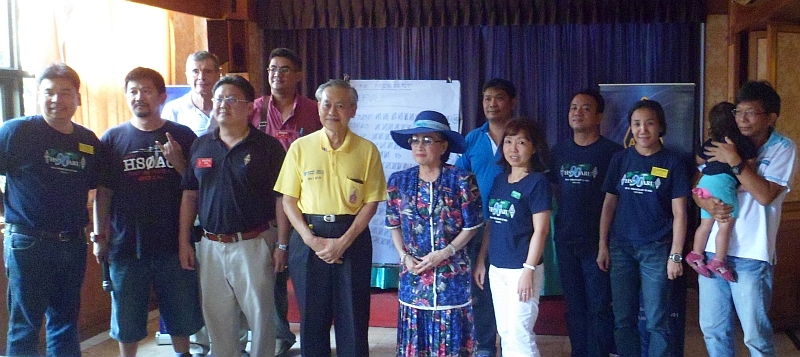 Those who were elected to serve in the 2016-2018 RAST committee stand together after the results of the voting were tallied, along with former presidents Mayuree Chotikul, HS1YL and Chaiyong Wongwuticomjon, HS1QVD.
Jakkree, HS1FVL re-elected
as President of RAST
Good turnout for AGM meeting;
RAST regulations modified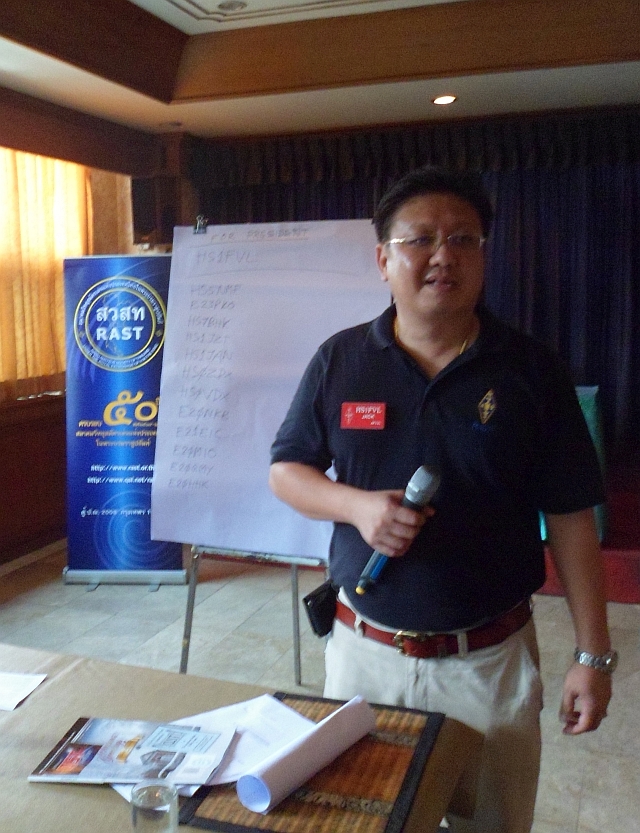 With a good turnout and attended by over 60 members, the RAST 2015 AGM meeting on March 6, 2016 at Sena Place Hotel elected RAST President Jakkree Hantongkom, HS1FVL (Jack -
pictured at right
) to a second term in office along with nine committee members, most of whom had served on the 2013-2015 board of RAST.
During the meeting, members also approved an amendment to the RAST regulations which limits a president of the society to serve a maximum of two consecutive two-year terms.
The meeting followed the agenda outlined in a letter sent to all members, beginning with an announcement at 11.30 a.m. by Jakkree that since there was not a quorum for the meeting, according to the regulations there would be a delay of one hour, after which those present would constitute the quorum.
This is provided that more than 50 members are present along with two thirds of the committee members. Since these requirements were met, those present spent an hour helping themselves to a buffet lunch after which, at 12.30 p.m., Jakkree invited those who were new to a RAST meeting or revisiting after a long absence to introduce themselves.
Reflecting the fact that a formal invitation to the AGM meeting had been sent to all members, there were around 20 "newcomers" to the meeting who took turns to take the microphone briefly to say a few words.
This was followed by an outline of the agenda by Jack, summarized in English by Tony Waltham, HS0ZDX, which began with an announcement that the first Advanced Class examination in Thailand would be conducted soon, according to an unofficial report from the National Broadcasting and Telecommunications Commission (NBTC). Reportedly, the NBTC has approved the question bank for the exam and the exam will take place, and will be supervised by RAST, in a few months.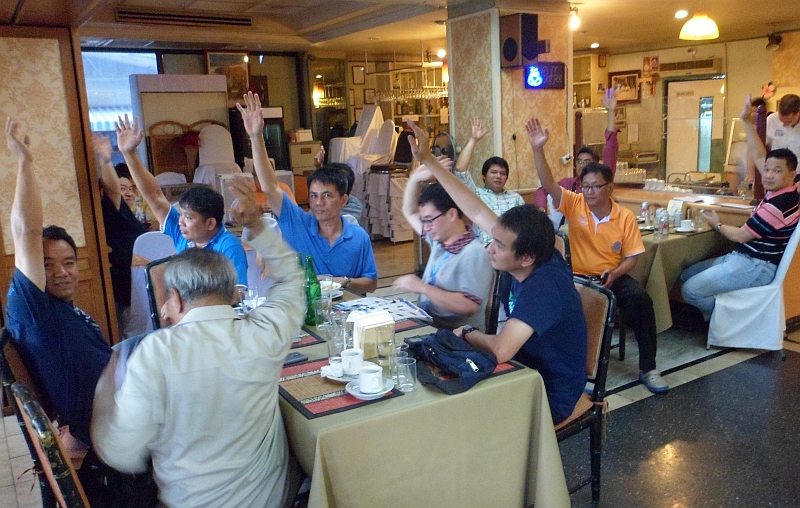 Then there was a vote to approve the minutes of the 2014 AGM meeting which had been sent to members along with a report of RAST's activities during 2015 (a full summary of these activities in English can be found
here
.)
This was followed by the appointment of an auditor, and Jakkree proposed that the auditor for 2014, Prateep Saengthammarat, be reappointed for a fee of 7,000 baht -- while he also called for any nominations. After no one nominated anyone else members unanimously endorsed Prateep as the RAST auditor for 2016.
After that, RAST Treasurer Pornpimol Suksansomphop (Nong Ee), HS0VDX, provided a summary of RAST's accounts for the previous year when income exceeded expenditure by over 1.5 million baht, although this disparity is mostly comprised of funding for the JAISAT-1 project received from the NBTC for which there are further commitments outstanding.
This was followed by an announcement of membership statistics by RAST Secretary Chalermphan Muangamphan, E21EIC (Champ) who said that last year there had been one gold member, 141 life members, 12 of whom were foreign nationals, 185 annual members and 5 associations becoming members.
Also announced were statistics from the Thailand QSL bureau, headed by Champ, when, in 2015 a record number of QSL cards were handled.
Incoming QSLs numbered 35,525 cards weighing a total of 106.6 Kg while outgoing cards numbered 24,400 cards and 73.2 Kg in weight. Incoming cards were up by over 60 percent while outbound cards were up by over 20 percent and both were all time records which reflects an increase in activity on the HF bands in Thailand. For statistics, please see the chart above.
Next came the vote to amend the RAST regulations so that the society would be in line with a requirement specified by the NBTC in 2014 which specifies that the president of an amateur radio society or association may not serve more than two consecutive two-year terms.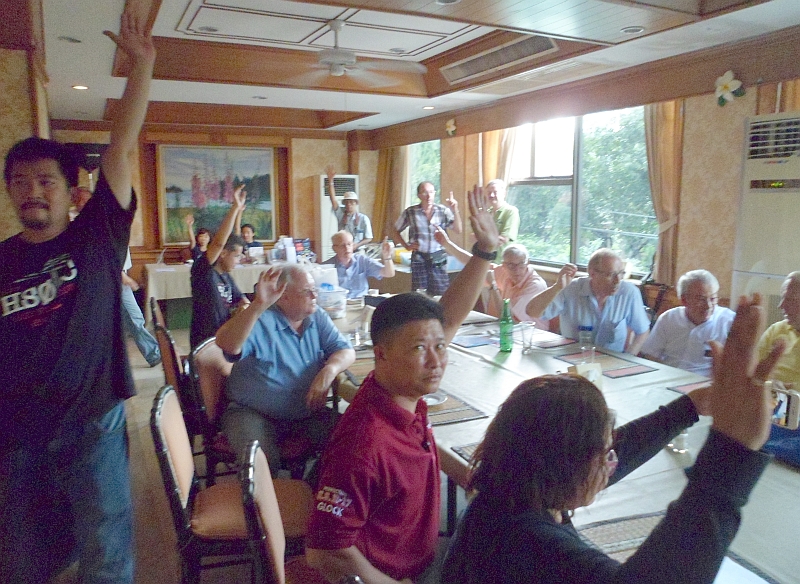 Champ said that, if approved, Clause 13 of article No.5 of the regulations would be modified to specify this and the new wording was then approved by a unanimous vote with a show of hands.
The election of the president and committee for the next two years was next on the agenda and Jakkree stepped forward to nominate himself as president while there were no contenders. Former President Mayuree Chotikul, HS1YL, was also nominated, but she declined to run.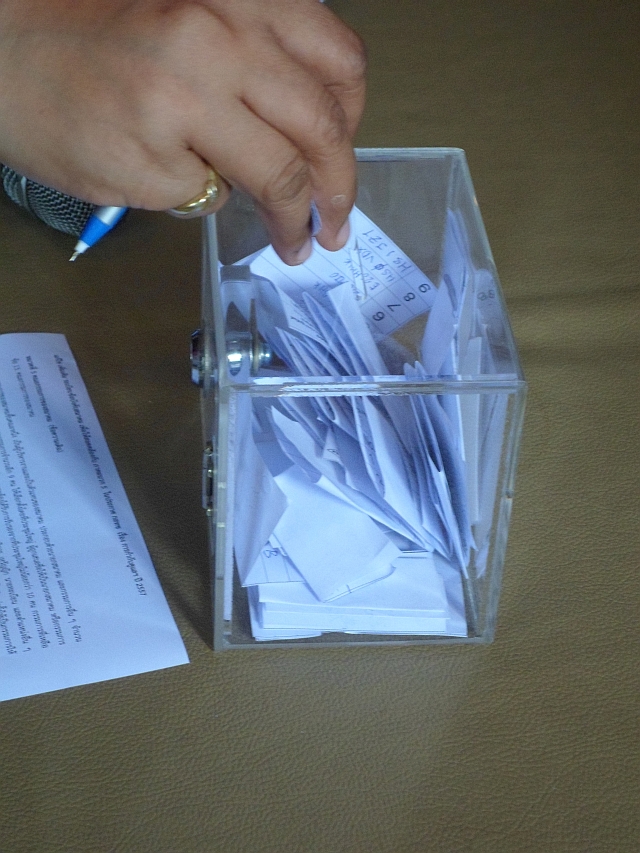 Jakkree was clearly a popular choice for re-election as president and the voting was unanimous in support for him with a show of hands, after which he thanked former RAST President Mayuree Chotikul and praised the former committee over the previous two years who had helped him move the society forward.
This was followed by the election of nine committee members and before any nominations were made Jack said added he would like to continue to work with the existing committee members and he asked the former committee members to propose themselves for re-election.
Most of the former committee members did this. A total of 13 names were proposed with their callsigns being written on a display for all to see at the front of the room while paper slips with nine slots for callsigns to be written in were distributed to members by Champ.
Each member present could then vote for up to nine committee members by writing their callsigns on the slips of paper which were then deposited in a box to be counted and they were given about five minutes to complete this.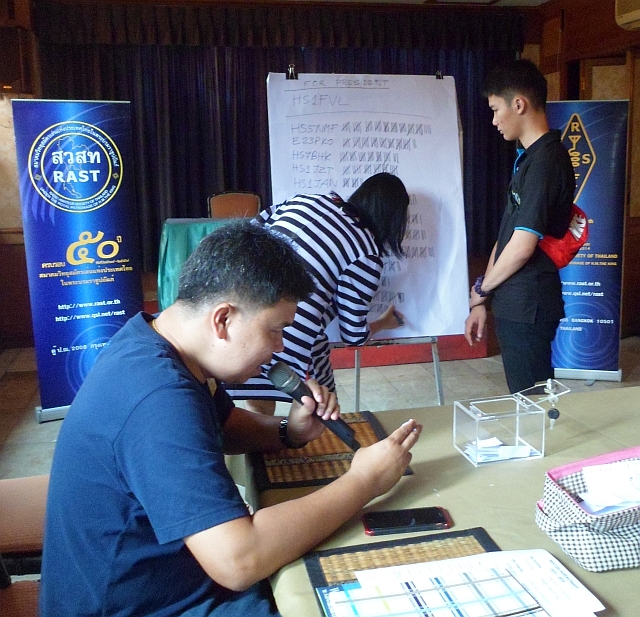 The votes were then tallied on the display sheet before the nine winning committee members were announced. In order of the number of votes received, the nine committee members are:
1. Chalermphol Muangamphan (Champ), E21EIC, 66 votes
2. Nikorn Deesai, HS5NMF, 61 votes
3. Tony Waltham, HS0ZDX, 57 votes
4. Acting 2nd Lt Neeranuch Muangamphan (JC Goi), E20NKB, 51 votes
5. Pomchanok Palakawongse na Ayudhaya (Loong Nuat), E23PKO, 50 votes
6. Pornpimol Suksansomphop (Nong Ee), HS0VDX, 49 votes
7. Kriangkrai Suriyakrai (Choon), E20HHK, 43 votes
8. Nukool Sukpol (Nuk), HS7BHK, 40 votes
9. Apinant Kaeo-yu (Pop), HS1JZT, 39 votes
According to the regulations, the RAST President now needs to appoint a further five committee members so those who were nominated but not elected may also serve on the RAST committee if appointed. A full list of 2016-2017 committee members, including the appointed members, can be found
here
.
After the election was over the agenda was complete and the meeting concluded. The next RAST meeting will be on Sunday, April 3 at Sena Place Hotel.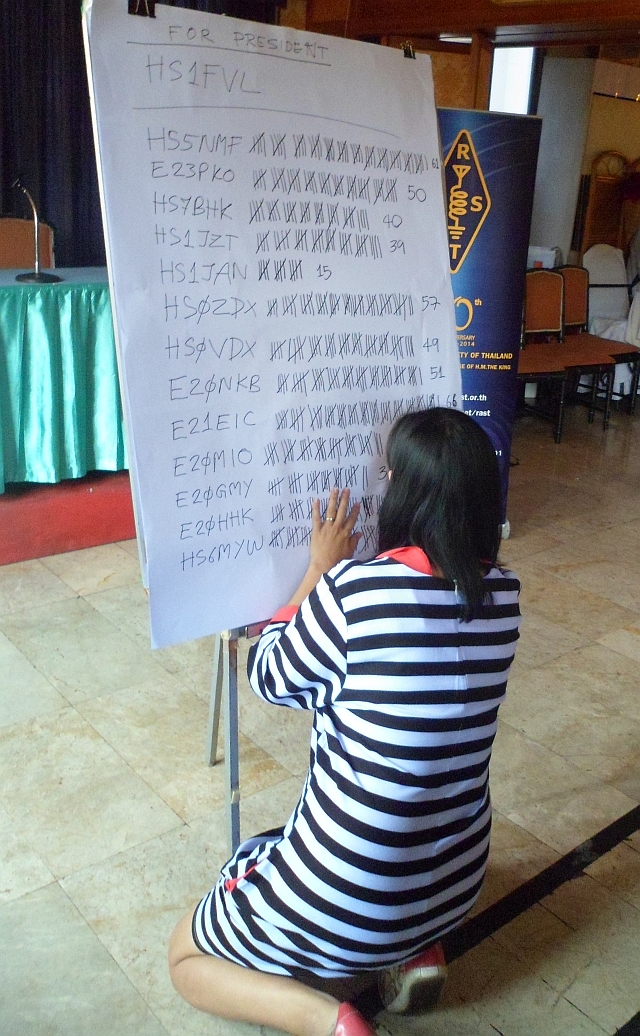 The final tallies of votes for committee members at the end of the March, 2016 meeting of RAST.
---
Good attendance for RAST's February meeting at Sena Place Hotel
The February 2016 RAST meeting saw a good turnout with over 40 members and guests present.
RAST President Jakkree (Jack) Hantongkom, HS1FVL reminded those present at the February RAST meeting that the next monthly gathering of the society will be its annual general meeting (AGM) and this year there will also be an election of the society's president and committee for a two-year term.
All members were encouraged to attend the upcoming AGM on March 6 at Sena Place Hotel while members should also receive a formal letter of invitation by postal mail.
Regulations now stipulate that at least 50 members must be present, along with two-thirds of the RAST committee, in order for there to be a quorum before an AGM can begin so the attendance at the March meeting needs to be good.
The February RAST gathering which was on the eve of Chinese New Year was well attended with slightly over 40 members present and, as usual, a buffet dinner was available.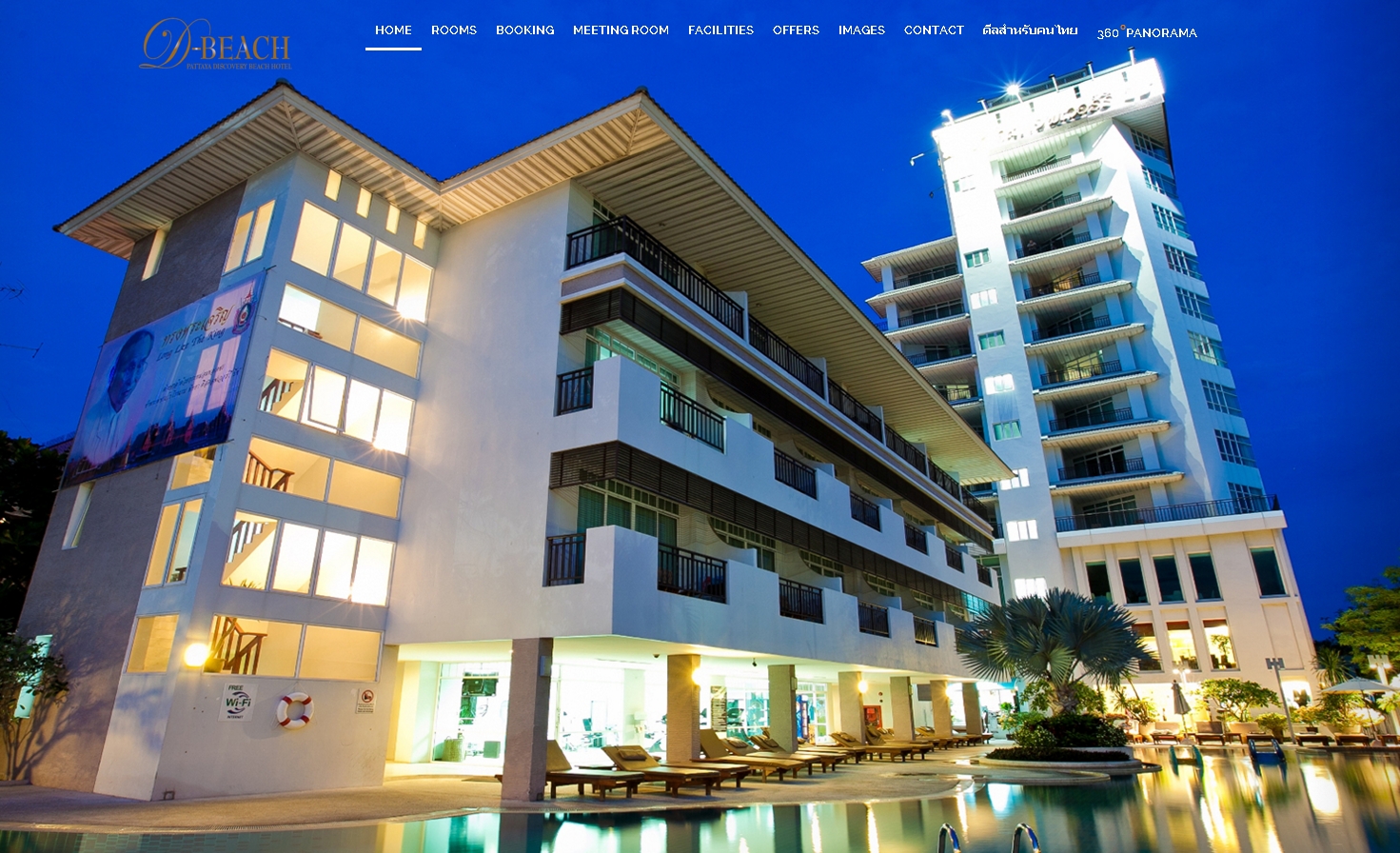 After introductions from a few first-time attendees at the meeting, the RAST President reminded everyone that the society would be hosting the 44th annual SEANET Convention later this year in Pattaya.
Jack then announced the name of the convention hotel, which has been decided upon. This is the
Discovery Beach Hotel
, also known as D-Beach, (the image above is from the hotel's website) a four-star hotel located on Pattaya Beach Road next to Soi 6/1 and not far from Central Festival.
Please check out the
SEANET 2016 website
for the latest information about the convention which will take place from November 18-20. The US$499 registration fee covers everything including airport transfers from Don Mueang, Suvaranabhumi and U-tapao airports, hotel accommodation, all meals and gala dinners, shows and tours.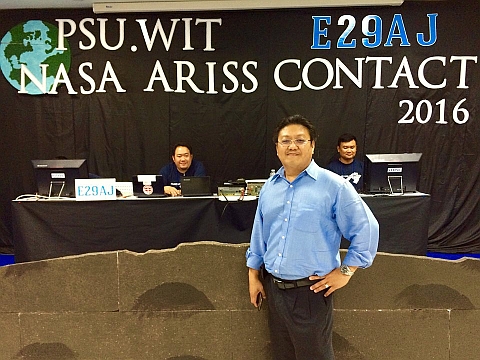 Photo by Damrongsak, HS8GLR
During the meeting, the RAST President also announced a successful demonstation that was conducted jointly by RAST and NASA, the National Aeronautics and Space Administration, at a school in Hat Yai, Songkhla when amateur radio was used to contact the International Space Station (ISS). On January 30, Jack himself had led several RAST committee members who helped to conduct the demonstration at the PSU Witayanusorn School when 18 students spoke to astronauts in space using the callsign E29AJ. YouTube videos such as
this one
capture the event.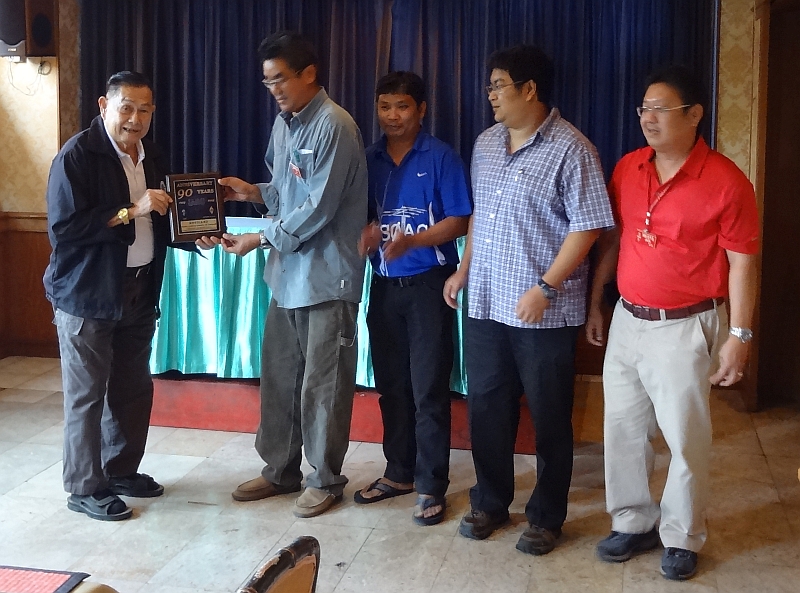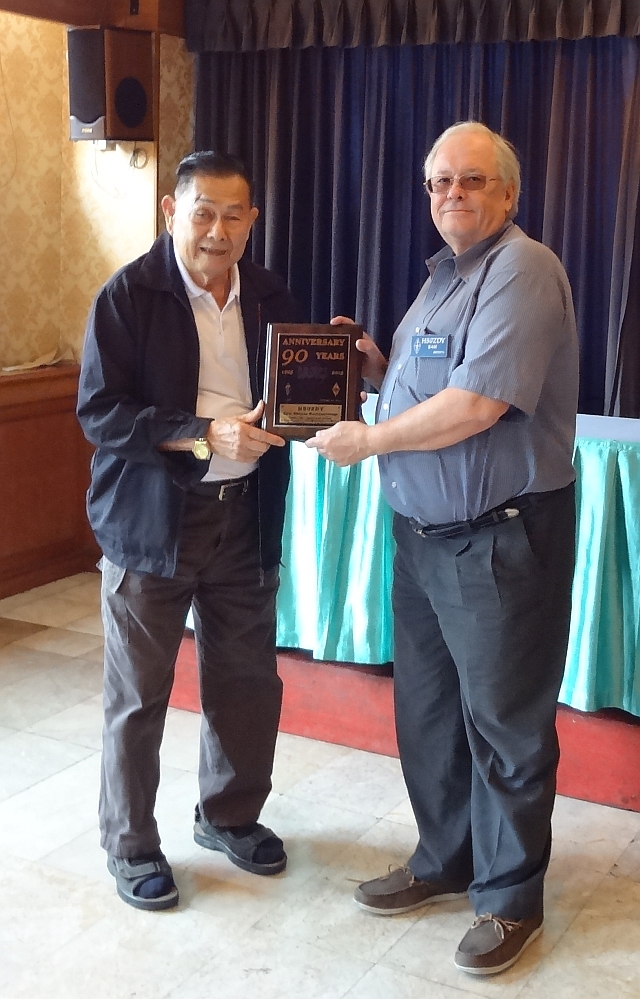 Following the announcements, Jack invited RAST Secretary Chalermphol (Champ), E21EIC to award some plaques to members and, in turn, Champ invited Gen Prasit, HS1DN, a RAST advisor and committee member, to make the presentations. The plaques were issued by the International Amateur Radio Union (IARU) for activities supporting its 90th anniversary celebrations last year and some of the operators of HS90IARU stepped forward to receive the plaque that was issued to RAST (above) while RAST member and DXer Svante (Sam) Nordenstrom, HS0ZDY (pictured with Gen Prasit right) received a plaque for contacting more than 20 different official IARU stations during the year 2015.
Report and photos by Tony, HS0ZDX
---
RAST hosts New Year party
Over 70 members and guests attend
celebration at a restaurant in Laksi
Above: RAST President Jakkree (holding the microphone) introduces some of the RAST committee members to the guests at the New Year Party on January 10 at the Rot Meu Mae restaurant.
More than 70 RAST members and guests attended the New Year Party on January 10 at Rot Meu Mae restaurant in Laksi in the northern suburbs of Bangkok when gifts were exchanged and lucky draw prizes were awarded.
The RAST New Year party began at 3 p.m. with food being served inside the restaurant as well as outside at tables where there were also many demonstrations of amateur radio activities, including the assembly of kits along with operating on the HF bands using portable antennas that has been set up for the event.
As darkness approached, everyone moved inside when, at around 6.30 p.m., RAST President Jakkree Hantongkom, HS1FVL welcomed everyone to the party and wished them a Happy New Year before inviting Wanlop, HS6MYW to take the microphone for the lucky draw awards. Nimit, HS1IFU/K6XOX helped translate the announcements into English.
There were many gifts to be awarded and the presentations took around two hours to conclude before the party wound down and guests started to head home. Thanks to donations, plenty of refreshments, including beer and wine, and been available throughout the party.
Hopefully, the photographs below capture some of the atmosphere at the event.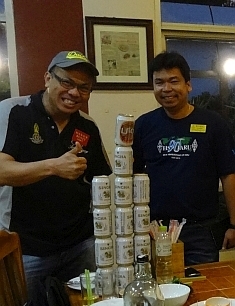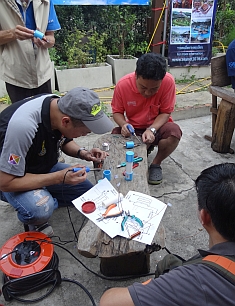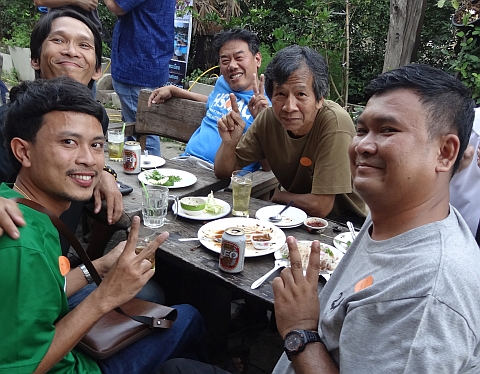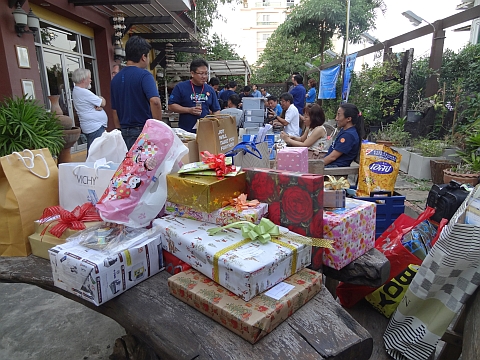 Photos by HS0ZDX
---
Amateur Radio Day 2015
Thousands attend Thailand's three-day
hamfest hosted by the NBTC
The following pictures provide some glimpses of the RAST booth and of gatherings of some of the thousands of radio amateurs from throughout Thailand who attended the three-day event hosted by the National Telecommunications and Broadcasting Commission from December 18 to December 20, 2015 at the commission's secretariat on Phaholyothin Soi 8.
RAST had extensive displays of equipment as well as operating an HF station using the special callsign HS90IARU during the event and many RAST committee members led by RAST President Jakkree (Jack) Hantongkom, HS1FVL took part in the hamfest.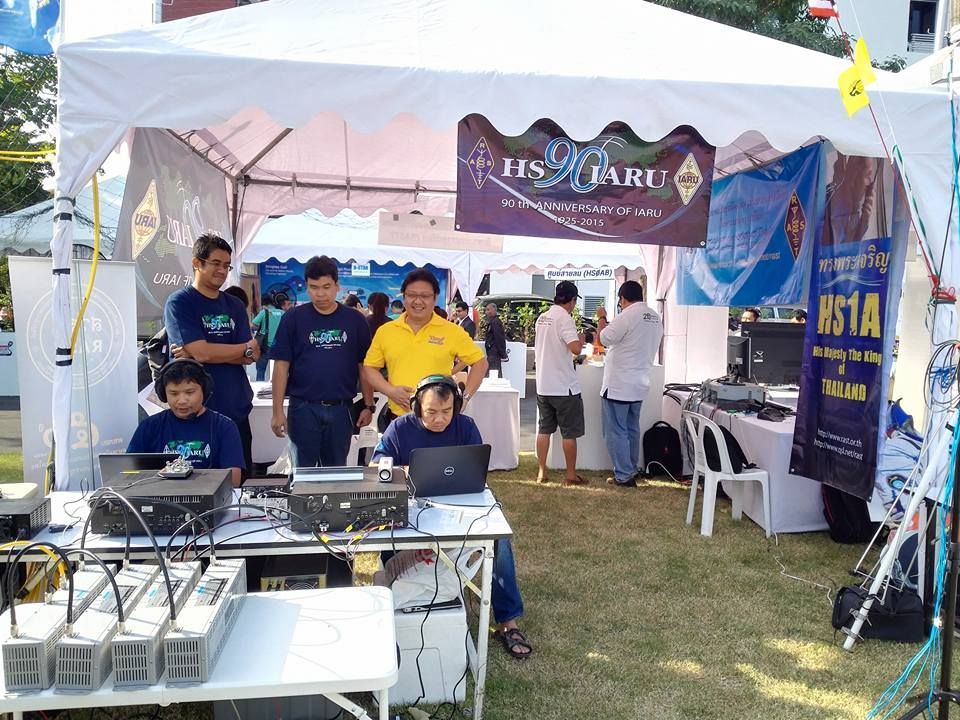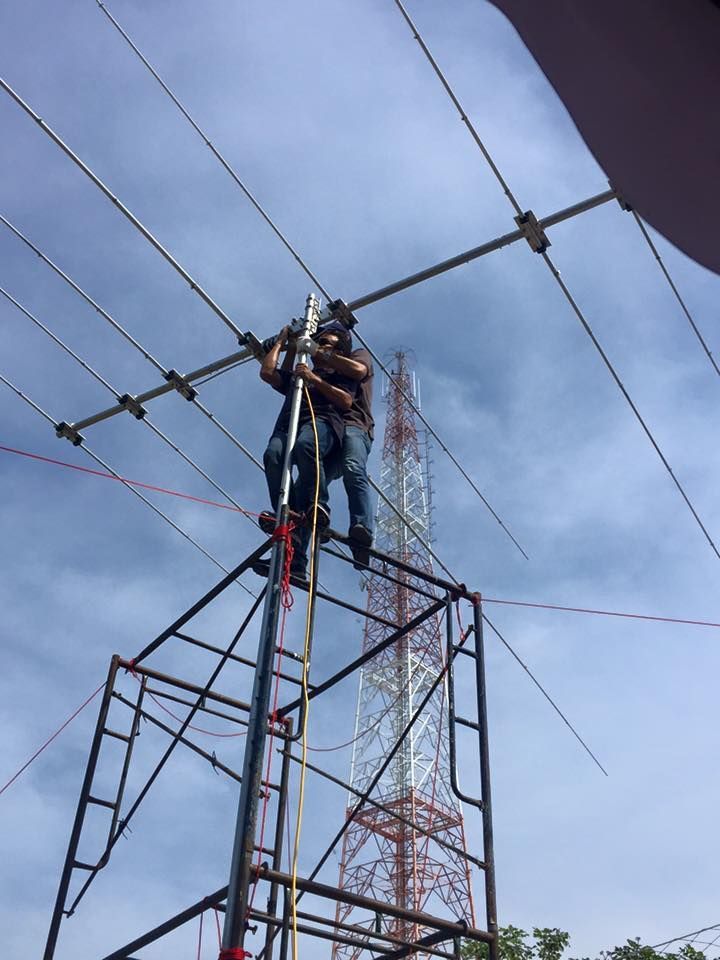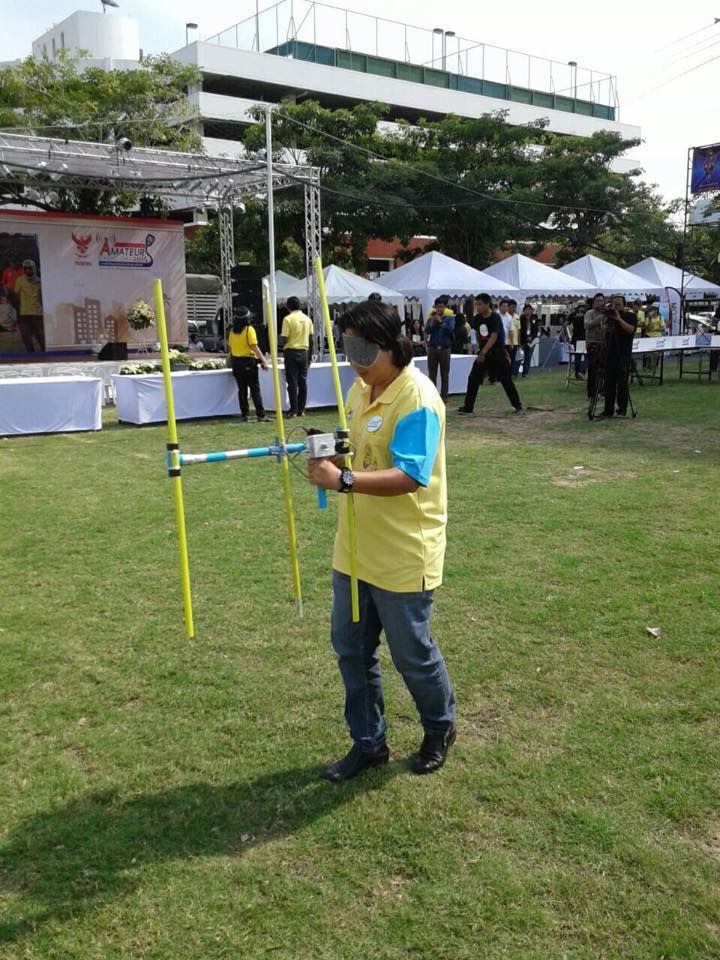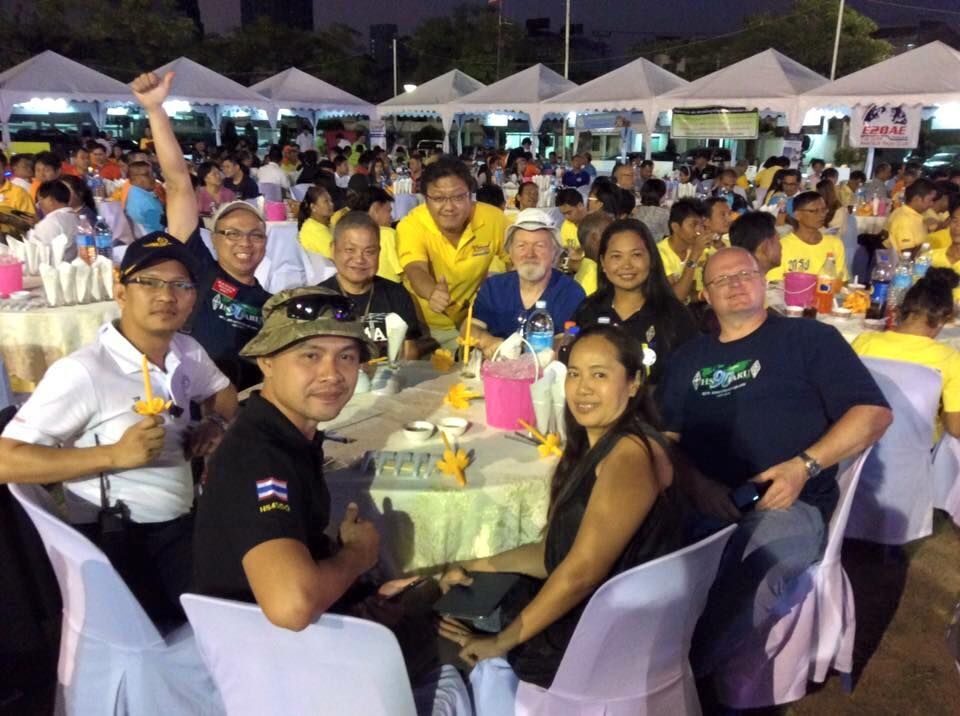 RAST December meeting
Many members living overseas return
to attend December RAST meeting
The December 6 RAST meeting at Sena Place Hotel had a good turnout with many members who attended the meeting having returned to Thailand from overseas for the "holiday season".
Among the returnees introducing themselves at the meeting were Fred, K3Z0 and HS0ZAR, John, W2YR and HS0ZDJ, Stig, LA7JO and HS0ZGD, Renato, HB9BXQ and HS0ZLN, David, HS0ZLG and his XYL Judy, KD6BBO and Akira, JA1NMH.
Also present as returnees or newcomers were Pittaya, HS1FRU, HS7IRS, E24MTA and HS1HQT along with Kamol E20EHQ.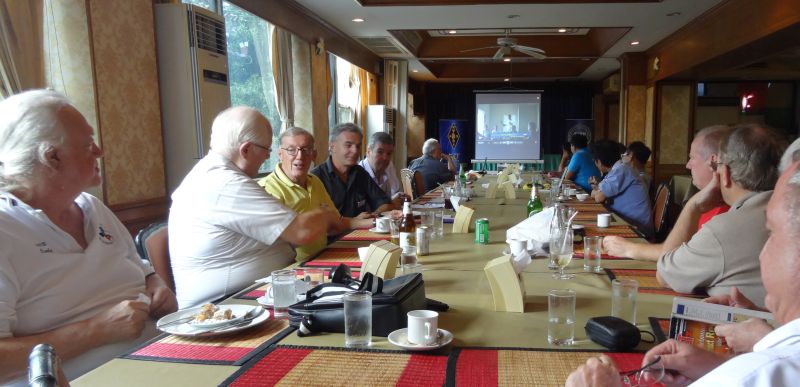 Video of K1N DXpedition precedes announcements
Following a
video presentation of the K1N DXpedition to Navassa Island
last year, RAST President Jakkree (Jack), HS1FVL announced that the special event callsign HS90IARU was now on the air from stations authorized by RAST since December 1, 2015.
Permission to use this special callsign to mark the International Amateur Radio Untion (IARU)'s 90th anniversary this year has been received from the National Broadcasting and Telecommunications Commission (NBTC) and will be used until the end of this month.
Any licensed Intermediate Class amateur radio operator who would like to use this special event callsign can seek permission for this from either Jack, HS1FVL (HS1FVL (AT) gmail.com) or RAST Secretary Champ, E21EIC (E21EIC (AT) gmail.com).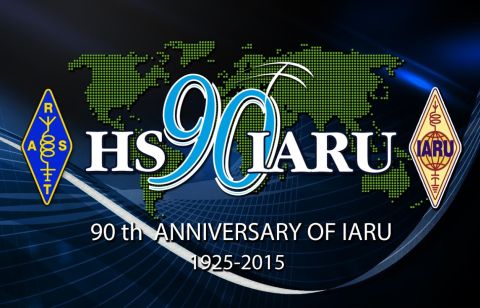 The HS90IARU QSL card designed by E20PFE
All modes and all bands can be used with this callsign and so far, since December 1, a total of 3,500 QSOs had been logged, Jack said.
Later in December, the NBTC will be hosting Amateur Radio Day, this year to be a three-day event at the NBTC Secretariat on Phaholyothin Soi 8 from December 18 to December 20 when there will be seminars and an exhibition, along with free refreshments for visitors.
RAST will have a booth at the exhibition in which all amateur radio societies from throughout Thailand will be participating and representatives from the society will also be making presentations in the seminars.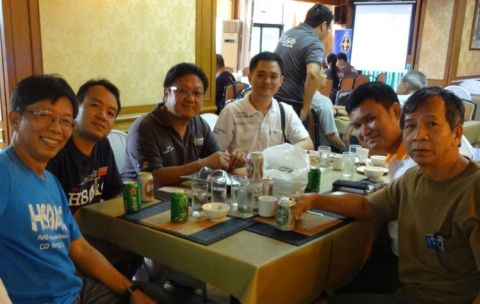 Jack also announced at the December meeting that RAST will celebrate the New Year on January 10 with a special party a "Rot Meu Mae" (Mother's Touch) restaurant which was the location of the New Year party almost two years ago in 2014.
This will be in lieu of the regular monthly meeting and will be the next opportunity for RAST members to get together. The restaurant is located in the northern suburbs of Bangkok near North Park Golf Course.
The New Year party will begin at 3 p.m. on Sunday, January 10 and will continue until around 9 p.m. All guests are invited to bring a gift-wrapped New Year present valued at 500 baht (or more) for exchange during the party, while food at a buffet will be provided to all who register at the cost of 350 baht per person.
During the December meeting, Jack also announced that there had been progress in the preparations for the launch of the Joint Academy for Intelligent Satellites for Amateur Radio of Thailand (JAISAT-1) satellite sponsored by RAST by the team headed by Tanan, HS1JAN and that Ueda Hozuma had attended a RAST committee meeting on behalf of JAMSAT, the Japan AMSAT Association, at Sena Place Hotel earlier that day.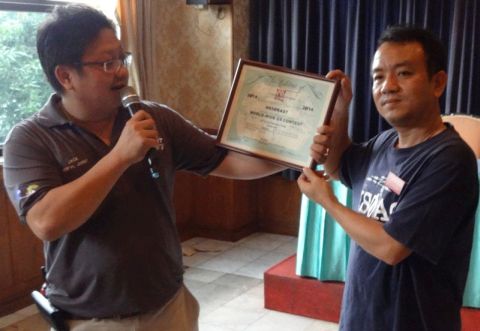 Finally, Jack presented a CQWW award to HS50RAST to HS0AC Station Manager Nikorn, HS5NMF for coming in first place in the SSB Multi-two category for Thailand (and sixth in Asia) in the 2014 CQWW contest for 2014 with 1,266,640 points.
For earlier news about RAST meetings and activities in the second half of 2015 please click on
this link
.
---
For earlier news about RAST and developments regarding amateur radio in Thailand, please check our previous archive here. A list of links to archives that date back to 2005 can be found on the right-hand side of the RAST home page.