A charitable entity (No. 555) pursuant to a Ministry of Finance announcement

Archive for April and May 2013

Ballooning expedition presentation
is highlight of May meeting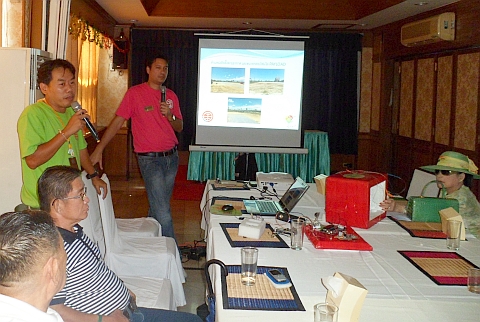 Tanan, HS1JAN (left) and RAST President Pornchai, HS2JFW explain the MSBAT-3 ballooning event on April 21 when they describe and display the equipment used.
The MSBAT-3 ballooning expedition staged on April 21 provided several lessons that will result in enhancements to the next ballooning activity that will take place towards the end of this year, according to Tanan, HS1JAN the leader of the project that was co-sponsored by RAST.
At the RAST meeting on Sunday, May 5, 2013, Tanan made a presentation supported with images and video clips of the event which detailed the devices and the technology used -- most of which had been developed and manufactured by Thais -- while comparing it to the two previous ballooning activities that were staged last year.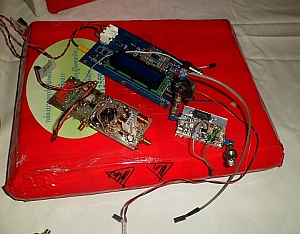 Unfortunately, the 3,000 gram rubber balloon from TOTEX Corporation used for MSBAT-3, suffered a scratch and had begun to leak so last month's expedition which had featured a live TV transmission on 54 MHz, beacons on 28-MHZ and 27 MHz, APRS and a VHF repeater had to be aborted.
When the next expedition comes around, the location chosen for the launch will be well clear of overhead power lines and other obstructions, the various radio and recording modules will be firmly connected together prior to launch and two or three balloons will be used rather than one, providing better lift and redundancy in event of any damage, Tanan explained.
His presentation related how the ballooning activities had been inspired by the vision of His Majesty the King and he compared the scope and the scale of the most recent effort with the MSBAT-1 and MSBAT-2 exercises conducted last year (an account of the MSBAT-1 activities can be found in our archives
here
).
The video below shows pre-launch preparations at Wat Ban Bua Thong on April 21 filmed from a camera aboard a drone helicopter:


This second YouTube video shows take off and subsequent entanglement with an overhead power line, followed by retrieval of the balloon and payload:



The event was sponsored by RAST along with the National Broadcasting and Telecommunications Commission (NBTC), 100 watts Magazine, APRS EasyTrack and SiamData.


Meeting begins with a minute of silence
The May RAST meeting at Sena Place Hotel began with one minute of silence for former RAST member Bernd Wolfgang Wendpaap, HS0ZIK and for P. Krishnan Kutty, VU2PKK who both passed away during April.
Bernd, aged 70, had been active on the HF bands from Thailand, particularly 40 metres, and had been a regular participant in RAST monthly meetings while Kutty, 85 had been active on the HF bands for many decades and had joined a weekly sked with RAST members Fred, K3ZO/HS0ZAR, Sam, HS0ZDY, Tony, HS0ZDX and Charly, HS0ZCW over a span of many years.
May both these silent keys rest in peace.
The lobby-level restaurant in Sena Place hotel was busy on May 5 with around 50 members and guests, many of whom braved a heavy rainstorm in the morning to make the meeting. There were half a dozen or so first-timers or long-term returnees and these included Sukit, HS1GKR, Jeff, Ak6TG, Nimit, K6XOX/HS1IFU, Tom, VK4BR, Sarawut E22NCF and one guest who is not a radio ham yet.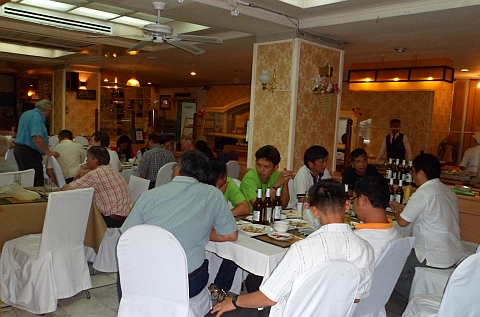 RAST President Pornchai (Joe), HS2JFW provided an update on activities, briefly touching on the ballooning and announcing the forthcoming presentation before moving on to say that he had followed up with the authorities regarding the pending reciprocal agreements with Japan and Denmark. He said he was still awaiting a formal response.
There is also to be a high-level telecom meeting in Bangkok in June hosted by the NBTC and a working group that would include RAST representatives was being set up, he said.
Vikrom invites RAST members to his birthday party
Gen Prasit, HS1DN, stepped forward to announce that former RAST President Vikrom Punyashthiti, HS1HB (pictured at left) would be celebrating his birthday on May 11 with a party and RAST members were invited to attend that evening from 5 p.m. onwards.
Admission to the party would be free but donations to Her Royal Highness Princess Maha Chakri Sirindhorn's charities would be welcomed with a donation box to be provided. Gen Prasit said that Khun Vikrom had said that he would match every donation made with an equal amount. Anyone wishing to attend is asked to call in advance to 081-916-4036. Gen Prasit added that HS1HB is active on 145.300 MHz each morning from 6 a.m. to 8 a.m.
RAST booths at two ham shows confirmed this year
Champ, E21EIC, announced that RAST would have a booth at the Tokyo Ham Fair in August and that he would be attending the event while RAST President Joe also announced that there will be a RAST booth at the Friedrichshafen amateur radio convention from June 28-30 where RAST's activities, details about amateur radio in Thailand, reciprocal licensing procedures, tourism information for visitors to Thailand and pictures of the flooding and details of support received would be provided.
A fruitful discussion about AIT club station
Finally, the RAST President announced that he had met with AIT representatives when he had broached RAST's proposal to build a second storey above the existing club station with a separate foundation. AIT believes it can be done, but cautioned that it would take a long time, possibly six to seven months, Joe added, suggesting or asking those present whether it might be better for RAST to put limited equipment in the existing station after replacing the main door to begin operations in the interim.
A discussion followed with Gen Prasit, HS1DN suggesting that the AIT campus would be unlikely to flood again and a consensus seemed to rally around the observation made by Sam, HS0ZDY who observed that if it were to become vulnerable to flooding again we should have plenty of warning of flood waters moving down from the north towards Bangkok and we could then move any equipment out of harm's way in good time as a precaution in those circumstances.
This would avoid a heavy investment in a second floor and free up funds for equipment and operating resources while allowing operations and enhancements to the station to proceed quickly.
April RAST meeting
Another ballooning expedition is scheduled
-- watch it live on TV!
RAST President Pornchai, HS2JFW (Joe), left, and Tony Waltham, HS0ZDX pictured as announcements were being made after lunch at Sena Place Hotel on April 7, 2013. - E21EIC photo.
The April meeting saw RAST return for its monthly get-together to the lobby-level restaurant at the Sena Place Hotel in Phaholyothin Soi 11, its regular venue for over a decade, when the society's President brought those present up to date on developments. Also attending the meeting were former RAST presidents Mrs Mayuree Chotikul, HS1YL and Chaiyong Wongwuticomjon, HS1QVD.
Following the buffet lunch, RAST President Pornchai (Joe), HS2JFW began by welcoming returning member Karl Renz, K4YT/HS0ZDG, before announcing developments regarding the HS0AC club station and speaking about an upcoming ballooning expedition planned for later this month.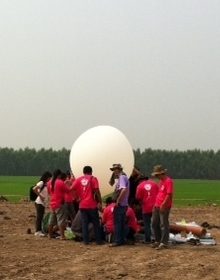 The third amateur radio ballooning expedition, or MSBAT-3, is scheduled for April 21, 2013 when a large multipurpose stratospheric helium balloon (such as the one pictured at right used during the first ballooning exercise in January last year) will be launched from the outskirts of Bangkok and tracked as it drifts with the winds while gaining in altitude.
This time, the balloon will be larger -- weighing three kilograms it will be three times the size of the previous balloon used -- while the payload will also be greater, including a dual band repeater, beacons for 10-metres and 11-metres (CB) and a live video camera transmitting on the former Channel 3 frequency around 54-MHz (the 6-metre amateur radio band).
This should enable anyone in the Bangkok area who has an analogue television and an outside antenna to monitor live video from the balloon following its ascent on April 21 by tuning to their old TV Channel 3 frequency, or by scanning the TV VHF spectrum if they have deleted that channel which is no longer used in the Bangkok area.
Funded in part by the NBTC which is supporting this event with a funding of 80,000 baht, the launch will begin at 9 a.m. from Wat Ban Bua Thong School in the northwest suburbs of the city.
As expenses will exceed this amount, the organizers of the event are seeking to raise additional funds by marketing T-shirts that commemorate the occasion and these can still be ordered from Champ, E21EIC with samples shown here: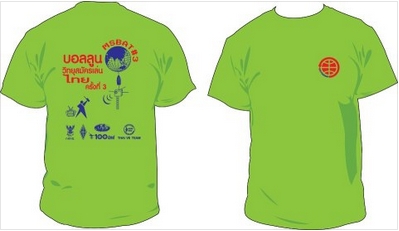 There are five sizes, small, medium and large which cost 200 baht each, XL which cost 250 baht and XXL which cost 300 baht each while there is a 30 baht fee for postage (or 50 baht if sent by EMS). Orders can be placed by email to
[email protected]
and this may be done until April 10, 2013.
HS0AC club station likely to be rebuilt
and enhanced on the AIT campus
The RAST President also related how last month IARU Director Gopal Madhavan, VU2GMN (pictured below at right) had visited Bangkok to attend an APT meeting and had met with RAST President Pornchai who outlined the issues regarding the reactivation of the HS0AC Club Station.

Pornchai said he had escorted the IARU director to inspect the AIT (Asian Institute of Technology) campus and the club station building following the severe flooding of 2011 to see the damage for himself and he had also taken Gopal to visit the N-Siri Resort where RAST had considered relocating the club station to.
In August last year, during a visit to Thailand Gopal had presented a US$1,000 donation to RAST on behalf of the International Amateur Radio Union Region 3 from "9V1UV Selva's Special Fund" to support the society's efforts in restoring the club station and he had been most interested to learn of developments and ongoing plans.
He said that Gopal believed that AIT would be the best location, but that a second storey to the building should be built, if permission for this is granted.
Pornchai added that many RAST members had advocated retaining the club station at AIT while RAST has also received an assurance about the future of AIT and its location on the Rangsit campus.
At the meeting Sam, HS0ZDY proposed that the second storey for HS0AC be built using new foundation piles and to be above but separate from the ground storey building which should be the most efficient and most economical approach.
Pornchai said he would discuss this further with RAST committee members and the authorities at AIT, while Gen Prasit, HS1DN suggested that the society should be able to obtain a budget for this from the government, given that RAST had helped during the 2011 flooding in many ways.
The RAST President added that the society needed to move forward on this matter urgently now.
RAST President to go to Friedrichshafen
Many of the non-Thai members of RAST reside in Germany and several of them have come together to organise a RAST booth at the International amateur radio convention in Friedrichshafen this year and which is from June 28-30. In recognition of this, RAST President Pornchai will be attending the convention -- Europe's biggest amateur radio event -- himself and some posters and flyers about the convention were on display at the April meeting.
Self-supporting tower donated to RAST
Pornchai also announced a generous offer of a 36-metre self-supporting tower in a donation to RAST that had been made by Chalermchai Saisuphan, HS0PYY and he added that arrangements had been made to dismantle the tower although the society had not determined where it would be relocated to yet.
For earlier reports, including the March AGM meeting please see our archives, with details listed above, at right.
For earlier news about RAST and developments regarding amateur radio in Thailand, please check our most recent archive here while a report and pictures of the RAST New Year party can be viewed here