RAST archive: July 2008 to July 2009
The July 2009 meeting
There were several newcomers at the meeting on Sunday July 5, both visiting hams and those living or holidaying in Thailand. They included a translator working for the United Nations, Batyrkhan (UN7EY) on assignment to Thailand from Kazakhstan who brought a gift, a souvenir from his country in the form of a colourful camel (tabletop size). Then there was Kent, W5UB, who has been issued the Thai call HS0ZHY and has been living in Khon Kaen for the past eight months, along with Andy, HB9EMQ (HS0ZIM) who was at the meeting with his family.
Progress on staging Intermediate Class exam
After the buffet lunch, RAST President Chaiyong Wongwuticomjon, HS1QVD recounted the main topics discussed in a committee meeting held earlier, including progress in organising a training session and examination for the Intermediate Class amateur radio licence. Work on finalising details of the bank of multiple choice questions has been almost completed, with E20EHQ, Kamol, pitching in to help, members were told. Hopefully, everything would be wrapped up by next month and a date for the examination can be announced soon, Chaiyong noted. Morse code at 8 words a minute is still a requirement for the Intermediate class licence, he added, in response to a question from the floor.
Amateur radio spectrum at 7 MHz
It was also announced that a formal letter had been submitted to the NTC asking that spectrum between 7.1 MHz and 7.2 MHz be released for Thai radio amateurs since the March 29, 2009 deadline for this, agreed at the WOrld Radio Conference in Geneva in 2003, has now passed.
ARDF Championships cancelled
In other developments, RAST has decided against hosting the IARU ARDF Championships that would have been staged between October 29 and November 3, 2009. This decision was taken acting on the advice of security officials, as announced during the June meeting, and can be confirmed now. RAST regrets any inconvenience caused to participants and all parties involved have been notified.
Reciprocal agreement with Belgium concluded
The bilateral reciprocal agreement between Thailand and Belgium has now been concluded, it was announced at the July meeting. Belgium joins the United States, Germany, Switzerland, Austria, the United Kingdom, Sweden and Luxembourg as being countries with a reciprocal bilateral amateur radio agreements with Thailand. France, Canada and Spain are said to be presently negotiating similar agreements with Thailand.
CQWW VHF contest coming up
The CQ World Wide VHF contest is on the weekend of July 19-20. This is a contest when Thailand in recent years has seen the highest level of activity in the region. Champ, E21EIC, is organising the event again this year.
All Asia DX Contest at HS0AC
The highlight of activity at the HS0AC club station in June was the All Asia DX Contest CW (June 20-21) when 914 QSO's were made for a final score of 152,243 points, using four bands, especially 20 metres which was very good with 592 QSO's, many of them being US stations. In presenting this report, HS0AC station manager Finn, OZ1HET, added that 10 metres was also fine, with short skip to Japan and 113 QSO's.
RAST representatives with NTC Chairman Choochart Promprasit at the NTC Headquarters on May 18, 2009
From left: Kanchit, HS1JC, Tony, HS0ZDX, Chaiyong, HS1QVD, Gen Choochart, Mayuree, HS1YL, Narissara, HS1CHB.
The June meeting
RAST President Chaiyong Wongwuticomjon and several officers of the society met with National Telecommunications Chairman Choochart Promprasit on the eve of the public hearing about the NTC's national frequency master plan in May, members at the June RAST meeting learned.
Chaiyong, HS1QVD, gave a summary of the meeting that was also attended by former president Mayuree Chotikul, HS1YL and committee members Narissara Shaowanasai, HS1CHB, Kanchit Charmornmarn, HS1JC and Tony Waltham, HS0ZDX, on May 18 at the NTC headquarters on Soi Sailom.
He said that the RAST team had explained the need to adhere to the ITU bandplan and to preserve amateur radio allocations for the amateur service, while Gen Choochart had said he welcomed the RAST's proposals and suggested presenting all these points in writing at the public hearing. (This was indeed done).
Also explained was the need for the 50MHz (six-metres) band to be allocated to the amateur radio service since virtually all new commercial amateur radio transceivers now included this band and that not authorising six-metres for ham radio meant that such equipment was not type approved by the NTC, depriving Thai radio amateur operators access to new equipment.
RAST representatives present on May 19 at the NTC public hearing included Kanchit and Narissara, while RAST member Bob, HS0ZFD, also took the podium to explain the need for amateur radio allocations at VHF and SHF frequencies.
It is not known when the NTC will announce the outcome of the public hearing or make any amendments to the radio frequency spectrum assignments here.
In a related matter, and announced by Chaiyong at the June meeting held at Sena Place Hotel, there are to be four vacancies for the position of NTC commissioner and among those applying for a position as commissioner would be RAST officer Kanchit, HS1JC.
New faces
There were several newcomers at the June meeting, which was attended by over 30 members and guests. These included Pat, E21ZHC, who said he "would love to get on HF," Chad from North Carolina, USA, Heinz, DC0SB, a businessman who was passing through Bangkok for a stopover, and Chris, GM8NMM, who now lives in Bang Saray, Chon Buri.
Training in emergency communications proposed
RAST President Chaiyong told those present at the June meeting that Thida, HS1ASC, had suggested that RAST might co-organise a training course in emergency communications, and that she was currently studying and translating American Radio Relay League (ARRL) documents relating to this in order to prepare a syllabus.
She has suggested that RAST and 100 Watts Magazine, which she edits, jointly host an event by seeking the sponsorship of the NTC, and she said she planned to speak with the NTC as well as to keep tabs on the
IARU Global Emergency Communications Conference
to be held in conunction with the Tokyo Ham Fair in August. As envisaged, such an activity here would be organised sometime next year, she told RAST committee members.
Club station report
HS0AC station manager Finn, OZ1HET, recounted that there were two contests that the club station had participated in, the Russian CQ-M-DX contest (May 9-10) and the Spanish DX Contest (May 16-17), while a collection of donations at the May RAST meeting had raised 2,350 baht.
Plans to revamp amateur radio administration
It was announced that Kanchit, HS1JC, had proposed that a working group be established, with the support of the NTC, to oversee amateur radio in Thailand and to work out some new regulations. Presently, he explained to committee members, there was no structure and no process for fixing problems relating to amateur radio in Thailand.
Before the NTC had been set up over four years ago, the Post and Telegraph Department had mandated that a monitoring station be established in each province, whereas now every province had a club or "
chomrom
" but there were expenses, but no income -- and hence each
chomrom
would organise a training course followed by an examination to raise funds.
He said he would survey opinions from Thai radio amateurs about this using Echolink -- and that RAST could be the representative of the
chomroms
.
The April RAST meeting
After brief introductions by newcomers to the April 6 RAST meeting, all present were asked to stand in silence for a minute to show their respects for two radio amateurs who are now silent keys: David Rankin, 9V1RH, and Hassan, 9M6MA.
David Rankin had been a director of International Amateur Radio Union (IARU) Region 3 for many years and was an Australian national based in Singapore. As such, David had worked closely with senior officers of RAST over the past 30 years, helping the society to press for full recognition of amateur radio in Thailand, something which finally happened as recently as 1987 when regulations and a framework for operating on HF and VHF were published in the Royal Gazette.
David had also been a regular participant in Seanet conventions and had been active on the HF bands as well. David passed away on March 19 and will be sorely missed. He leaves a wife and a son and daughter.
Hassan, 9M6MA, is also now a silent key. He had been a regular check-in to Seanet on 14.320 MHz as well as having been a familiar face at Seanet conventions. He will also be missed by the amateur radio fraternity in the region.
New faces in April
New faces at the April meeting included Tony, HS0ZIX who is based in Chiang Mai. A UK national, formerly he held the callsign HS1ALH back in the late 1970s; Vinny, 2E0COV, is also from the UK but staying in Surin at the moment, Bengt, SM6OEW, said he is currently in Hua Hin and added that at home he "operates from 137KHz to 10GHz" and another newcomer was Wolfgang, DD3WG.
Working towards an Intermediate Class exam
RAST President Chaiyong, HS1QVD, briefed members on developments and topics that had been discussed during a committee meeting held earlier in the day.
Those present learned that Kanchit, HS1JC has been working with the old examination questions for the intermediate class licence, improving them and making them relevant to the present syllabus. RAST intends to organise such an examinjation soon, and Chaiyong said the exam questions should be finalised by next month.
RAST to seek clarification on 7-MHz expansion
On March 29, 2009 all international broadcasters were supposed to leave the portion of the 40-metre band between 7.1-7.2 MHz, since from that day this spectrum is allocated to the amateur service worldwide on a primary basis.
Consequently, and in the absence of any announcement, RAST intends to approach the National Telecommunications Commission to establish when Thai radio amateur operators may begin to use this spectrum.
This follows a decision made at the World Radio Conference in Geneva in 2003, one which had been supported by Thailand, through its representative from the Post and Telegraph, the regulatory body at that time.
The additional 100 KHz of specrum is now assigned to amateur radio (and Fixed and mobile) on an equal, shared, primary basis. Effective on March 30, 2009 both Japan and Korea extended the 7 MHz amateur band (from 7.0 to 7.1 to 7.0 to 7.2 MHz) and RAST looks forward to a forthcoming announcement from the NTC.
Your society will keep members informed of developments around this important issue on this web site and the RAST Forum, as well as at forthcoming meetings.
IARU news: new President and 2 new member societies
In IARU news, two new national societies were elected to membership of the organisation: the Emirates Amateur Radio Society (EARS) representing Emirates (A6) and the Kazakhstan Federation of Radiosports and Radioamateur (KFRR) od Kazakhstan (UN, UO, UP, UQ). RAST had voted in favour of both of these, and with their admission the IARU membership now stands at 161.
In February, the IARU member-societies completed voting on proposals to nominate Timothy S. Ellam, VE6SH/G4HUA and Ole Garpestad, LA2RR as IARU President and Vice President, respectively.
World Amateur Radio Day April 18
April 18, 2009 which marks the day in 1925 that the IARU was founded, is "World Amateur Radio Day 2009" and the theme of the event is "Amateur Radio: Your Resource in Disaster and Emergency Communications." The IARU encourages radio amateurs to "spread the word about what the 'hams' are doing" and of the importance that their role can and has played when disasters or emergencies occur.
HS0AC club station update
HS0AC club station manager Finn, OZ1HET, also reported on activities over the previous month, and the highlight was the CQ WPX SSB contest on March 29-29 with a team effort with HS1CKC, HS0ZGH, HS0ZFZ, HS6MYW and E20GMT as operators and with support from HS0GBI, HS6NDK and HS3SDA. The group had a total of 1164 QSOs for 1,058,881 points. Finn also told of more water leakage problems, with a new hole found and which has now been sealed by staff at AIT.
-- Report by Tony, HS0ZDX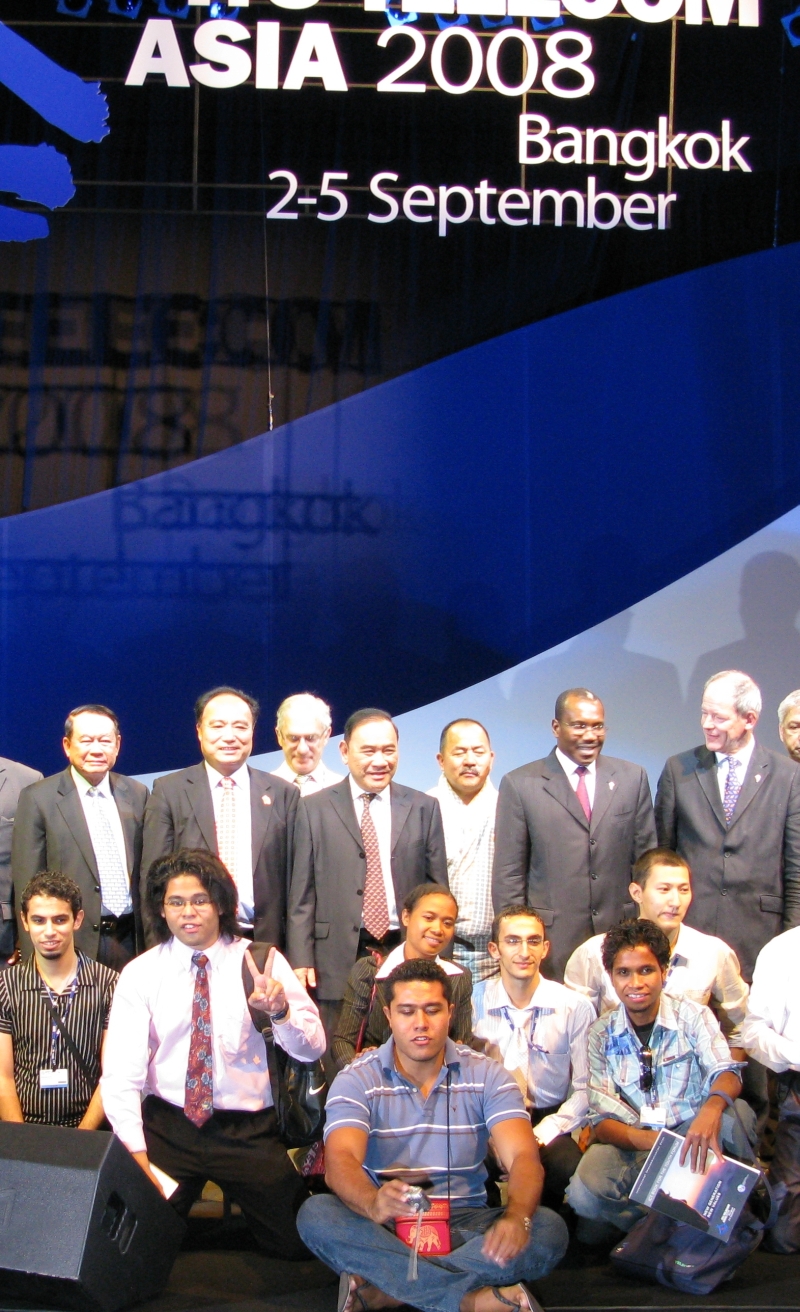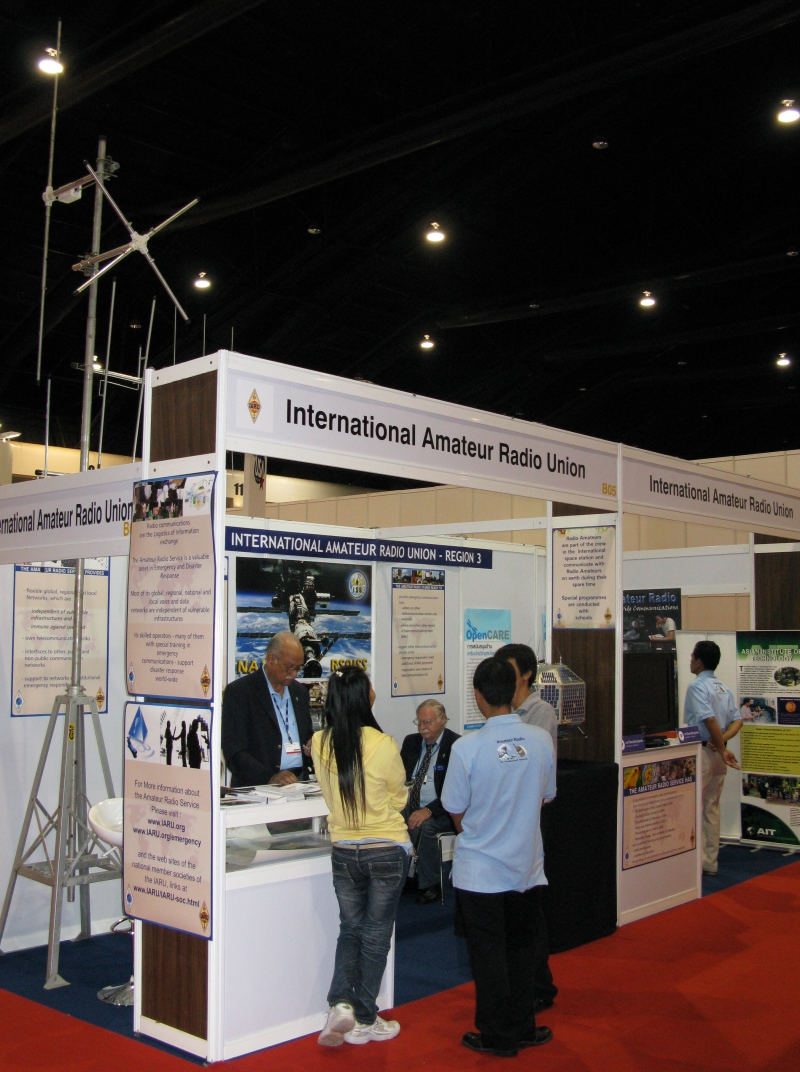 Left: Commissioners of the NTC and ITU Secretary General Dr Hamadoun Toure with other senior officials and students take to the stage at the closing ceremony of the ITU Telecom Asia 2008 held at the Impact Arena and Challenger Hall at Muang Thong Thani in September last year. At right: The IARU booth had a good location at the end of a line of booths, which led to many visitors spending more time there and leading to many fruitful discussions about the role of amateur radio when IARU staff and volunteers were able to explain its benefits to society. Photos by HS0ZDX.


IARU thanks RAST for support at ITU Telecom Asia 2008
The International Amateur Radio Union Region III Secretariat has formally thanked RAST and the society's representatives who had helped establish and man the IARU booth at the ITU Telecom Asia 2008 conference at Muang Thong Thani in early September.
The IARU provided certificates thanking the many RAST members and officers who helped make the IARU's participation in the exhibition a success last year.
For an account by IARU Director Gopal Madhavan, VU2GMN, of how the exhibition booth was set up, the materials displayed (with photographs) and where he notes the highlight was when ITU Secretary General Dr Hamadoun Toure visited the booth, check out http://www.iaru-r3.org/itu/telecomasia2008/TelecomAsia2008.htm or click this link .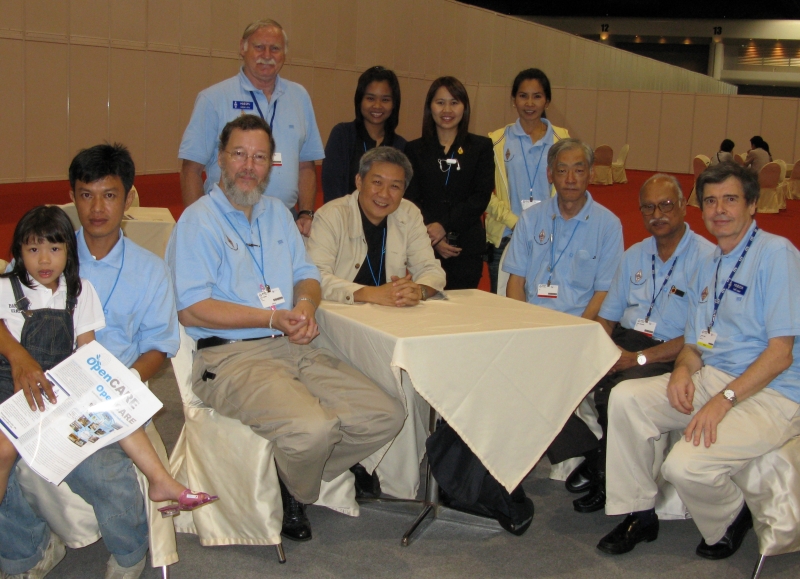 Some of the RAST committee members and volunteers in this group photo with IARU director Gopal Madhavan, VU2GMN (second from right), Jay Oka, JA1TRC from the Japan Amateur Radio League (third from right) and Hans Ehlers, DF5UG, representing IARU Region 1 (standing, fourth from left), taken across from the booth at Impact Arena, Muang Thong Thani, on the afternoon of the closing day of the four-day exhibition.
Earlier this year
Intermediate Class exams:
RAST President Chaiyong, HS1QVD, told those gathered at the February meeting that the society was preparing to organise an Intermediate Class amateur radio examination, and that he had met with Kittipong, HS1ASN, who had provided some sample examination questions.
RAST representative to serve on Red Cross committee:
The President also announced in February that RAST had been invited by the Thai Red Cross to send a representative to join a committee that will be responsible for safety during the annual Red Cross fair that will be held at the end of March and beginning of April.
RAST thanks HS2JFW for domain name renewal:
The RAST President also thanked Khun Pornchai, (Joe), HS2JFW for making a donation to RAST by paying the domain registration (1,605 baht including VAT) for the RAST web site at www.rast.or.th. This renews the registration for two years.
RAST New Year Party 2009
At right, standing beside the VHF multiband vertical erected in the garden are, from left: Stig, HS0ZGD, Charly, HS0ZCW, Mike, HS0ZHS, and Finn, OZ1HET.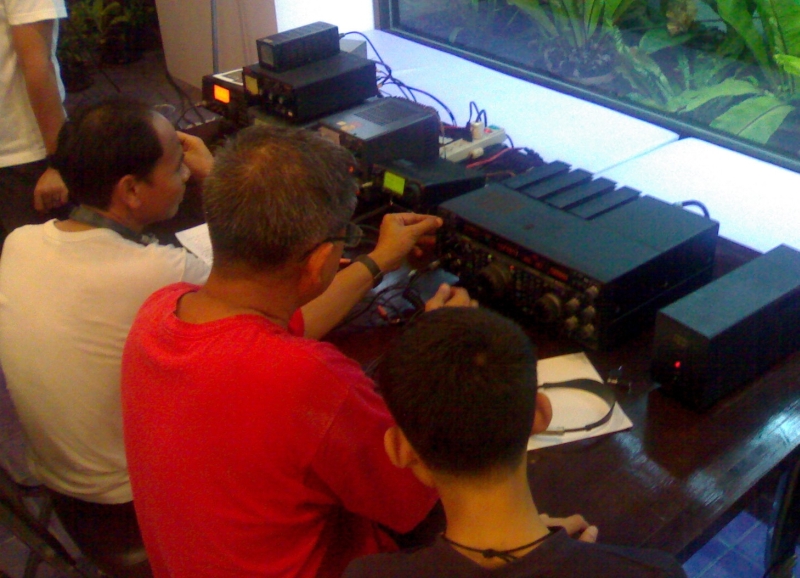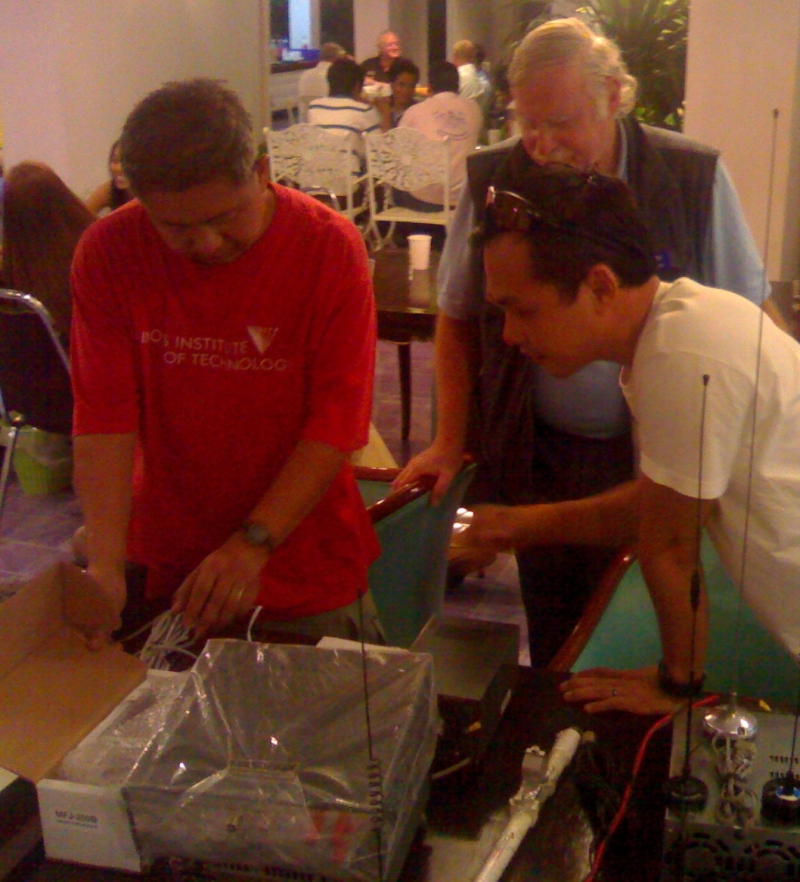 Left: Maj Narissara (John), HS1CHB, behind the conrols of an HF transceiver, as others look on. Right: Narissara rummages through items on sale... behind him is Hans, DF5UG.


Over 50 RAST members gathered on Sunday, January 18, at the Vibhavadi Rangsit Soi 60 QTH of Narissara (John), HS1CHB, in a social gathering that marked the first get-together of the year and where there were separate HF operating stations set up for SSB and CW QSOs, including one station in the party arena with a multi-band HF vertical assembled during the afternoon and erected in the garden.
RAST sponsor ThaiBev arrived shortly before 4 p.m. as scheduled with a keg of draft Chang beer and the expertise to dispense the ale with a smile, which improved "propagation" and social discourse, while an excellent Thai buffet dinner featuring various Thai curries was also laid out soon after that. Some ham equipment for sale was on display, along with great circle maps based on Bangkok and a world map showing amateur radio prefixes and CQ zones.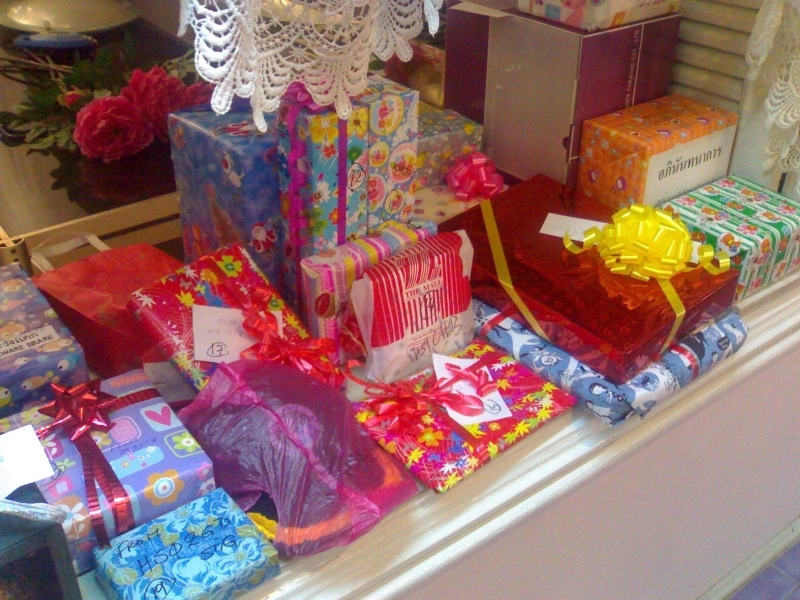 Some of the gifts ready to be awarded to party-goers


Members and guests brought gifts that were exchanged in a lucky draw after RAST President Chaiyong, HS1QVD, gave a brief welcome address, reflecting the growth and evolution of amateur radio in Thailand. This was followed with an update about APRS (automatic packet reporting system) in Thailand by Kamol, E20EHQ, for which some digital maps of Thailand have been created and are now available for download.
RAST would like to thank ThaiBev for its generous support of RAST on this occasion, and as in previous years and during the Seanet conventions in Bangkok in 2004 and in Lampang in 2007.
The next RAST meeting will be on Sunday, February 1, 2009 at Sena Place Hotel on Phaholyothin Soi 11 as usual, beginning at 11 a.m. (More detailed directions can be found below).
-- report and photos by Tony, HS0ZDX
Looking back at some activities of 2008
In memory of Sawang, HS1BNP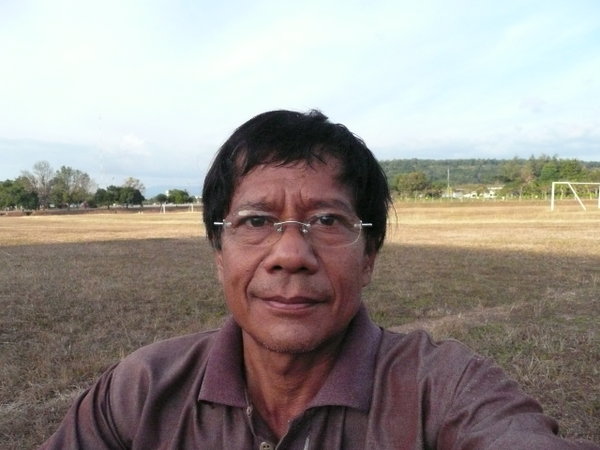 The December RAST get-together began with one-minute of silence in memory of Sawang Sichan, HS1BNP, a former RAST committee member who for many years had helped the society and many of its members. Sawang passed away on November 10 at Chulalongkorn Hospital while being treated there for liver cancer.
Funeral rites and prayers were performed at Wat Cholaprathan Rangsarit in Pakkred and Sawang was cremated on November 14 in a Buddhist ceremony. Along with his family, relatives and friends present were several RAST committee members and other radio amateurs who were his close friends.
Blessings for Ray, HS0ZDZ
RAST President Chaiyong Wongwuticomjon, HS1QVD, also announced that Lawan, E21UHL, Ray Gerrard, HS0ZDZ's XYL, has invited Ray's ham friends to a birthday blessing to be performed by monks on the morning of December 18 at their Rangsit home.
Ray suffered a heart attack while on the highway into Bangkok in November 2004 to attend a Seanet convention planning meeting and was unconscious by the time he reached hospital. After several weeks in a coma, he made a partial recovery but he is still unable to speak and being cared for by his wife at home.
At the meeting, Chaiyong also publicly thanked "Oh", HS4DDQ, for his role as net control on December 4 when stations called in on 144.975 to offer their best wishes to His Majesty the King, HS1A, on the eve of His birthday.
The Seanet convention in Kota Kinabalu in Sabah last month was attended by 11 representatives from Thailand. Speaking on behalf of the group, Swen (HS0ZFZ) praised the organisers for doing a great job and noted that the convention next year would be held in Seoul, South Korea, beginning on October 23, while the following year it would be hosted by the CRSA and staged in Shanghai, China. Lining up for the year after that as host was Brunei, which would be confirmed in Seoul, he noted.
He related how their journey back to Thailand had been disrupted by the occupation of Suvarnabhumi Airport and after a layover in Singapore, had finally returned to Thailand via U-Tapao Airport.
Field Day Contest in 2009
The Thailand Field Day VHF contest which is sponsored by the National Telecommunications Commission (NTC), RAST, the Voluntary Radio Association (VRA) and 100 Watts magazine will run for 24 hours between noon on February 7 to noon on February 8, 2009. Contest manager Champ (E21EIC) said everyone planning to participate can find full details
here
where they can also register to participate.
A month of contests at HS0AC
The RAST club station, HS0AC, on the campus of the Asian Institute of Technology was host to four contests during November, climaxing with the CQWW CW contest (Nov 29-30), station manager Finn, OZ1HET, announced. The final score in the CQ contest was 554,750 points in the single operator assisted category, with 1100 QSOs and using only three bands. Other contests were the Ukranian CW Contest (Nov 1-2, 205 QSOs), the Czech/Slovak CW Contest (Nov 8-9, 117 QSOs) and the Bulgarian DX Conest (Nov 22-23, 260 QSOs)
... and 25 years in Space
Amateur radio in space is now 25 years old and special events are planned this month and in early January.
James Gampper (HS0ZEY) has forwarded the following message:
Twenty-five years ago this week, Owen Garriott, W5LFL, made history by being the first Amateur Radio operator to talk to hams from space. His historic flight on STS-9 on board the Space Shuttle Columbia was launched on November 28 and landed on December 8, 1983. Garriott's ham radio adventure on that mission ushered in a host of what Amateur Radio on the International Space Station (ARISS) Chairman Frank Bauer, KA3HDO, called "outstanding outreach activities that continue today with the ARISS program."
Bauer said that many hams still remember that first set of contacts and downlinks with Garriott: "Those first contacts allowed each of us to share the excitement of space exploration through Owen's first-hand eyewitness accounts. Owen's ham radio legacy enabled space travelers that have flown on the space shuttle, the space station Mir and now the International Space Station (ISS) to share their journey of exploration."
Just last month, Garriott's son Richard, W5KWQ, became the first second generation Amateur Radio operator to travel in space and speak with hams. "What other hobby, except Amateur Radio," Bauer wondered, "could or would open the communications lines of space travelers beyond that of the space agencies or international heads of state?"
To celebrate 25 years of Amateur Radio operations from space, ARISS has planned a set of special event opportunities for December and part of January. According to Bauer, a special certificate will be available for those who communicate with the ISS, either two-way direct (with the ISS crew, the digipeater or cross-band repeater) or one-way reception of SSTV or voice downlink. "Several 'surprises' are planned over the month-long celebration," he said, and will be announced soon.
Bauer said that in addition to school contacts and APRS digi-operations, ARISS will configure the radio system for cross-band repeater operations to utilize the standard ultra-violet operations in low power mode during the first week of December.
Starting December 7, ARISS will then run a test of 9600 baud packet operations on 145.825 MHz. "Given that PCSat should be in full Sun starting December 9," Bauer explained, "we will switch to 1200 baud packet on 145.825 on December 14-19 to support double hop opportunities. At times, especially during the weekends, you might see some SSTV operations if the crew is available." Bauer reminded hams that due to ISS flight requirements related to spacewalks and vehicle activity, the radio onboard the ISS may be off for some portion of this schedule. School contacts and general QSO opportunities by the crew will also preempt this schedule for short periods of time. "But remember that if you hear these," Bauer said, "you still qualify for a commemorative certificate!"
.
And, in earlier news last year...
Winners and RAST committee members together after the presentations
CQWW VHF winners receive trophies and certificates
The highlight of the July RAST meeting at Sena Place was the presentation of several trophies and certificates to winners of the 2007 CQ WorldWide VHF contest, where for over a decade Thailand now has led the world when it comes to two-metre contest activity.
As the contest co-ordinator for over six years, Champ, E21EIC, took charge of the presentations, which were mostly made to the winners, both individual and team members, in person by RAST president Chaiyong, HS1QVD, and with Advisory Chairman Mayuree, HS1YL, RAST Vice President Prasit, HS1DN, and other RAST officers also dispensing trophies and certificates.
The CQWW VHF contest activities were pioneered here by John/Narissara (HS1CHB) back in 1996 when there were 10 teams taking part, but activity ramped up rapidly and for 1999 and 2000, Winit, HS1CKC and Cy, HS0GBI, jointly managed the contest activities.
Champ, E21EIC has been co-ordinating the event, which takes place on the third weekend of July each year, ever since.
A plaque sponsored by the Golden Kilowatt Council (GKwC) in memory of Hans D. Hollstein, HS0/KA3TDZ, was presented to winner (first place in Asia) in the single operator category for two metres, E21DKD, with 15,010 points. According to Champ, this was the third time that E21DKD has come first, the other occasions being 1996 and in 2005. Three GKwC representatives: Svante, HS0ZDY, Tony, HS0ZDX, and Martin, HS0ZED, made the presentation.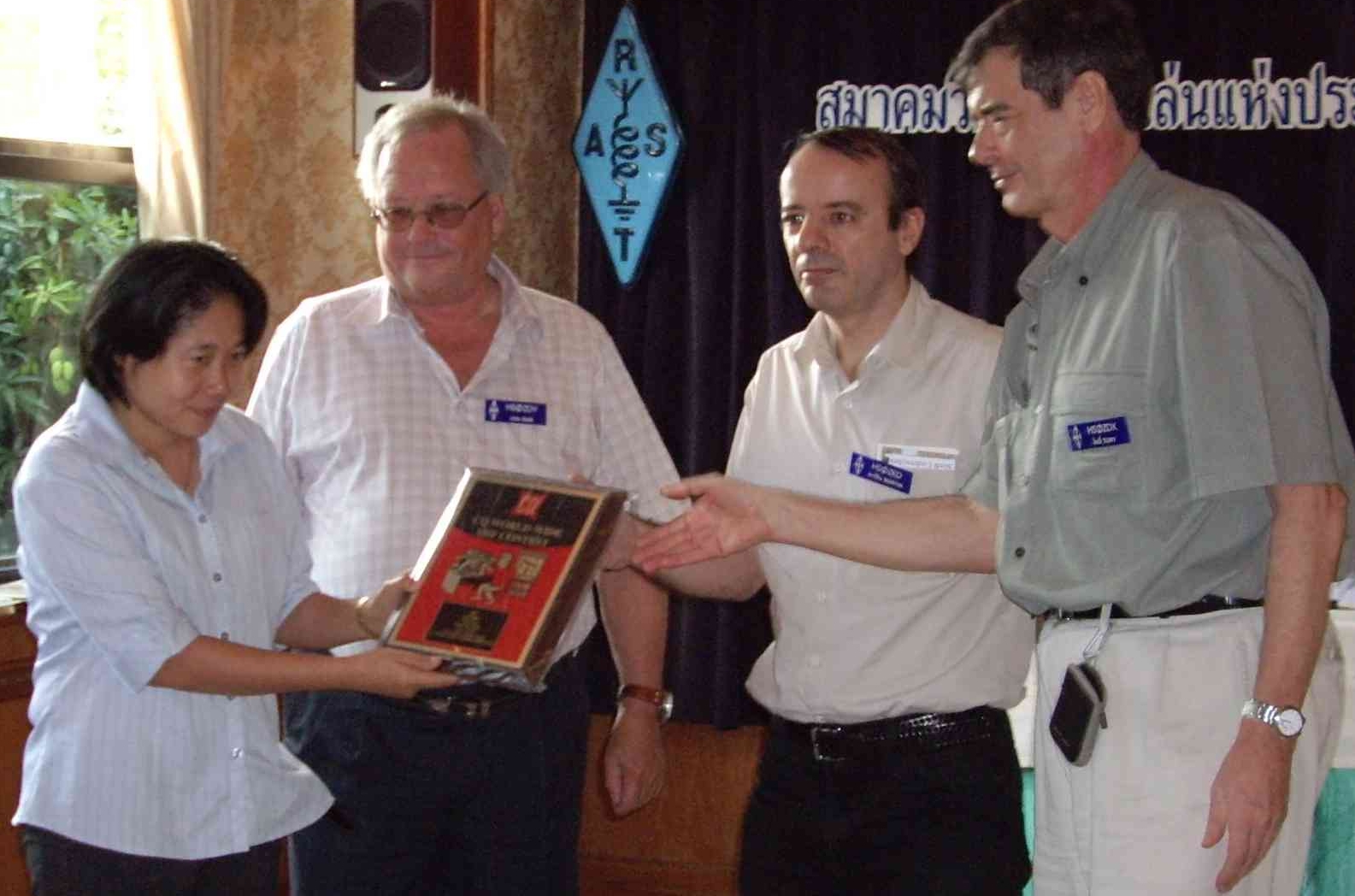 From left: E21DKD, Sam, HS0ZDY, Martin, HS0ZED and Tony, HS0ZDX
Another plaque sponsored by the Siam DX Group for the first place in Asia in the multi-operator category was presented to the HS2ZMU team with a score of 17,822 points.
There was also a plaque on hand from the Siam DX Group for the 2006 winners in the Multi-operator category and this went to HS3KUI, the Kasetsart University amateur radio club.
Champ also maintains a
Thai CQWW VHF contest web site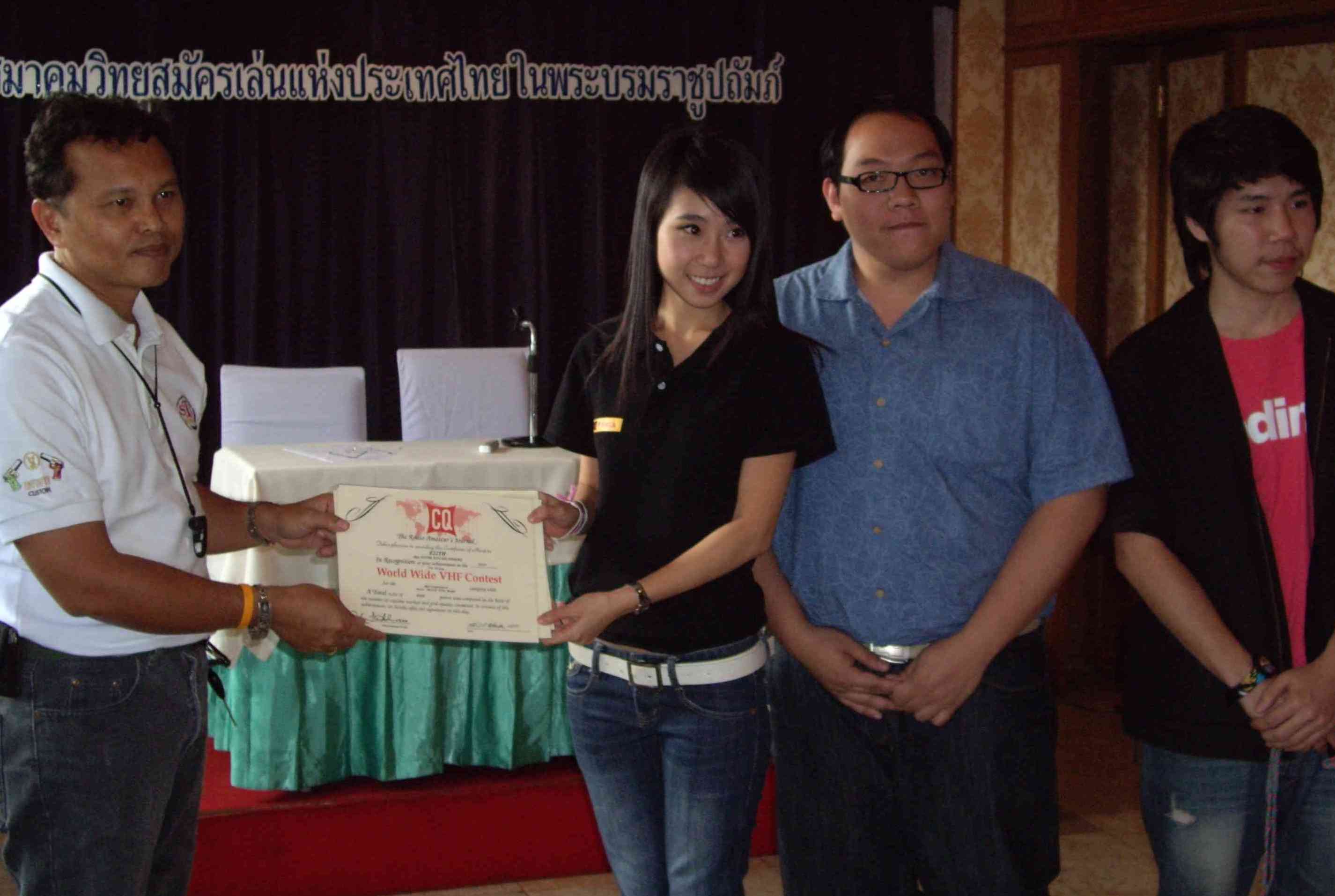 Left picture: Winit, HS1CKC with Thai Chamber of Commerce University winners (E22TH); at right: RAST President Chaiyong, HS1QVD, and HS3ANP, with Champ, E21EIC, in the background.
RAST to monitor Tsunami warning system rehearsal
The presentations ensured a strong turnout to the meeting and those present also heard that there was to be a rehearsal of the national tsunami warning system the following day, where John, HS1CHB, would be RAST's official observer and that the National Telecommunications Commission had appointed a sub-committee to revise the amateur radio regulations.
RAST committee member Kanchit, HS1JC, has been appointed a member of this committee and if any RAST members have specific proposals or suggestions they could email him directly at
[email protected]
.
Making the announcements, RAST President Chaiyong, HS1QVD, also noted that the society was preparing to conduct a novice and also an intermediate class training session, folowed by an examination. He said that RAST felt it would be best to wait until after the regulations had been revised since this was likely to see the Morse Code requirement dropped for Intermediate Class operators while another likely revision would be to allow foreign nationals to sit the Thai examination.
But if anyone needs to sit for a licence urgently, then the VRA is organising an training session followed by an examination for the novice class licence on July 26, it was announced.
HS0AC club station report
Deputy club station manager Winit, HS1CKC, gave a report on behalf of Finn, OZ1HET, summarising the June activities for HS0AC.
This included a visit from the Danish IPA organisation, Preben, OZ5AAH, and participation on the Seanet contest (June 7-8) and the All Asia DX Contest (June 21-22).
Meanwhile, RAST thanked visiting ham from Denmark, OZ1GAI, who presented the society with 10 PCI bus 3Com WiFi adapters which RAST President Chaiyong said would be made available to members as prizes.
Finn's report also thanked Martin, HS0ZED, for finishing repairs to the FT1000 Mark V, which would be set up again in the club station.
In his report, the station manager also reminded all members who would like to visit the station that they should inform either himself or his deputy, Winit, in advance.
Charly, HS0ZCW, announced that Mahidol University's Salaya campus was looking to hire two technical staff members, one with experience in setting up audio/visual equipment and the other with computer skills. The salary and other details were not revealed and anyone interested should contact Charly by email at
[email protected]
.
RAST Forum update
Alexander, ON8JA, then gave a brief report about the
RAST Forum
, the online forum in both English and Thai that has been running for almost four months now, which has some 63 members and 132 posts.
A representative of the Lions Club of Bangkok then thanked RAST for organising the special event station (HS91LIONS) during the 91st Lions Clubs International Convention at Muang Thong Thani from June 23-27.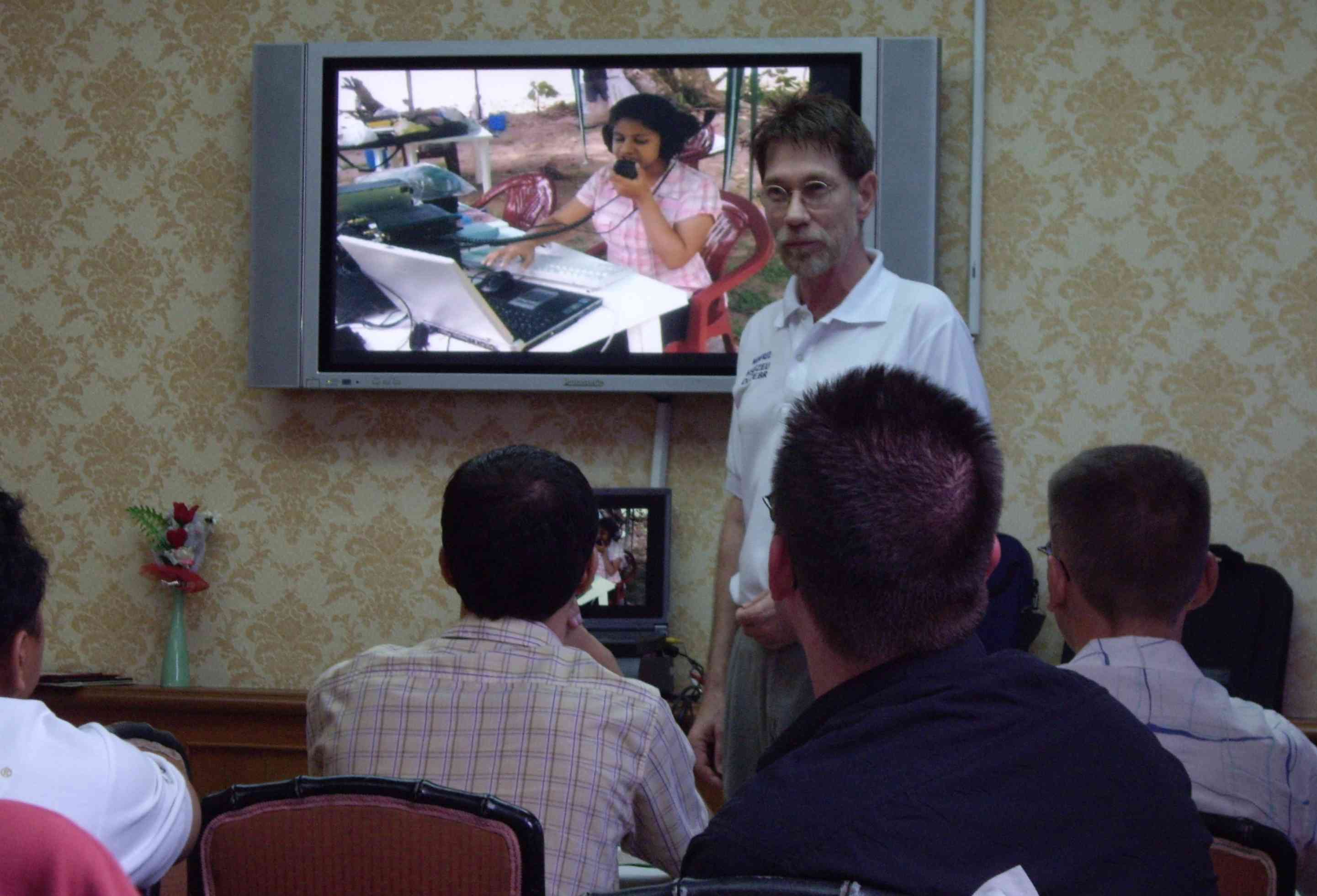 Finally, Manfred, HS0ZEU, (above) gave an illustrated account of the TI9KK DXpedition to Cocos Island (Isla del Coco) in Costa Rica that he participated in back in February this year.
A 12-man team (including one VU YL operator, seen in the photo above) went to the island in the Pacific Ocean where they spent four and a half days operating, notching up some 17,000 QSOs. The island, the original ``Treasure Island'' in the Robert Louis Stevenson novel, is 570 km -- a 52-hour voyage -- from the mainland and is inhabited by crabs, birds, lizards and millions of tiny flies.
Thanks to Manfred for a great presentation.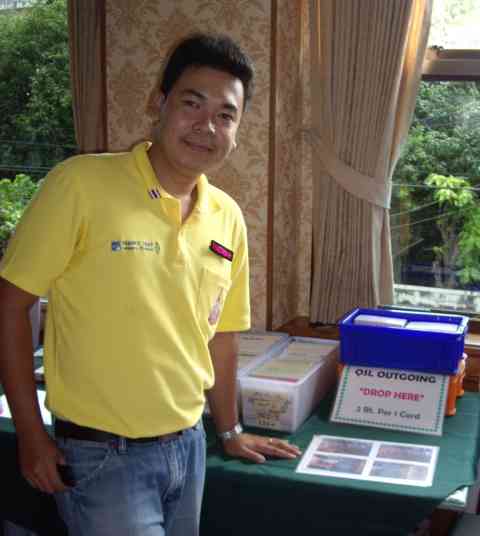 Newly-appointed (and newly-wed) QSL Manager Champ, E21EIC,(above) brought members' cards to the meeting and also displayed pictures of the filing system he and his XYL, Goi, E20NKB, had set up.
The meeting adjourned around 2.30 p.m.
Report and photos by Tony, HS0ZDX
For earlier news about RAST, please see our most recent archives (January 2007 through to April 2008)
here
To view earlier archives about RAST's activities (New Year 2007 to April 2008) click here and for more recent archives (August to December 2009) click here