---
Over 50 members attend RAST New Year party
On Sunday January 8, RAST hosted a New Year party at the home QTH of RAST Officer Narissara, HS1CHB with over 50 members and their guests attending the event. Kicking off the activities in the late morning was the assembly of antennas, while from 1 p.m. onwards Champ, E21EIC and other volunteer examiners staged a VE exam for those seeking to qualify for a US FCC amateur radio licence.
The party gathered momentum around 4 p.m. in the afternoon when a buffet dinner was served while Chang draught beer was also available, and sponsored by ThaiBev. Many guests brought gifts that were exchanged in a lucky draw later on, while there was also ham radio equipment on sale at the party and an HF amateur radio station for anyone qualified to operate and interested in making a quick QSO or two.
Scroll down for details and more photos
In this picture, Sarawut Pitaksinagorn, HS1WNT, the owner of Siam Inter Network presents the first of two portraits of His Majesty the King, HS1A to RAST President Chaiyong Wongwuticomjon, HS1QVD.
---
RAST welcomes in 2012 with a party attended by over 50 guests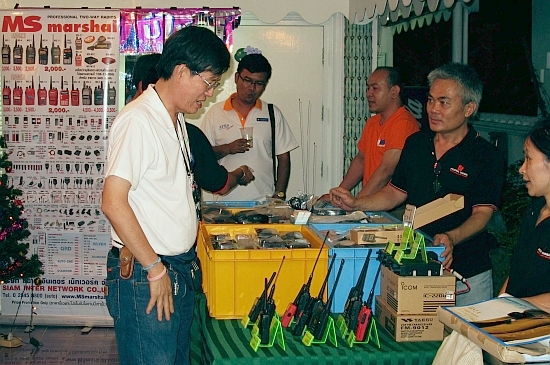 Gifts were exchanged, a dinner buffet and refreshments were enjoyed at the largely informal gathering at the home of Narissara (John) Showannasai (HS1CHB) in Vibhavadi Rangsit Soi 60 on Sunday, January 8 from 4 p.m. until around 10 p.m.


Chaiyong thanks donors for over 200,000 baht in support so far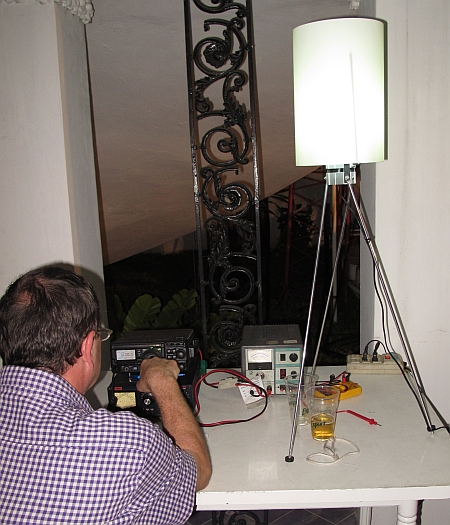 RAST marked the New Year with a party during the afternoon and evening of Sunday, January 8 when RAST President Chaiyong, HS1QVD, began an address by thanking the host, committee member Narissara Showannasai, HS1CHB, the Nonthaburi Palace Hotel which provided a superb Thai buffet dinner at a discount price and Thai Beverage Public Public company (ThaiBev) who sponsored and served up two kegs of draught Chang Beer.
Chaiyong also thanked the outgoing committee of RAST, whose two-year term ends in February this year, as well as thanking the team who took part in the day-long rescue mission to the HS0AC club station on the campus of the Asian Institute of Technology (AIT) to recover equipment from the premises of the station that had been under water for over five weeks.
Chaiyong also thanked the many donors who have provided RAST with over 200,000 baht in funds, initially for helping flood victims, but once the floods overwhelmed the society's club station on the campus of the Asian Institute of Technology, a new wave of donations began and continues today -- and yes, RAST needs all the support it can get for the major task of getting the station back up and running again.
All the funds donated since the beginning of December are to be used for the recovery and restoration of the club station with the objective of getting the signals from HS0AC back on the air in a robust way and as soon as possible.
Several of the team who had gone out to AIT on Sunday December 10 were at the party, including Station Manager Finn, OZ1HET, and Swen, HS0ZFZ, along with the President of RAST himself while Khun Chaiyong named the others: Sontaya, HS6NDK, Dr Gerd Hiltl, DK4FJ, Karl, HS0ZJL, Karl's XYL, Thida, HS1ASC, and Thida's daughter Shompoo, E20QMD.
(The photographs at the top of this web page were taken by members of this team)
.
In addition to the socializing, earlier in the day there had been the construction and demonstration of antennas, including the one pictured at left next to the operating position of an HF station at the party. The tripod lamp stand is actually a low-key two-metre antenna!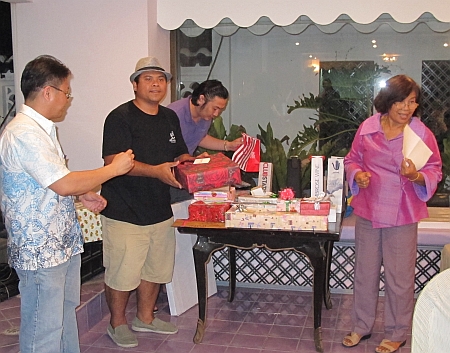 Apart from HF operating all day and into the evening there had been a VE examination arranged by Champ, E21EIC with the support of VE examiners including Aki and Akira during the afternoon and ham radio equipment was on display and for sale at a booth set up by Siam Inter Network Co Ltd that markets products under the
MSmarshal
brand (pictured, above right).
Many guests brought gifts and everyone who did so was eligible to receive one in exchange and lots for these were drawn in the evening, after dinner.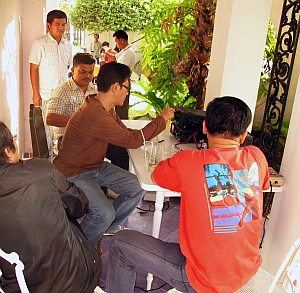 Meanwhile, Sarawut Pitaksinagorn, HS1WNT, the owner of Siam Inter Network, presented RAST with two framed pictures of His Majesty the King, HS1A, holding a walkie-talkie and RAST organized a lucky draw for one of the pictures which was won by Orn, KC0BVH, HS0ZDU.
During his address, Chaiyong also observed that there was a high proportion of foreign hams at the party and he praised the attitude of westerners towards the associations and societies that they joined, whereby they tended to ask what they could do to help the society rather than what the could get from it, and as a result societies or associations in the west tended to be stronger and more enduring, he commented.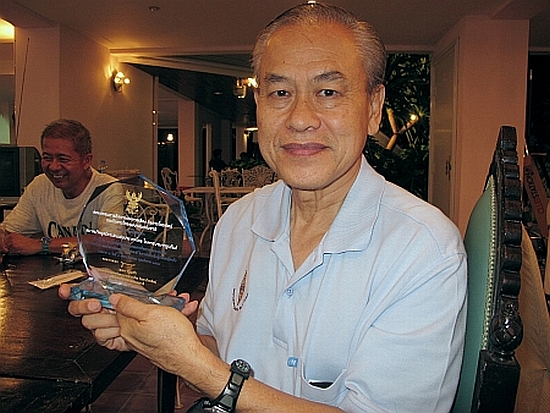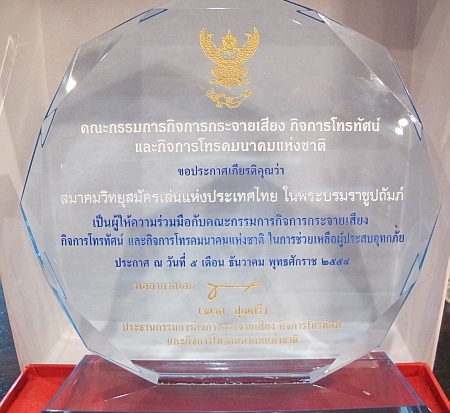 This plaque was recently presented to RAST by Thailand's telecommunications regulator, the National Broadcasting and Telecommunications Commission (NBTC), for the society's activities in support of its flood relief work.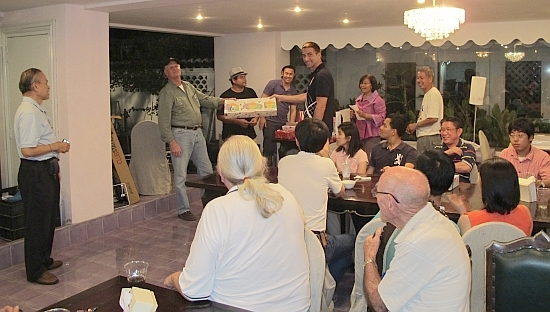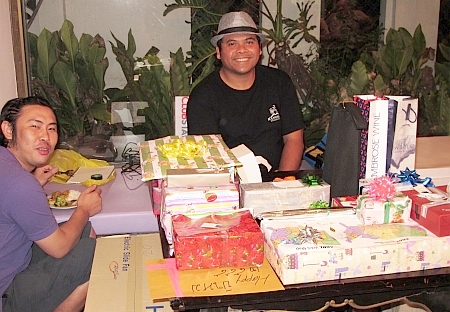 Robert Pinnel, WD5UEW, who recently joined RAST, (standing at left and holding the gift he is about to receive in the left photo) also donated 20,000 baht to support RAST's recovery efforts for its HS0AC club station at AIT during the New Year party.


Fred Laun, K3ZO/HS0ZAR pays a tribute to
Jamnong Saowanna, HS1JN-SK

EME DXpedition to Thailand in support of RAST

Karsten, DL2LAH
informed Southgate News that that there will be an EME DXpedition to Thailand in April in support of RAST.
He says: We hope to make many QSO`s as possible via the moon with the special RAST Callsign 'E2E' !
More details and infos on my website:
http://www.moonbouncing.net/
and
http://www.mmmonvhf.de/latest.php?id=4080
vy 73 de Karsten, DL2LAH/HS0ZIL
---
December 2011 RAST meeting
Almost 40 members, guests and visitors attended the December RAST meeting at Sena Place Hotel on Sunday, December 4, 2011 when President Chaiyong Wongwuticomjon, HS1QVD provided an update about flood relief activities and donations received so far while the date for the RAST New Year party next month was announced: it will be on the afternoon of Sunday, January 8.
Visiting member Hans, HB9DKZ/HS0ZBT (pictured left) provided an account of the SEANET convention in Brunei last month that he had attended with two other RAST members -- these were hams from Austria and Denmark, with no one attending the event from Thailand this year, while the upcoming Intermediate Class examination has been delayed until May because flooding in Bangkok means the venue is unavailable earlier in the year. Meanwhile, HS0AC Station Manager Finn, OZ1HET provided a report about the condition of the RAST club station at the Asian Institute of Technology (AIT) which he had visited a day earlier.
The meeting welcomed several newcomers and many returnees after beginning with a minute's silence for two silent keys: HS1JN, Jamnong Saowanna, 87, (see photo below) who passed away from Alzheimer's disease in July this year, and Uwe Stobbe, HS0ZGW who died of liver cancer. He had lived in Nong Prue, Banglamung, near Pattaya.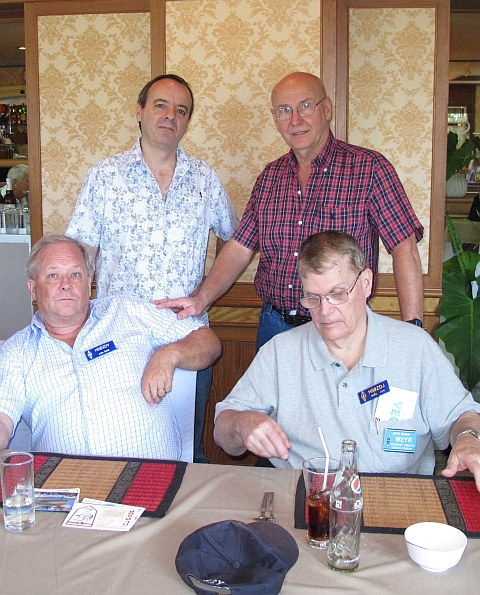 Karl Renz, K4YT/HS0ZDG (standing, at right) and John Gagen, W2YR/HS0ZDJ (seated right) were among many regular visitors to Thailand who attended the December meeting, seen here with Sam, HS0ZDY (seated) and Martin (HS0ZED).





Among those introducing themselves at the commencement of the meeting were Gerd, DK5FJ who conveyed greetings from his brother-in-law Bernd, DL8UI, also a RAST member, Mark, HS0ZJU, Paul, WC6G/HS0ZJT from San Francisco and now living in Maha Sarakham, along with Mike, WS2E/HS0ZIU. Meanwhile, returnees included Stiig, OZ3ACH, John, W2YR/HS0ZGJ, Karl, K4YT/HS0ZDG, Barry, UN7EY from Kazakhstan, Hans, HB9DKZ/HS0ZBT, Karl, DK1XH/HS0ZKA who had first attended a RAST meeting in 1976, Lyle, W4OMK/HS0ZAM and his XYL Boungorn (Orn), KC0BVH/HS0ZDU who are now looking to resettle in Thailand after living for many years in the United States.


Flood relief heroes: From left, Wacharapol, HS4DDQ, Narissara, HS1CHB, Champ, E21EIC and Goi, E20NKB
RAST President Chaiyong kicked off the meeting by singling out RAST committee members Champ, E21EIC, his XYL Goi, E20NKB, RAST Secretary Wacharapol, HS4DDQ and Narissara (John), HS1CHB for praise for their tireless efforts in assisting flood victims. Champ and his XYL had made many sorties into the flooded areas in their Suzuki 4x4 with a boat strapped to the roof (
we have many pictures here
) while Wacharapol had been the main operator of HS0AC at the Ministry of Public Health where he helped save over 1,000 lives by co-ordinating emergency rescue missions for ill people needing medical help who had been stranded by flood water.
Prior to the December meeting, RAST had recorded some 85,000 baht in donations from many members and friends while additional contributions made during the meeting, including 10,000 baht from Lyle, W4OMK and Orn, KC0BVH, US$50 from Barry, UN7EY, US$100 from the Tri-State Amateur Radio Association, conveyed by Mike, WS2E and 2,000 baht sent in from Robert, HS0ZEX in Phuket, brings the total to slightly over 100,000 baht.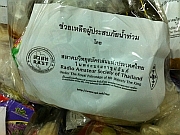 RAST has already spent part of these funds for survival packs (such as the one pictured at left) that have been distributed to flood victims by Champ and other volunteers and details of these packages and their contents can be found on our
flood relief activities web page
.
Flood water still surrounds much of Bangkok and many members are still unable to return to their homes, although the campus at the Asian Institute of Technology (AIT) is now dry, as Finn was able to report after driving out there the day prior to the RAST meeting.
He said that the water mark outside the shack at the club station was close to the top of the door, but that he had been unable to enter the station because the lock on the door had rusted up, while all the plants and shrubs on the campus near the station had withered and died after being submerged.
A group of RAST committee members and volunteers have agreed to make another expedition to the HS0AC club station at AIT this coming Saturday, December 10, when they plan to meet there at 9.30 a.m. before entering the station and carefully documenting the status of everything by taking photographs, etc. Any member interested in coming along would be welcome to join this expedition by being on the AIT campus on Saturday morning.
RAST President Chaiyong also reported that in October, RAST officer Prasit, HS1DN had led a RAST-sponsored Tod Kathin ceremony which had raised a total of 83,204 baht that was donated to a temple in Lampang province in the North.


Gerd, DK5FJ, the brother-in-law of RAST life member Bernd, DL8UI, attended a RAST meeting for the first time on December 4. He poses here with RAST President Chaiyong (left) and Tony, HS0ZDX, RAST international liaison officer.
Intermediate class examination rescheduled, will now be held in May
The flooding has also forced the postponement of the intermediate class examination, which had been scheduled for January 21, 2012 at Bangkok University since the flooding had delayed classes and the room where the exam had been scheduled to be held is no longer available then.
The examination is now expected to take place in May, and there will be a second intermediate class examination towards the end of the year, in November or December, Chaiyong announced. Kanchit Charmaraman, HS1JC is in charge of the working group that is overseeing this examination.
In exam-related news, VE exams are now back on course with the next US Volunteer Examination (VEC) being organised by Champ, E21EIC to take place at Bangkok University on December 17 from 9 a.m. till noon. There will also be another VE exam conducted by Champ and other VE examiners on Sunday, January 8, 2012 from 1 p.m. onwards at the venue of the RAST New Year party (for details, see the next entry below). The previous two exams, one in Bangkok on October 22 and the other for November 12 in Samut Sakhon had to be cancelled due to the flooding in and around Bangkok.
RAST also intends to formally notify the National Broadcasting and Telecommunications Commission (NBTC) that some Thai radio amateurs have been transmitting audio on the two-metre satellite uplink frequency, causing problems for satellite transmissions as a result.
The society also intends to send in a formal request to the NBTC seeking a waiver of some of the regulations regarding the importation of new HF equipment following the natural disaster, given the loss of much equipment at the RAST HS0AC club station that needs to be replaced.

RAST New Year party will be held on January 8 at Narissara's QTH
The RAST New Year party will take place on Sunday, January 8 at John (Narissara's) QTH in Vibhavadi Rangsit Soi 60. It will begin at 4 p.m. and a buffet dinner and refreshments, including draught Chang beer spondored by ThaiBev, will be provided.
During the day, there will be various activities at the party venue, including a Volunteer Examiner (VE) examination for a US FCC licence at 1 p.m. led by Champ, E21EIC, and antenna-building activities. For more details, please contact Khun John (Narissara) at n9wms(AT)hotmail.comn Members/guests are asked to bring a gift-wrapped present costing not less than 500 baht that will be exchanged with other gifts and redistributed in a lucky draw during the evening.
How to get there: Directions (From central Bangkok): Drive north towards Don Mueang airport along Vibhavadi Rangsit Highway and keep to the left-hand lane as you approach Chaeng Wattana Road. Continue underneath Chaeng Wattana overpass and take the U-turn bridge, after which you should keep to the left-hand lane as you return in the direction of Bangkok. Vibhavadi Soi 60 is just past the Royal Police Sports Club (the venue of RAST's 40th anniversary in 2003).
Once in Vibhavadi Rangsit Soi 60, follow the soi in and continue straight at a circle/roundabout. After crossing a small intersection, HS1CHB's 5-storey white building (with HF antenna on the roof) is on your left, #229/155.
Here is a
map
.
39th SEANET Convention in Brunei was a well-organised and lavish event
As noted, Hans, HB9DKZ had attended the 39th SEANET Convention in Brunei from November 17-21 and Tony, HS0ZDX invited him to provide a brief summary of the event which he characterised as well-organised and with a good attendance of over 100 radio hams with representation from Japan, Korea, China, East and West Malaysia as well as the Philippines, Australia, several European countries and the USA with a strong contingent from Brunei. Hans praised the warm hospitality afforded by V85DX, a member of the Brunei Royal Family who had a "dream station" and said the gala dinner was first class. Clearly, "money was no object" in Brunei and the event was a lavish one, he said.
Next year, the event will be in Kuala Lumpur, followed by Japan in 2014. -- Report by Tony, HS0ZDX


---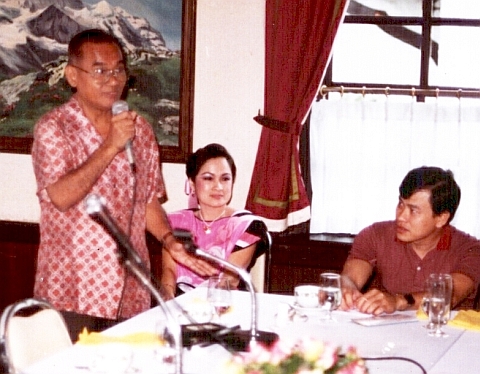 Jamnong, HS1JN addresses a RAST meeting at the Singha Bierhaus in 1986. Seated next to him is Khun Mayuree, HS1YL and Chaiyong, HS1QVD. Click this link to read a tribute to HS1JN (Silent Key) by Fred Laun, K3ZO/HS0ZAR.
Jamnong, HS1JN, a silent key.
It is with great sadness that we announce the passing of Jamnong Saowanna, HS1JN, a former vice president of RAST for four terms and a committee member over a period of more than two decades.
Jamnong succumbed to Alzheimer's disease and passed away in July, 2011, RAST learned on November 30.
He had been 87 at the time of his death. A captain in the Royal Thai Navy, Saowanna had served as vice president of RAST for a total of eight years, from 1978-1980, 1996-1998, 1998-2000 and from 2000-2002.
He had been among a small group of Thais who had been pioneering amateur radio activity on HF from Thailand back in the 1960s and he had been active in RAST's efforts to push for the legalisation of amateur radio during the 1970's and 1980's.
Capt Jamnong, R.N. will be missed by his many friends in RAST. May he rest in peace.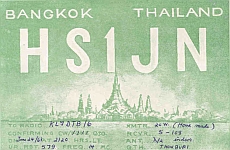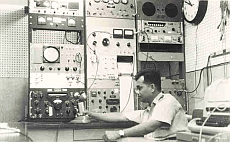 At left, a QSL card for a QSO in June, 1963 with a station in Alaska; at right, HS1JN-SK at a satellite receiving station of the Stanford Research Institute in Bangkok the 1960s.
---
Seanet 2011 in Brunei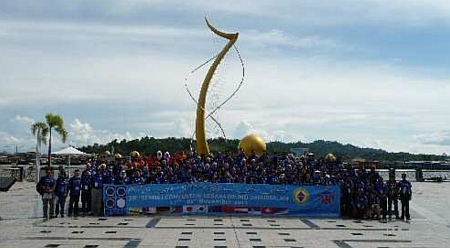 Godfrey Yin, 9M6GY has sent RAST a copy of a summary of the recent 39th Southeast Asia Network Convention in Brunei and we can give you a taste of his report in a few opening words here...:
"I drove over to Brunei alone for the 39th SEANET convention held on the 17th to 21st November.
"It was also another year of reunions - meeting HAM friends from AUSTRALIA, AUSTRIA, BRUNEI, CHINA, GERMANY, JAPAN, KOREA, PHILIPPINE, SERBIA, SWITZERLAND, USA, 9M2, 9M8, 9M6 but we all missed THAILAND due to unforeseen circumstance.
"The SEANET2011 Brunei Convention was very well organized led by YM Pengiran Haji Salleh Ab Rahaman in Pengiran Haji Damit (V85DX) of Brunei Darussalam Amateur Radio Association (BDARA).
Registration started on the 17th morning and our dinner that evening was held at the home QTH of the Chairman of the Organizing Committee YM Pengiran Haji Salleh Ab Rahaman bin Pengiran Haji Damit (V85DX). We had a Garden Buffet Dinner with a sumptuous spread of local Brunei delicacies."
To read on for Godfrey Yin (9M6GY)'s report about SEANET 2011, click
here
Your donations are helping flood victims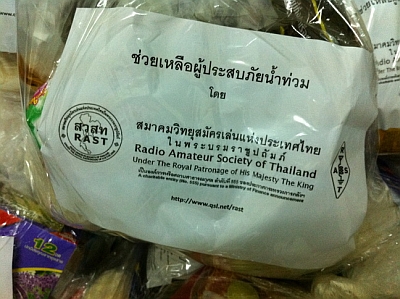 Sixty packages of essential items for flood victims (above) can be seen here at the home QTH of Champ, E21EIC and his XYL Goi, E20NKB where they were created and they were be distributed on November 20 (photos of this and other flood relief activities spearheaded by Champ, E21EIC, may be found
here
.
The funds for this, the first of several batches of survival packs which include 12 bottles of drinking water and an enamelled basin, were received as donations to the the Radio Amateur Society of Thailand from members and other well-wishers.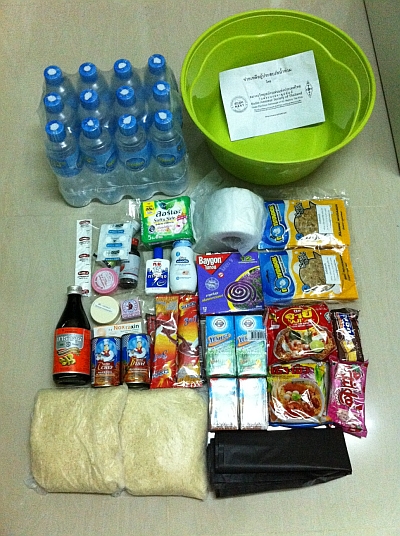 More packages will be prepared and distributed to help ease the hardship of people stranded in flooded areas for as long as funds last.
These packages are being distributed by Champ and other volunteers to those living in flooded areas in Bangkok's suburbs and we have more than 100 pictures documenting the efforts and self-sacrifice being made by many volunteers on
this web page
.
(The contents of each RAST survival pack can be seen above, at right)
HS0AC helps save almost 1,000 lives
HS4DDQ coordinates emergency medical communications at Public Health Ministry
RAST President Chaiyong Wongwuticomjon, HS1QVD, hosted a small gathering at Sena Place Hotel on Sunday November 6 where Chalermpol (Champ) E21EIC, Narissara (John) HS1CHB, Phittaya, HS1FRU, Tony, HS0ZDX and others welcomed visiting members Fred Laun, HS0ZAR/K3ZO, over here from the United States, and Stig Lindblom, HS0ZGD/LA7JO from Norway along with other guests.
(The photo below shows Fred, K3ZO, at the meeting with Khun Chaiyong, HS1QVD)

The gathering was informal and those present heard how RAST Secretary Wacharaphol, HS4DDQ, and his team working with the Public Health Ministry on Ngarmwongwarn Road and using the callsign HS0AC had helped to save almost 1,000 lives by coordinating rescue communications in cases of medical emergencies.
The activities of the amateur radio station established by the National Broadcasting and Telecommunications Commission using the call HS0AB were also discussed, along with the donations that RAST has received from several members and that now total over 50,000 baht, including a large amount received from donors in Malaysia.
The NBTC has praised the role that radio amateurs have been playing to help people cope with the disaster by providing communications support and this have been especially helpful in flooded areas where several mobile phone cell sites have failed.
During the RAST meeting, NBTC official Pranee Netrattana, E21DKD, a skilled operator and winner of the CQWW VHF contest, was praised for her efforts as one of the net control operators at HS0AB.
Amateur radio repeaters have helped and in many cases, government agencies have been able to take advantage of the amateur radio communications infrastructure when their own networks failed or where there has been interference, such as when many different agencies are trying to communicate simultaneously on nearby frequencies from a central location.
Radio amateurs' experience and their skills in communicating with one another under adverse conditions and in coping with interference has helped, while the volunteer spirit that has carried radio amateurs to the "front-line" has also helped many victims of Thailand's worst flooding in over 60 years.
A good example of this was demonstrated by Champ, E21EIC and his wife Goi, E20NKB, who left after the meeting with flood relief supplies in their 4x4 pick-up, equipped with a boat strapped to the roof.

See more of these photos here

After the November meeting, Champ (E21EIC) and Goi (E20NKB) re ready to head for the flooded area of Ban Bua Thong in Nonthaburi with relief supplies. That's a boat strapped to the roof. (photo: Larry, HS0ZJI)

Those present also learnt that the RAST club station at AIT had been inundated by flood water to a depth of over one metre, but that the campus was presently still inaccessible and so the extent of damage to equipment which had been raised to desktop level -- but, unfortunately, not high enough -- had yet to be witnessed or evaluated.
In other HS0AC news, on October 15 a team comprising HS0ZCW Charly, HS0ZJI Larry, HS0ZFZ Swen and his XYL and Station Manager Finn OZ1HET, moved the station's 4-el 21MHz antenna up to the top of the new tower, with Swen doing "a great job," according to Finn's report, performing four hours of work atop the tower.
Earlier last month, Barry, ZL1DD came down from Chiang Mai on the weekend of October 1-2 to operate the Oceanian DX contest when he also donated 1,000 baht for the loan of the station. The following weekend, HS0AC was also active in the CW portion of the Oceanian Contest.
Instead of the usual buffet luncheon and reflecting the anticipated low turnout because of the flood situation in many parts of Bangkok, RAST members ordered their lunch from the Sena Place Hotel's menu. As of November 6, Sena Place Hotel and Phaholyothin Soi 11 was dry but sandbags had been prepared and as this update is being written it is being said that nearby Saphan Kwai is the next area likely to be flooded.

Please check this web site for flood report updates and for details of the next meeting, scheduled for December 4, 2011 at Sena Place Hotel.
In earlier news
Frequencies for amateur radio emergency services
RAST has notified the IARU Region 3 of frequencies in the 40 metre band as well as on VHF that are in use by Thai radio amateurs in support of flood relief operations and this information is now being circulated to other national radio amateur societies. Please reserve these frequencies for flood emergency traffic only until further notice.

HF: 7.060 and 7.063 MHz


Acknowlegement: "The Chairman of IARU Region 3 Disaster Communications Committee, VK3PC, has circulated the news that the amateurs in Thailand are helping disaster relief operations and requested the amateurs to vacate the frequency spectrum of 7.060 to 7.063 MHz. "In Japan, the JARL put a request to avoid any interference to the communications in Thailand in 7.060-7.063 MHz on its website." -- IARU Region 3 Secretary Ken Yamamoto, JA1CJP

Additional information, VHF and other modes:

Nakhon Sawan, HS6AN 145.6250 MHz (RPT) and Echolink *HS0AC* Conf.
Ayutthaya , HS1AY 145.6250
Lop Buri, HS1AL 144.5250 MHz
VRA, HS1AB 144.9000MHz and 7063KHz Tel: 02-5043569 and 086-4446162
RAST, HS0AC 144.9375MHz and 7063KHz and Echolink *BANGKOK* Conf.
Don Mueang NBTC, HS0AB 145.6750MHz and Echolink *THAILAND* Conf.
Pathum Thani, HS1AP 144.1250 MHz and HS0AP 144.0750MHz.

On Sunday, October 16, NBTC set up RPT on 145.6500MHz as support for HS0AP (Pathum Thani) and HS1AM (Samutprakarn)

-- our thanks to Champ, E21EIC for this update.


---
Amateur radio plays role in flood relief efforts, centre set up at Don Mueang
ACM Taresh Poonsri, Chairman of the NBTC, (fifth from left) announces the establishment of the HS0AB amateur radio centre at Don Mueang airport to co-ordinate communications using HF and VHF radio as well as Echolink to help in flood relief operations in the disaster zone to help in relief work in Ayutthaya, Pathum Thani, Bangkok, Saraburi, Lopburi, Nakhon Sawan, Pathum Thani and Chachoengsao provinces.
He praised the role of amateur radio communications in support of the government's flood relief efforts that were based on the volunteer spirit and in the public interest and he noted how radio hams had also helped in the past when disasters had struck, such as following the tsunami, after typhoon Gay and floods in the south earlier this year.
To help radio amateurs, the NBTC had set up equipment and is providing other resources, including VHF repeaters on amateur radio frequencies to help with communications across the disaster zone and that this would help flood relief efforts. -- Photo HS1ASC


Here is
a YouTube video of activities at HS0AB
(in Thai).
In other developments, Deputy Public Health Minister Torpong Chaiyasarn has assigned RAST to help in managing communications between volunteer doctors who are helping flood victims in the field and at refugee centres. The HS0AC health service centre is standing by on 7.063 MHz HF and 144.9375 MHz VHF. More details will be provided on Monday during a press conference at the public health ministry at 8 a.m. Thanks to Khun Watcharapol, HS4DDQ, for this update.
RAST makes appeal to raise funds to help flood victims
RAST International Liaison Officer Tony Waltham, HS0ZDX, has sent out an appeal by email to members and friends of RAST, many of whom live overseas, advising them of the extent of the flood disaster in Thailand and letting them know that RAST is accepting donations to help in flood relief efforts.
The text of the message, sent on October 15, 2011, was as follows:
Dear member or friend of RAST,
The death toll from the most devastating flooding to hit Thailand in over 60 years following heavy rains since late July has now risen to over 280. Nearly 3 million people are said to have been affected by the floods and the disaster has caused serious damage to the country`s agriculture and other industries, with Japan`s Toyota and the USA's Western Digital -- along with many, many other factories to the north of Bangkok -- suspending production until the situation improves.
Damage so far has been assessed at more than 20 billon baht and 26 out of the country's 77 provinces are affected, while Bangkok is bracing for a large amount of run-off water that is about to reach the city and which will coincide seasonal high tides that will make it harder for the flood waters to flow out to sea.
Amateur radio has been assisting with flood relief communications, helping victims in the affected areas; operators are using the Radio Amateur Society of Thailand (RAST) club station callsign HS0AC and are standing by on 144.900 MHz, 145.000 MHz and 144.9375 MHz (VHF) as well as on 7.063 and 7.060 MHz on the 40-metre HF band.
Meanwhile, RAST club station manager Finn Jensen, OZ1HET, and Swen Roder, HS0ZFZ, have been ensuring the safety of the society's radio equipment at the HS0AC club station on the campus at the Asian Institute of Technology, where it has been predicted that flood waters may rise to 50 centimetres and possibly as high as 1.50 metres.
RAST is working to assist victims of the flood crisis in Thailand in every way possible and the society is also welcoming donations from fellow hams, members and friends of RAST. Those who are able to help may do so by making a transfer of funds to the RAST Savings Account at the Krung Thai Bank (KTB), Pradipat Branch, Account Number 034-1-86101-4. Transfers may be made from an automatic teller machine (ATM) in Thailand, by using Internet banking or by a making a wire transfer from another bank to this account.
(If you are able to help, please send a copy of the ATM receipt -- or any other receipts -- for the transfer of funds as an email attachment to this email address (tony.waltham(AT)gmail.com) so that we can have a record of your donation.)
On behalf of RAST President Chaiyong Wongwuticomjon, HS1QVD, and RAST officers, may I thank in advance all who are able to enable RAST to assist the victims of these unprecedented floods. The society will post information as to how the donations are being be used to help the flood victims on our English-language web site at http://www.qsl.net/rast.
Thank you for your understanding and support,
Sincere 73
Tony Waltham, HS0ZDX
International Liaison Officer,
The Radio Amateur Society of Thailand (RAST)
under the Patronage of His Majesty the King
For recent video news coverage about the flood situation in Thailand, please check these links:
http://www.bbc.co.uk/news/world-asia-pacific-15255542
http://www.abc.net.au/news/2011-10-14/flood-death-toll-skyrockets-in-thailand/3571728?section=world
(Please note that the flooding is an ongoing crisis for many households in Thailand. We will endeavour to bring you updates on the situation as this crisis unfolds.)
If you have changed your email address recently or would like to be on this mailing list, please notify Tony at tony.waltham(AT)gmail.com (substitute the @ symbol for "(AT)").
We will be updating this web site with information about the role that amateur radio is playing to help victims of the flooding and in related news, please be advised that the 25th anniversary celebration of 100 Watts Magazine has been postponed to February 11, 2012. For further information, please call 02-722-7351.
For our most recent archives (June to September, 2011) follow
this link
The RAST web site is designed, written and edited by Tony, HS0ZDX. Email: Tony.waltham(AT)gmail.com