RAST Archive: June 2006 to January 2007
Next RAST meeting set for February 4
The next monthly meeting of RAST will be on Sunday, February 4, 2007, at Sena Place Hotel on Phalyothin Soi 11 (near Sapan Kwai). The informal meeting begins at 11 a.m. and a buffet lunch will be served. All members, their guests and any radio amateurs who happen to be visiting Thailand are welcome.
Seanet to be held November 8-11, 2007
The 2007 Seanet convention in Lampang is tentatively set for Thursday, November 8, 2007 through until November 11. A formal announcement will appear on this website and will be sent to RAST members and friends by email in early January.
November 2006 meeting

The November 2006 RAST meeting at Sena Place Hotel saw several new faces including Lee, HS0ZHD (WA6MHI) and HS8MSP, both from Phuket, as well as E22NA from Surat Thani and Brian, ZL1ARS, who will be based in Pattaya.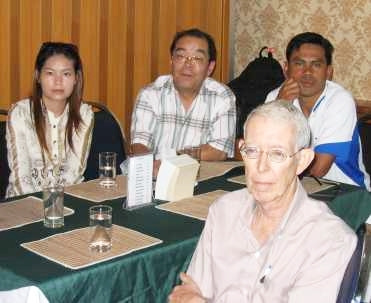 From left, HS0ZHD-YL and Lee, HS0ZHD, Brian, ZL1ARS (foreground)and HS8MSP from Phuket, four new faces at the November RAST meeting at Sena Place Hotel. - E21EIC photo
RAST President Chaiyong Wongwuticomjon, HS1QVD, briefed those present on decisions made at a committee meeting held earlier in the day while HS0AC station manager Finn, OZ1HET, gave an update on activities; John, W2YR/HS0ZDJ gave an account about the club station activity during the CQWW phone contest while Champ, E21EIC looked ahead to a mini-DXpedition he has planned for the CQWW CW test at the end of November. Finally, Charly provided an update to two rival VU7 Dxpeditions being organised by the two major amateur radio societies in India.
Kathin fund-raising a success
Last month, the RAST-sponsored Kathin (Buddhist merit-making) excursion to Nakhon Phanom, with a side trip to XW (Vientiane), was a success in that slightly over 147,000 baht was raised for the temple while the Bang Fai Phya Nark (Naga Fireballs) viewing was a success with sightings of 14 of these mysterious glowing fireballs emerging from the Mekong River. If you are reading this on the web and have no idea what this refers to, please check this link at
Thaifolk.com
(Maybe we need a Naga god of propagation the next time that rare DXCC entity the other side of the world gets activated -- read "XF4" or "3Y0", but I digress).
Thai Telecommunications Encyclopedia
In other developments, members heard that the Electrical Engineering/Electronics, Computer, Telecommunications and Information Technology Association
(ETCI)
has invited RAST to provide a chapter for the "Thai Telecommunications Encyclopedia" while RAST Secretary Phatanadit (Phat) Kulphaichitra and Maj Narissara (John) Shaowannasai, HS1CHB, will be attending the 2nd meeting of ISO/TC 223 Societal Security during the week of 20-24 November 2006 at the Four Seasons Hotel when the topic will be disaster communications protocols.
Members also heard how several schools here were interested in participating in scout Jamboree on the air (JOTA) activities scheduled for later in November and these activities will be co-ordinated for RAST by Uthai, HS1RGF, and Maj Narissara, HS1CHB.
WARC bands back on 'hold' for the time being
Don't hold your breath if you were hoping for an imminent announcement about operating permission for the WARC bands. Maj Narissara (John), HS1CHB, informed everyone that the National Telecommunications Commission (NTC) advises that no spectrum allocation changes can be made without the National Broadcasting Commission (NBC) having a say in this. However, as many will know, the NBC has yet to be formed, and this leaves the long-pending issue of the WARC bands and the low bands in limbo until this happens (and the commissioners get around to addressing radio spectrum issues).
In the meantime, RAST will continue to apply for "temporary" permission to operate on the low bands during contest weekends and for permission to operate on the WARC bands for special-event stations or DXpeditions as it has for the past five years.
Charly, HS0ZCW, explains why dozens of Indian operators will be converging on the second-most sought-after DX entity, the Lakshadweep Islands in December and January during the November RAST meeting. - E21EIC photo

Philip, HS0ZGN, 9M6CT, says 'farewell'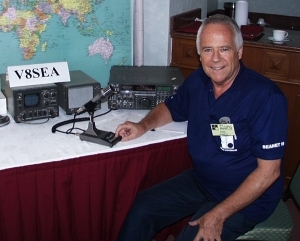 Long-time RAST member who will soon be leaving Thailand Philip Weaver, HS0ZGN, 9M6CT, took the opportunity to bid farewell at the November meeting when he said "thank you" to all his friends at RAST, describing them as "a wonderful group, second to none". He will be returning the the United Kingdom at the end of December after spending 11 years in Thailand.
HS0AC update and contest activity
HS0AC Station Manager Finn gave a report on the club station, noting that every Wednesday, Winit, HS1CKC conducts the 40-metre SSB net from the AIT club station. There had been a problem with water intrusion due to excessive leaves on the roof, as well as a termite problem, which had been pointed out to the campus staff, who had cleaned up accordingly, he said.
On October 18, a group of contesters had a pre-CQWW SSB contest meeting at HS0AC, comprising John, HS0ZDJ/W2YR, Brian, HS0ZEN, Charly, HS0ZCW/K4VUD, and Bob, HS0ZCG/KL7ENY and Finn, where they mapped out plans for the Oct 28-29 contest weekend while on the weekend of Oct 21-22, Finn operated in the Worked All Germany Contest when he had 212 SSB QSOs with German stations on 15 and 20 metres for 29,250 points.
John, W2YR, recounted the CQWW contest activities, which netted 1,527 QSOs for 1,134,555 points for the three operators: Bob, HS0ZCG, John, HS0ZDJ, and Winit, HS1CKC. He explained how he had networked three of the four PCs together and would also find a network interface card for the fourth in time for the CQWW CW at the end of this month. There had been a problem with the FT1000 Mk 5 on 10 metres, but is is believed to be caused by a pin diode on the band filter and will be repaired (thanks in advance, Martin!).
The 160-metre band sloper was said to have been very noisy while the low-band frequency allocation in the CW portion of on 80 metres limited the number QSOs that could be achieved there, although contacts were made with South Africa and Europe. John also observed that the towers needed to be grounded for safety reasons.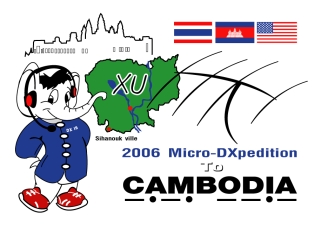 Micro-DXpedition to Cambodia
Champ, E21EIC (XU7ADE), then announced that he would be leading a micro-DX-pedition to Cambodia for the CQWW CW contest at the end of the November. Activities on HF (160-10m) VHF (2m and 6m) UHF (satellite) would begin before the contest on Nov 25-26 and continue for a few days afterwards, with operators including: XU7ADF (AA4XR/HS0ZCY), XU7ADK (E21YDP), XU7ADL (E20PFE), XU7ADM (E21QEB - UHF satellite), XU7ADN (HS1JAN - VHF) and XU7ADP (HS5IGY - VHF).
Look out for these calls from Nov 23-29, 2006; the objective of the micro-DXpedition is VHF/UHF satellite communication when the operators will use 2m and 70cm to communicate via ham satellites FO-29, SO-50, AO-51 and VO-52 using CW, SSB, FM modes. For the latest info, check out www.tamsat.org
RAST President Chaiyong, HS1QVD (left) presents a certificate to E20PFE, the winner of the 2005 All Asia DX Contest for 21 MHz Phone. - E21EIC
Champ also brought a certificate for the winner of the 2005 All Asia DX Contest to the November meeting and RAST President Chaiyong, HS1QVD, presented the award, for the 21 MHz Phone category for Thailand, to E20PFE.
Members were reminded that old IRC coupons would expire at the end of this year and Champ, E21EIC, suggested that anyone who had any to spare should quickly donate them to the RAST QSL manager. New IRCs were now being issued that would be valid for the next five years, he said.
Buzz about VU7 Dxpeditions
Charly, HS0ZCW, was invited to explain about two forthcoming VU7 DX-peditions to the Lakshadweep Islands, the second-most wanted DX entity, when two independently-led teams are set to operate from there, one in December, the second in January 2007. The ARRL website has
an account of the activities
.
This rare entity having two teams at the same time reflects rivalry between the two major amateur radio societies in India, the NIAR and ARSI, and the latest is that the NIAR team will be going in mid-January, rather than at the same time as the ARSI operators. Either way, Charly pointed out that the sheer number of operators should overwhelm the available accommodation on the Lakshadweep island group, as well as the somewhat tenuous air-link. The good news is that VU7 should not be hard to work from Thailand. (Charly had been one of the operators in the Andaman Islands DXpedition.)

-- Report by Tony, HS0ZDX, November 5, 2006, updated December 31, 2006
October meeting: RAST President reports on activities

Prior to the October meeting, the RAST committee convened and President Chaiyong, HS1QVD, briefed members on the topics discussed.
He said that Khun Winit HS1CKC and several other Thai hams went to Seanet in Japan and told the members that the next Seanet convention will be in Thailand and said the exact date has not been set yet but it will be around October or November.
RAST members have visited Ray HS0ZDZ at his home and report that Ray's condition has improved a bit but he can not speak yet but does react to people around him.
Khun Chaiyong mentioned that RAST had income of 8,600 baht (2 new life members and income from lunch tickets) and expenses of 37,000 baht for hotel catering, ONPA tower costs, club station etc.
Those interested in complete financial status report can contact Khun Chaiyong.
Khun John HS1CHB told us that the WARC band permision has still not been approved by the NTC.
RAST Station manager Khun Finn OZ1HET reports on activities at the clubstation HS0AC

This month we received 2,000 QSL cards from printing, so now our QSL manager Swen, HS0ZFZ, can start to answer the incoming QSL cards.
On the weekend 16 - 17 September HS0AC was active in the Scandinavian Contest SAC as SO AB CW on 15 and 20 Mtr. The final score was 120 QSO's and 5,880 points , with poor propagation in the daytime. HS0AC made 2 fine QSO's with the club station SI9AM that is located at the Thai Pagoda in Ragunda in Sweden.
Looking for fiberglass spreaders
RAST member Charly (HS0ZCW-K4VUD) says he wants to build a 2-el. 20m-10m quad and is pricing fiberglass poles for spreaders. He says that it looks like the will cost about 750 baht each (he needs 8) plus unknown shipping costs for telescopic 15-ft poles.
Does anyone in Thailand want to join me in making an order, he asks?
Charly would also like to know if there is a source of fiberglass poles like this? If anyone has any suggestions or would like to join Charly in making an order, please drop him a note by email.
Tnx 73, Charles Harpole, (email: k4vud(AT)hotmail.com)
(Posted October 17, 2006)

August-September 2006
Champ relates his WRTC 2006 experience



Khun Champ, E21EIC, returned victorious from his participation in WRTC 2006, also known as the ``Ham Radio Olympics'', in Florianopolis, Brazil, where his team -- one of eight in the multi-national, multi-operator, single transmitter category -- came first.
The WRTC (World Radiosport Team Championship) took place over a 24-hour period during the IARU HF contest on the second weekend of July when Champ's team, operating PS2T, made over 2,700 QSOs in 24 hours and gained over a million points more than the next closest competitor -- and this, Champ told members, was achieved with a smaller station with fewer antenna towers than the competition.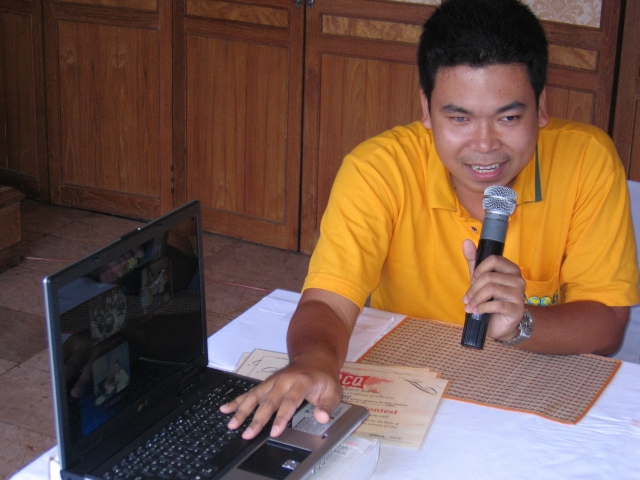 HS0ZDX photo

Champ gave a PowerPoint presentation enhanced with photographs of the event which was attended by many elite contesters and was by invitation only. For the first time, the organisers had invited a Thai contester and Champ spent around 40 hours each way travelling to and from the town in southern Brazil.
He recounted the history of WRTC, which began back in 1990 in Seattle and then moved to San Francisco (1996) and later Slovenia (2000) and to Helsinki, Finland (2002). Each year the event has grown in size when the invited contest operators compete against one each another for the highest score.
Champ passed around the framed certificate he received as one of the operators of PS2T and he recalled how, at the reception party the RAST ``I Love Ham'' badges were very popular and told those present that Brazilian hosts had been unable to find a Thai flag, so Champ had to rush back to his hotel room to provide one.
He also observed how the financial collapse of the Brazilian airline Varig a week before the event, offering no compensation to those who had purchased air tickets, had meant that some competitors had been unable to participate. Fortunately, Champ was not booked on that airline and thanked his sponsors, which included the YASME Foundation who paid for his air ticket and RAST, which channelled these funds to him and also provided aditional funds, as did some RAST members.
The station equipment comprised two transceivers, a Ten Tec Orion and a Yaesu FT1000MP and, for the first time, a two element beam for 40 metres and also Yagis for the higher bands. For the first time, linear amplifiers were permitted, given that the contest took place at the bottom of the 11-year solar cycle.
The next WRTC is scheduled for 2010, and Champ said he hopes to see more Thais taking part then while he also highly praised the quality of the equipment and stations he used, noting how there was nothing to match this in Thailand at present.


HS0ZDX photo





CQWW VHF Contest winners



Before making the WRTC presentation, Champ announced the winners of the CQWW VHF contest for 2003, 2004 and 2005 and provided laminated certificates for RAST President Chaiyong Wongwuticomjon to present to the winners or their representatives in various categories.
Thailand always makes a strong showing in this contest and has won first prize for Asia in this contest for several years in a row. The Siam DX Group also presented a plaque for the winning multi-operator entry from HS0AE last year.



HS0ZDX photo




IARU Region 3 Conference in Bangalore



RAST's delegate to the IARU Region 3 Conference in Bangalore, India, Thida Denpruktham, HS1ASC, discovered at Don Muang Airport on Saturday evening that her Indian visa had expired -- but you will be happy to learn that she was able to get a new visa and was able travel to the conference on Monday evening, so she will only miss one day of the event.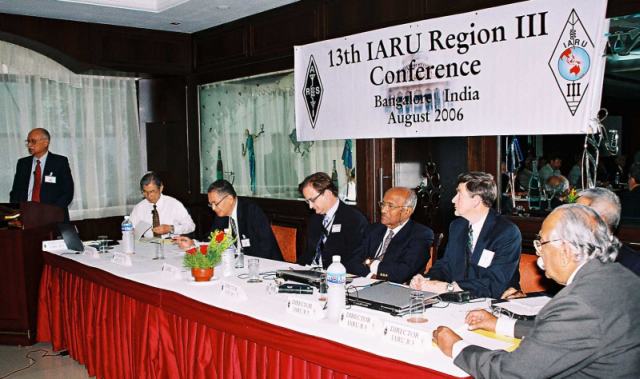 This conference, hosted by the Amateur Radio Society of India (ARSI), lasts until Friday, August 11 and will address regional amateur radio issues and will include elections for new directors. The Region 3 conference takes place once every three years.
RAST submitted a country paper and a proposal suggesting some new goals for the IARU Region 3 organisation given the role of amateur radio in these changing times.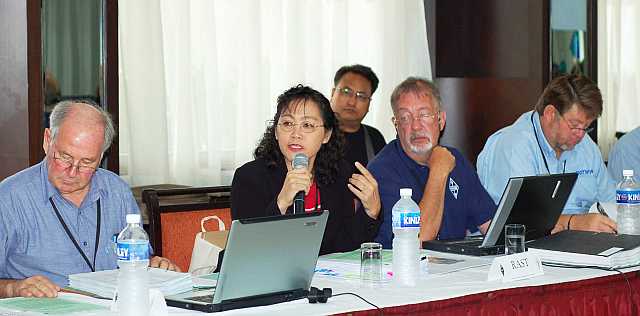 Thida, HS1ASC, makes a point during the conference on behalf of RAST, while in the upper picture, Gopal, VU2GMN, delivers the opening address as IARU R3 directors look on.




RAST President reports on activities



Prior to the August meeting, the RAST committee convened and President Chaiyong, HS1QVD, briefed members on the topics discussed and decisions that had been made.
He said that Brian Lee, HS0ZEN, had suggested requesting a four-letter suffix for the RAST club station at AIT, HS0RAST, now that four-letter suffixes had been approved internationally. This would be a secondary callsign and would be used as an alternative to HS0AC when appropriate. John, HS1CHB, will follow up on this proposal with the authorities.
Phatchara, HS1QAA, had proposed that RAST contacts universities and colleges around the country and try to establish links with club stations there.
RAST has learned that Rod Stafford, W6ROD, ARRL ex-President and now Vice-President for International Affairs, will be in Bangkok for four days following the IARU Region 3 Convention and President Chaiyong has invited Rod to dine with RAST officers during his stay here. RAST was waiting for his response to an email invitation on Sunday.
Finn, OZ1HET, gave members an update on HS0AC, the AIT club station where the good news is that two FT980s have been repaired and are now working. Finn said he had operated during the IARU HF Championships as a single operator, CW, all bands, making 427 QSOs for 172,000 points, the highlight being a QSO with Champ's WRTC station, PS2T, on 20 metres -- and the only HS station that PS2T worked. ``Thank you Finn for the multiplier!'' said Champ.
Members also heard how Winit, HS1CKC, had provided a new, second-hand computer to replace a failed PC at the club station.




CQ Magazine highlights King's advice on repeaters



President Chaiyong also told members how CQ Magazine had reported on how Thailand's National Telecommunications Commission had installed amateur repeaters in Sukhothai and Uttaradit to help in flood relief following advice from His Majesty. Fred, K3ZO, HS0ZAR had drawn this to his attention, he said.
Here is the text from CQ Magazine, verbatim:

``FLOODING IN THAILAND
Meanwhile in Thailand, the Office of the National Telecommunications Commission set up two amateur radio repeaters in Sukhothai and Uttaradit to help provide communications in flood-stricken areas. Manas Songsaeng, deputy secretary-general of the Office of the NTC, said the repeaters would allow radio amateurs in the areas to link together to provide communications networks to assist the authorities in providing relief to flood victims.
The repeaters were installed based on advice from Thailand's King Bhumibol Adulyadej, HS1A, who voiced concern that mobile phones had no signal in the forested areas of the flood-stricken provinces. The flooding has affected pver 200,000 people. At least 555 homes were destroyed and more than 75 people were killed.''



WARC band update


John, HS1CHB, who is co-ordinating with the NTC on impending permission to operate on the WARC bands and low-bands on a temporary basis until the end of the year, provided a progress report, a rather gloomy one, at that, I am afraid.
Apparently, officials now say that they need to wait for the National Broadcasting Commission to be formed before they can do this.
Or do they?
John will continue to pursue this, but in the meantime the low bands may be activated during contests on weekends as before.
We will keep members posted.



Special net on eve of Her Majesty's birthday



RAST will conduct a two-metre net on 144.9735 on August 11, the eve of Her Majesty the Queen's birthday from 7 p.m. onwards when hams can check in and pass along their best wishes.



Kathin ceremony



Since the society is under the patronage of His Majesty the King, RAST will seek Royal approval to organise a Kathin (merit making) ceremony in October. Tentatively, a bus will leave Bangkok on the night of October 6 for Nong Khai. The following day, there will be a tour of the Lao capital of Vientiane, and on Saturday night the bus will travel to Nakhon Phanom. The Kathin ceremony will take place at a temple there on Sunday morning and the bus should return to Bangkok that evening.
More details about this after next month's meeting



Seanet 2007



Members were also reminded that the Seanet convention next year will be hosted by RAST in the northern city of Lampang.
For more details, scroll down.