RAST plaque presented at Luxembourg amateur radio society's 75th anniversary
On September 21, 2012 RAST life member Mich Friederich (Mike), LX1KQ presented a plaque from the Radio Amateur Society of Thailand (RAST) congratulating the Radioamateurs du Luxembourg (RL) on the occasion of its 75th anniversary celebration and banquet.
Earlier, RAST President Pornchai Semjang (Joe) had presented the plaque to Mich at the RAST meeting on September 2, 2012 (photographs of the presentation can be found
here
)
In the photo at right, Mich, LX1KQ and RL President Armand Erpelding, LX1MA (left) are pictured together with the RAST celebratory plaque at the Hotel Parc in Luxembourg during the 75th anniversary celebration of the Radioamateurs du Luxembourg.
October meeting
50 members and guests attend October
meeting at N-Siri Resort
Next Intermediate Class exam to be held on two days
The October RAST meeting at N-Siri Resort & Hotel saw a large turnout of around 50 members and guests where, following lunch, RAST President Pornchai (Joe), HS2JFW, updated those present about various activities and developments regarding amateur radio in Thailand.
He announced that the next Intermediate Class exam would take place on the weekend of November 10-11 at Bangkok University's Rangsit Campus when there would be exam sessions on both Saturday November 10 and on the following day, which would be opened up for candidates to register on Monday, October 8. Details and registration procedures will be posted at the RAST
Thai-language website
.
This Intermediate Class exam will be held in conjunction with a Novice Class exam that is being conducted by Pathum Thani Amateur Radio Association. After RAST had announced details on its Thai-language website a week ago 100 candidates registered in a single day to fill the quota of seats available for the exam and so RAST then sought and received permission from the National Broadcasting and Telecommunications Commission (NBTC) to conduct a second Intermediate Class exam the following day to cope with this demand.
The previous Intermediate Class exam held earier this year had been a big success and had been conducted at Bangkok University's Klong Toey campus on May 19, 2012, being the first Intermediate Class exam staged in Thailand in almost eight years.
Champ appointed DXCC Card Checker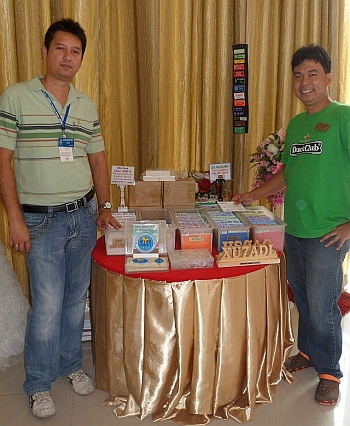 Joe also announced that last month Champ had received accreditation from the American Radio Relay League (ARRL) to be a DXCC Card Checker.
Joe (left) is seen here with Champ, E21EIC, at the October meeting where the QSL cards are distributed.
Champ, who is also RAST's QSL Manager, will be responsible for checking and forwarding DXCC, WAS, VUCC and WAC applications to the ARRL Awards Branch for final processing.
This will benefit many radio amateurs in Thailand should they seek any of these awards as they will no longer have to send their cards by mail to an address in the United States.
NBTC working on new ham regulations
The RAST President also announced that NBTC had set up a working group to draft new amateur radio regulations and was considering a new band plan that would allocate many new frequency bands to amateur radio between 50 MHz and 245 GHz, while RAST was engaged in submitting proposals that included relaxing the type-approval requirements for imported transceivers, increasing power output and that the NBTC consider setting up an Advanced Class amateur radio examination that would enable greater privileges.
Joe added that he would welcome any suggestions and input from RAST members which RAST could forward to the working group, and that he expected their work to be completed by early next year.
Special activity planned for Surat Thani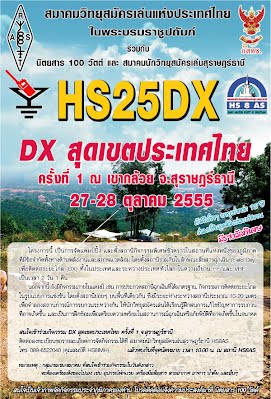 At the end of October there will be a special activity sponsored by 100 Watts Magazine, the Surat Thani Amateur Radio Association and RAST that will take place in Surat Thani Province in the South when there will be a contest and field-day type activities conducted on mountaintops to test mutual interference while the special callsign HS25DX will be used.
VK3KI-SK
Tony Waltham, HS0ZDX, who had been summarising Joe's announcements in English also announced the passing away of former IARU Region 3 Chairman Michael Owen, VK3KI and pointed out that in 1969 he had been responsible for approving a request made by RAST respresentatives to join the IARU. Michael Owen became a silent key on September 22 and all present stood for one minute in silence in respect for him.
More details can be found below
Work to begin on HS0AC
tower at N-Siri
In other news, the RAST President also said that work would begin soon on a new 24-metre self-supporting tower at the N-Siri Resort and that this work along with the erection of antennas would be completed by December. This will mean that -- and thanks to generous donations -- the HS0AC club station would be back on the air again from this new location approximately one year after deep flooding at the Asian Institute of Technology campus forced the station off the air and severely damaged most of the equipment there.
VEC exam conducted at NBTC office
Joe also mentioned that, on September 29 a VEC exam session for a US amateur radio licence had been conducted on the premises of the NBTC to demonstrate the procedures to officials at the secretariat whereby Thais can sit an examination for a United States FCC licence.
In addition to obtaining a General, Advanced or Extra Class US amateur radio licence and callsign this has recently entitled those Thais who have passed this exam here to upgrade from a Thai Novice Class licence to an Intermediate Class licence.
138 EME QSOs conducted in April
Wrapping up the October RAST meeting was a presentation by Swen Roeder, HS0ZFZ about the EME Dxpedition conducted between April 20-25 in the Northeast of Thailand at the QTH of HS0ZIV (grid square OZ17ux) when various problems were overcome and a total of 138 earth-moon-earth QSOs were conducted with stations around the world to help raise some US$610 in funds to support the recovery of the HS0AC club station.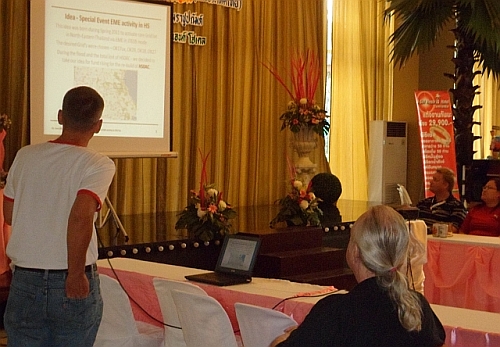 Swen provides details about the EME DXpedition in April that used the callsign E2E and helped raise funds for the HS0AC club station.
More pictures taken during the October RAST meeting can be found
here
at the Thai-language website.
---
Next Intermediate Class exam
scheduled for November 10
The next Intermediate Class amateur radio examination, the second to be conducted this year, will take place on November 10 at Bangkok University's Rangsit Campus in conjunction with a Novice Class exam at the same location under the auspices of the Pathum Thani amateur radio association.
It will take place from 9 a.m. till 5 p.m. and is limited to 100 candidates.
(As of October 2, 2012 the quota of registered candiates for this exam is full.)
A list of the candidates can be found
here
As announced at the October RAST meeting, an additional exam will take place on Sunday, November 11 at the same location and registration will begin for a further 100 candidates at the RAST Thai-language web site on Monday, October 8
For more information, you can send email to hq(AT)rast.or.th or call 081-495-0781
---
IARU Region 3 Chairman Michael Owen,
VK3KI is now a Silent Key
We are most saddened to report that the Chairman of IARU Region 3 and President of the Wireless Institute of Australia (WIA) Michael Owen, VK3KI, passed away on September 22, 2012 after suffering a medical condition at his home.
Michael was immensely influential in shaping the hobby of Amateur Radio since the 1960s both in Australia and internationally, as a report on the Wireless Institute of Australia (WIA) points out.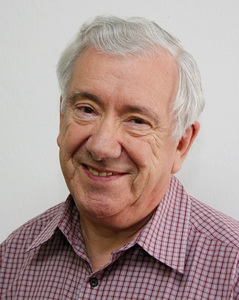 He participated in many IARU committees and had been a member of the IARU observer team at a number of World Radiocommunications Conferences, in particular WRC03, where he was responsible for Article 25.
Through his chairmanship of the IARU Region 3 he was preparing for and looking forward to the next regional meeting in Ho Chi Minh City in November.
Michael is survived by his wife Nan and two daughters and a funeral was held on Friday September 28 at St Andrews Anglican Church in Brighton, a suburb of Melbourne, Australia.
RAST Life Member and advisor Alfred Laun, K3Z0, HS0ZAR recalls how Michael Owen had been responsible for RAST becoming a member of IARU Region 3 and thereby eventually being accepted into the IARU worldwide.
"In 1969 Michael was staying at the Narai Hotel (in Bangkok) whilst passing through Thailand en route to some other destination. Don Riebhoff [K7ZZ (K7CBZ) and formerly HS3DR] and I visited him there and submitted the paperwork on behalf of Chankij (Boonyaratvej, HS1CB) which allowed STAR (an abbreviation earlier used by RAST) to get into IARU Region 3 as the Thai member society."
"Later when the name was changed back to RAST, IARU Region 3 agreed that it was the same organisation and confirmed that from that point on RAST would be the representative of IARU in Thailand," K3ZO added.
Most recently, Michael Owen visited Thailand to attend a preliminary meeting of the World Radio Conference 2012 some two and a half years ago and on that occasion, in March 2010, he along with other IARU officials, had met with the then President of RAST, Chaiyong Wongwuticomjon, HS1QVD and other RAST officers over dinner.
Anyone who would like to send a message of condolences may do so by sending an email to
[email protected]
May Michael Owen rest in peace.
More information can be found on the
WIA web site
.
---
Peter Lake, ZL2AZ, appointed IARU Region 3 Chairman to succeed Michael Owen
The IARU Region 3 announced on September 28, 2012 that in a vote by directors of the association Peter Lake, ZL2AZ was unanimously elected as the new Chairman of IARU Region 3 to be effective immediately.
---
September RAST meeting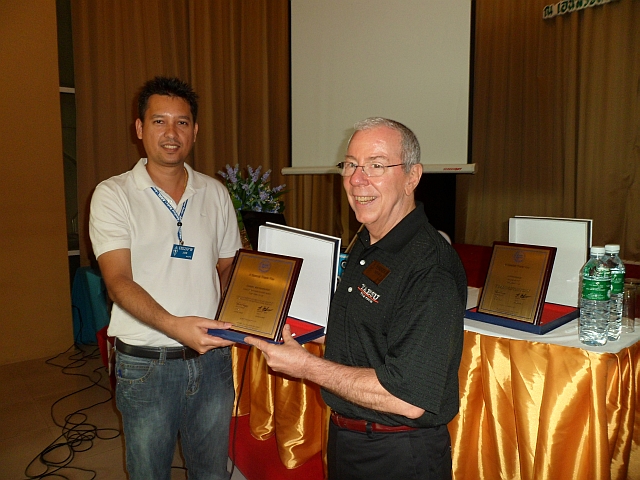 RAST President Pornchai (Joe), HS2JFW (left) presents a plaque in appreciation to Yaesu Musen's Executive Vice President for North America Dennis Motschenbacher, K7BV after receiving two FT2000D transceivers from Yaesu in the company's support of the recovery of RAST's club station HS0AC which was overwhelmed by flood water late last year.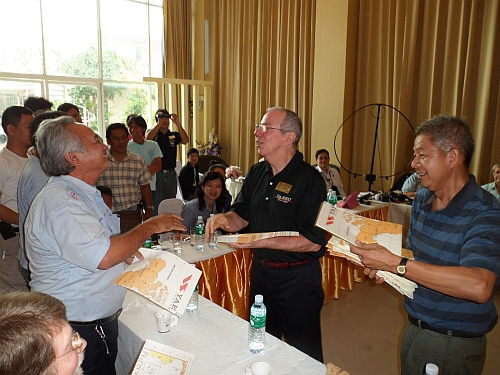 After presenting the transceivers to RAST, the Yaesu Executive Vice President distributed Yaesu's "The Radio Amateur's World Map" to those present at the September 2 RAST meeting at N-Siri Resort & Hotel. Helping him distribute them is John (Narissara), HS1CHB.
Yaesu donates two FT2000D
transceivers to RAST
A strong turnout of over 50 members, visitors and guests attended the September meeting of RAST held at N-Siri Resort & Hotel in Lumlukka when the highlight was a presentation to RAST of two brand new Yaesu FT2000D transceivers as a donation from the company to help in the recovery of the HS0AC club station that was badly damaged by flooding last year.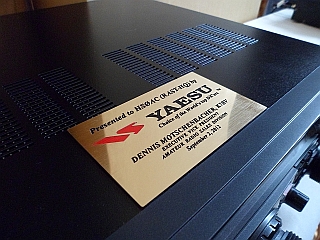 Those at the Sunday, September 2 meeting also heard a presentation about the Radioamateurs du Luxembourg's 75th anniversary celebration scheduled for September 21-22 made by RAST life member Mich (Mike) LX1KQ, HS0ZFS.
This was followed by a donation of funds for HS0AC that had been raised by Toshi, JA1WTI who had distributed QSL cards for contacts with HS0AC and E2E on six metres at the recent JARL Ham Fair.
After that Tanan, HS1JAN gave a presentation about plans for the third amateur radio ballooning expedition by the Thailand Amateur Radio Satellite Group that is scheduled for December this year.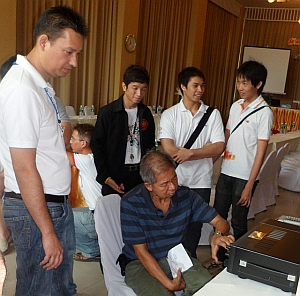 The highlight of the meeting was the donation of two FT2000D transceivers, with one of them being demonstrated at the meeting hooked up to an antenna.
Making this presentation was Yaesu Musen Co Ltd's Executive Vice President for North America Dennis Motschenbacher, K7BV who had travelled specially to Thailand for the occasion.
RAST President Pornchai (Joe), HS2JFW then thanked Dennis as well as Yaesu Musen's President and CEO Jun Hasegawa for their generous support of RAST and said that these transceivers would go a long way to help put HS0AC back on the air quickly and with a good signal.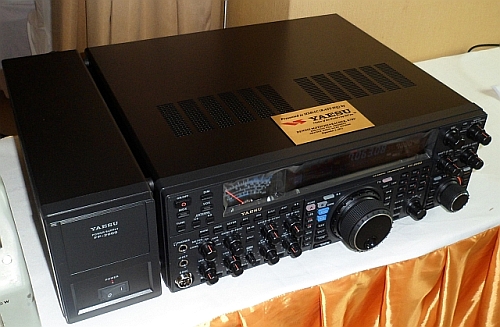 RAST has attached a gold label to the FT2000D transceivers to accredit Yaesu as the donor of the equipment for use at the HS0AC club station.
Pornchai then presented two plaques, one for Dennis personally and the other for Mr Hasegawa for Dennis to deliver when he passes through Japan on his return to the United States.
After that, Dennis distributed Yaesu amateur radio world maps to everyone present at the meeting and also donated some Yaesu caps for RAST to distribute to members.
With perceived uncertainty prevailing over the future status of AIT, RAST is now moving ahead to outfit a second club station location in a room on the fourth floor at the N-Siri Resort & Hotel and the society has appointed Dr Noppadol Narupiti, E20MIO who is the co-owner of N-Siri Resort & Hotel as the club station manager.
Dennis Motschenbacher, K7BV (left) and Gopal Madhavan, VU2GMN (second from left) at a dinner reception to welcome them to Bangkok on August 29 with RAST committee members (from left): Champ, E21EIC, Goi, E20NKB, Jakkree, HS1FVL, Pornchai (Joe), HS2JFW, Tony, HS0ZDX and Dr Noppadol, E20MIO.
This latest donation to RAST also follows on from a US$1,000 donation by the International Amateur Radio Union Region 3 from "9V1UV Selva's Special Fund" which was hand-delivered to RAST President Pornchai in the form of a bank cheque a few days prior to the meeting by IARU R3 Director Gopal Madhavan, VU2GMN.
Following the Yaesu presentation, Toshi, JA1WTI stepped forward with a large envelope containing funds he had raised for RAST personally during the JARL Tokyo Ham Fair while distributing QSL cards for 6-metre operations using the callsigns E2E and HS0AC during recent CQWW VHF contests.
These donations amounted to the equivalent of 20,223 baht, being in the form of 42,500 Yen, 72 US dollars and 40 New Zealand dollars with 27 stations donating while Toshi also donated a large desk microphone to RAST (pictured at left).
The September meeting began by inviting newcomers and returnees to introduce themselves and there was a record 25 hams who each took a few moments to introduce themselves.
In addition to Dennis, K7BV, who now also has a Thai reciprocal licence with the callsign HS0ZKS, there was E22ULT, E20DPO, HS5NMF, HS1LCI (and W1LCI), HS1ZHY, E22JZH, E20UPZ, E20HHK (and XW1CW), HS2AYJ, HS0KOQ, HS5VVV, HS5IGY, HS4RAY, HS6ZEW, E22FMI, HS3VDK, HS4SCI (and KI1F), HS1PA, HS7PQX, HS1GUW, HS2DV, KB1YNY, HS4XFZ and LX1KQ.
Thiradej, HS1LCI, who is president of the Chiang Mai Amateur Radio Association
(pictured at right with RAST President Joe at the meeting)
and who had attended the June RAST meeting, noted that the addition of HF equipment and antennas to the Chiang Mai club station, HS5AC, was under development and he also invited any hams who played golf to participate in a charity golf tournament in Chiang Mai that the society was hosting on October 14.
Then Mich, whose "ham name" is Mike, LX1KQ took the stage to make a presentation about the upcoming 75th anniversary of the Radioamateurs du Luxembourg (RL), the national society of the small European country with a population of around 500,000. For his presentation he used text and pictures from a commemorative book that is being published to mark the anniversary which falls on September 20-21.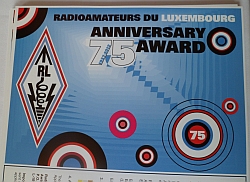 The book contains messages from several high-ranking people in Luxembourg including the prime minister of the country (who said he wished he was a ham so that then he wouldn't have to talk politics into a microphone). The book also summarises the highlights of various aspects of amateur radio operations in the country, ranging from contest activity, DXpeditions to amateur radio-related events to raise funds for charity.
There is a special award to mark the 75 anniversary and Mich made available many brochures about the RL's 75th Anniversary Award at the meeting.
All radio amateurs are eligible for this award which has three categories, beginning with the equivalent of 20 two-way contacts (the bronze award - 100 points), followed by a silver award (250 points) for 50 QSOs and the gold award for 100 QSOs (500 points) and entries must be certified by two licensed radio amateurs or by the award manager of their society.
Contacts with LX75EL or LX75HQ count for 50 points each, whereas QSOs with all other LX stations count for 5 points and the award is valid for QSOs made throughout the year of 2012.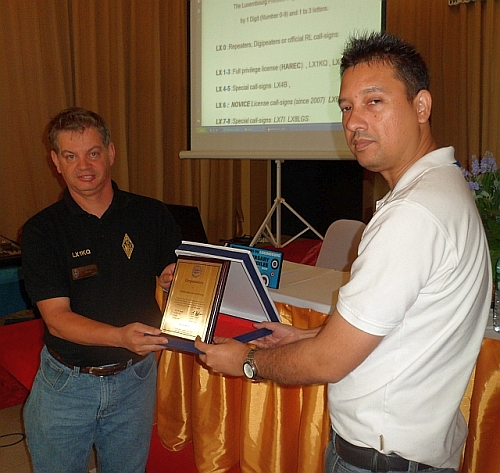 Following Mich's presentation, RAST President Joe presented a plaque (above) congratulating Radioamateurs de Luxembourg (RL) for Mich to present to the President, LX1MA at a banquet on September 21 while Mich presented RAST with a special plaque (seen below) from RL to RAST in acknowledgement of its support.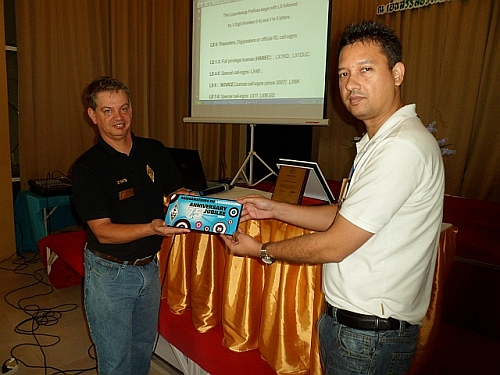 This was followed by a presentation about an upcoming multipurpose statosphere balloon project, or MSBAT-3, which will be the third to be launched this year and is scheduled for December. Making the presentation was Tanan, HS1JAN who explained how a balloon will be launched with equipment that includes APRS, a simplex/duplex repeater, ATV, SSTV and a camera and is tracked as it rises until at a height of around 20 miles or some 30 kilometres the balloon will burst and its payload will return to earth by parachute.
During his presentation, Tanan, HS1JAN explains how flexible solar cells, a strip of which he is holding up, are used to power equipment attached to the balloon. Ten such solar cells can provide one amp of power which is then regulated to drive the equipment.
Earlier this year, two such missions were launched from provinces a little to the north of Bangkok, being from Ayutthaya and from Pathum Thani and which, after release, drifted in a northwesterly direction as they gained height, ending up in Suphan Buri province over a period of some five hours. In each case the payload was successfully retrieved.
The group hopes to get some publicity for amateur radio with television coverage of the event and is seeking support from RAST and its members for the upcoming expedition.
An account of the January ballooning can be found in our archives
here
.
More photos taken at the September RAST meeting can be viewed at the RAST
Thai-language web site
.