ARRL Vice President Bruce Frahm, K0BJ presents a gift to former RAST President Mayuree Chotikul, HS1YL at the March 2013 RAST meeting. Bruce recalled how he had met Mrs Mayuree with her husband Kamchai (HS1WR-SK) more than 30 years ago and the shirt he is wearing, which had been embroidered by his wife, includes Kamchai's callsign.

Some 45 members and guests attend the meeting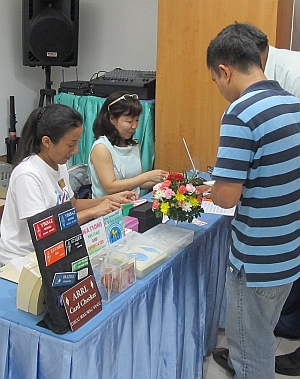 The Radio Amateur Society of Thailand's AGM meeting held on March 3, 2013 returned to Sena Place Hotel in Phaholyothin Soi 11 which had been its venue for many years before briefly moving out to N-Siri Resort. The meeting saw a fair turnout with some 45 members and guests attending, along with several visitors -- including at least two who had previously attended RAST meetings more than 30 years ago.
As is stipulated in the regulations of RAST, there must be a quorum of members present for the annual general meeting to formally begin since votes can be taken on policy or procedural issues for the society.
After an initial announcement that there was not yet a quorum (which would comprise half the members being present) so RAST President Pornchai Semjang (Joe), HS2JFW said he and the committee would wait for one hour and then do a recount. RAST regulations stipulate that by following these procedures those members who are present after the one-hour delay then constitute a quorum.
As such, the count of those who raised their arms amounted to a total of 38 paid-up members and after declaring the meeting to be under way -- and after everyone had had the opportunity to appreciate some good food at the buffet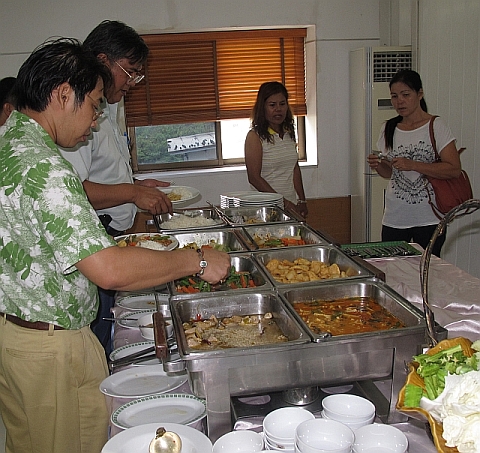 -- Joe began by running through the agenda for the meeting which had been distributed to all members by postal mail.
After members had approved the minutes of last year's AGM, Joe went on to briefly recap the activities of the society over the previous year -- with Tony, HS0ZDX providing a summary in English.
These activities of RAST during 2012 were as follows:
January 8:
A New Year Party was conducted at the QTH of Narissara, HS1CHB;
Mid-January:
RAST lodged a complaint, providing information to the NBTC following interference to satellite communications with the improper use of reserved frequencies in the 2 metre band;
February 25:
Champ, E21EIC, organized a US VEC examination in Chiang Mai;
March 17:
Champ, E21EIC, organized a US VEC examination in Bangkok;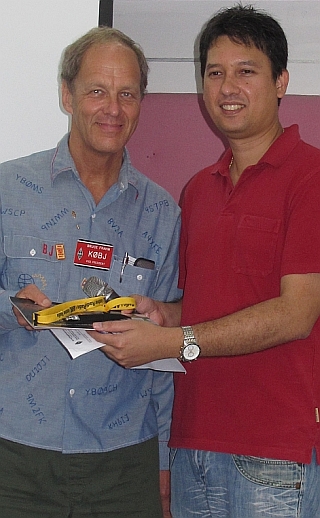 March 18:
Support for the MSBAT-2 amateur radio ballooning activity using a multipurpose stratosphere baloon. This was the second such event in 2012, with MSBAT-1 having been held on January 29;
April 7:
Champ, E21EIC, organized a US VEC examination in Chumphon;
April 28:
RAST organized training in advance of the Intermediate Class examination in May, 2012;
May 19:
RAST organized and invigilated at the first Intermediate Class examination to be conducted in Thailand in eight years on May 19, 2012;
June 23:
RAST committee and members inspected the HS0AC club station at AIT in order to make plans for repairs and recovery;
July 19:
RAST conducted an online seminar about operating on the 50-MHz band (6 metres) following permission to operate from club stations during the CQWW VHF contest from the NBTC;
July 21-22:
Club stations HS0AC, E2E, HS5AC, HS4AK and HS1AR operate during the CQWW VHF Contest following permission sought and received from the NBTC;
August 5:
RAST received donations from the E2E EME DX team as well as donations to RAST received during the Tokyo Ham Fair from JA1WTI;
August 11:
RAST organised a net to enable radio amateur operators to offer blessings to Her Majesty the Queen on 144.9375 MHz on the eve of the Queen's birthday;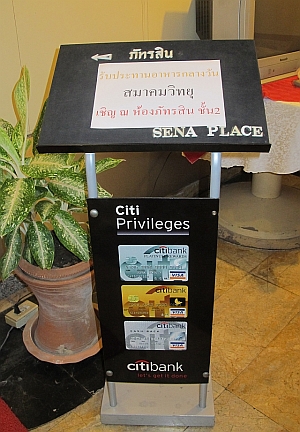 August 29:
RAST hosted a dinner for Dennis Motschenbacher, K7BV, Yaesu Musen's executive vice president for North America, who had travelled to Thailand to present two Yaesu FT2000D transceivers to RAST as well as for IARU Region 3 Director Gopal Madhavan, VU2GMN who presented a donation of $1,000 to RAST from the IARU Region 3 from the IARU's "9V1UV Selva's Special Fund";
September 2:
RAST welcomed Dennis Motschenbacher, K7BV to its monthly meeting where he presented the two Yaesu FT2000D transceivers on behalf of Yaesu Musen;
October 27-28:
RAST, in conjunction with 100 Watts magazine, supported a contest and field-day activities conducted on mountaintops in Surat Thai using the callsign HS25DX, while Joe also announced during the AGM meeting that there was another event being organised on March 3 (as the RAST meeting was taking place) in the Northeast of Thailand using the same callsign. These activities also mark 100 Watts magazine's 25 anniversary;
October 26:
RAST hosted a dinner for RAST co-founder Ken Irish, W8JVP who was visiting Bangkok with his XYL, Margaret. They were making their first trip to Bangkok in 47 years;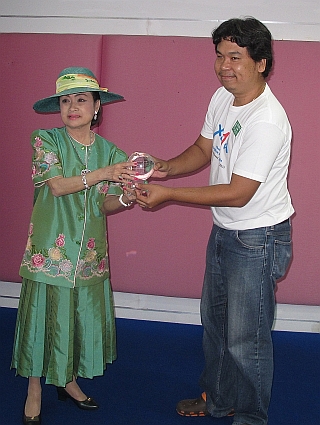 November 5-9:
RAST Secretary Jakree, HS1FVL, Chalermphol, E21EIC, his XYL Neeranuch, E20NKB and Dr Noppadol, E20MIO represented the society at the IARU Region 3 conference in Ho Chi Minh City in Vietnam;
November 10-11:
RAST conducted the second Intermediate Class examination in 2012 at Bangkok University Rangsit campus in conjunction with the Pathum Thani Amateur Radio Association;
November 23-27:
RAST representatives attended the SEANET Convention in Malaysia;
December 2:
RAST received a Collins 30L-1 linear amplifier that had been damaged by floodwater in 2011 and had been refurbished by Rudolf Reiss, HS0ZEA and which had been presented to RAST in immaculate condition;
December 4:
RAST organised a net to enable radio amateur operators to offer blessings to His Majesty the King on 144.9375 MHz on the eve of the King's birthday.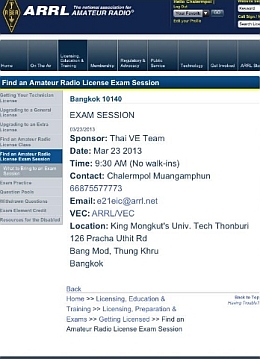 RAST President Joe also updated those present on the total membership of the society, which was 798 life members and 14 paid-up members with annual membership.
During the meeting, visitors were asked to introduce themselves and there were several "new faces" from many continents, including the United States, Australia and Europe. Among them was ARRL Vice President Bruce Frahm, K0BJ who recalled how he had visited Thailand more than 30 years ago and had met Mrs Mayuree, who was present at the meeting, and her late husband, Kamchai, HS1WR.
Bruce, K0BJ later made presentations on behalf of the ARRL to Khun Mayuree and to RAST President Joe (as can be seen in photos above).
RAST President Joe also addressed the issues of the HS0AC club station, apologising for delays and explaining that a tower for HS0AC was ready but the team to put it up was not yet available, while the AIT location was still under consideration.
Champ, E21EIC had a couple of announcements. The first was about an upcoming VEC exam scheduled to take place on March 23 at King Mongkut University of Technology in Thon Buri. Details can be seen in the screen shot of the ARRL website above.
Champ also provided a report about the Thai QSL Bureau performance with statistics (in terms of the number of cards, inbound and outbound, as well ss their weight -- see image at right with the details).
There were also presentations of trophies awarded by the Yasme Foundation to RAST President Joe, HS2JFW and Champ, E21EIC for their "leadership in the Thai amateur community, expecially during the recent flooding" that had been awarded in December last year. The presentations at the meeting were made by former RAST President Mayuree Chotikul, HS1YL (with a picture of Champ, E21EIC receiving his trophy above). Details of these prestigious awards can be found in the news item below.
The meeting concluded at around 3 p.m. -- Report and pictures by HS0ZDX
---
RAST President Pornchai (Joe) Semjang, HS2JFW and Chalermphol (Champ) Muangamphun, E21EIC have been granted the Yasme Foundation's Yasme Excellence Award for "leadership in the Thai amateur community, expecially during the recent flooding."
The award, announced by the Yasme Board of Directors on December 7, 2012, is made to "individuals who, through their own service, creativity, effort and dedication have made a significant contribution to amateur radio," according to a press release from Yasme.
Last year, Champ had made many forays into flooded areas in the northern suburbs of Bangkok to help flood victims (documented on this website -- see
story and pictures here
) while Pornchai was elected President of RAST in March 2012.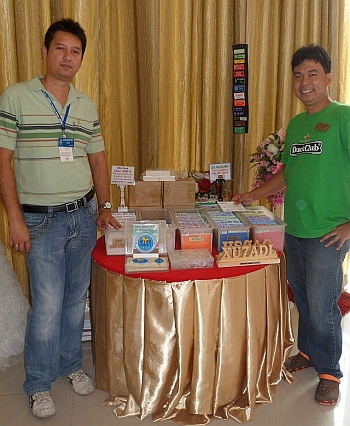 At left, the two recipients (Joe, HS2JFW at left and Champ, E21EIC standing at right) are pictured together at a recent RAST meeting.
As RAST President, Pornchai has headed discussions with the National Broadcasting and Telecommuni-
cations Commission (NBTC) on behalf of the Thai amateur radio community while another key activity of RAST under his stewardship includes conducting two intermediate class amateur radio examinations, with the first one in May 2012 being first such exam to have been held in almost eight years.
In addition, Champ has spearheaded the supervision of VEC examinations for more than two years that have enabled many Thais to obtain a US amateur radio licence and, more recently, to upgrade their Thai licence.
The Yasme Excellence Award is in the form of a cash grant and an individually-engraved crystal globe.
Pornchai and Champ were recognized by Yasme as Excellence Award winners in one of six groups cited in a press release sent to DX Bulletin Editors. The other winners were:
- George Fremin, K5TR; Tree Tyree, N6TR; Trey Garlough, N5KO; and Scott Neader, KA9FOX for their contributions to many infrastructure projects that benefit the ham community at large;
- Mark Spencer, WA8SME for his instrumental work in the ARRL Teachers Institute and other training efforts, development of PIC microcontroller projects and books for amateurs, and work with leaders in student and scientific teams applying amateur radio to scientific projects and experiments;
- Dean Straw, N6BV for his contributions to amateur antenna system design and the development of software tools such as HFTA to optimize system design;
- Peter Martinez, G3PLX and Pawel Jalocha, SP9VRC for the development of PSK31, a widely used digital mode entirely invented by amateurs that is enabling many amateurs to successfully use HF with very modest stations;
- Arie Kleingeld, PA3A; Ad Van Ginneken, PA8AD; and Arie, PA3AN for their sustained contributions to the Mercy Ships Project.
The Yasme Board of Directors also announced supporting grants to the
WRTC 2014
;
the World Wide Radio Operators Foundation
;
Club Log
;
the NCDXF Beacon Project
; to Yasme Scholarships (administered by
ARRL
) and to the Amateur Radio Association of Kosovo (SHARK).
The Yasme Foundation
is a not-for-profit corporation organized to conduct scientific and educational projects related to Amateur Radio, including DXing and the introduction and promotion of Amateur Radio in developing countries.
Yasme has supported RAST and its activities several times in the past, most recently less than one year ago when in January 2012 it donated a grant of US$2,000 to help RAST in its recovery of the HS0AC club station and prior to that, in 2004, the foundation supported a major reconstruction of the society's club station on the campus of the Asian Institute of Technology while it also helped with a grant to sponsor Champ, E21EIC's journey to Brazil to participate in the World Radiosport Team Championship in Florianopolis in 2006. -- report by HS0ZDX