How Thai hams helped out after the tsunami struck
As told to members at the Radio Amateur Society of Thailand's annual New Year party in January 2005
From left: Phat, HS1WFK, Vit, HS1KBG and Al, E20NXT - HS0ZDX photo
When the tsunami tidal wave brought disaster around the region on Sunday, December 26, 2004, it overwhelmed the communities affected, where in many cases victims outnumbered survivors, and this meant that it was many hours before the true magnitude of the event became known.
But once the scale and nature of the disaster in southern Thailand became apparent, Thai radio hams in the affected areas and elsewhere rallied to assist in handling communications, with activities beginning on the day of the catastrophe.
Thai hams in Phuket and Phang-nga, where the devastation was greatest, helped to liaise between government agencies, hospitals and the devastated communities along the Andaman Sea coastline as well by providing information to radio amateurs overseas enquiring on behalf of others.
For international communications, the hams mostly used Echolink, the voice over IP (VoIP) network exclusively for radio hams that also provides for text messages to be sent and exchanged.
Based in Bangkok, HS1WFK, Phat, (Phatandit Kulaphaichitra), operates an Echolink RF gateway between the Internet and 2 metres, and he started monitoring emergency traffic on 144.725 MHz on Sunday, Dec 26, after learning of the disaster. (Picture of HS1WFK antennas at lower right)
On Monday morning at 7 a.m., Phat he announced he was standing by for contacts, and he began receiving and responding to information requests from Europe and the USA.
An hour and a half later, E20NXT, Al (Alongkorn Porapukkham), joined the link and, without any preliminary discussion, stepped in to help handle the traffic in English.
Then at about noon on the day after the tsunami had struck, HS1WFK-L announced that it was a "News and Information update'' node, giving this description in Echolink -- and the node would handle over 3,800 connections from 57 countries over a six-day period of intensive contacts.
Email was also used for international communications, while HF and VHF communications was used to link people on the ground with each other and the rest of the world, while radio hams also conducted aerial surveys and performed dives to assess the damage to coral and other natural resources, reporting this back by HF or VHF radio.
The CANADA Echolink conference connected to HS1WFK-L at 2.49 p.m. that day, while the email address
[email protected]
was announced as a secondary contact point to help alleviate pressure on the HS1WFK-L Emergency Traffic Echolink channel.
Later on the day after the disaster, 9W2YCC-L connected to HS1WFK-L to relay traffic to Malaysia, with a live connection established to Penang for a live update.
The node was manned until 11.30 p.m., after which it was left active all night, with HS1WFK and E20NXT returning to be QRV the following day at 7 a.m. E20NXT made the first announcement and report of the day at 8 a.m. and then Damri, HS1HBJ (Damri Namphaya) offered air surveillance support with light airplane.
Phat contacted the secretariat of the Prime Minister office, Thai TV Channel 9 and the Royal Thai Air force to offer air-surveillance support from their team. Then, at about 10 a.m., HS1WFK-L simulcast the Echolink traffic on 7.063 MHz HF for those who were not able to access Echolink on the Internet.
He recalls that the CANADA conference net-control then contacted E20NXT to request specific information about Indonesia and other countries besides Thailand in order to process a request for permission to handle the third country traffic via amateur radio networks in the USA and Canada.
Phat also received an email from
[email protected]
near Seattle, Washington, that an emergency website had been
set up
and had notified him that it had included information about HS1WFK-L, while that website was also broadcasting traffic announcements from Thailand over the Internet.
Phat recalled how many messages were coming in by email, both requests for help by posting missing persons and to respond with thanks after having received contacts from the friends and loved ones in Thailand. There was also email from amateur radio operators who followed the updates on Echolink and who volunteered to help, such as the following messages:

Announcements on the third day continued all day and late into the evening, until almost midnight, when HS1WFK-L was left active all night long, according to Phat.
The team returned at around 9 a.m., he recalls, when the Internet connection began to display problems that persisted all that morning, with Echolink traffic being frequently interrupted. Consequently, he announced that email would be used as the main point of contact and for handling the coordination from Thailand.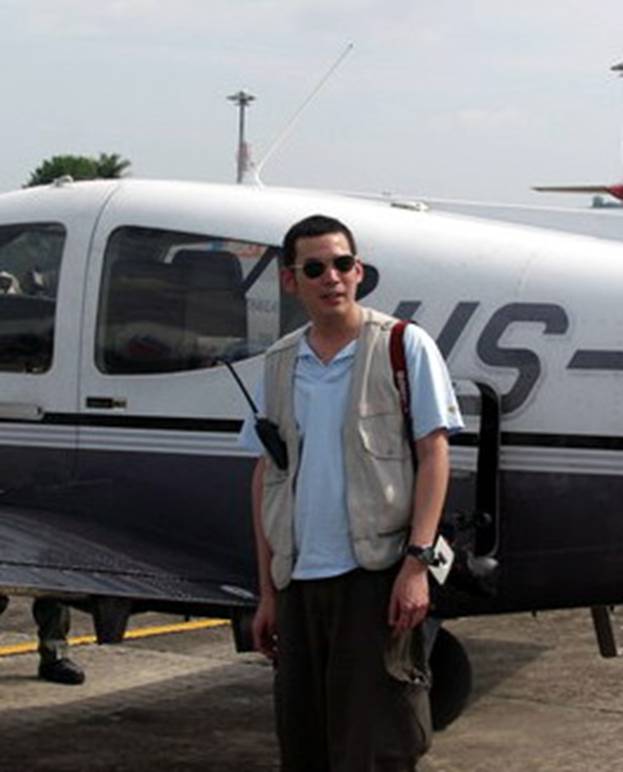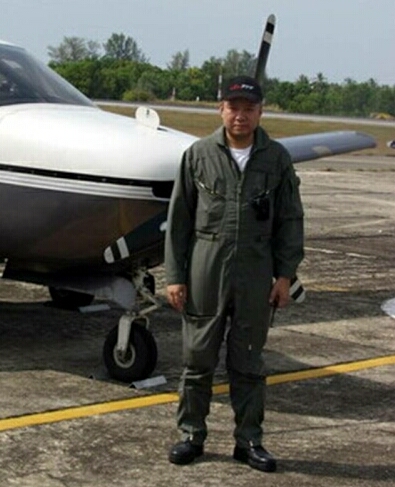 Ko, HS1TKD (left) and Damri, HS1HBJ, (right) were in the sky and under the waters off Phuket on December 30.
Ko, HS1TKD, (Ratthanachi Ratanasevi) informed Phat and Al that he and Damri, HS1HBJ, had been contacted by the Tourism Authority of Thailand (TAT) with a request to help by surveying Phuket Island and other provinces struck by the waves. Damri then arranged a flight plan and was scheduled to leave Bangkok at 8.30 a.m. next day.
Meanwhile, announcements and updates were presented to the Echolink network throughout the day, until almost midnight, resuming the following morning at about 8 a.m.
That day, Thursday, December 30, the airplane piloted by HS1HBJ took off from Bangkok International Airport at about 8.45 a.m. and established VHF communication with HS1WFK about 10 minutes after take-off.
There were representatives of the Tourism Authority of Thailand, HS1TKD and Mr. Siravaj Sukaneth, the owner of the airplane, on board, said Phat. The airplane was a single engine, four-seat ``Commander'' and it took about 2 hours to reach the first survey spot, the Surin group of islands.
The total time of first survey mission was about two and a half hours before landing at Phuket Island and after about an hour's rest, HS1HBJ took off again to fly a news reporter from TV Channel 9 to make another survey and to take aerial video footage. This flight landed again at around 6:45 PM, Phat recalls.
Ko, HS1TDK, then went off on a diving mission that evening by boat and while he travelled to the location of the dive, he contacted the team and reported at around 10 p.m. via HF on 7.063 MHz from Andaman sea near Phuket Island.
At about 11 p.m. that evening Thida, HS1ASC, in Bangkok contacted HS1WFK on 144.100 to say taht she was trying to find volunteers on VHF who could help by gathering information in order to help support channels such as HF and Echolink. She said she had also coordinated with Winit, HS1CKC, to set up the RAST club station HS0AC at the Asian Institute of Technology just north of Bangkok to handle any HF traffic on 14.155 +/- 10, which he did in the next day.
Meanwhile, the HS1WFK-L Echolink node, mainly manned by Al and Phat, continued with updates of news and reports as over the previous days until almost midnight, after which HS1WFK-L was left to conduct traffic automatically all night.
On New Year's Eve, the sixth day following the disaster, Echolink announcements and news updates resumed at about 8 a.m. as it had over the previous days following the disaster.
With help and coordination from Thai TV Channel 9, an announcement for volunteers to search for foreign tourists in each of the devastated areas was broadcast. The information received by email in return was then forwarded to the emergency centres that had connected to HS1WFK-L in order that it could be forwarded to the destination countries.
At about 10 a.m. HS1TKD reported back the findings after making a diving survey from the Similan group of islands over HF radio on 7.070 MHz and this was relayed crossband to 144.100 that. Contacts were also made this way with several VHF stations, including HS0ULA, HS1BSK and HS1YWI. (The initial and final report can be found at
this website
.
Damri, HS1HBJ, then made another flight in the morning to survey Koh Pii Pii for about an hour, before returning directly to Bangkok in the Afternoon.
Phat said that HS1WFK-L had also requested confirmation from connected conferences and links to identify themselves as official which received the following emails by return.
HS1WFK-L continued to give updated news reprots and announcements until almost midnight, as had been the case throughout the week, and was left active overnight.
On New Year's Day, the last day of emergency traffic handling, operations resumed at 8 a.m. although Phat recalls that there was not much information to report because most of the normal communications had been restored in the area, while news updates and announcements were also available from the worldwide TV networks.
In the light off this, at 7.30 p.m. (12.30 UTC) Phat announced that HS1WFK-L would disconnect and return to conducting normal traffic. After this Phat wrote by email to thank K1RFD, the person who had created Echolink and who had allowed amateur radio operators to use the program free of charge.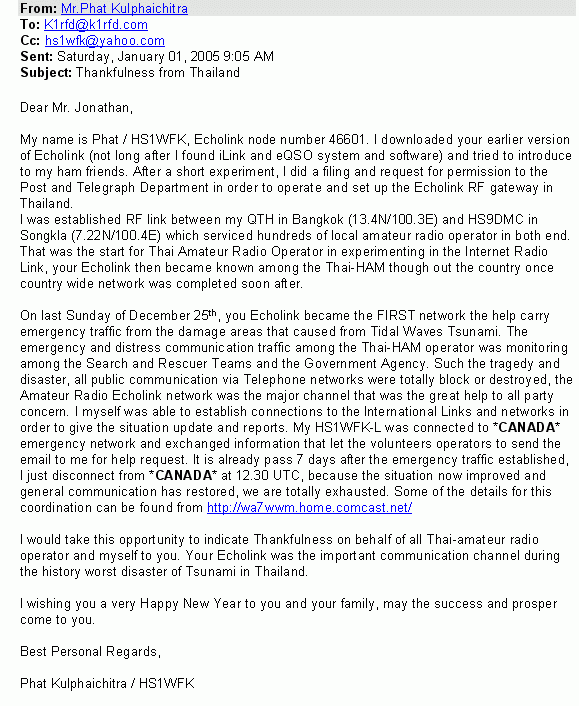 K1RFD replied with the following short email in acknowledgement:




The core team who pitched in at HS1WFK-L, on the ground, in the air and on diving surveys:
E20NXT ``Al'' Mr. Alongkorn Porapukkham
HS1WFK ``Phat'' Mr.Phatandit Kulphaichitra
HS1WFK-L Bangkok Thailand
HS1KBG ``Vit'' Mr.Taveevit S. Tanarak''
HS1HBJ ``Damri'' Mr. Damri Namphaya
HS1TKD ``Ko'' Mr. Ratthanachi Ratanasevi
Phat also thanks the following Thai hams for support with information:
E20AOA Tung
E20OVD Tang
E20YJC
E20ZMJ Na
E21EIC Champ
HS0ULA Suchart
HS1ASC Theeda
HS1BSK Rashane
HS1CKC Winit
HS1DUP Warin
HS1DUR Bang
HS1QCR Yuth
HS1SPX Opas
HS1SUC Wichien
HS2ZMU Kaew
HS9DMC Thamnoong
"And other friends on VHF in Bangkok"
This is just part of the story how many Thai hams played key roles in helping out immediately following the disaster along the southern coastline of Thailand, and was written some two weeks after the disaster struck. After publication of developments here on our web site RAST began receiving donations and pledges of support that altogether amounted to almost three quarters of a million baht, and RAST later donated most of this sum to Her Royal Highness Princess Maha Chakri Sirindhorn's charities working to help the tsunami victims.
The above account was written by Phat Kulphaichitra, HS1WFK, and edited by Tony Waltham, HS0ZDX. We present a list of donors below.
We thank the following for their support
Here are some of the donations received by RAST for disaster relief in the areas of southern Thailand devastated by the tsunami.
Name
Date
Amount pledged

Amount pledged in baht*
Tony Waltham, HS0ZDX
28/12/2004
5,000 baht
5,000
Finn Jensen, 0Z1HET
28/12/2004
1,000 baht
1,000
Jamshed Khodadad Fozdar 9V1XD
28/12/2004
10,000 baht
10,000
Svante (Sam) Nordenstroem HS0ZDY
28/12/2004
US$100
3,909.16
Yoshi Hayashi JA1UT
29/12/2004
20,000 yen
7,558.30
IARV (JH1WBG)
29/12/2004
10,000 yen
3,779.18
JARL (Shozo Hara, JA1AN, - via Jay Oka)
29/12/2004
200,000 yen
75,569.65
Winit Kongprasert HS1CKC
29/12/2004
5,000 baht
5,000.00
Plainfield Radio League, IL WW9AE
30/12/2004
US$50
1,880.00
Robert (Bob) Leo W7LR
30/12/2004
US150
5,865.40
Opas Annoppornchai HS1SPX
30/12/2004
2,000 baht
2,000
Surapong Kittiphan HS1QKR
30/12/2004
3,000 baht
3,000.00
Wolfgang Wagner OE1WWL
1/1/2005
5000 baht
5,000
Japan UNICEF Ham Club (Tsuneo Hara)
2/1/2005
US$2,000
77,822.50
Uwe, DF3DAD
4/1/2005
100 Euro
5,255.22
Chin Peng BA1HAM
4/1/2005
US$200
7,829.87
Lars Aronsson (SI9AM)
4/1/2005
16,300SEK
86,400.00
Osaka International House Radio Club
5/1/2005
JPY158,500
55,514.84
Okabe, JH1LRO
5/1/2005
1,000 baht
1,000
Ben (Preben) Jakobsen OZ5AAH
8/1/2005
4,000 baht
4,000
Morten and Ranee Jakobsen (OZ5AAH)
8/1/2005
2,500 baht
2,500
Tony Quest G4UZN
9/1/2005
UKP100
7,349
VK Contest Club (Nick Hacko) VK1AA
9/1/2005
A$1,300
38,662.64
Erich Reisnecker DK9RZ
11/1/2005
100 Euro
5,149.04
Kurt Schips DL1DA
15/1/2005
100 Euro
5,149.04
W1CW/K4OJ Memorial Fund
16/1/2005
US$200
7,752.50
Hans-Juerg Voegeli HB9DKZ
19/1/2005
50,000 baht
50,000
Bob, HS0ZFD
6/2/2005
2000 baht
2,000
Paul Duncanson, KO6H
6/2/2005
5,000 baht
5,000
Sansern Ruangrit, HS7XPE
6/2/2005
200 baht
200
Sanan Doorayasai
6/2/2005
500 baht
500
David Furman, HS0ZDP
6/2/2005
500 baht
1,000
Somboon, E21QXJ
6/2/2005
500 baht
500
Samut, E21QXH
6/2/2005
500 baht
500
Damri Namphaya, HS1HBJ
6/2/2005
500 baht
500
Prasit, HS1DN
6/2/2005
200 baht
200
Alongkorn Porapukkham, E20NXT
6/2/2005
500 baht
500
Pete, HS0ZFI
6/2/2005
200 baht
200
Thomas Johnson (John), HS0ZDF
6/2/2005
1,000 baht
1,000
Brian Lee, HS0ZEN
6/2/2005
1,000 baht
1,000
Chris, HS0ZFP, G4JAG
6/2/2005
1,000 baht
1,000
Prachurn Singhapalin, HS1DH
6/2/2005
1,000 baht
1,000
Chakaj, E21QJK
6/2/2005
200 baht
200
Chaiyong Wongwuticomjon, HS1QVD
6/2/2005
5,000 baht
5,000
George M Welch, Jr, K6CI, HS0ZCQ
July 2005
4,000 baht
4,000
JARL (Shozo Hara, JA1AN, - via Jay Oka)
August 2005
US$2,829.09
116,105
Total pledged in Thai baht
724,352
* at www.xe.com (rates vary)
(Before any bank charges, etc.)
<![if supportMisalignedColumns]> <![endif]>
Note, this list is based on notifications by email or fax to RAST Vice President Tony Waltham, HS0ZDX. Others may have made donations directly into the RAST bank account or have sent funds that are still in the mail and this list will be updated to reflect ongoing donations.
The amounts shown here are the amounts pledged or donated. In some cases, the actual sum received is slightly less due to bank transfer charges, while exchange rates, most of which are based on rates at www.xe.com, may vary. The baht amount here is shown as an indication of the amount only.
HOME