Sunday, August 4 was an appropriate day for a RAST meeting since August 4th is Thailand's National Communications Day with ceremonies having been held in the morning at the offices of Thailand's regulator, the National Broadcasting and Telecommunications Commission (NBTC).
Things were much less formal at Sena Place Hotel, however, when over 40 RAST members, guests and visitors attended the first monthly meeting to be organised in two months which was presided over by Pornchai (Joe), HS2JFW. Many other committee members were also present with a committee meeting having been held earlier in the morning.


The Thailand Amateur Radio Satellite Group intends to launch an amateur radio satellite in 2015 and Tanan began his presentation by reviewing the development and evolution of amateur radio satellites, beginning with OSCAR-1 in 1961.
Since then, satellites have been launched by radio amateurs in many countries and they have become much smaller in size with examples being the Cubesat -- merely a 10cm cube in size and
pictured above on the table in front of the notebook computer
-- while there are now kits available such as for the TubeSat where the price of the kit includes a free launch.
Plans for the 2015 launch are broken down into three phases and JAISAT-1 is currently in Phase one, which began in June this year and should finish in December with experimental tests for the microcomputer, linear transponder, ATV broadcasting tests with balloons and arrangements with the launching country.
Phase 2 (January - June 2014) will see the prototyping of the design for the equipment to fit the Cubesat format while Phase 3 (from June next year until December 2015) would be the working process for the launch, he said.
The modules of the satellite will comprise APRS and a beacon, a packet bulletin board system (PBBS), ATV by HD camera, a linear transponder full-duplex repeater and red, white and blue lighting to symbolise the Thai flag, Tanan added.
In September last year and again in May 2013, Tanan had made presentations at RAST meetings about amateur radio ballooning providing plans and then the outcome for MSBAT-3 which had been a precursor to the JAISAT programme -- with RAST having been a co-sponsor of these activities all along.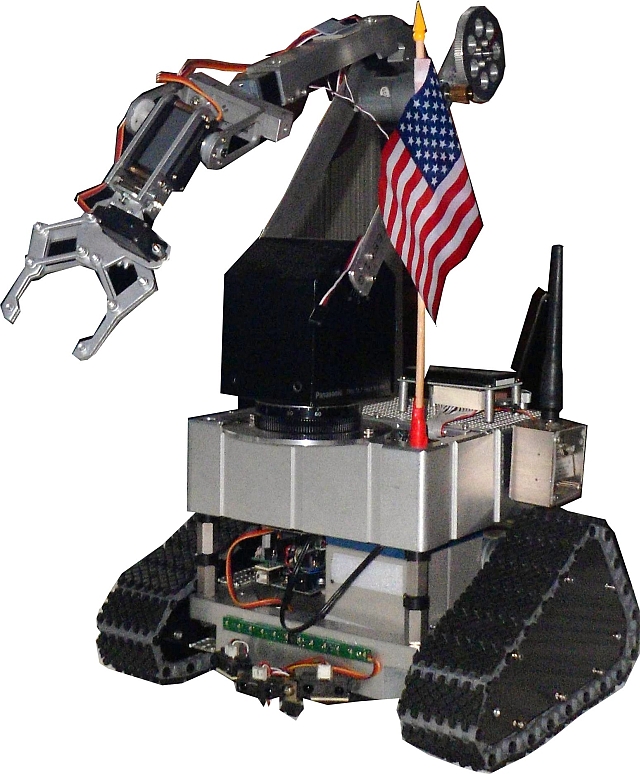 Appropriately, Tanan's outline of plans for Thailand's first amateur radio satellite was followed by another demonstration of amateur radio capabilities embedded in hardware -- namely a robot. Nimit, HS1IFU/K6XOX showed a robot
(pictured at right)
that he had built himself in California following the tsunami that struck Japan in 2011.
The robot, which was over 15-inches high, incorporated a Geiger counter and has APRS capabilities. Impressive, indeed.
Following these two presentations, RAST President Joe announced that he would postpone his planned presentation about RAST's participation at the Friedrichshafen hamvention to next month -- adding that by which time Champ, E21EIC may have returned from Japan to provide a first-hand account about the Tokyo Ham Fair where RAST will be exhibiting at booth A12 on August 24-25.
In the meantime, RAST will also be busy preparing to support the International Amateur Radio Union (IARU) at ITU Telecom World 2013 at Impact Arena in Bangkok where the organization that consists of national amateur radio societies around the world will have a booth from November 19-22.
Last month, IARU Region 3 Chairman Gopal Madhavan, VU2GMN had visited Bangkok and met with RAST President Pornchai, HS2JFW and Liaison officer Tony, HS0ZDX to discuss plans for this event.
The RAST President also announced that work was about to begin at AIT to renovate the HS0AC club station building there with plans to replace the door, paint the interior, replace the electrical sockets and check the wiring and circuit breaker as well as bringing in new furniture.
RAST has also acknowledged a generous donation of amateur radio equipment from Suwit, HS7ECI that includes a Kenwood TS-450S transceiver, three VHF transceivers: an Icom IC-W21AT, an IC-2S and a Standard C-168 along with a host of equipment that includes an antenna tuner, a Daiwa rotor, low pass and line filters, a Heil foot switch and Icom microphone, a Bencher paddle, a Kenpro memory key, an AEA DSP-232, coax switches, a Diamond SWR meter, coaxial cable and a Sony ICF SW7600 receiver.
During the meeting Gen Prasit, HS1DN also announced that he would like to donate some hardline coaxial cable to RAST, for which the society is most grateful since a considerable amount of coax will be needed to set up several operating positions as the club station at AIT gets back on the air.
While the August RAST meeting didn't have a presentation from our president about Friedrichshafen there are a couple of photographs below that provide an idea about the size and scope of the booth at the ham radio fair in Germany.