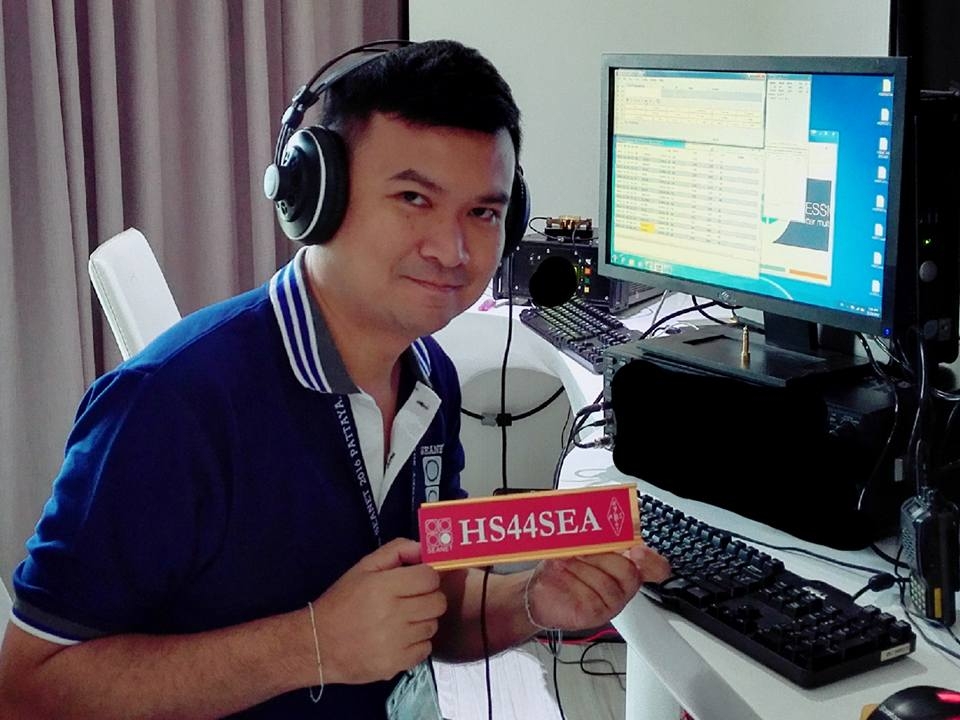 After trips to Nong Nooch Garden in the morning and for lunch, followed by the Viharn Sien Chinese temple and then the Silverlake Vineyard in the afternoon on Sunday, it was on to Pattaya Park for the Farewell Dinner.
The buses arrived at around 6 p.m., where there is a 55-storey high tower with a rotating restaurant offering a buffet dinner with a broad selection of dishes at the top.
The SEANET delegates could sit comfortably and gaze at the expanse of Pattaya gradually passing them by while enjoying the dishes of their choice for the Farewell Dinner.
The special event station HS44SEA (which can be seen in the photos below) was still operational and quite a few delegates went up to the hotel room on the 12th floor to bid others farewell while there were extra tickets for some who had missed the Alcazar Cabernet Show on the opening night.
The following morning those who had flights out of Thailand that day were transported by bus from the Discovery Beach Hotel to Suvarnabhumi Airport, while many delegates had taken the opportunity to extend their stay in Pattaya to enjoy the extensive facilities and attractions at the resort.
Registration at the Discovery Beach Hotel and Welcome Dinner
Seminars on Saturday morning -- and a vote for Jogjakarta in 2018
The Saturday afternoon outing to the Pattaya Floating Market
The Gala Dinner at the Discovery Beach Hotel
Elephants followed by lunch at Suan Nong Nooch
The Silverlake Vineyard for wine in a fine environment