RAST Archive: December 2004 to February 2006
Low band permission received
Permission for licensed members of RAST to operate on 80 and 160 metres during contest weekends has been received, those present at the February meeting heard. The frequencies authorised in a letter from the National Telecommunications Commission (NTC) are 1.800 - 1.825 MHz and 3.500 to 3.540 MHz for the 160 and 80 metre bands respectively).
Operators should note that the NTC requests to review the logs of stations who take advantage of this privilege and should prepare copies of these logs for submission to RAST at the end of the year. RAST will pass these on to the NTC's secretariat.
The two-page letter in Thai authorising this can be found here and here.



RAST celebrates with New Year party
On Sunday, January 8, 2006, some 40 members of RAST and their families gathered at Maj. Narissara (John) HS1CHB's QTH in northern Bangkok to celebrate the New Year.
The meeting was in lieu of the regular January meeting, when food, entertainment and beverage was provided, organised by RAST members, funded in part by the auction of a framed 1964 Japanese silk calendar donated by Winit, HS1CKC (and which became the property of Cy, HS0GBI, who bid the most in an auction. RAST is also most grateful to ThaiBev, the brewers of Chang beer, who sponsored a large keg for the evening.
RAST President Mrs Mayuree Chotikul gave a welcome address after guests had enjoyed a buffet dinner of Thai dishes during which she reminded everyone of the coming election for RAST officers that takes place every two years in March. She asked everyone present to attend the AGM on March 5 and explained that she did not wish to run again for president of the society, and encouraged everyone to vote for Chaiyong, HS1QVD, who is currently first vice president.
Chaiyong then conducted for the auction of the silk calendar, and after that Mrs Mayuree drew the name of the winner in the lucky draw -- whereby everyone who had brought a gift-wrapped present along, received one in exchange.
Karaoke and eyeball QSOs continued until late in the evening, while soft drinks and beer flowed.
Members of the Radio Amateur Society of Thailand were in a party mood on the evening of January 8, 2006. - W2YR photo
More pictures from the party
Thai scouts contact International Space Station
Scouts at the 25th Asia Pacific Scout Jamboree in Thailand contacted the International Space Station (ISS) on the afternoon of New Year's Eve (Thai time). Some 12 boy and girl scouts posed questions about life on board the spacecraft to International Space Station Expedition 12 Commander Bill McArthur, KC5ACR between 09.12 and about 09.21 UTC. "The audio from the QSO was fed into the EchoLink *Thailand* (node 106 446), *AMSAT* (node 101 377) and *EDU_Net* (node 77 992) and you can download a recording
here
. There is also a
transcript of the QSO
You can also view pictures of the ground equipment used at
this website
.
We thank Dieter Schliemann kx4y, hs0zcn, zs6bbh for the MP3 recording of the contact. Dieter is an ARISS Audio Feed into EchoLink team member who said he was impressed with the organization for the event.
December RAST meeting



Fred, K3ZO, HS0ZAR (centre), flanked by RAST President Mrs Mayuree Chotikul and Narissara (John) HS1CHB stand with several of the recipients of VHF CQWW trophies after Fred made the presentations during the December meeting at Sena Place on Dec 11, 2005. (These and other meeting pictures by HS0ZDX) More pictures.


The December meeting on Sunday, December 11 at Sena Place Hotel saw a good turnout when those present were informed that RAST officers Kanchit, HS1JC, Chaiyong, HS1QVD and Uthai, HS1RGF had attended a meeting on national disaster preparedness, joining representatives from various government agencies, in late November.
All organisations represented, including RAST, were given one month to prepare a plan of action and to detail who would be ready to stand by and provide assistance in the event of a national emergency.
The National Telecommunications Commission, which called the meeting, also stated that in the event of a national emergency that it had the right to commandeer all frequencies as necessary, members were told.
QRP kits donated to RAST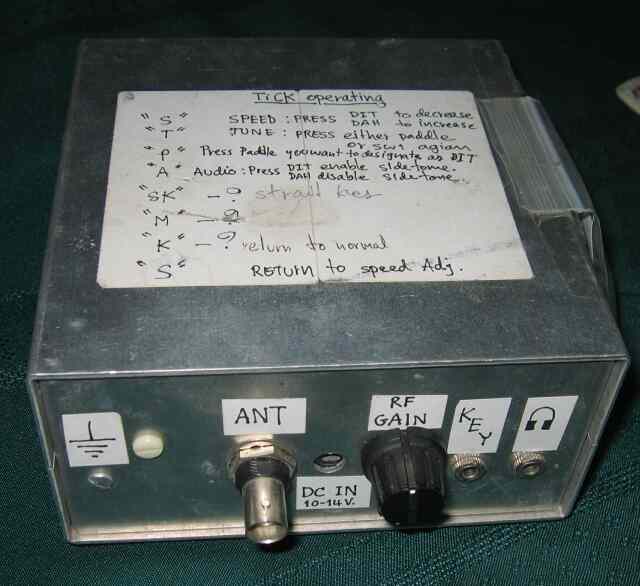 Members also heard that six kits to build small NorCal QRP CW transceivers for 14-MHz (one that has been assembled is shown at right) have been donated to RAST jointly by the G QRP Club and the NorCal QRP club that these would be made available to deserving members who would build and operate them. It was agreed by the RAST committee that these would be loaned to members with the aim of encouraging new amateurs to get on the air.
RAST would like to take this opportunity to publicly thank the G QRP Club and the NorCal QRP Club for these gifts, which are from radio amateurs in the UK and the USA.
IARU R3 encourages RAST to seek expanded 40m privileges


Those present also learned that the International Amateur Radio Union (IARU) Region 3 had sent a letter to RAST encouraging the society to seek early access to additional spectrum in the 40-metre band.
Under decisions at the 2003 World Radio Conference in Geneva, access to 7.1-7.2 MHz by amateurs on a primary basis is due to be available from March 2009, but the IARU gave several examples of early access to this spectrum made by several administrations, including Singapore in September this year.
RAST intends to take this matter up with the NTC and believes that the IARU letter, addressed to RAST President Mrs Mayuree, HS1YL, will help it in making the case for early access to this additional spectrum in Thailand.
Low band operations next year


Permission for low-band operations during contests, applied for on an annual basis for five years now, is due to expire on December 31, 2005 and the society intends to apply early for renewal of this privilege, hoping to receive approval in time for the CQWW 160-metre band contest at the end of January.
All members who have operated during contests this year in the 80 or 160 metre bands are asked to submit their logs to Winit, HS1CKC by email to hs1ckc(AT)yahoo.com.
HS0T QSL card update

QSL cards for operations using the special callsign HS0T issued to RAST for club use and permitting WARC-band and low-band operations in commemoration of the birth of Prince Teepangkorn Rasmichoti to His Royal Highness Crown Prince Maha Vajiralongkorn and Her Royal Highness Princess Srirasmi on April 29 this year are still waiting for Royal approval of the picture to go on the front of the card.
This callsign was used during the CQWW CW contest from Koh Lanta AS-035, WLOTA 0946, in Krabi and during a DXpedition there last month.
The call was also activated for a special net operation on a two-metre net on December 4, the eve of His Majesty the King's birthday, when well-wishers were able to make birthday greetings and blessings on behalf of His Majesty, HS1A.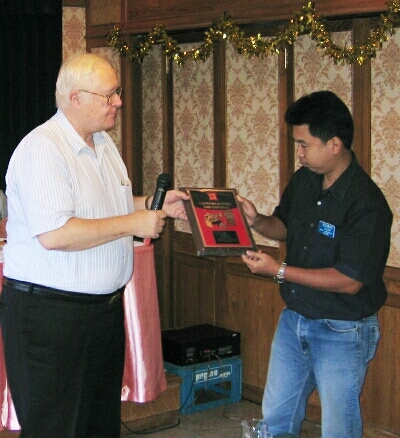 CQWW VHF trophy and certificates

Thailand is the most active country in Asia when it comes to the CW Magazine's CQWW VHF contest and for the past few years, since activity was encouraged here in the mid-1990's -- and everyone thanks HS1CHB, John, for stimulating this -- a Thai station has come first in Asia.
To recognise this a group of RAST members who call themselves the ``Golden Kilowatt Council'' has prepared a special trophy for the winner of the winner of the 2004 contest, E21DKD.
At the December meeting, K3ZO/HS0ZAR, Fred presented the Hans Hollstein trophy to E21EIC, Champ, (pictured at right) who accepted the trophy for E21DKD. This attractive trophy will be awarded to the top Thai station in the CQWW VHF contest on an annual basis.
Champ, who is one of Thailand's most avid and successful contesters and a big DXer, also brought to the meeting over 10 certificates for CQWW VHF contest winners in various categories. These certificates were presented by RAST President Mrs Mayuree, HS1YL, and Fred, himself one of the world's top contesters and a RAST member for over 30 years and an adviser to the society.
Click here to see more pictures.
Members hear about VU4 DX-pedition and the tsunami

Those attending the November meeting were fortunate to be able to view and hear a presentation by Charly, K4VUD, HS0ZCW, about the VU4 Andaman Island DXpedition last year. Members heard how it was organised and planned, the work that went into building the stations and in operating them, and then what happened when that fateful earthquake shook the region on December 26, triggering the devastating tidal wave.
Charly's account was accompanied by a presentation on a notebook computer that those present huddled around to see images of Port Blair and other islands in the Andaman and Nicobar chain before and after the tsunami struck.
International JOTA in Bangkok

At the November meeting, RAST acknowledged two letters from the Modern International School Bangkok, the first thanking the society for its support of the International JOTA event conducted by the school over the weekend of October 15-16 on its Sukhumvit 39 campus, while the second letter was seeking RAST's support in establishing an amateur radio club station at the school.
The school praised the contributions made by John, HS1CHB, who had attended the International JOTA.
RAST officers said that they would work closely with Gokul Bhat G. (VU3GBG), a teacher at the school and a RAST member, in support of a club station for the school's students to use.
John (HS1CHB) also noted that additional documentation was now required to process HF amateur radio licenses and suggested that anyone needing help should contact him. His email address is n9wms(at)hotmail.com
New club station

A new club station, HS0AR, has been authorised by the NTC for contest operations at the QTH of E21YDP. The request was referred by the NTC to RAST, which supported the application. HS0AR is authorised to transmit during contests on 10 through 160 metres, privileges that are now available to all licensed HF Thai operators, until December 31.
HS0T was active from HS0AC during the CQWW SSB contest at the end of October and will again be activated in a major contest from Koh Lanta, in Krabi province (As 053 or WLIOTA 0496) during the CQWW CW contest at the end of November. Otherwise, HS0T is allowed to operate on the WARC bands until Dec 31.
RAST vice president Winit, HS1CKC, explained that permission to operate the low bands during contests had been sought and granted on an annual basis for five years now and that RAST would be seeking for permanent permission to operate on the 80 and 160 metre bands.
RAST also intends to proceed with annual requests for WARC band privileges and hopes that these will be extended to apply to all licensed Thailand amateurs soon.
Singapore gets expanded allocation on 7-MHz

RAST has noted that Singapore radio amateurs have been granted an expanded allocation on 7 MHz. Their allocation has been doubled by extending the band by an additional 100 KHz from 7.1 to 7.2 MHz. This follows the decision at the World Radio Communication conference in Geneva, 2003, to double the amateur radio allocation in this band, effective from March 29, 2009 in the International Amateur Radio Union's regions 1 and 3.
The RAST committee intends to make a case to the NTC for authorising, as soon as possible, similar operations on a secondary basis in Thailand, following this precedent set by the Singapore authority.
WARC bands, 80 and 160 metre operations permitted for operations using special commemorative callsign 'HS0T' from our club station
The National Telecommunications Commission has authorised the use of the WARC bands and low bands (80 and 160 Meters) until December 31, 2005 from the RAST club station at the Asian Institute of Technology (HS0AC) using the special callsign to commemorate the birth of a son to His Royal Highness Crown Prince Maha Vajiralongkorn and Her Royal Highness Princess Srirasmi on April 29, 2005.
His Majesty the King has named the baby prince His Royal Highness Prince Teepangkorn Rasmichoti.
All members are invited to operate using this callsign from the club station and they should make prior arrangements with HS0AC Station Manager Winit Kongprasert, HS1CKC.
The QSL manager for HS0T is HS6NDK, Sonthaya Phanthanyakij, P.O. Box 20, Lumlukka, Pathum Thani, 12150, Thailand. Email addresses of HS6NDK and HS1CKC can be found at qrz.com .


JARL makes a second major donation to help Thai tsunami victims
The Japan Amateur Radio League (JARL) has made a second, most generous donation to RAST in its efforts to assist victims of the December 2004 tsunami with a cheque that was received in August to the value of US$2,829.09 (over 116,000 baht).
In December 2004, JARL had earlier sent 200,000 Japanese yen (over 75,000 baht) to this cause. RAST President Mrs Mayuree Chotikul, all directors and members of RAST on behalf of the tsunami victims in Thailand would like to take this opportunity to thank JARL President Mr Shozo Hara and the JARL -- and in particular those who have donated funds so generously to this cause -- for their support.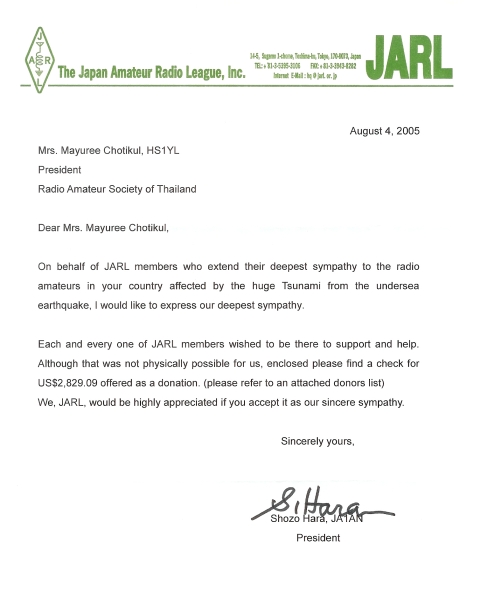 For a list of the JARL donors, click here



The tsunami story -- and donations update




Click

here

for an account of how Thai hams helped following the tsunami wave struck on Dec 26, and of details of the generous donations received by RAST. Earlier this year, RAST donated 500,000 baht to Her Royal Highness Princess Maha Chakri Sirindhorn's charity to assist the tsunami victims, and we have pictures

here

.




SEANET Convention is in Osaka in 2006




180 delegates and guests attended Seanet 2004 at Arnoma Hotel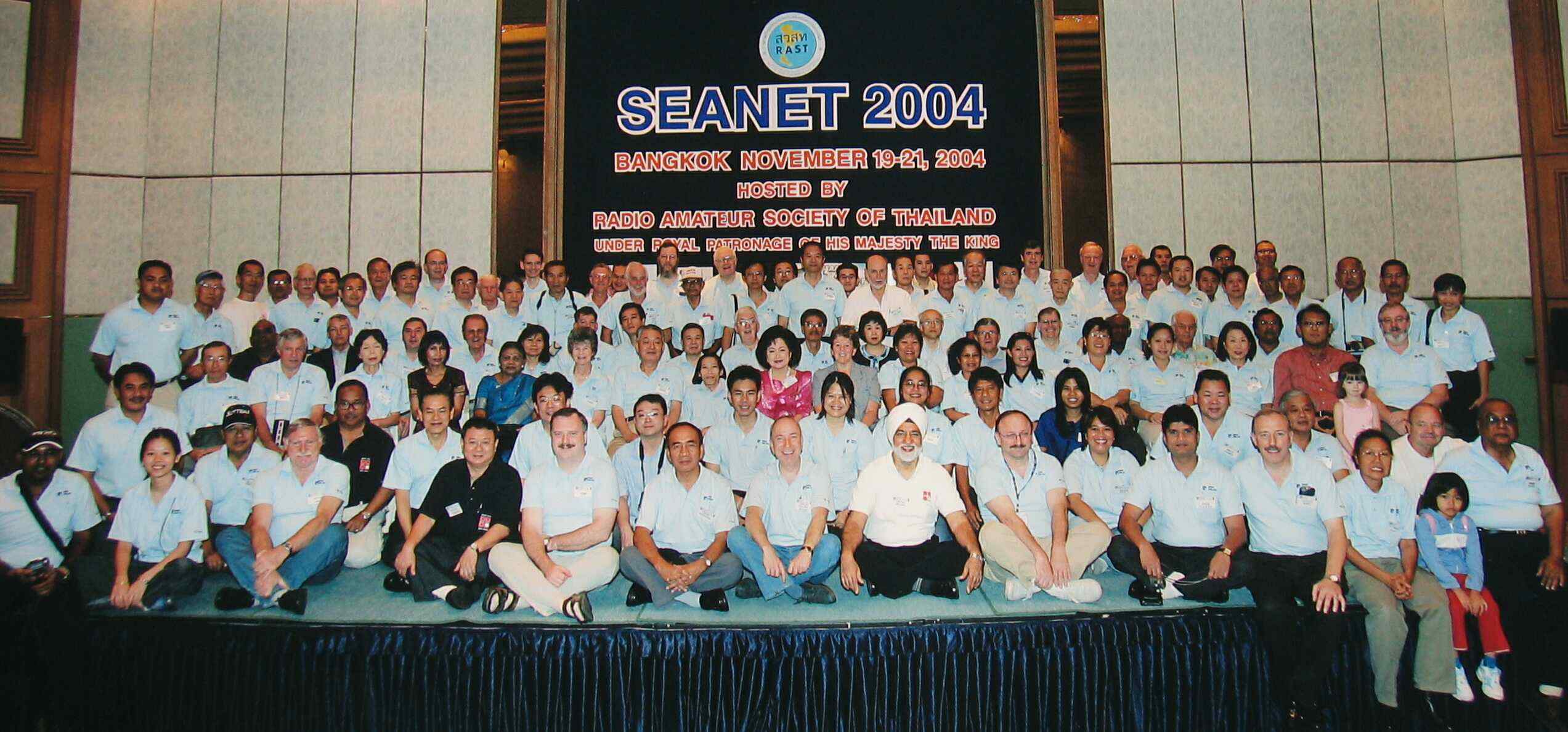 A total of 180 delegates attended the 32nd Seanet convention at the Arnoma in Bangkok Nov 19-21, 2004, with over 130 of these being from overseas. The largest overseas delegation was from Malaysia, with 35 attending from East Malaysia (Sabah) and West Malaysia.
Japanese hams represented the second largest contingent, numbering 25, while Brunei registered 8 delegates. Some 50 Thai radio amateurs and guests participated in the three days of socialising, sightseeing and technical sessions.
For a full summary of the convention, please visit the
SEANET 2004 web site
RAST Vice President Ray Gerrard recovering slowly
after suffering a serious heart attack

Ray Gerrard, G3NOM, HS0ZDZ, 64, suffered a severe heart attack on November 11, 2004, while travelling from his home in Nakhon Nayok to Bangkok with his XYL Lawan, E21UHL. After spending over six weeks in a Bangkok hospital, during which time he regained consciousness after being in a coma, he was discharged at the end of January and Ray is now recovering at his Nakhon Nayok home in the care of his wife.
However, Ray is still not yet able to full communicate verbally although he is able to say a few words. He is now recuperating at home and is in a stable condition. Expressions of wishes for his full recovery may be sent to Khun Lawan via the email address: DX(AT)thai.com
Ray is the international vice-president for RAST, and the station manager for the RAST club station HS0AC and HS72B.
At the time of Ray's heart attack he had been busy as the working chairman of the organizing committee for the 32nd SEANET convention that was held in Bangkok November 19-20-21. The convention went ahead as scheduled with around 180 delegates and guests attending from 22 countries and we have posted a summary and pictures on our
SEANET web site
Thailand active recently on the low bands

A team of DXers comprising DL3DXX, DL5LYM, G4ODV, G4UZN, WA6CDR, and HS1CKC were active as HS72B between November 29 and December 12, 2004 putting a special emphasis on low band operations as well as during the CQWW DX CW Contest (November 27-28th) as a Multi-Multi entry. Operators used the
newly-refurbished RAST club station
at the Asian Institute of Technology (AIT), that was built thanks largely to a generous donation from the YASME Foundation. One of the first activities at the station was a special
commemorative QSO
with SI9AM to mark Her Majesty the Queen's 72nd birthday in August. For full details and to check if you're in the log visit the
online log
New membership cards
Please download the membership application form from the link below (it is in Adobe PDF format), print out a copy and fill out the form and bring it to the next meeting -- or mail it to Khun Chaiyong at the address below for a new, ATM-type RAST membership card.
Chaiyong Wongwuticomjon
251/206 Sammakon 58,
Sapansoong, Ramkhamhaeng Road,
Bangkok 10240
Please see
this document
for more details about this
New Year Party 2005
The annual RAST New Year party in January was a lively event held in the garden of our president, Mrs Mayuree Chotikul, HS1YL.
Here are some photographs
and an account of the event.
Web site and content is edited by HS0ZDX, Tony. Email address is dx(AT)thai.com with more info at qrz.com