****** To send an email, you must "manually" type it out. ******
All information contained on this web site is subject to change without notice.
© 1998 ~ 2020 N9EWO, all rights reserved.


Information on this web site may be duplicated for

NON-commercial

uses ONLY if "Dave's Radio Receiver Page" is properly credited and linked as the source. Photo's / other files contained on this web site and used elsewhere (without prior authorization) is prohibited.


ALL NEWS ENTRIES BELOW ARE SUBJECT TO FREQUENT UPDATES / CHANGES
AND ARE NOT NECESSARILY MOVED TO THE TOP OF THE PAGE.

****** TO MAIN PAGE - LINKS TO ALL REVIEWS ******
***** Dave's Favorite Links / Archives *****
---
*** Do you enjoy "Dave's Radio Receiver Page" ? *** "Thank You" for being a regular visitor to this web page. ***

********** Donations Please **********
ANY donation amount is very much appreciated
to help keep "Dave's Radio Receiver Page" here on the internet and updated.
Please see the "Main Page" for more information.
"Pay-Pal" accepted. Even a $ 1. or $ 2. US Dollar CASH donation sent via postal mail directly to me is very much appreciated.
To those fantastic readers who have made monetary and sample donations…. a very big
"Thank You"
Dave N9EWO
---
New "Groups io" for the Kenwood R-1000

: As many of you already know "Yahoo Groups" no longer hosts ANY previously posted data or uploaded files after December 15th (all file content is now GONE). Rex Lester started a new "Groups io" list for the

Kenwood / Trio R-1000

receiver on Nov 30th. So if you have a great Kenwood / Trio R-1000 receiver please subscribe (even post something) and lets help Rex to get the ball rolling. Also our full R-1000 review can still be found here. (Updated : Dec 17)
Updated Icom IC-7300 Review

:"When the Rose is Not a Rose" : We have coved this topic already, but the receive audio that irks from Icom's IC-7300 transceiver is not so great for MW / SWL broadcast listening (AM Mode 10 kHz bandwidth). It's just too flat sounding to ME. No amount of fiddling with the tone controls in the menu or using various external speakers helps this. I have stressed this point a bit more in the latest review update along with added text. For Amateur Radio use (what it was made for) is of little concern for most. However this has become a real deal breaker for ME as I'm more of a SWL then a Ham. (Updated : Dec 04)
"Updated" SDRplay RSP1A Review : With the help of reader donations we were able acquire a late production test sample of the SDRplay

RSP1A

. This is test sample number two (first one was only borrowed for short time). SDRuno program is a winner (we tested the older 1.22 version).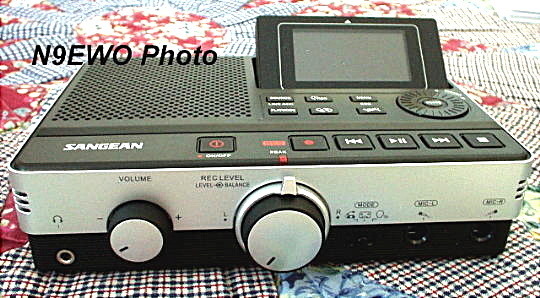 HF RFI Generator - "Electronic Defrost Timer" : We recently had a defrost timer replaced in a near 20 year old refrigerator. The mechanical one that was in it was replaced by the Supco model UET120 which is of a solid state design. It creates some pretty nasty SW/HF interference with it's internal switching power supply (as I was afraid of). But it could have been worse. It's RF noise in my situation (and is at a pretty major level) is

between 2200 and 4000 kHz

. It drops off greatly after that with only a very low level spur or harmonics above up to around 20 MHz.

Thomas Witherspoon of "The SWLing post.com" reports to me that between his refrigerator and freezer are the 2 worst HF RFI generators in his house. It appears that all new refrigerators / freezers are using these "el-cheapo" Chinese solid state "Defrost" timers now. These might seem more robust, but as I read around the internet they are not. Guessing are more prone to failure from spikes/power line surges ? Yeah, the new DX catch....

the neighbors refrigerator.





Thank goodness I still have the MFJ-1026 device at HQ in case it gets too bad, but that is pain to have to deal with. (Updated : Feb 16, 2019)

"The Consumer Electronics Hall of Fame: Grundig Satellit 650 Radio"



https://spectrum.ieee.org/consumer-electronics/gadgets/the-consumer-electronics-hall-of-fame-grundig-satellit-650-radio

Indeed, many are not aware of the

real information

with the Satellit 600/650. As the article above did point out Max Grundig sold out to Philips in 1984. The "old" Grundig

had absolutely nothing to do

with the Satellit 600 or 650 (ditto for all models after including the Sat 700). Yes, they were designed by Philips and manufactured in a Philips plant in Portugal.

The last "REAL" Grundig designed and German manufactured LARGE SW portable was the

Satellit 3400

(and the Professional Satellit 3400) to 1984.

My "RF Engineer" friend Pete Gianakopoulos KE9OA who has worked on many of the real Grundig "German "classics including the Satellit 3400, was not even that crazy about that model.



"The 3400 was a cheap "dumbed down" version of the classic wooden case models and nowhere near the tone quality. A low cost drum bandswitch was used. Gone was the ceramic turret bandswitch with silver plated contacts. Of course, not to mention the poor FM performance, even though there was a separate board for the FM band. Let's not forget the cheap mechanical construction, with lots of play in all of the switches. Additionally with the older designs used a ground plane on the I.F./demodulator board. No more high Q coils in the I.F. strip with the Sat 3400. OK, the Satellit 3400 did have digital readout!. To add insult to injury, when the back is removed, the cabinet has all kinds of mechanical flex. I have seen ghetto blasters that had stronger construction than this radio."



Of course the much later

Satellit 800

was designed by R.L. Drake in the USA, and manufactured by Tecsun in China. In our view the Grundig name on the front means nothing. Worked well enough with decent Sync Detection and RF performance, but no classic Grundig audio quality with the deep bass either (see our full "Satellit 800" review review here). (Updated : Jan 22, 2019)

Yaesu FT-70D Notes :

A few notes from our

Yaesu FT-70DR

"Fusion" test sample hand held transceiver (sorry we are not planning a lengthy review on this radio).

The Yaesu FT-70DR "Fusion" Dual Band Handheld.
(Universal Radio Photo)
Attractive price these days but in our view one
should consider the FT3DR model
instead (see text above).
---
---
---