- UPDATED - SONY SW RECEIVER PAGE : ICF-SW7600GR , ICF-2010 (ICF-2001D), CRF-1, ICF-6500W
A general text page rewrite. In our view the
ICF-2010
(ICF-2001D outside North America) was Sony's BEST SW receiver they ever made. The usual old age traits of course do happen as with ALL old sets.
(Updated : Apr 03)
- UPDATED - "D
ave's Favorite Links / Archives"
ADDED

Yaesu FRG-8800

PLL unlock repair tip links. If you have not yet, please have a look here for radio repair, radio / TV history and You Tube Video links. Also our archives can be accessed here even back to 1998 when we first started this web page. The reason why this web page came to be was because of the MAJOR Bourn's encoder failures with early AOR AR-7030's. AOR UK was not admitting to this issue and just about all of them were suffering from it at that time. We were using a very simple program called "Coffee Cup Express" to assemble the web page back then on a Windows 95 computer (don't laugh too hard).
(Updated May 28)
- REVIEW : ICOM IC-R71 Tabletop HF Receiver
Located on
the bottom
of our IC-R75 information / review page, we have added a
ICOM IC-R71A
mini review and links.
(Mar 26)
- REVIEW : Burkhard - Reuter RDR55E Tabletop SDR HF Receiver
Reuter RDR55E Tabletop SDR HF Receiver guest review is now available. Our thanks to Dean Bianco.

(Mar 19)
- REVIEW : TenTec RX-320 / RX-321 Reviews. Ten Tec (Globe Wireless) RX-320 / RX-321
reviews now available. With the RX-321 test sample , this has to be one of the best sounding HF receivers we have EVER tested. Outrageously low audio distortion. Be sure and see the Sherwood distortion lab numbers on the bottom of the review page as well. The overall RF performance with the professional RX-321 is greatly improved over the consumer RX-320 model.
(Updated Mar 19)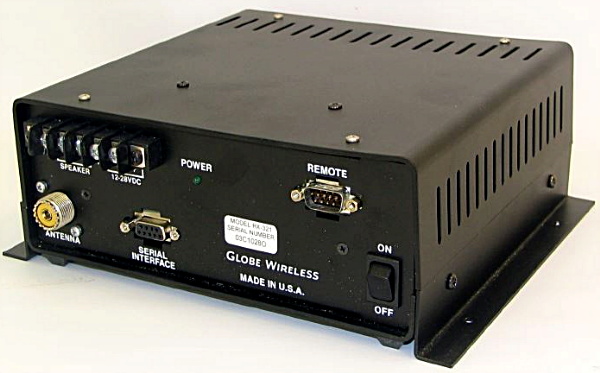 - REVIEW : Icom IC-7300 Ver 10.6 (Updated).
- Added N9EWO comments with the
Windows IC-7300 Memory Manager Program (Free Lite Version)
with test sample 2 (using Windows 7).
- Added a IC-7300 vs. IC-R8600 SWL comparison list (near the bottom).
-"TIP" in regards to it's well known tight microphone connector and a internal photo of the tested SM-6 desk microphone.
- New information on the new
ST-4003W "ICOM Time Adjustment Software"
.
- Updated "When the Rose is Not a Rose" (Sour Audio Quality for Broadcast Listening).
- Added the LCD "white line(s)" syndrome that MANY old and new samples are now suffering from (also see the news section below for more information on this).
- Added new text :
"So Are You Are Having Limited SSB RF Output ?"
(important discovery by Wayne W1QC, plus my additional finding here).
- Added new text in regards to USB cable use (if inserted when powered ON can cause internal port damage to transceiver.)
(Updated : Jan 12)
- REVIEWS "Task Chairs" (Mid Back) (updated) : "BodyBilt" J752 ESD / Global T9F695506 / Eurotech 4x4LE-LM59802A / Lemberi AB-EOC01
.
Sadly it is already time to replace the Chinese cheapie Lemberi chair as tested in the report (only lasted 14 months and that is pushing it). The gas lift failed VERY early on and the already uncomfortable chair has now become dangerous to sit in anymore (health and stability issues). We were considering to replacing it with the with the

OFM 119-VAM-AA

, but sadly it has been discontinued ! So now we might try another sample of the

Global #T9F695506

(with the first test sample the backrest tension adjustment was defective) in time ? NOTE : It's base is made out of wood material.
We would like to try another sample of the 24/7 Chinese made Global T9F695506.
It had excellent back support and was generally very comfortable for the money (about $ 250. USD shipped).
(first sample had a defective back tension adjustment and did not try another one at that time.)
Has alligator feel black vinyl that

appears

to be of good quality.
(as noted with the defective test sample in late 2020) ?


UPDATE :

Reader indicates why the back tension adjustment MAY have been OK ?
See updated chair review page for information.
We did endless WEEKS of task chair research in late of 2020 and again in early 2022 and came up with nearly NOTHING that was to our desires and requirements.

If any reader has ANY suggestions, please let us know (email address as the top of this page).

Criteria is

NO

mesh or cloth / fabric coverings (must be vinyl or
Polyurethane), NO bonded leather. A
lso NO task chair where the arms attach to the back (and yes arms are a requirement). Price point $ 200. to $ 400. area USD ?



The two chairs we made comments to of late (additional information) :

The Office Master EV44 ESD task chair appears to be a very nice chair for radio room uses. However it does NOT have or an option for chair tilt or backrest tension. The more expensive Cramer RPM Fusion series does offer these options with what they call " 6 or 7 way" models. This allows the chair (seat and back together) to tilt forward and back and to rock when seat angle is unlocked. Also includes a tension control with these 2 Cramer models.
HUGE downside here is this makes the chair awfully expensive at around (or above) $ 700. USD with the arm option.
Important features I put as a must have with any office chair. The Global chair above has backrest tension adjustment feature for around $ 250. so be it a Chinese made model. The Chair Master EV44 and more so with the Cramer RPM (properly configured) are WAY outside my budget range. But are still something to consider for those who can afford it and desire an above average quality "radio room " chair !

(Updated May 15)
- "Radio's That Never Were" - (updated)
Added new entry and photo :
KWZ-50
.
(Updated Dec 17,2021)
- REVIEW : "Icom IC-R8600" Ver 15.2 (Updated)
.
We took another hard look at the IC-R8600's so-called "Synchronous Detector" and have did a reversal view with it's performance. Is about near equal to the lousy IC-R9500 Sync
(our review on the IC-R9500 here)
! At first we felt it was improved, but after a few years of ownership the final word is it's NOT to our ears. Also corrected the round EIAJ DC plug information. This was wrong in previous versions of the review but has now been corrected. March 2021 service manual addendum (changes and 2nd production run for the USA 02 cell blocked version). Also added USB port connection warning.
(Updated May 29, added another LCD failure report and text / link)
- ADDED Coby CX-CB91A review (from old notes) on the "Miscellaneous Reviews" page.
(Oct 28, 2021)
- ADDED Selected Sherwood Engineering lab numbers and reports (PDF files).
Posted with
permission
by Rob Sherwood (NC0B)
(Updated Mar 02 : Ten Tec RX-320 and RX-340 added)
- REVIEW : LOWE HF-250 HF Receiver (updated)
Added
REQUIRED

electrolytic capacitor replacement section (in yellow block at the bottom of the review page).
(UPDATED Sep 20,2021)
- REVIEW : JRC NRD-630 HF Receiver (updated)
Updated the
JRC NRD-630
review text. Minor text corrections made. Better quality main and internal PC Board photos. Added Sherwood Enginerring NRD-630 lab numbers (PDF). While it might be a extremely well made premium HF receiver, the overall performance and audio quality were a fast downhill silde in our hands on testing!
Looking at Sherwood Engineering NRD-630 lab numbers (click here)
, it's IP3 Dynamic Range at 2 Khz spacing comes in at only 70db. That is a very sad showing for a excessively pricey modern premium receiver if you ask me !
(Updated Aug 10, 2021)
- REVIEW : Kenwood R-1000 (updated)
Restored and updated (version 2) the

PDF version

of our Kenwood R-1000 "39.545 MHz" Display Repair doucment. New main photo added as well. Also added front end filtering information. (Updated Jan 30)

- REVIEW : TECSUN PL-660 (updated)
Added new text and photo to the PL-660 review from information via Paul G and his new 2020 sample purchased from ANON in Jul 2021. Also added a few new You Tube links.
(Jul 14,2021)

- REVIEW : JRC NRD-545 DSP HF Communications Receiver (updated)
. Restored the

BURP

and

TICK

MP3 audio files to the review. Common traits for the NRD-545 and is most annoying.
(Jun 28, 2021)


- REVIEW : Malahit DSP1 Original Russian Standalone SDR (updates)
.
IMPORTANT UPDATE :
1.10d "Rev2" firmware comments. "Good News ", starting with 1.10c "Rev2" (my marking) firmware the "Sync Detector" now works properly, in fact it's excellent !
Please see the news section below for additional details and change log.
(UPDATED Jan 23)
WARNING :
Owners need to keep in mind that you should NEVER touch the LCD hard ! Only a very light LONGER touch is required. Excessively HARD presses (or fingernails) on the LCD will lead to premature failure for sure in time ! Equally nasty no-no's are the use of those stylus pens or any screen saver sheets. Ditto for the Icom IC-7300 and IC-R8600 !