N9EWO Review
AOR AR-DV1 "Digital Voice Receiver"

The very unique AOR AR-DV1 "Digital Voice Receiver" (Made in Japan).
Decent supplement "Stand Alone" receiver for the ICOM IC-R8600 to cover the digital voice modes it lacks (like DMR). Has many bugs in the pudding with it's mediocre "MW / SW" RF performance in our testing. This is NOT a scanner ! 2 samples were tested for this report (12 months apart). Except for the frequency display being much improved with sample # 2 (with it being much more accurate), there was near no difference between them in our "Hands On" testing.

WARNING :

See USB Port failing issue text at the bottom of the review, (has effected MANY later samples).
(N9EWO Photo)

---
N9EWO Review : AOR AR-DV1 "Digital Voice Receiver". You will see comparisons made in this report to the Icom IC-R8600 (our review located here) .

Important Note : We will be looking at this receiver more on the "Short Wave" HF side of the fence below 30 MHz.


Model : AOR AR-DV1 "B" (USA Cell Blocked version)
Country Of Manufacture : Japan
Included SWITCHING power supply (SRP1201500P, 12 volts 1500ma) : China

Approx. Serial Number # 1 Test Sample February 2018 (PC Board Rev 2) : 0956017x

Approx. Serial Number # 2 Test Sample February 2019 (PC Board Rev 2) : 0956019x


Firmware Versions Tested :
Sample 1 : v1803A, v1801A, v1710C (most testing with v1801A and v1803A)
Sample 2 : v1903A, v1812A , v1805A (v1805A was clearly the most stable in extensive testing)
Optional Accessories Tested :
- Astron RS-7A Regulated Linear Power Supply [Made in USA]
- 3.5 to 30 MHz "Band Pass Filter" [Made in China]


Test Antenna's :
- Comet DS150S Discone Antenna (30 ft height, 100 feet RG-8 coax)
- RF Systems MLBA-MK2 long wire (55 ft length - 24 ft height at peak)
- Comet H-422 Dipole (24 ft height - Straight Configuration)

Software Tested :
DV1 Manager [Free]

Butel "ARC DV1" (Basic Version)
[about $ 50. USD]
espyonard - AOR AR-DV-1 Computer Control [about $ 55. USD]

---
PRO :
- A True "Software Defined - Direct Sampling" receiver up to 18 MHz (is not another one of the so called superhet SDR sets). Above 18 MHz is a Hybrid SDR design just like with the Icom IC-R8600
- Small Solid Attractive "White" metal cabinet with Excellent Front Riser Feet (see Con)
- Decodes Most (but not all) of the most Popular Digital Voice Modes used By Public Service Communications and Amateur Radio
- Excellent sensitivity across it's tested frequency range. Comparable to most other Communications Receiver / Scanners
- Excellent selectivity (see Con). 15 kHz bandwidth setting also works on HF / SW when conditions warrant
- Excellent performing 3 setting AGC on HF that also includes a useful RF-G mode (Turns the Squelch Control into a manual RF Gain Control)
- Superb HF audio "voice" recovery (see Con)
- FM Broadcast has 100 and 200 kHz bandwidth settings
- 2 VFO's plus one called Z which is also used for tuning memory channels (just hit ENT when on a Memory Chanel)
- Excellent "Bar Graph" S-Meter that also gives a very useful digital reading
- Provided LCD even if small, has an excellent LED backlight and the single step dimmer is at a perfect level for most indoor use (See Con)
- Very handy 24 hour clock with seconds (always displayed)
- Two Search Modes (Between VFO A to B and 40 Pre-programmed Frequency Limits)
- 2000 Total Memory Channels (40 Banks / 50 Channels Per Bank)
- Built in SD Card Audio Recorder that works well even if only one quality setting provided (can be toggled with the squelch) (See Con)
- One Event timer (also can be used for timed SD card recording) / Up to a 120 minute Sleep Timer
- Excellent "NR" Noise Reduction Feature (see text)
- Excellent Auto Notch Filter
- Standard CTCSS / DCS / Voice Squelch Built in
- Keypad tactile decent and can be backlit if desired (see Con)
- Rear AUX Jack can be used to feed Unfiltered Audio into a Host Computer for Other External Decoding / Programs (See Con)

CON :
- Local MW and FM Broadcast Station Breakthrough into SW Coverage with long/larger outdoor antenna's. May need the addition of a "Band Pass Filter" in the antenna line (location-antenna dependent).
-
Limited HF Dynamic Range with larger outdoor antenna's (after any MW/FM Breakthrough issues are taken care of). Adding a small amount of EXTERNAL attenuation at the antenna connector cleared this issue up 100%.
- Shrill-Sharp audio quality when listening to MW and SW broadcast stations (external speakers NOT helping to improve it, it also has no tone control). FM Broadcast audio pars much better
-
Bandwidth choices are limited and dependent on mode (but are OK)
- No traditional antenna attenuator provided (internal automatic one works differently)
- SLOW scanning and searching modes (even worse when dealing with Digital Signals)
- Unacceptable Sync Detection Performance (which also includes 2 totally useless Too Narrow Bandwidth selections)

- LOUD disconcerting "POP" (or tone) at power up and again at power down (see text)
- Typical AOR Sour Ergonomics. Lots of button pushing to archive basic settings
- Test samples included a noisy switching type power supply, 12 volt DC at 1500ma current rating (earlier production included a unregulated linear supply)
- Test sample #2 included a 8 GB MICRO SD card with a micro to standard SD Card adapter (earlier production came with 4 GB "standard size" card, more preferable)
- Receiver drop outs on NSQ squelch setting (cured by selecting LSQ squelch setting even if set at zero)
- When in digital voice modes, lacks audio punch / No Audio AGC for Digital Signals (audio level is all over the place, this is NOT a problem receiving HF).
- Volume when receiving digital signals requires MUCH higher setting over analog Broadcast stations
- Digital decode quality is generally mediocre (the right external speaker can help) and not 100 % reliable when scanning or VFO mode digital signals (even when strong)
- FM Broadcast in Mono only
- Slightly wobbly volume / squelch / tuning knob encoders. Tuning knob also has a low cost feeling when rotated
- Warm to Hot operation (heat greatly depends on ambient room temperature and mode used)
- Large and ugly FCC Part 15 sticker on bottom (US Domestic Version, this almost falls off in use when the cabinet gets warm enough) The sticker is printed on low cost paper / adhesive. Easily removed when cabinet is warm.
- LCD Multi-Plex noise, this is not noticeable when viewing straight on
- Test sample 1 frequency display off approx 300 hz (low) at 15 MHz (no customer way to correct this unlike the Icom IC-R8600 which does). With sample 2 this was NOT an issue at all.
- Keypad lighting only useful in TOTAL darkness, otherwise It hinders visibility
- Lacks Digital Decode of NXDN 9600 (12.5 kHz) and Yaesu Fusion VW (Voice Wide) mode (P25 Phase 2 Conventional Mode is Planned)
-
Has a tendency to slide around in use when using the front flip up feet (especially with when turning off as more force Is required)

- Very finicky on what SD Cards it will work with
- No standard audio "Line Out" jack
- Memory Channel Bug with Digital "Auto" Entries (fixable in "Memory Edit" mode)


- Widely reported USB Port failures with most later samples as new out of the box (see text)



---
The "B" (Cell Blocked) US Consumer Domestic Version - A very poky seller

The 2 new test samples were of the AOR AR-DV1 "'B" USA Domestic version (800 MHz Cell Frequencies blocked). Serial numbers start with 0956 with these. One can easily see with our serial number information (see the top of this page) that total sales since it's release in mid 2015 to February 2019 have been less than 200 total units. Less than 30 (thirty) "B" version receivers were sold between February 2018 to February 2019.

Of course the unblocked "U" version are sold elsewhere in the world and to the US Government/Military etc., so these are sold in much greater in numbers/serial numbers. But this shows you how few are sold to the hobbyist market in the USA. This make sense as it's very specialized receiver (and is NOT a scanner).

As it has been said elsewhere AOR's major overall sales are with Government's and Military etc, and not with radio hobbyist. So for radio hobbyists it is extremely fortunate that AOR makes available a version that can be sold to the general public in the USA.



N at Power Up (or no N at Power Up)



When the AR-DV1 is powered up it will display a "boot" start up screen as the displayed firmware is loaded. Sometimes one will also see a N in the lower left hand corner of the LCD. We can't say what this N is actually indicating (that we do not know). Our observation in testing is that the N will only appear with a FRESH connection of operating voltage to the receiver. After that it will not display the N again until power is completely removed (and then reapplied and powered up again).

Cabinet / Knobs / LCD Display Multi-Plex Noise / Manual



First item that hits you with the AR-DV1 on its box and front panel is it says "Digital Voice Receiver". This is NOT a scanner type receiver and how it works is different. It is indeed "Made in Japan" which is becoming more and more rare these days.



Cabinet is in a very attractive

solid metal cabinet

and is WHITE in color with light blue accents on the plastic front bezel. One can see the tiny panel markings well too (no black cabinet with GRAY lettering on this receiver to have to struggle with).



One can backlight the keys in a number of different colors (LCD Backlight is a only one color). But we found if not in TOTAL darkness, this is a hindrance and actually makes it hard to see (here it's better with it off). All buttons have a very good tactile response (just slightly mushy in our view).





Two flip down front feet are provided and work well. If these were not there would have made the receiver very hard to use. Downside is that the cabinet tends to slide around when turning the receiver on / off with the flip down feet in use (you need to push on the volume control to do that and takes some force). There are 4 excellent rubber like feet on the bottom (2 rear ones are only in use with the flip down feet).





The hard plastic Volume / Squelch and Main Tuning Knob (click encoders) work adequately. However they all have slight wobble / rotational play and the un-weighted tuning knob feels low cost when rotated (we assume this is a mechanical type encoder being used here?). They all have detents, with the tuning knob one being of the soft type, so no annoying CLACK – CLACK – CLACK as it's rotated. They all also have a slight rubbery feel (coating ?) to them as well. I seen one user comment that it's main tuning knob feels like a cap on a milk bottle (that being a fairly accurate statement).





Speaking of the Squelch control, we found that ONLY using the LSQ (Level Squelch) mode works properly. NSQ (Noise Squelch) makes the receiver cut in and out even if the squelch control is set at ZERO. This is set by pushing and holding the Squelch control in for a second. There is also a separate Voice Squelch mode (not tested).





Connection to a PC is provided on the front panel via MICRO USB port (connecting cable is NOT included). Default baud rate is 115200. There is a AUX 1/8 inch mono phone jack on the rear panel for alternative "discriminator" type low level that can also be used for connection to external decoders (say to a computer). This is NOT for a standard audio line out signal (it does not have one which is pity).



The LCD is small and has a limited viewing angle. But it has a good "even" backlight and includes a one step dimmer selection. This dimmer is greatly appreciated too as with full brightness will make for some major eye pain (is way too bright). With the dimmer in use one will notice at the far right edge (running horizontal) where the LCD will be slightly brighter (normal and common).

A teeny clock with seconds displayed in the upper right corner of the LCD display. This RTC (Real Time Clock) must have some kind of back up battery or super capacitor as it continues to keep time for awhile with it's power disconnected.



In testing we detected minor LCD display "scanning" noise (that is one will see a scanning dark flutter haze in operation, detectable with darker contrast settings and dimmer on). This is normal and not a fault. We noticed this slightly greater with test sample 2. When viewed directly in from of it or below (not at any other angle) this was not detectable.





Frequencies are displayed in kHz up to 3000 kHz (3 MHz) in LARGE digits. MHz after this, with all digits becoming smaller and the last 5 becoming thin and more difficult too see for tried old eyes. Not sure the point is with this weird scheme ?



Included 68-page English manual while being helpful for proper operation sorely lacks in others leaving the owner in the dark on many topics (if covered at all).



Under The Hood / A True Direct Sampling SDR up to 18 MHz



The AOR AR-DV1 is a 100% direct sampling receiver up to 18 MHz. Yes a true blue SDR. Beyond that it turns into a hybrid (as does the Icom IC-R8600). That is uses triple conversion superhetodyne circuity, last stage being a down converter (31 MHz) so it goes into the ADC / FPGA / DSP etc.

Here is a quick run down of it's main components :

- A/D Converter - Analog Devices AD9244 (14 bit)
- FPGA (Field Programmable Gate Array) - Altera Cyclone IV
- DVSI Vocoder - AMBE 3000F
- Microprocessor - Renesas HD64F7144 32 Bit
- DSP - Analog Devices "Blackfin" ADSP-BF533
- RF PLL Frequency Synthesizer - Analog Devices ADF4113

For a number of good internal photos and a better rundown of it's internal components, please see this Google "Czech" translated AR-DV1 review from late 2017 (Martin) (Please Note : It's a bit hard to follow in the conversion).



Included AC Adapter / Astron RS-7A To The Rescue / LARGE UGLY FCC Part 15 Sticker on Bottom





With the test sample "US Consumer" version (800 MHz blocked segments), a 12 volt 1500 ma SWITCHING type power supply was included. Originally an unregulated 800ma linear transformer supply was included. Those tended to run extremely hot. Is this included switching supply RF noisy at all on the HF bands ?? If you are using the included whip antenna, you bet it is ! With an outdoor external antenna it pars better, but why even deal with a noisy switching supply at all when receiving HF signals, indoor or outdoor antenna.



Operating the receiver with an

Astron RS-7A linear "transformer" regulated power supply

worked perfectly (no added noise ZERO). We do not recommend going to a lower current Astron model. This might seen like overkill, but trust me after few hours on (digital reception) even the RS-7A's rear heat sink is near hot to touch (but is OK). One will have to be handy enough to CAREFULLY make a (fused at say 3 amps) DC power cable for connection.



I will NOT be held responsible for any info that is listed here.
ALL DONE AT YOUR OWN RISK !





The power input socket is of a standard DC "round" type and is 2.1 ID x 5.5 OD mm size (+ positive tip).



While operating the receiver with any digital decode modes and scanning creates the maximum amount of current consumption and the maximum amount of cabinet heat.

Depending on ambient room temperature,

it can operate very warm if not near hot (but could operate cool for YOU ). So the usual stuff here, don't stack anything on top or near the cabinet. It has NO internal cooling fans thank goodness.



On the bottom of the cabinet with both test samples of the USA Consumer Domestic Version, there was a large and very ugly FCC Part 15 sticker. It covers a good part of the bottom side. Printed on very low cost paper / adhesive and with a warm cabinet it nearly falls off on it's own after awhile.


.




N9EWO Test : AOR AR-DV1 Current Test (second sample)

Test Meter : Fluke 77 IV
Power Supply : ASTRON RS-7A (transformer type/regulated)
Voltage : 12.05 Volts DC

- 8 GB SD Card (Class 6) installed
- Moderate speaker volume (internal)
- LED Backlight ON (Full or Dimmer, made no difference)

Test Frequencies :
- 1000 kHz (AM Mode) : 540 ma
- 15 MHz (AM Mode) : 540 ma
- 155 MHz Analog : 665 ma
Digital : 700 ma
- 850 MHz Analog : 700 ma
Digital : 750 ma
- 1200 MHz Analog : 700 ma
Digital : 750 ma
With LED Backlight OFF : less 20 ma
When OFF (stand by) : 23 ma





"POP Goes the Speaker" / Crystal Clean "Hiss Free" Audio



As indicated in the owner's manual (is normal and not a defect), while the receiver is being powered up and also when being powered down a very LOUD and disconcerting POP is heard in the speaker. One does not want to have a pair of headphones in use while powering the set up or down.

Once in great while (this is more rare and happening only at power up) instead of the "Pop" we experienced a VERY LOUD squeal-tone for a second. Again this is not a defect and just a "very strange" normal trait.



Other than with this bug(s), the audio is loud and totally hiss free (crystal clean) . Small fine "electronic" volume adjustment steps allow for good nighttime listening ,say at a bed side.





Decent HF Sensitivity / Excellent MW - SW AGC and RF-G Mode / MAJOR Difference Between Analog and Digital Volume Levels



Talk about sensitivity. It's proper across its tested "Wide Band" tuning range. In fact maybe just a bit too much (see the Dynamic Range paragraph later in this report). Its antenna jack is one lone BNC female connector on the rear for all bands.

In side by side testing with the Icom IC-R8600 (pre-amp ON), the AR-DV1 HF sensitivity was comparable (including the audio recovery). The better performing AGC with the AOR also helped here. But in general it was a pretty close horse race.

However the IC-R8600 did better in the 800 MHz > area (with the preamp on).

Downside is with the shrill-sharp audio quality on MW / SW bands (more on this later).

Once again we must say the AGC with the AOR AR-DV1 is a

stellar performer

with MW / SW signals that are all over the place. Not just because it has 3 selections (Fast-Medium-Slow), but generally excellent all around performance. If one places the AGC selection in RF-G mode then the squelch control becomes a RF Gain control. Again we found the AGC performance actually performs a bit better over the Icom IC-R8600 in our testing. We must also say that normal SW fading AM mode distortion is near non existent. In fact its downright excellent. This is without using manual ECSS too (which also worked excellent on the second sample of our AR-DV1 test sample), more on this later.



WARNING :

The nasty is with Digital VHF-UHF signals, there appears to be is NO "Audio" AGC here so the volume is all over the place. Also the volume between MW / SW and other analog signals is greatly LOWER over Digital Decoded ones. So one needs to be careful not to stress the audio amplifier and or the speaker when switching back and forth (say from VFO / Memory Channels etc).



Modes / Digital Decode Bliss / Decode Quality and Sometimes not 100% When Scanning / Lacks NXDN 9600 (12.5 kHz)





"Non-Digital" modes include




- FM




- AM




- SAH (Synchronous Detection Upper)




- SAL (Synchronous Detection Lower)




- USB




- LSB




- CW





When it comes to voice digital modes the AOR AR-DV1 versatility is unbeatable in a "standalone" receiver (at the time this report was compiled). Not that it covers all of the popular modes, but pretty close.





- Digital Auto Mode




- Tetra / Tetra-TC (No Auto Mode)




- DMR / MOTOTRBO (Tier I and II, it will decode Tier III but no data-as tested)




- Alinco Digital (newer EJ-47J)




- Yaesu Fusion (DN mode)




- D-CR / NXDN (4800 6.25 kHz)




- P25 Phase 1




- P25 Phase 2 Conventional (planned)




- D-Star




- DPMR





Major Digital Modes lacking is NXDN 12.5 kHz 9600 (which is now fading away) and Yaesu Fusion in VW (voice wide). Again being this is NOT a scanning type receiver, it does not support standard trunking.



Decode quality while quite acceptable is not at any stellar standing.

IMPORTANT UPDATE :

With the

right

external 2-way (woofer and tweeter)

small

hi-fi speaker, this helped greatly with digital audio (P-25, DMR etc).

When scanning it sometimes does not stop with digital signals (even if super strong). Doesn't happen too often, but is one that needs to be pointed out. I would say it was good about 90% of the time in our testing (this of course could be highly variable issue with any given signal).



Memories / VFO's / Scanning / Searching



2000 total memory channels are provided. These are divided up as 50 channels in 40 banks. What is stored with each memory channel is hazy and incorrect in the manual. It does store more than Frequency. Mode, Tuning Step and 12-character alpha tag, AGC setting, Bandwidth among others.



Issue with Memory Channel Entry :

A bug we came across was with "AUTO" Digital mode "Memory Channel" entries (this is not always happening). It enters a 200 kHz bandwidth (which is of course WRONG !). One can touch this up this up in the MEMORY EDIT mode manually after (just push and hold the ENTER key for a second while on that memory channel). Toggle off the selected digital AUTO mode and back again and boom the right bandwidth then appears (15 kHz) and to save the right one on that memory channel just hit enter again.

See below for a number of computer programs tested (for memory management and CAT control)



As with it is with most AOR "wide-band" receivers, there are 2 very useful VFO's. Additionally there is one called VFO-Z. This is again is vaguely covered in the manual on what it really does. For one is used for tuning the memory channels, So yes the memory channels are indeed tunable. One just hits ENT key while on a memory channel to accomplish this.





Operational Tip :

If you hit the F (function) key while in a VFO mode the tuning step increases by a factor of 10. (Example: 5 kHz becomes 50 kHz). The F button has no time out, so remains active until you hit it again. That is a bit different than the norm and is a plus or negative depending on how one prefers it.



Scanning speed of the memory channels is poky at best. If you scan digital channels that contain Digital modes it becomes even pokier. Even another step worse if the "Auto" mode is used. However the "Auto" mode select is a super neat feature with the AR-DV1. There is a PASS feature that allows the receiver to not scan these marked channels (same as Lockout on scanners). If you only scan a limited number of channels (say 10 or so), it does just fine.



Searching has 2 modes. A very convenient fast VFO Search, where it searches between VFO A and VFO B and Program Search, where it searches between pre-programmed limits (up to 20 groups are provided).

The Scan and Search "DELAY" time and "FREE" settings (time it sits on channel before it moves on even if the signal does not drop out) are global that is "ONE" setting(s) for all.



Selectivity Choices A Bit Limited But OK and Excellent





There are a number of Selectivity choices for all modes. The ones available varies dependent on mode. FM Broadcast normally uses the 200 kHz bandwidth, but a 100 kHz is also available and is good for dx'ing. The Icom IC-R8600 doesn't even offer a second bandwidth with FMBC band. By the way the FM Broadcast band is in MONO only (also like the IC-R8600).





With AM Synchronous Detector Mode, 2 poor narrow choices of 3.8 and 5.5 kHz were chosen, It's not a huge loss as the Sync Detector is a utter disappointment anyway. It has a very LOW audio output (have to turn up the volume WAY up to hear anything at all) and again the filter selections are just too narrow.





Available Filter Bandwidths:





FM: 100, 200, 30, 15 and 6 kHz.




FM Digital P25: Fixed at 15 kHz




FM Digital other ?: Fixed at 6 kHz




AM: 15, 8, 5.5 and 3.8 kHz




AM Sync: 5.5 and 3.8 kHz




SSB: 2.6 and 1.8 kHz




CW : 500 or 200 Hz





Available Tuning Steps / # 1 Test Sample Frequency Display Approx 300 Hz Low





Tuning steps are proper and what's available is dependent on mode selection. The finest tuning step and display resolution is 10 Hz . Stability is excellent all around.



Those "Tuning Steps" steps are:

10, 50, 100, 500 Hz
1, 2, 5, 6.25, 7.5, 8.33, 9, 10, 12.5, 15, 20, 25, 30, 50, 100 and 500 kHz.


(3.125 kHz step was not provided at the time this report was compiled/updated).





With test sample # 1, the frequency display was off up to around 300 hz (low). As it always goes in these situations, the error is worse as one increases in frequency. Sadly there does not appear for a way FOR THE CUSTOMER to correct this error (with the ICOM IC-R8600 this is easily done in the menu's).



This error also throws off the Synchronous AM mode with normal tuning, but as we have already covered in this report above, when even when properly tuned the Sync detector sorely lacked with sample 1 and the only 2 poor bandwidth filtering choices provided are too narrow anyway. NOTE : Unknown if firmware updates would have improved this issue with Sample 1 as it was no longer available.

Good news is with test sample # 2, this "off frequency" bug was not an issue at ALL (only off 10~15 hz on the SW bands), see chart below.

SSB and Manual ECSS modes are excellent even with the only one "useful" 2.6 kHz bandwidth provided. But again with sample 1 the frequency being slightly off makes that not as nice tuning around in 1 kHz tuning steps for SSB. One has to change the tuning step and fiddle with off channel fine tuning (a major chore).

Of course AOR provides NO service information (not even a decent

accurate

block diagram) of this receiver. AOR USA did respond back to us when we reported the display error with sample #1, but gave no resolution or answer.


Test Frequency
WWV (MHz)
(USB / LSB mode)


Actually Received
on Test Sample 1 (warm)
Firmware : v1803A (this was a unofficial beta release, but similar to v1805A)




Actually Received on on Test Sample 2 (warm)
Firmware : v1805, v1812A



2.500.00


2.499.94

3.330.00 (CHU)

3.329.94

3.330.00

5.000.00


4.999.88

7.850.00 (CHU)

7.849.82

7.850.01

10.000.00


9.999.77

10.000.01



15.000.00


14.999.67
As you can see with the second test sample it was more than acceptable with being on frequency with HF (only about 10~15 Hz off - high).
For some very strange reason with the first test sample frequency became "off" LOWER with the increase in tuned frequency, whereas with the second sample it was higher. Weird is right ! We were unable to see if later firmware updates would have improved the first test sample here (it was no longer available), so unknown if #1 was a sample issue variation with internal components ?

Do NOT confuse the above information being "off frequency" as drift, the AR-DV1 is actually quite stable.

MW and FM Broadcast Breakthrough Issues / Manual Preselector For Certain Situations
If the AOR AR-DV1 is used anywhere near a MW of FM broadcast station(s) one can sometimes experence these signals to breakthrough into the SW bands. This is only a concern when longer / larger outdoor antenna's are in use (will never be a issue if short indoor or the included whip is used).

It just lacks the proper internal pre filtering with proper antenna's are put into use. The easy way to cure this is to add a external Band Pass Filter to the input of the antenna line so to cut off the interference.
We experienced this issue at HQ (in our case it was a local 1 KW MW station). To cure this issue, a Chinese 3.5 to 30 MHz "Band Pass Filter" was added that allows signals only in this range and it terminated the offending local MW station 100%. However just using a VARIABLE attenuator also cleared up this issue up but also reducing all incoming signals slightly as well.
Testing was not done with a manual HF pre-selector. This would add another tedious step in the tuning process and is desirable to avoid that altogether. However if one is near HF amateur radio station a manually tuned

PASSIVE (no preamps) preselector

may be a requirement

(such as the MFJ-1046, not tested)

.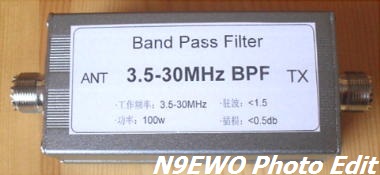 Chinese 3.5 to 30 MHz "Band Pass Filter" with SO-239 connectors (check on ebay or amazon)
Depending on where you live and antennas used , this may be a required purchase for the AOR AR-DV1

HF Dynamic Range : Not Excessively Bad / Variable Attenuator Another Useful Accessory
Once the MW / FM breakthrough Issue is taken care of (if you need to deal with it), the next gremlin that can occur is receiver overloading on the HF bands with any decent outdoor antenna. Actually behaved itself fairly well with the test 55-foot long wire antenna. But alas during peak "very strong" band conditions (say the 49 Meter SW Broadcast Band at night) we indeed experienced overloading with a decent antenna. If it was less than very strong band conditions, it was not a problem at all.
Cure was to add a 20 db EXTERNAL attenuator in the antenna line (ours was a homemade variable type so just enough to get the job done). This cured the problem 100%. Why an external one you ask? It has no traditional antenna attenuator. NOTE : There is an automatic "inboard" attenuator used for ADC overload protection, but this attenuator circuit does not work in the same way.
A variable attenuator was also required to tune in the MW band at any time at the test location to reduce the local signals JUST ENOUGH to keep overloading at bay with a long outdoor antenna in use (was not much). This situation will of course vary at any given location and antenna used.

At time this report was compiled, the USA scanner retailer "ScannerMaster" sells a nice variable attenuator with BNC connectors and has wide frequency coverage (model ATT-20). We have tested this and works well. Downsides are construction is generally weak, strange feeling when knob is rotated and is a bit pricey. We also built one in a metal box and worked very well (see below), operation at least up to 100 Mhz.


Crude schematic for a easy to build variable

external attenuator

. If built in the recommended metal enclosure, then makes for easy grounding to desired connectors. We used a 10 turn Bourns "wire wound" type variable resistor which made for more precise adjustment. Ours was useful well past 100 MHz, but consider it for HF use up to 30 MHz. (N9EWO Photo)
Shrill Audio Quality with MW and SW Broadcasting Stations / Excellent "Voice" Audio Recovery
One major "Bug-A-Boo" with the AOR AR-DV1 is with its shrill-sharp "tiring" audio quality with MW or SW signals. It has ZERO bass response and external speakers will not help with this disconcerting issue. With the sharp "extremely clean" audio quality and being a SDR on these bands, a huge plus side of this is for EXCELLENT voice audio recovery (can hear the spoken work better). With FM Broadcast (and all other signals) it pars better in this department (much more Bass response). There are no tone controls provided on the AR-DV1 (none).
If AOR were to improve on these MAJOR MW / SW "AM Mode" audio issues (firmware ?), we feel they could very well improve sales perhaps greatly, but don't hold your breath ? We have talked to a number of AR-DV1 owners and this was the MAIN reason they did not like it (of course this is a very subjective topic).
Even with the sub par audio quality with MW and SW broadcast stations the use of an external speaker in testing was a huge plus to help point the audio to the user.

"You Tube" Video's that show this shrill audio quality listening on MW and SW :

AOR AR-DV1 on the AM Broadcast Band
AOR AR-DV1 on the SW Broadcast Band


To make audio matters even worse, for any "Strong Signal" AM mode broadcaster that uses heavy bass (WTWW on 5085 MHz for example), the AR-DV1 can break up with audio distortion on those bass peaks. This thankfully does not occur very often.


Is SW/HF Performance as Bad as the Yaesu VR-5000 ?

I will say the AOR AR-DV1 has MUCH better standing with SW/HF reception when compared to the Yaesu VR-5000 (see our VR-5000 review here). Even with the possible local MW and FM break through (that is easily fixed as covered above), overall dynamic range is more controllable with just a tad of

external

attenuation required with better antenna's. The VR-5000 took much more attenuation to tame it so was much less sensitive after. It also does better with it's frequency display being more accurate (with test sample 2), much better overall SSB performance, less quirky microprocessor and other issues. One needs to keep in mind that the VR-5000's are very prone to display failure in it's old age (repair is no longer possible). Main downside with the AOR AR-DV1 for HF/SW broadcast listening is again with it's shrill audio quality.
Noise Reduction / Auto Notch Filter
The AOR AR-DV1 includes a 3-Step Noise Reduction feature (accessible in the "options" list, Function + 9). The LOW and MED settings work near excellent and above the average.
Equally decent is the "Auto Notch" available in the same "option" list.


Excellent On Board SD Card "Off Air" Recorder / Finicky With SD Cards
As found with the Icom IC-R8600 we have a standard SD card slot on the front panel which allows for making internal "off air" audio recordings as well as to store backup the memory files and receiver preferences.
Audio recordings are made in the "wav" format (19200 kHz 16 bit Mono). There is only the one quality setting but works well. They can be played back in the receiver itself or in a computer.
It's very "finicky" on what SD cards it accepts and operates properly. The single page July 2017 "manual addendum" included with current samples indicates this (has to do with the IC used in the SD card). EXAMPLE: We tried a high quality SanDisk 32GB Class 10 card and it would NOT accept it. However with a SanDisk 8GB Class 6 Card worked perfectly.
The included "standard size" 4 GB SD card was changed to an 8 GB MICRO size card with a micro to standard SD card adapter (both are class 10 cards). This is not the best way with these card adapters for any extended use like this, use of a standard SD card is best (but this works OK).

Only way that we were able to erase files off the a card was in the PC. We could find no way to do this in the receiver. Owners manual barely covered on how to record.

We must say (required) to ONLY use SD Card formatter program to properly format the SD card. Do NOT use the raw Windows application to do this. Also be sure and do a

complete format of the card

(not just a quick one). This is from experience in testing.
By the way, there is no SD card format function in the AR-DV1.


Important finding in our testing with the built in SD card audio recorder (info that is NOT found in the owners manual) :

The AR-DV1 will automatically split files at 97665 kbs (97.665 MBs). This is at 43 minutes and 24 seconds in a recording (and for the pause in playback). At this point it will start a new file and will be named one number up. This is a good feature as this prevents the files/recordings from getting too large. As it goes, too large of a file(s) can make for more difficult editing with computer audio editing software.
VERY IMPORTANT TIP : If your AR-DV1 starts to do strange things or locks up, shut off the receiver and remove the SD card. If that clears up the problem, you should then try and reformat the card using SD Card Formatter program (Full Format). If this does not clear up the issues, then replace the SD card. Even if the card works properly in other devices, a particular SD card may not be suited for the AR-DV1. The AR-DV1 is VERY sensitive to ANY SD Card gremlins and can make the set not work properly and sometimes if at all. AOR (Japanese site) recommends that the SD card that came with the set should be used for ALL firmware installations.

"Backup Data To SD Card" : 6 Step Process

Most modern day "Receivers/Transceivers" that use SD cards for backup use one , two or even up to 3 files for the backup of memories/search frequencies and configuration. The AOR AR-DV1 uses SIX files to get the job done. Those 6 are and the csv file names :



SRCH BANK (Search Bank) : SRCH.CSV




SRCH GRP (Search Bank Group) : SRCHGRP.CSV




MEM CH (Memory Channel Data, large size file) : MEMCH.CSV




MEM BANK (Memory Bank) : MEMBK.CSV




SCAN GRP (Scan Group) : SCANGRP.CSV




SYSTEM (Receiver Configuration Data, large size file) : SYSTEM.CSV



"Serial Number" Firmware Update Confusion
Unblocked versions (most samples worldwide) Serial Numbers start with 0952xxxx, USA "Blocked" Consumer Domestic versions Serial Numbers versions start with 0956xxxx. There are 2 different PC Board versions (as indicated in the firmware instructions) where 2 different firmware versions starting with v1710C (the 2 different PC boards). The split is at 09523001 and firmware instructions say nothing about the blocked 0956xxxx versions on which one to use at the time this report was complied.
AOR USA had indicated to us directly that blocked consumer versions use the .DV1 file extension. Well guess what.....with the 2 test samples (received in Feb 2018 and Feb 2019) does NOT recognize the .DV1 file (but does the .DV2 file).
We successfully completed firmware updates using the

.DV2

files with the 2 test samples (2nd PC Board Rev.). Where the serial number split is with the US Consumer "blocked B" version is unknown. About all one can do is see what a sample recognizes which file and go from there (put them both on the card and the receiver will recognize the correct one). As already covered at beginning of this review, US consumer "domestic" blocked versions have much LOWER Serial numbers, nowhere near 3001 (NEW B version samples serial numbers were approx. 09560160> as of early 2018 and
09560190> as of early 2019
).


Receiver Dropouts Zipping through Memory Channels
(MW / SW Frequencies)

DISCONCERTING BUG (all .DV2 firmware versions were tested) :

When accessing memory channels that contain MW and SW frequencies with the main knob,

intermittently

the receiver would totally drop out (that is no reception). Mind you this could be fixed by just returning back to a FMBC/VHF/UHF memory channel and the HF memories would return back to normal, but this is pain of course and very disconcerting (unacceptable).


Also the VFO modes can also work a bit weird in this same way too (sometimes "no signal" at power up in VFO mode).
PLEASE NOTE :

These issues are intermittent and all tests were made

with NO SD card installed

!
AOR Japan was advised of this bug, but we never received any response back.
I will NOT be held responsible for any info that is listed here.
ALL DONE AT YOUR OWN RISK !

So What's the Word With the AR-DV1 ??
The AR-DV1 is a very unique and exciting "Wide Band" receiver even with it RF warts (albeit with it's steep price tag for the general consumer).
What other

"standalone"

radio receiver on the market can decode most of the widely used digital modes with the neat side to also listen on the HF / MW or FM broadcasting bands with the SAME radio (with having half way decent RF performance) ?
The AR-DV1 is excellent for hunting new unknown VHF/UHF digital signals with its auto mode. Dedicated scanners can decode DMR and NXDN, but lack all others like D-Star and Yaesu Fusion. Yes one can use a low lost "SDR dongle" and the DSD+ program tied to a computer, but that is royal pain in the rump to make happen (plus even more marginal decode quality) and of course is not a standalone alternative.
However one definitely needs to understand what the receiver is including what it can do and cannot do before making a purchase. We need to stress AGAIN (one more time) that it is NOT a traditional scanner and does not try to be one.
Any AR-DV1 candidate should have a primary interest in the radio-monitoring world above 30 MHz (including having

"standalone"

digital voice decoding) with everything below as more secondary.

We wish the shrill audio issues as covered in the review above with MW and SW bands was fixed (we can hope for a firmware fix down the road ?) but this does make for stellar audio voice recovery with the right external speaker. The other major nasty was it being off frequency by 300 hz in the HF bands

with test sample 1,

this was very annoying

(again this was NOT an issue with test sample 2)

. AOR should provide a way to allow THE CONSUMER to tweak any display errors in the menus (firmware update ?)
NXDN support for 9600 is lacking (12.5 kHz), but that is not so important anymore as it's slowly being phased out at least in the USA.



USB Port Failures (May 2020) - Caveat Emptor (Buyer Beware) !



In May 2020 it was reported that MANY (if not near all) BRAND NEW AOR AR-DV1's samples experienced failure of the front USB port (either dead out of the box or after short time in use). Does not appear to have affected any OLDER production samples. As of this text being typed, AOR has not admitted to this serious issue at all ! Also see this AOR AR-DV1 Facebook User Group.
From "Radio Reference" fourms :
AOR AR-DV1 "USB Port Failures" :

(Jeff Ashby June 25, 2020) "Be aware! Here are Serial Numbers of AR-DV1's I know of from an apparently faulty batch re. USB Ports failing. This is a hardware issue, not related to USB Cables, Windows or Drivers. In some of the cases the Ports worked for a very short time before they failed. In others it was present from the beginning."

LIST OF AR-DV1 SERIAL NUMBERS with USB FAULT - 25 June 2020

09524317 (bought in France)
09524372 (Dealer (England) replaced re faulty 09524373 - Buyer now refunded)
09524373 (bought in England
09524391 (bought in Europe)
09524392 (bought in Australia - NOTE consecutive numbers))
09524458
09524470 (bought in England)
09524500 (bought in Finland)

I have been told about other DV1's with the fault, but the Serial Numbers were not recorded before being sent back.

It is very likely more of this bad batch have been sold, or are awaiting sale. As you can see this is a World wide matter. From the known Serial Numbers alone there are at least 180 plus DV1's in that batch.

IF you have purchased an AR-DV1 lately you really should test the USB port as soon as possible. Some Ports did not work on receipt, some failed after a couple of weeks or less. Some Dealers are saying it is not a Warranty issue (of course it is), so be aware when you return the Radio.

The best way to test the USB port is to download, install and run control software. There are free trials available.
Dave N9EWO
© N9EWO, all rights reserved
ver 10.5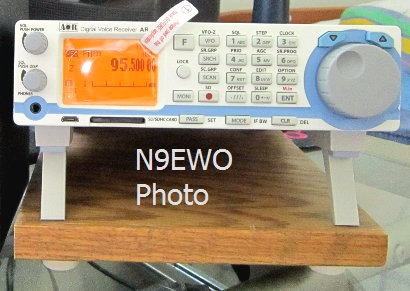 Here is riser stand I made for the AR-DV1. Even with it's flip down front feet its rise is still a bit lacking on a tabletop for proper viewing of the LCD. This is a nice finished piece of plywood (size in inches : 7.0 width x 9.0 length x 0.5 thick), stained and attached 4 SCREWED ON larger REAL "rubber feet" from the hardware store. Stick on type feet will NOT work (well at least not for very long). Also must be real CLEAN RUBBER feet and not plastic so to grab the CLEAN tabletop surface. Works great, this little added rise goes a long way (and not too much as not be able to easily reach the main tuning knob). (N9EWO Photo)



N9EWO's AOR AR-DV1 "Wish List"




As doubtful any of this will ever happen, here is N9EWO's "Wish List" of improvements and tweaks to the AOR AR-DV1's firmware (or future models) we would like to see. Dave N9EWO


- FIX the "shrill" (no bass) AM MODE audio quality with SW / HF / MW broadcast bands. AOR this is unacceptable even with it's superb voice audio recovery. Perhaps make the fix user selectable.

- Add an additional LCD Dimmer brightness setting that is in between NO Dimmer and Dimmer ON.

- Add a 3.125 kHz Tuning Step.





- Add at least one additional Wider Bandwidth (say 8 kHz) for the AM Synchronous Detector mode. Currently the 2 lone ones provided are woefully inadequate (make it usable here AOR).





-

Add one wide additional SSB Mode Bandwidth (6 and or 8 kHz). This would improve manual ECSS audio by leaps and bounds.

- Add a volume MUTE function.

- Properly FIX the receiver "Drop Out" Issue (as covered above)

- No more LOUD "power up" POP sound !

---
3 Computer Programs for the AOR AR-DV1 (tested on a "Windows 7" 64 Bit computer)
NOTE : Tested in "Full Version's" ONLY (we do NOT test "demo" versions of software)
Proper "Silicon Labs" driver required for use with all programs below.

DV1 Manager [Free]


This program does not install. One just copies the files into a directory. No errors to speak of but it was

total disaster

in our testing. Half of the program is in French. We were able to do some basic control of the front panel functions and that was about it. Memory / Search functions did not respond to the receiver (at all). No instructions and we gave up in quick order. It's Free and should be as it was totally unusable, is also is a pain in the rump to download. It is a terrible program in our testing, actually is recommended by AOR (amazingly).
Butel "ARC DV1" (Basic Version)
[about $ 50. USD]


(Tested "Basic" Versions : 1.2 build 001 and 1.3 build 001 and 002)



We tested the "Basic" fully paid version of the ARC DV1 which is for programming of the radio's memory and search frequencies. It will also allow for you to listen and manage the SD card recordings. It's first rate and very easy to use. We have experienced Butel's software in the past and keeps the same entry method, GUI style and entry uploading-downloading etc. This is must have for programming the memories, especially if you become frustrated with the AOR "on-line" AR Data Editor programming application. Butel's "ARC DV1 Basic" is worth the investment. There is a PRO version available for $ 90. USD, which adds CAT (Computer Assisted Tuning), this version was not tested. With Version 1.3 PRO there is also a new (0.1 beta) bandscope function
(also not tested).

Important Notes (at stated in the user agreement when you install it) : This program will (may ?) report back to HQ once in awhile via the internet and may stop working if it does not like what it sees, or perhaps more importantly can't see. So we have to wonder IF the purchaser that does NOT have internet access with a proper and legal PAID VERSION of this program it will become (or is from the start) inoperative ? In our view IF this is the way it's set up then is a HUGE drawback to it (we did not test this part of it) ! They allow consumer (non professional) paid users of this program to be installed in 2 different computers for every serial number. The Demo version only allows for for Bank 1 to uploaded to and operates for 30 days.


Yes the "Basic" software works well (other than it's small GUI for old tried eyes), but a few interesting bugs we found below in testing with Version 1.2 (Build 001). But we contacted Gommert at Butel with our observations

and these issues were totally fixed with Version 1.3 (Build 001) released in late March 2019

(except the WRONG driver continues to be included with it) :

Yes, the USB drivers that Butel includes (located in the program directory after installation) are WRONG ! They include the "ftdi" ones here and of course as all AR-DV1 owners know, it uses the Silicon Labs one.

The bugs that 1.2 version (build 001) had allowed for the SAL and SAH modes IF bandwidths of 3.8, 5.5

AND 8 kHz.

Of course the receiver only allows for only 3.8 and 5.5 kHz. Now wouldn't be nice if AOR allowed 8 kHz bandwidth in the SAL and SAH modes, as the 2 provided are just too narrow to be of any use. Also with the LSB and USB modes the ARC DV1 software allows 1.8, 2.6

AND 3 kHz.

Here the actual receiver only allows 1.8 and 2.6 kHz. Again it would be excellent IF the receiver had a 3 kHz bandwidth for LSB and USB (all wishful thinking). Another bug is where the 15 kHz bandwidth selection was missing for the AM mode. One MUST AVOID selecting the invalid bandwidth selections if you continue to use Version 1.2.

Again these bugs were all fixed with Version 1.3 (build 001), and yes thanks to ME for unearthing these and our thanks to Gommert who put fixes to the bugs quickly.





TIP : With version 1.3 build 001 in our testing, when DOWNLOADING FROM the receiver TO the program, we INTERMITTENTLY lost
parts of data,
that is blank-missing and with valid properly entered data in the receiver.
Example: We lost the "Bandwidth Settings" for JUST the HF entries once in a download. But more times than not it's fine. So if any data turns up missing, just do the download again.
espyonard - AOR AR-DV-1 Computer Control

[about $ 55. USD]



I have not been able to do an in depth review of eSPYonARD for a variety of reasons including inadequate test computer horsepower. It certainly appears to be very comprehensive. A lot of thought and work has gone into its production.

There is a free trial program available, which contains a full instruction Manual, which is required reading, and covers all the many functions the program has to offer.

Was the first program available to control the AR-DV1 which offered a Band Scope facility, and also a suite of functions called 'Q' exclusive to this Receiver.

General comment with ANY computer connected operation on the AOR AR-DV1 is don't expect any speedy uploads/downloads of data or real responsive CAT control. It's just the nature of the beast (go have a sandwich). If you are loading/downloading memory information to all 40 banks, count on a good part of an hour to complete (it takes MUCH longer to upload data to the receiver than download).
Using a computer for programing the internal memories still beats doing it by hand (an understatement).


Dave N9EWO
© N9EWO, all rights reserved
ver 4.3

---
AOR AR-DV1 Links For Additional Information (all subject to change without notice)
AR-DV1 TAI - Tablet App Interface for iOS and Android (not tested, firmware v1903A or later)
Mike Richards AOR AR-DV1 Review (RadioUser Jan 2016)
AOR AR-DV1 Receiver - UpstateHam.com Resource Page
AOR AR-DV1 on Facebook (Public Group , so anyone can read the posts)
Google "Czech" translated AR-DV1 review from late 201
7
World Radio TV Handbook 2016 Review
AR-DV1 Factory Preset Data (for Japan ONLY)
---
---