N9EWO Review :
Digitech AR1780
DESHIBO RD1780
(variant to : XHDATA / Sihuadon D-808)
LW / MW / SW / FM / AIR Portable DSP Receiver

HUGE "Thank You" to Dean B. as without his help, this review would
NOT
be here.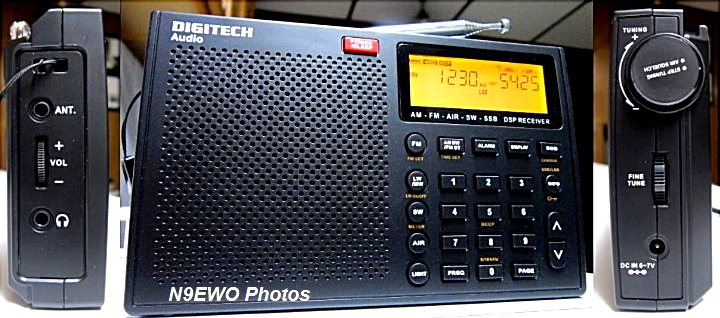 The excellent Digitech AR1780 (DESHIBO RD1780) DSP / SSB portable. Sold only in Australia / New Zealand.

(N9EWO Photo)
One of the few small DSP portables that features

FOUR

SW front end bandpass filters.
Our test sample arrived with a defective whip antenna (a common QC issue that also includes the D-808 variant).
Uses common 4 AA batteries (XHDATA / Sihuadon D-808 variant uses a 18650 lithium ion cell, not tested).
CCrane Skywave SSB is another more expensive variant, No RDS, smaller size and operates on 2 AA batteries (not tested).
---
Country of Origin : China
"Test Sample" Serial Number :
None to be found
Firmware Version Tested : Unknown (no indicator of firmware version)
Test Antenna's :
RF Systems MLBA-MK2 long wire (55 ft length - 24 ft height at peak)
Comet H-422 Dipole (24 ft height - Straight Configuration)
(indoor : 20 foot wire clipped to whip)
---
N9EWO's Review on the Digitech AR1780 / DESHIBO RD1780 DSP Receiver
---
PRO :
- Excellent Overall Sensitivity (see con).
- Excellent Overall Selectivity.
- Decent Stability.
- Near Excellent ECSS Performance.
- Excellent Ergonomics (see con).
- External Antenna Jack (see con).
- Powered by 4 AA Standard Batteries..
- Standard DC Input Jack.
- All Buttons Are Raised From Cabinet and Have Excellent Tactile Feel.
- 4 Front End SW Bandpass Filters. .
- UP - DOWN Slewing Buttons.
- RDS (Radio Data System)
- ATS (Auto Tuning System).
- All Mode Squelch.
- Tilt Stand.
- Very Good Speaker Audio For Size.

- Decent Hiss Free Audio.
- Above average Headphone Audio Quality.
- Excellent Separate "Fine Tune" Control Wheel.
- Quality Control Generally OK (see Con).

- Built in Thermometer.
- 500 Total Memory Channels.
- VHF Aircraft coverage (see con).
- Clock that can display Independent of frequency.
- Whip Antenna Rotates and Swivels

- Reset Button (located on cabinet bottom).

CON :
- Extremely Limited Availability (Australia and New Zealand, see text).
- Limited Dynamic Range.
- Air Shipping Can Cost Near What The Receiver Is Worth.
- No Attenuator.
- No Tone Control.
- Excessive Tuning Muting (Chuffing).
- LCD has very light contrast when viewed straight on (not adjustable).
- Sub "orange" front panel markings hard to see.
- Tuning Knob is Thin (Hard to Grab)
- Old School Volume Control (Not Electronic).
- No Fixed Audio "Line Output" Jack
- Nasty AGC Clipping in SSB Modes (see text).
- Direct Frequency Entry Requires FREQ Button to Be Pressed Twice (frequencies below 10 MHz).
- Poor Air Band Sensitivity.
- Painted Case and Buttons.
- Battery Cover Not Hinged.
- External Antenna jack does not operate in the LW / MW bands.
- Excessive OFF stand by current (remove batteries if not used for awhile).
- Test Sample Whip Antenna Arrived Defective - Had loose Crimped Whip Base.

---
Only Sold in Australia and New Zealand / Ebay
/ Also Sold as the DESHIBO RD1780
DigiTech is a brand name only sold in Australia and New Zealand. So availability is extremely limited. One can ONLY order direct from dealers on ebay that are offering export of the AR1780 (at the time this report was compiled, do your own internet searches). Downside is the cost of express shipping can almost equal what the receiver is worth.
To make matters worse actual availability can vary at any given time. So if it shows up "nada", try again days / weeks later. Another concern is if a DOA sample is received, makes it extremely difficult (and expensive) for a return.
The

DESHIBO RD1780

badge of this receiver is also normally sold via ebay and can be usually be purchased for a bit lower price via China direct.
We have not had our hands on this version, but will assume that it is identical except for the backlight color (which can vary with the RD1780).
Variants are the
XHDATA / Sihuadon D-808
(CCrane Skywave SSB 2 distant variant) / Uses 4 AA Batteries /
Excessive OFF Stand By Current /
Uses Sony Size Standard AC Adapter Jack
The DigiTech AR1780 is also sold in a variant as the XHDATA / Sihuadon D-808 (or one could say it's the other way around). Button layout is a bit different and the huge difference that it uses a single 18650 lithium ion battery. AR1780 uses the much more desirable 4 standard size AA type batteries. If one uses nickel metal hydride (Ni-Mh) type rechargeable cells, these can be recharged within the receiver. Of course standard alkaline type batteries can also be used. Owners manual clearly states that lithium type AA batteries should
NOT
be used. Battery life is similar to the PL-330 above (excellent).
However just as with it's XHData variants, the OFF stand by current is excessive and will drain any installed batteries down to nothing even if not used at all for long periods (say 60 days). So one needs to remove the batteries to avoid this disconcerting gremlin when not being used for awhile.
Good news is that we have a standard coaxial DC input jack (1.7 mm ID x 4.0 mm OD). Voltage marked on our later production test sample as marked on the cabinet : 6 to 7 VDC (positive tip). Earlier production (
as marked on the cabinet
) indicated the input voltage only as 7 VDC.
Even with this desirable DC input configuration, finding a clean
non-switching type
REGULATED commercially manufactured 6V adapter is difficult to find if near impossible (good luck in your hunt for one of these).
CCrane Skywave SSB 2
is another more expensive and distant variant, No RDS, smaller size and operates on 2 AA batteries (not tested). Unknown if the front end filtering exists (as we cover in the review below) ?
Size / Cabinet / Nice Tilt Stand / No Carrying Case Included
/ Arrived With Defective Whip Antenna
Cabinet size measures at 150 x 95 x 30 mm (5.90 x 3.74 x 1.18 inches). Unlike the Tecsun PL-330, we have a nice sturdy pop out tilt stand on the rear panel. Only accessory included is a wrist strap (that is easily removable). NO case, earbuds or wire antenna. The tiny included 16 page owners manual gives general operation information (but nothing more). Using the memory channels was near nada information !
Our test sample arrived with a broken whip antenna (loose base). It does swivel and rotate, however rotation was on the VERY tight side with the test sample. This bug has also been reported with it's variants.
TIP :
One should avoid swiveling the antenna as it turns that stiff. Like most of these pocket DSP sets, the cabinet and buttons are painted (flat black). For the most part it has very sturdy construction, minus the whip antenna.
Frequency Coverage / Tuning


The AR1780 also has all of the the important frequencies covered including no gaps on SW. Short wave coverage is incorrectly marked on the rear panel and owners manual.
It indeed has full SW coverage.
AR1780 Frequency Coverage
Long Wave (LW) : 150 – 450 kHz
Medium Wave (MW) : 520-1710 kHz / 520-1620 kHz
FMBC : 87.5–108 MHz / 64-108 MHz
Short Wave (SW, incorrectly marked on rear cabinet and manual) : 1711 – 29999 kHz
AIRCRAFT : 118-137 MHz
Better Ergonomics Over PL-330 Except For Keyboard Entry / LCD Contrast - Backlighting
All front panel buttons are raised from the cabinet body for easy activation (unlike with the Tecsun PL-330 above and it's D-808 variants). They also have excellent tactile response. The fine tune control wheel located just below the tuning knob is another plus. General use was a more pleasant experience over the PL-330.
However there is one fly in the pudding. For direct keyboard entry below 10 MHz one must press the FREQ button, enter the frequency and hit FREQ button
AGAIN
. Extra effort to make it happen is a chore. To view the digital signal indicator takes THREE presses of the DISPLAY button every time you switch it on. The tuning know would have been more pleasant if a bit thicker, more grab surface.
LCD not only has much smaller frequency digits over the Tecsun PL-330, the contrast is best from reading from way
below
the display. If one looks straight on, it's light and for some with not so great vision a bit changeling to see. There is no contrast adjustment either.
The extremely BRIGHT orange back iight is either timed function or can be bypassed for continuous ON by hitting the LIGHT button.
Tuning Steps / Excellent Fine Tune Wheel / Scanning / Excessive Muting "Chuffing" Present / Has FM RDS


AR1780's tuning steps are most proper. LCD icons also tell you if you are in FAST / SLOW or LOCK. These steps are selected by pressing in the tuning knob. Even better there is excellent feeling thumb wheel just below the tuning knob that allows you to fine tune without much effort and or having to fiddle with some other button. A very nice touch indeed !
AR1780 Tuning Steps
MW : 10 kHz / 9 kHz / 1 kHz
LW : 9 kHz / 1 kHz
SW : 5 kHz / 1 kHz
FMBC : 100 kHz / 10 kHz
AIRCRAFT : 250 kHz / 1 kHz

The biggest bug-a-boo with the receiver is the totally insane audio muting when tuning with the main encoder knob (some call this "Chuffing""). So it's tune wait and tune wait affair. At the price point the set is at is tolerable, but just barely. Using it's excellent UP-DOWN slewing buttons this is slightly less noticable. One also uses these UP-DOWN buttons to start the band scanning feature. It functions properly, however unlike the PL-330 when it finds a active channel, the scanning stops and the UP-DOWN buttons needs to be pressed and held again to resume. The PL-330 has a timed resume feature with band scanning so is much better here.
Main tuning encoder has a good feel (plus has no excessive slop) with soft detents. There is some sluggish operation when tuning and mode selection etc.. But we did not find this to be a drawback.
A HUGE feature lacking on ALL Tecsun sets, is the AR1780 has RDS
(Radio Data System)
. It is most sensitive too, so does not require a SUPER STRONG signal
as with the ATS-25.
RDS can also be used to set the internal clock. Sadly it's only available in 24 hour format, but thank goodness the auto set feature can be turned OFF (as most will probably do).
Excellent Sensitivity (External or Whip) / OK Dynamic Range / Local Signal Intrusion Issues (SW) /
FOUR SW Front End Bandpass Filters

We have excellent sensitivity with all covered ranges of the receiver (whip or external). The exception is with the aircraft bands were it was poor with our test sample. The above average length internal MW loopstick antenna clearly gave above average performance.
Dynamic range while decent with the tested external antennas, overloading was experienced. There is no attenuator to help tame the beast. Only way we were able to fix this was to switch to a lesser antenna or the use of a external variable attenuator (NOTE : Only took a bit less than 10 db of attenuation with the RF Systems MLB outdoor antenna at 55 feet long). However this was not as bad of an issue as it might seem. It took prime night time conditions for this to happen with outdoor external antennas and certain exceptional STONG stations (example : WBCQ's power house 500 kw signal on 9330 kHz). Additionally the local SUPER STRONG Ham radio saturation issues that plagued the ATS-25 and Malachite / Malahit receivers also happened with our test AR1780 sample. In this case using an attenuator or diferent antennas did not help.
Something totally missing in most low cost SW receivers, the AR1
780 (and including

older

manufactured XHDATA D-808 variants) has FOUR SW front end bandpass filters. Being the receiver exhibited decent spurious signal rejection (aside from the overloading) and this is most likely the reason why. On the other hand we cannot expect these filters to give communications receiver quality filtering either (it doesn't). But it was good to see this in a low cost price point receiver.


SW Bandpass Filters
1711 to 2999 kHz
3000 to 6280 kHz
6281 to 12900 kHz
12901 to 29999 kHz
Something totally missing in most low cost SW receivers, the AR1
780
(and including

OLDER

XHDATA D-808 variant samples, newer ones do not)
has FOUR SW front end bandpass filters. (N9EWO Photo Edit)
DSP Bandwidths Aplenty
We have the typical excellent selectivity performance that the si473x chips provide. One just tap of AM SW / FM ST button and it changes the LW / MW and SW bandwidth and displays the selection on the alpha part of the LCD for second. NO press of a button and THEN rotation of the VOL encoder like with the PL-330 is required.
AR1780 Bandwidth Selections
LW/MW/SW/AIR : 6 kHz, 4 kHz, 3 kHz, 2.5 kHz, 2 kHz, 1.8 kHz and 1 kHz
SSB : 4 kHz, 3 kHz, 2.2 kHz, 1.2 kHz, 1 kHz and 500 Hz
FMBC : One (unknown)
Very Good SSB and ECSS / Clipping Distortion / Typical Sour AGC Performance


We have very generally pleasant SSB modes. However there is some of the dreaded AGC clipping distortion (whereas the with the PL-330 is excellent in comparison). If one keeps the bandwidth on widest 4 kHz setting this clipping distortion is reduced.
TIP :
So the narrower bandwidth you go the worse this disconcerting clipping gets. Also the stronger the signal is the more of a chance this distortion will appear !
ECSS fairs much better with near zero AGC distortion. However we experienced the whooshing background trait that can also happen with the Tecsun PL-330 sometimes. Even with the AR1780 lacking Synchronous Detection, the EXCELLENT ECSS performance is a worthy alternative (plus greatly improving audio recovery).
TIP :
When switching from USB to LSB we needed to retune slightly. Also it's frequency display is SOMETIMES a bit inconsistent with the fine tune control. It can take fiddling even with stations that are known to be dead on frequency when tuning AM stations using ECSS mode.
Speaker Audio Quality Better over PL-330 / Non-Electronic Volume Control / FM Headphone Audio Excellent / No Tone Controls / All Mode Squelch


Overall audio quality was a pleasure with the AR1780 on all bands. The larger speaker (especially when compared to the PL-330 above) certainly helps the cause. No excessive hissy sounds and has decent punch. Just as it is with the PL-330 as reviewed above the headphone audio is a aural treat (very nice and proper added bass boost). There is no tone control of any kind (unlike with the untested CCRANE Skywave SSB variant), but we did not miss it.
Separate thumb wheel volume control is on the LEFT side of the cabinet and is of "old school" carbon resistor type (is not a electronic type volume encoder like the PL-330). This gives for more linear sounding / feeling operation. Downside is the left and right balance when using headphones was slightly uneven with the test sample.
The skimpy owners manual indicated the Squelch only works in the AIRCRAFT band. Good news here is that is DEAD WRONG ! With our test sample squelch worked on all bands including SW and in SSB modes. Its a bit strange how it's activated (push in the tuning knob for a second and rotate, value and activation shown on LCD). A rare thing to see on a receiver in this price point !
500 Total Memories
/ Preset Ranges / ATS
The AR1780 has 500 total memories channels (100 on LW, 100 on MW , 100 on SW , 100 on FMBC and 100 for the AIRCRAFT band.These are grouped in 10 pages of 10 memories in each page. No alpha tagging is provided. On LW / MW and SW the bandwidth selection is stored in the memory data (however it does NOT store the mode). Yes having 100 memory channels on the FMBC band is way overkill !
Accessing the pages if done by first pressing the PAGE key followed by the page number on the keypad (1 thru 0). The page number will be indicated in the text part of the LCD for a second.
As with most portable receivers there are shortwave BROADCASTING band presets. Accessed by hitting the SW band button (goes in a loop).
SWBC :120m, 90m, 75m, 60m, 49m, 41m, 31m, 25m, 22m, 19m, 16m, 15m, 13m, 11m AM
(Note : Has no amateur band presets in SSB modes as with the Tecsun PL-330, see review above).

The provided ATS feature uses normal memory channels, so will rewrite whatever you have stored previously.
I will NOT be held responsible for any info that is listed here
ALL DONE AT YOUR OWN RISK !
Great Full Sounding SW Portable for the Price / Not Easy To Purchase


We very much enjoyed the DigiTech AR-1780. It's another very worthy low cost portable. Has it's own PRO's and CON's over the PL-330 as reviewed above. However as covered it is not so easy to purchase. Much prefer the use of 4 AA batteries over the lithium ion 18650 with the XHDATA D808 variant (MUCH less of a FIRE issue and better in a emergency situation). Also the AR1780 buttons are NOT recessed as with the D-808 and Tecsun PL-330 (as tested above), which is HUGE plus !

For customers

in the USA

and still desire the use of AA batteries, one may wish to consider the "CCRane Skywave SSB 2" model variant (sorry not tested). Downsides are it has no RDS, lesser audio quality, no separate fine tune control and is overpriced (even more than importing a AR1780 direct from Australia). But much easier to return if you receive a dud.
Dave N9EWO
©
N9EWO, all rights reserved
ver 3.1
DigiTech AR1780 vs. CCrane Skywave SSB 2
AR1780 has 6 things going for it over the CCrane Skywave SSB 2 in our view.

- Standard DC power input jack.
(6~7 volts is now marked on cabinet of current production)
- Excellent SEPARATE fine tune control.
- 4 front end SW bandpass filters.
(left out in the CCrane sets that I'm aware of)
- Cost less in the USA (even after the shipping costs from Australia).
- Larger speaker / better audio quality.
- RDS on FM.

6 Pluses to the CCrane Skywave SSB 2 variant (not tested).
- Smaller size.
- Covers the USA VHF weather channels.
- USA warranty (provided one lives in the USA).
- Simple "Hi-Cut" Tone control.
(should help it's shrill audio as with tested

standard

CCrane Skywave model...see below).
- Larger frequency digits.
- 2 AA Battery Operation.

---
Digitech AR1780 LINKS (All Subject To Change Without Notice)
eham reviews : Digitech AR-1780 Receiver
AR-1780 Owners Manual
Jay Allen's XHDATA D-808 / Sihuadon D-808 Review
---
You Tube Video's


What is inside of XHDATA D-808 (covers the SW front end bandpass filtering)


HOW TO Enable or disable Sleep timer on XHDATA D808
XHDATA D808 Review of Memories
Digitech AR-1780 - Todderbert Review
---
I will NOT be held responsible for any info that is listed here
ALL DONE AT YOUR OWN RISK !