Dave N9EWO
"Miscellaneous Receiver Reviews"


Miscellaneous lighter content "N9EWO Reviews" which includes
guest contribution's and "Ham Transceiver" notes / reviews.
Dave N9EWO


- Sangean ATS-818 / RadioShack DX390
-

Coby CX-CB91
- Sangean HDR-16 AM/FM HD
- C.Crane "Skywave"
- Retekess TR604
- Yaesu FT-70D Notes
- C.Crane "FM REFLECT" FM Antenna
- Grundig / Eton "Field" BT
- CommRadio CR-1A
- Tecsun PL-600
---
N9EWO Review :

Sangean ATS-818 / RadioShack DX390
Roberts R827 / Siemens RK665
LW / MW / SW / FM PLL Portable Receiver
Our thanks Craig M. for the test sample
The RadiioShack DX390 variant of the Sangean made ATS-818.
Was also sold as the Roberts R827 and Siemens RK665.
Under the Roberts badge it was sold to around 2005 ?
Most were made in Taiwan, but later ones came from China.
Generally a decent set provided the tuning mute "chuffing" modification is done.
However the too narrow WIDE IF filter makes for sour MW and SW broadcast listening to our ears. (N9EWO Photo)


N9EWO's Review on the
RadioShack DX390 LW/MW/SW/FM PLL Receiver
Serial Number on Test Sample: 407222xx (10A6 : Manufactured in October 1996)
Country of Manufacture with Test Sample : Taiwan ROC
PRO :
- RF Gain adjusts the actual gain of the front end RF Amplifier.
- Large LCD with Separate Clock Display.
- Very Good SW Sensitivity.
- Very Good SW Dynamic Range.
- Stable SSB Performance.
- Excellent image rejection and no excessive spurious signals.

- ECSS Possible (But Touchy).
- Beefy 4 inch Internal Speaker with HUGE Magnet.
- Hiss and Distortion Free Audio Quality (Improved from ATS-803A).
- Excellent FMBC Sensitivity.
- Excellent FMBC Selectivity.
- External Antenna Jack works on MW (plus totally disconnects internal loopstick antenna as well) (see con).

- Decent Button Tactile Response / Feel.
- VFO Bandscanning Works Above Average.
- Proper 1 and 5 kHz Tuning Steps With Tuning Knob or Slewing Buttons.
CON :

- Minor Medium Wave Intrusion at Test location (External Antennas) into SW Bands.
- Single Lone Tone Control (Step backward from ATS-803A).
- No Fixed Level Line Output (Another Step backward from ATS-803A).
- Tuning Exhibits Nasty Muting (chuffing). Can Be Defeated, see text and links below.
- WIDE " I " Bandwidth Filter Setting Gives for Muffled LW / MW and SW Broadcast Listening.
- Limited 45 Total Memories (18 SW / 9 MW / 9 LW and 9 FM).
- External Antenna Jack does not work on FMBC.
- RF Gain Control Does Not Function on the MW Band.
- Memories Battery Backed with 3 AA Cells.
- No Static Protection for Either the Whip or External Antenna Jack (Failure of the Front End transistor is common from abuse).
- Direct Keyboard Entry Requires Extra Button Press.
- Tuning Encoder is known to become weird in it's Old Age (common but easily fixed with a treatment of Deoxit D-5).
- No way to keep LCD incandescent lamp on Full Time (even when connected to external DC).
- External DC Jack (6VDC at 400 ma) uses NEGATIVE TIP !

Sensitivity on all bands is respectable. MW is slightly less sensitive, but not too bad. RF gain control actually adjusts the amplifier gain of the front end RF amplifier. One should heed the warning with any static on the whip antenna or with any connected external antenna. The front end RF amplifier transistor can easily get zonked. Sangean provided NO internal protection diodes. That can be easily added for any external antenna's.

Audio quality for the most part is decent and punchy (FMBC). The hissy trait and some audio distortion that plagued the older ATS-803A / DX-440 (and other variants) models were fixed. We did experience minor MW intrusion into the SW bands with test sample and EXTERNAL antenna's but this was not at any excessive level.

For LW / MW and SW bands two 450 kHz ceramic IF bandwidths are provided. Sadly Sangean used a murata SFP-450 " I " bandwidth in the WIDE setting. This gives an actual

real life

bandwidth of around 5 kHz which is simply too narrow for any quality listening. Mind one can do the old "tune off the edge " of a signal to help recover some of the fidelity. But lets face it, this is really unacceptable. In the NARROW setting, the filter is of a higher quality SFR450 " J " and yes is slightly narrower at around 4 kHz bandwidth. Of course is near totally useless for any SW broadcast listening to our ears. Note : These are the same IF filters as used in the ATS-803A / DX-440, but for some reason sound extremely muffled in the ATS-818 / DX-390 in AM mode.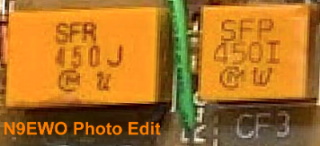 SSB / BFO is quite stable and makes for decent ECSS use so be it is quite touchy to do using the tiny BFO knob . For ECSS and SSB signals the provided IF filters par MUCH better even if the NARROW filter is a bit wide for amateur radio voice signals.

The memory channels are battery backed (3 AA batteries).

The tuning mute (chuffing) is totally unacceptable. However is fairly easy to defeat for anyone handy with simple electronics. See link below for more information and the best way to do it (in our view).

WARNING :

The power DC input jack uses NEGATIVE tip polarity (6 VDC at 400 ma).

Very good larger portable provided you can tolerate its muffled audio on LW / MW and SW in standard AM mode.


Dave N9EWO
© N9EWO, all rights reserved
ver 1.4
I will NOT be held responsible for any info that is listed here.
ALL DONE AT YOUR OWN RISK !
---
N9EWO Review :
Coby CX-CB91
MW / SW / FM Pocket Radio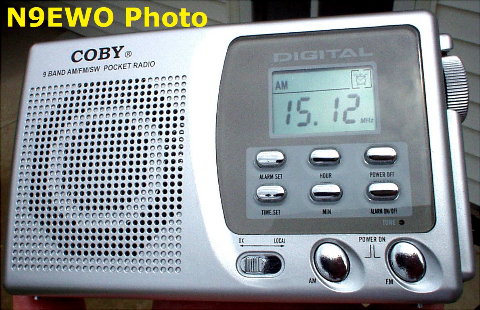 The Coby CX-CB91, a extremely sour

"Blast from the Past"

from around 2005.
This is the WORST SW

"digital display"

low cost pocket portable ever tested.

(N9EWO Photo)
N9EWO's Review on the
Coby CX-CB91 MW-SW-FM Receiver
Serial Number on Test Sample: 040100314x
Country of Manufacture : China


Discontinued Receiver
PRO:

12 hour format clock with radio alarm (see con). Barely adequate sensitivity for most major strong SW broadcast stations using attached whip. Crisp audio with good output. Includes a jack for 3vdc external power. DX-Local attenuator switch (see con). Swivel whip antenna. Battery cover hinged to prevent loss. Includes ear-bud type phones. Uses 2 AA batteries for power. Coverage includes the expanded MW band.
CON:

MW / SW sensitivity is only OK for strong signals. Fair to poor MW / SW selectivity. Dynamic range, image rejection both poor.

Rubber Band

tuning makes for extremely difficult operation (see text). Misses the 120, 75, 90, 60 and 11 meter shortwave bands entirely along with most of the 49 MB band and a touch of the 41MB. Radio auto alarm only allows for a FM station to be used. FM performance unacceptable and in mono only. Buzz from clock / counter electronics. SW display to nearest 10 kHz only. Weird DX/local switch has little effect. Appears not to have any "anti-blast" resistors in headphone output? Display not illuminated.
The Coby CX-CB91 uses a traditional variable capacitor (or varactor diode / variable resistor ?) tuning design with a crude digital frequency counter / display.

It's frequency coverage while covering most of the major SW broadcast bands, misses most of the important 49 meter band. Our test sample, that band started at 5.49 and stopped at 5.97 MHz. This misses coverage from 5.97 to 6.20 MHz. That of course is

totally unacceptable

.
For the lower end of 41 meters also stopped a bit short where activity does appear.
And of course the 120, 75, 90, 60 and 11meter bands are totally missed.
Another comment is that the rear panel the coverage of SW3 is listed as 8.60 to 9.10, while it's actually 8.42 to 9.51 MHz.


Actual Frequency Coverage on Test Sample :
(This varies at bit with battery condition)
FM 86.8 to 108.4 MHz
MW 522 to 1758 kHz
SW1 5.49 to 5.97 MHz
SW2 7.12 to 7.85 MHz
SW3 8.42 to 9.51 MHz
SW4 9.40 to 10.70 MHz
SW5 12.80 to 15.74 MHz
SW6 14.08 to 16.01 MHz
SW7 19.90 to 23.03 MHz

NOTE : From reading Amazon reviews, this strange tuning coverage varies greatly from sample to sample.


SW frequency
accuracy
is
to the nearest 10 kHz only. These days that is another unacceptable trait !
Sensitivity while being OK for most major SWBC powerhouses, but do not expect it to pull out even semi-weak stations (forget it). But is slightly better than I was expecting with this "dollar stretcher" especially using it's own telescopic whip. That whip does swivel too. MW is about the same for sensitivity (poor).
The FM band irks a weird trait that makes it almost totally useless. With our test sample you have to "off tune" in order to hear a station. If you did not do this it will sound fuzzy with no volume. FM is in mono with headphones. Receiver does come with a pair of fair ear-buds.
FM sensitivity being poor and capture ratio in the extremely poor category.
One should be extremely careful when using the included earbuds or other earphones / headphones with the CX-CB91. It can get really loud with hardly any rotation of the volume control. It appears that the usual "anti-blast" resistors that are normally added in the headphone output circuits are non-existent (Internal circuit not checked) ?
But here is where the Coby totally falls flat on it's face, the tuning. Most of these super low cost sets have a thumb wheel knob for tuning. While being OK for the price range, these are usually connected directly (or sometimes indirectly with a gear) to the shaft of the main tuning capacitor. This leads to very touchy tuning, an almost hit and miss game.
When I first seen this receiver, I was thinking…great a tuning knob instead of a thumb wheel, should be easier to tune? Sadly, I was dead wrong.
It has such excessive play and slop to make tuning so difficult and tedious that I will have to give this receiver the worst rating I have tested in this area.
So for the term "rubber band" tuning, in other words you MIGHT get where you want to be, perhaps after sailing by it 5 or 10 times (back and forth). Or one might give up and throw it the trash and head to a bowling alley instead.
Clock is in the 12-hour format and has a radio alarm function, but ONLY allows for the almost non-functioning FM band to be used.
Audio is OK with a good crisp sound, and enough audio to sound a tad above average.
On some SW bands and MW, we have the nasty "buzz" sound that plagues other low cost gems as well. Sometimes it takes a person's finger/hand near the LCD, sometimes not.
The "DX-Local" switch on the sets front panel operates downright weird. It appears not to do much to drop actual signal strength (slightly) but changes the background noise not the signal.
It's 2 AA Batteries insert a bit on the tight side, and when they were removed (which by the way required a pit of prying) the entire case started to separate.
The Coby CX-CB91 is at the bottom of the barrel and its performance is right down there too (as bad as it gets).
A radio that should have been thrown away at the factory. Clearly the WORST $ 20. USD modern

digital display

SW set ever tested (at time of writing).
Would be a good a

looser prize

at a card game.

One should always keep in mind that these bottom dollar radios can have extremely variable quality control (if any at all). So who knows if some are a bit better or even worse (if that is even
possible
) for performance or even just plain out dead on arrival ?

Dave N9EWO
© N9EWO, all rights reserved
ver 1.6

---
Guest Review :
Sangean HDR-16 Portable AM/FM HD radio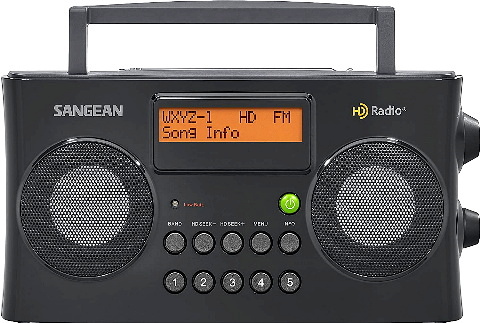 Craig Menning guest "micro review" on the
Sangean HDR-16 Portable AM/FM HD radio.

Uses the same switching AC power supply as with the newer ATS-909X and DAR-101 mp3 recorder. (many thanks Craig)
Pros:
-
Decent sound (for a portable radio)
-
AM bandwidth appear to be a function of signal level. Meaning a wider bandwidth for strong signals, narrower for weak signals. This gives good audio for locals and good selectivity for DXing.
-
Numerous presets via pages. This gives 20 presets for each band.
-
AM quieting on weak signals is good. If there is something to listen to, noise is minimized. (see con).
-
FM selectivity is good.
-
AM and FM sensitivity is good.
Cons:
-
2 line display shows little information, you need to page through the information using the INFO button.
-
On very strong FM stations there are images heard at +/- 400 kHz. This limits weak signal reception.
-
When there is no signal on AM, the background noise is significant. This may cover up extremely weak stations. However, once there is some (not a lot) signal this noise is quickly reduced.
-
Slow to turn on or change bands. There appears to be 4-5 seconds needed to load up (program) the radio IC.
HD reception:
-
Given only one FM HD broadcast in the area, I can say HD reception works for FM.
-
ON AM, in the evening (skywave), I can observe the radio try to lock to an HD station. But being evening, and the station far away (Chicago which is 400 miles from test location), the radio was unable to lock.
---
N9EWO Review :
C.Crane "Skywave"
AM/FM/SW/AIR/WX Portable Radio
N9EWO's Review on the C.Crane "Skywave" AM/FM/SW/AIR/WX Portable Pocket Radio.
Country of Manufacture : China
Serial Number (approx.) of Test Sample : 190400183x (Manufactured in April 2019)
Firmware Version of Test Sample : CSF14 (To display firmware version : With radio OFF, press and HOLD #1 key for a few seconds)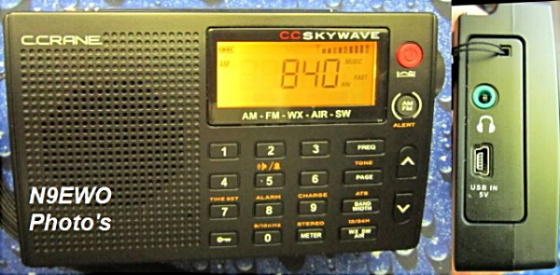 The C.Crane "Skywave" AM/FM/SW/AIR/WX pocket portable receiver.
Generally decent performance, however we feel is on the overpriced side of the fence for what it is.
Just as with ALL other radios, it has it's Pro's and Con's. Custom manufactured in China by Redsun.
The excessively expensive variant called the C.Crane "Skywave SSB" adds SSB modes / finer tuning
steps and improved SW coverage (not tested).
(N9EWO Photo).
PRO :
- Decent tactile keys that includes proper telephone layout (see Con)
- Above average sensitivity on all bands (
However the Tecsun PL-380 FM sensitivity is better in our comparasions
)
- Free from any microprocessor generated noise.
- Non finicky and excellent ANALOG volume control that also allows for very low adjustments for nighttime use.
- UP / DOWN frequency slewing buttons (something that Tecsun just does not offer at all).
- Excellent DSP selectivity (except FM) with user adjustment for MW / SW and AIR bands (also stores this data in memory channels).
- 2 properly chosen "Knob Tuning" steps of 1 and 5 kHz (see Con).
- Microprocessor selected two step tone control that helps tame it's shrill audio quality trait.
- Good SW Dynamic Range using it's attached whip antenna (firmware CSF14).
- 400 Memory channels (10 pages / 10 channels each page / 4 Bands).
- 12 or 24 hour clock format.
- AIR band squelch function.
- Lock Function.
- Sleep Timer (15, 30, 45, 60, 90 and 120 minutes),
- Timed Backlight can be switched on full time when AC Adapter is in use (is not possible with battery use).
- Excellent audio recovery for spoken words (see con).
- Above average included earbuds with nice voice spoken word audio quality (that also uses gel tips).
- Nice included carrying case that does not smell like tire factory.
- Low current consumption (100 ma using internal speaker).
- Easy to follow owners manual.
- Uses 2 AA batteries ,not the weird 3 that seems to be the normal for many Chinese sets.
- "SKWVP" AC adapter accessory option is of no noise design (Regulated linear transformer type ?) (see Con).
CON :
- Steep USD price for features offered.
- "Shrill" sharp audio quality become tiring after awhile.
- Tuning Knob has wobble, rotational play, also undesirable HARD CLACK trait between detented steps.
- Build quality fair to our feel and eyes.
-
Reliability track record
appears fair.
- Annoying Muting when tuned.
- No External Antenna Jack.
- FM Band Selectivity and Sensitivity only "so-so" on test sample.
- No audio line "Record" output jack.
- Somewhat short 16 inch whip antenna.
- No RF attenuator switch.
- LCD Backlight is very uneven (very bright on the left side).
- Direct Frequency entry requires extra button before use.
- Audio amplifier lacks output (more noticed on the SW bands).
- Somewhat limited SW coverage stopping at 26100 kHz (more expensive SSB model goes up to 29999 kHz). Still wider coverage over many Tecsun models.
- No SSB modes. (the much more expensive SSB model provides this)
- Uses Mini-USB type connector for external power / charging.
- Battery door can get easily lost (is not hinged).
- Keys are near flush with cabinet (not so easy to use)
- "SKWVP" AC adapter is a extra cost option and also has two ferrite filters molded into it's STIFF cable which makes for difficult use.
The C.Crane "Skywave" receiver coverage is :
MW / AM : 520 to 1710 kHz
FM : 76 to 108 MHz (Stereo with Headphones / Earbuds in use, selectable that also includes a STEREO indicator on the LCD)
SW : 2300 to 26100 kHz
AIRcraft : 118 to 137 MHz
USA NOAA Weather : 7 Channels from 162.400 to 162.550 Mhz (with alert function however no S.A.M.E. feature is provided)
Operates on 2 AA batteries and when Ni-Mh rechargeable batteries are used can be charged in the radio when the "SKWVP" "Mini-USB" 5 volt AC Adapter accessory is plugged in (sold separately). Size is 4.75″ W x 3″ H x 1.1″ D inches and weight is a very light 5.5 ounces without batteries, so can fit in most shirt pockets so be a bit chubby.
It's use of a DSP design allows for user adjustable bandwidth settings in MW and SW of 6, 4, 3, 2 and 1 kHz. AIR allows for 6, 4 and 3 kHz adjustment that all work well. SW sensitivity comparisons with a early production Tecsun PL-380 were dead equal (using attached whip antenna's). MW band was also very close. FM sensitivity and selectivity was better on the Tecsun PL-380 test sample in our view .The AIR band was not tested.
Audio quality suffers BAD with the "Skywave" for any music listening. It's ghastly shrill with ZERO bass response and makes for brain pain after awhile. The electronically switched 2 step tone control helps control this to an extent. It has independent settings for FM and SW/MW bands, a nice touch (Note : It does not function in the AIR and WX bands). However its audio amplifier also lacks audio punch, more noticed in the SWBC bands. In our view
the early production test sample of the Tecsun PL-380
faired MUCH better here for audio quality (has some bass response) and with a more powerful audio amplifier to boot.
C.Crane appears to target this radio more for the "talk radio" listening crowd, so it seems. In any event the C.Crane "Skywave" is a decent performing pocket set. The normal retail price is just bit high in our view for what it is / features provided.
Dave N9EWO
© N9EWO, all rights reserved
ver 1.8
More Information Links [all subject to change without notice] :
Jay Allen's Review on the Skywave
SWLing Blog Review on the Skywave
Owners Manual , later version (in PDF)
---
N9EWO Review :
Retekess TR604 AM/FM Portable Radio
(also sold as the AIWA AR-A10)
N9EWO's Review on the Retekess TR604 AM/FM Portable Radio.
Country Of Manufacture : China
Serial Number (approx.) of Test Sample : 1908R604110003x (Manufactured in August 2019)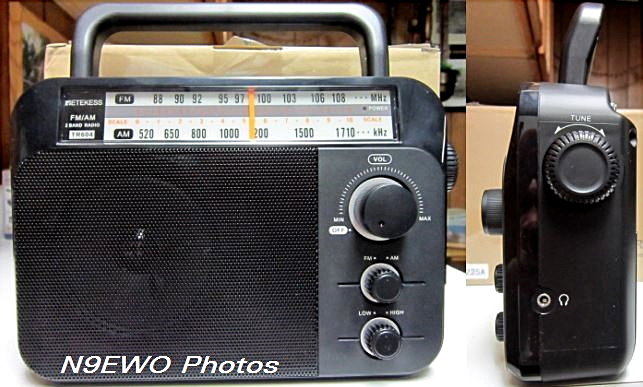 The low cost (approx. $ 30. USD) "Retekess TR604" Basic AM/FM Portable Radio.
Operates on 3 common "D" size batteries or AC mains power (with detachable cord).
Analog Display but appears to tune digitally with DSP which makes for no drift operation.
This is a mono radio on FM with headphones (jack located just below the tuning knob). (N9EWO Photos)
PRO :
- Appears to be a DSP based design (receiver on one chip) which gives for excellent "no drift" stability.
- Slightly above average sensitivity on both bands.
- Powerful 1 watt audio amplifier with 3.5 inch speaker with decent sized magnet gives for decent audio quality.
- Detachable 4.5 foot AC Power Cable included.
- Internal Power Supply uses a "old school" power transformer (no noisy switching supply being used).
- 3 D Battery operation that includes low current consumption for extended operation time. Excellent for emergency situations.
- "ON" Operation LED
- 2 Position Tone Control (Best Left in Low, but High setting can be useful for AM stations that are muffled for improved audio recovery, see CON)
- Large tuning and volume control knobs (see CON)
- Attractive style with metal speaker grill and handy fold down large carrying handle.
- Long 24 inch FM whip antenna that swivels / rotates.
- Headphone Jack (See CON).
- Sold in 110 and 220 volt versions
CON :
- Detectable "low level hum" when using AC Power. Unless the station has quiet audio (or no audio), is not serious issue.
- DSP step tuning makes for very finicky band scanning and fine tuning.
- Play and backlash in dial string tuning system makes for additional tuning woes.
- Selectivity is a mixed bag. Some close stations can get mixed together (careful tuning can sometimes fix this). On AM almost sounds like drifting (but it's not).
- Strong "Loud" AM stations can be trounced with a popping-crackling noise. Rotation of the cabinet and tuning can sometimes help reduce this (lower signal strength) but not always.
- Fair dial calibration.
- AM signals can pop in and out with nighttime "Skywave" signal fading
- Tone control in "High" setting is so high "shrill" sounding not to be useful in normal operation.
- FM is in MONO only (at headphone jack).
- No external antenna connections (why would you want it on a radio in this price point).
- Not a UL listed product (Seems to be decently constructed for the price. So may be a of little moment.).
Rear View of the TR604 shows it's "2 Pin" AC power socket.
Once the 3 heavy D batteries are installed it stands up nicely. (N9EWO Photo)
The Retekess TR604 is packaged in a brown marked box with styrofoam inserts and includes a detachable polarized AC cord. Why the use of polarized plug is a mystery as the end that plugs into the radio can be inserted either way. No UL certification (listing) can be found. The 4.5 foot length cord is a bit short when compared to the normal included 6 foot length with electric products. A standard type AC socket is used here so a longer cord can easily be fitted if desired. The use of a detachable AC cord is a refreshing plus vs. a straight wired cord into the set that we see more of with a low cost radio like this (or the use of wall wart which is usually a dreaded switching type these days).

There is a detectable "low level hum" when using AC Power. Unless the station has quiet audio (or no audio), is not serious issue. Unless the owner turns down the volume fully many never hear this hum at all. It is more noticeable when using headphones.

Analog tuning, but it's actually using a DSP "digital" tuning scheme and that can be noticed with first use. It takes a bit of practice and is somewhat tricky at first, and with a bit of play and backlash with it's dial string tuning system makes its a bit more of a chore, but for the most part it gets the job done for the price.

Sensitivity on both AM and FM is "slightly" above average in our view. Certainly adequate for reception of all local stations with ease. This is not a set for DX stellar performance (and at this price point can't be expected). AM band can be taxied by a "Popping-Crackling" sound on strong LOUD stations. This can sometimes be corrected by slightly rotating the set (reducing sensitivity) Also AM stations can pop in and out with nighttime skywave fading conditions. Also when 2 stations are close together (AM or FM), a mix of those 2 stations can be experienced. Also with careful tuning this trait can be reduced or eliminated (but not always).

Tone control is best left on LOW. High is just too shrill and sharp to be much use (except for the occasional station with very muffled audio).

The TR604 is a battery miser with it's non microprocessor design. We measured current consumption between 50 to 70 ma on AM and 80 to 95 ma on FM with decent moderate volume. With the use of large D batteries, will give many hours between battery changes.

Audio is loud and decent with it's 3.5 inch speaker and D2822M (1 watt output) audio amplifier IC. The large tuning and volume control knobs are a nice touch even with a bit of tuning play and backlash that exists. Even being a MONO receiver on FM, when stereo headphones are used the sound comes out of both ears (no stereo-mono adapter is required).


Internal view of the TR604. Uses old school "AC power" transformer.
(thank goodness no switching power supplies are used)
Contains a large 3.5 inch speaker that uses a fairly large magnet to boot
along with its beefy 1 watt audio amplifier for decent audio quality.
Slight hum however with test sample when using AC power cord.
(N9EWO Photo)
The Retekess TR604 is a most useful "low cost" AM / FM portable for around the house use listening to local stations. While not a radio for the serious DX'er, it is perfect for non critical use say in the kitchen, backyard, garage and even for emergency use during power failures with it's three D batteries and the fact that it's current consumption is very low. Use of DSP makes for drift free operation even if the tuning arrangement is not the greatest. It's powerful 1 watt audio amplifier and 3.5 inch speaker (with a large size magnet) makes for good listening provided the tone control is set on LOW. Pleasant low cost household radio with AC power transformer built in, just remember don't expect a $ 100. set for around $ 30. US Dollars.
Dave N9EWO
© N9EWO, all rights reserved
ver 1.9
More Information Links [all subject to change without notice] :
Amazon Link for TR604 (including additional reviews)
Retekess TR604 Web Site
Jay Allen TR-604 Review
You Tube Video : "todderbert" TR604 Review
English manual via manufactures Web Site
---
Dave N9EWO : Yaesu FT-70D Notes
A few notes from our
Yaesu FT-70DR
"Fusion" test sample hand held transceiver (sorry we are not planning a full review on this radio).
-
Operates well enough all around with plenty of decent undistorted receive audio.
-
Fusion "Yahoo Groups" have reported excessive receive failures since it's release, that is internal speaker fails but still works with speaker mic OK.
-
Internal microphone sensitivity between analog and fusion transmit audio is still far apart and Yaesu should consider separate TX level adjustments for digital and analog, otherwise TX punch is good.
-
Very good ergonomics and very easy to see LCD display and backlighting.
-
Many may not prefer the electronic volume control (The FT3DR has a top mounted dedicated volume control)
-
No extended receive above 579.995 MHz (nor MW or FM broadcast).
-
Receive coverage lacks SW broadcast (which the FT3DR has, AM mode only).
-
The biggest "Bug-A-Boo" with the FT-70DR involves "stand by" current when off. Many Chinese handhelds suffer from this bug and the Japanese made Yaesu FT-70D is nasty BAD here as well in our testing. It's receive current consumption in regular operation is not so great either even with it's RX LED's off and battery saver in use and this is even in analog mode (the FT3DR fares MUCH better here in the specifications). ONLY way around the excessive "stand by current" bug is to totally remove the battery when not in use (a royal pain in the rump !). Yes, this is even after the recommended firmware update !
-
Cabinet is on the "chubby wide" side. For anyone with small hands you know what I mean. Not easily placed in ones shirt pocket either (unless you are a lumberjack).
-
Included plastic antenna continues the Yaesu tradition here (that is a bit on the
"ugly-thugly"
side and only so-so performance).
The Yaesu FT-70DR "Fusion" Dual Band Handheld.
(Yaesu Photo)
---
N9EWO Review :




C.Crane "FM REFLECT

"


Indoor FM Antenna



C.Crane's "FM REFLECT" Indoor FM Wall Antenna (it's outer box photo above).
100% Passive and Respectable. Made in China. (sorry no longer available new)

(N9EWO Photo)



Discontinued Product





PRO :

Improves FM Broadcast reception over the standard T-style dipole that was included with older Stereo receivers. Passive design for excellent signal to noise ratio. Design is much less affected by people moving around in the room (a major issue with any indoor antenna). 8 foot 75 ohm coax feedline (no 300 ohm twin lead feeds lines used here). Mounting ears and center section that have nail mounting holes (required to use, see con). All white color. Includes a 75 to 300 ohm transformer.



CON :

Wall mounted antenna, generally ugly and difficult to hide, must be mounted to something and is not easy to deal with with it's thick elements. Stiff coax cable. Pricey for what it is (at full price). Heat shrink piece over coax connector was not done properly and made for difficult connection to receiver (one can just carefully remove it with a pair of scissors). As it is with any indoor antenna some experimentation may be required to locate the best hot spot in the room (may require an extension of the coax cable). The weird whip portable antenna connection with the provided 75 to 300 ohm balun and alligator clip did NOT provide any improvement in our testing (we say any host receiver MUST have an actual antenna and ground connection, 75 or 300 ohm).



Final Word :

This 54 inch "INDOOR" FM broadcast antenna was a winner in our tests. After trying many indoor FM antenna's over the years, this one works and no fiddling with some phasing control. We tested this in a horizontal configuration (see photo below). Not that it will make the weak station jump to full scale signals (it can't and doesn't). But when directly compared to a dipole antenna that were included with older stereo receivers from years past (not a folded dipole type), the C.Crane FM REFLECT was definitely an improvement (on a some stations it was quite surprising). Completely passive design, this is NOT another and undesirable active antenna either (designs which we don't bother with anymore at all), so NO added noise to the signal. We found it worked equally well across the entire FM broadcast band (88 to 108 MHz). A bit ugly yes, but is still easier to hide over a even more ugly pair of "Rabbit Ears".

Sadly this antenna has been discontinued and no longer available new.


Dave N9EWO
© N9EWO, all rights reserved
ver 2.1
The C.Crane "FM Reflect" is a bit on the unwieldy side and is less stiff than one would hope for. We mounted the test sample on the top of 2 bulletin boards with it's feedline coax neatly hidden in the space between them. There are TINY mounting holes at each end and a couple in the middle, but to use these will take a fairy long and thin nail etc. Being as "thugly" as it is, it cannot be used without some mounting support (must be wall mounted). In testing it would have been nice to have seen the coax slightly longer than it's 8 feet (say 10 to 12). But is easily lengthened (the shorter the better of course.) (N9EWO Photo)
---
Grundig / Eton "Field" BT (Bluetooth) Receiver

Craig Menning guest "micro review" on the discontinued Grundig / Eton "Field" Receiver (many thanks Craig) (Universal Radio Photo)
Discontinued Receiver

This version has Bluetooth support (BT model). Appears the speaker sound has radically changed over the old non-BT version. There has been a change to the bass response through headphones. At "maximum" Bass adjustment, the new version has much less low end. Similar, but not so obvious results with the speaker.
Eton Field : Current readings in AM and FM, no signal, minimum volume (in mA's)
With LED Backlight ON - OFF
AM/on AM/off FM/on FM/off
As you can see the LED backlight adds 42 mA, something to be avoided. The new radio seems to draw 14-16 mA more than the old one. Box covering the speaker in the new BT version, precluding the conversion to a longer AM antenna. Will update this as necessary as Craig learns more with his comparisons.

On AM (MW) , the new Field and the old version are basically the same. Some minor sensitivity differences could be seen on a few frequencies, but not enough to say one radio was more sensitive than the other. On FM, for the most part they were the same, but there were a few stations that came in better on the old radio. On shortwave, using the whip both radios are the same, for the most part. Around 15 MHz, the new BT version did slightly better. My revised opinion, from a general shortwave standpoint is these radios are the same. Naturally adding a wire antenna helps greatly.
Contrast on the new radio's display is better, I also observe that backlight on the buttons is better. I wish the display could be seen with the LEDS off

(with any negative type LCD display this is not possible…N9EWO).

One comment common to both radios is the tuning is terrible. The two speed tuning is annoying.
Another observation, on AM, the older version had birdies / hets / whistles on four different frequencies. The new version only had one. This is an improvement. I wonder if the new added shielding was a factor ? The station had to be extremely weak, barely audible for these to be observed. With stronger signals, they are not noticeable.
I did notice that, on the old version, the audio could get louder. This could be due to the difference between a 4-inch speaker and a sub-two inch speaker. Or, there could be other differences?
Conclusion: I wouldn't get the new version expecting an improvement in signal reception. Given that the old one likely has better battery life, I'd say that is the better choice. Since both old and new would allow adding the jack for alternate AM antennas, anyone wishing to do that could go with either radio.

Craig Menning

---
Guest Review :
CommRadio CR-1A Communicatons Receiver

Dean Bianco guest "micro review" on the CommRadio CR-1A Communications Receiver (many thanks Dean) (Universal Radio Photo)




Discontinued Receiver



PRO :

Solid build-quality (case made of steel),

Crisp, powerful audio output (especially when connected to an outboard speaker),

Manually dimmable, clear OLED display with EMI-filtered lens.

12-14 Hour "Lithium Ion" battery capacity between charges (see Con).

Menu-driven operating features no too difficult to master (see Con),

External Power Supply (Wall Wart) runs cool and is quiet

[this was not normally provided with the receiver.....N9EWO].

Very portable, and the over-sized rubber feet make the radio very stable on the operating surface.



CON : Fair dynamic range with any decent outdoor antenna and no attenuator to help control it . Sub optimal image rejection. Clumsy menu system. Hard wired internal battery

[Note : This was a later production sample, the battery holder used in earlier product had been removed....N9EWO]

. No Synchronous Detector (see text). No Performance Upgrades since it's release. Poor IF filter symmetry. Lacking DSP Noise Blanker, DSP noise blanker, Pass Band Tuning (PBT) and Notch Filter.





Dynamic Range is only fair when using a high-performance outdoor antenna

.

There is no Attenuator to help tame it.

Image rejection is rather sub-optimal---e.g. strong signals appearing on frequencies where they are not supposed to be ("Brother Stair everywhere" and Radio Havana Cuba, among other high-signal strength stations) on par with the image rejection specs of cheap portables !!

The menu system's functionality is cumbersome on some functions, making manual signal tuning a chore.

Internal batteries are hard-wired

[is not a standard type either...and is missing a line audio output jack...N9EWO]

.

No synchronous AM detection (see next paragraph).



The manufacturer never made any performance upgrades during it's life on the market. They even hinted at offering SYNCHRONOUS DETECTION among other features, but was never implemented. (Hardware changes to the antenna inputs and added PC -accessible GUI and real-time Spectral Display [computer-based only] not withstanding). The IF bandwidth filters, while sharp and clean and a good number of them, have poor symmetry--i.e., one side of a signal, say, as an example on AM at any bandwidth, the lower side is wider than the higher side, compromising selectivity when trying to tune away from a close-in adjacent signal a few kHz away.

There is

No DSP Noise Blanker,

No DSP Noise Reduction mitigation,

No PBT

,

No Notch Filtering

.

Overall, the CR-1a (priced new at $550 to $600) while tank-tough, easily portable, sensitive, and great sounding, alas, is (was) too expensive for its limited feature-set and functionality performance compromises.

Dean Bianco
---
N9EWO Review :
Tecsun PL-600 Receiver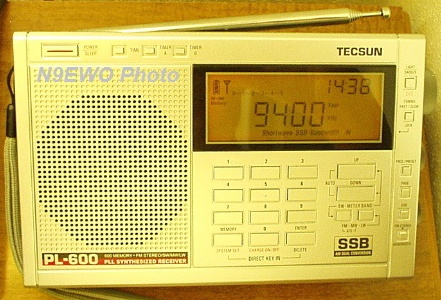 The Tecsun PL-600 (made in Silver or Black color cabinets)
First production run test sample contained excessive distorted audio on LW, MW and SW Bands.
It has been reported that with later samples this bug has been fixed (not tested) ?
See link at the bottom of this review for modification information (if needed).

(N9EWO Photo)
N9EWO's Review on the Tecsun PL-600 Receiver.
Country of Manufacture : China
Serial Number (approx.) of Test Sample : (not documented)
Firmware Version of Test Sample : (not documented)
(Important Note / Update : Test sample was from the first production run. Also a 220 VAC power adapter (not multi voltage) was included with this receiver. We were unable to run testing with any AC adapter in use (batteries only). It's been reported that new versions have the LW-MW-SW audio distortion bug fixed , however we have not tested this.
The Tecsun PL-600 is a larger compact at 7 1/4 x 4 1/2 x 1 1/2 inches.
Good ergonomics and ease of use and the buttons have a good tactile feel.
Features 2 radio timers. The BFO has a rotary control that includes a light feeling center dimple. The PL-660 has 2 well chosen bandwidths (4 and 8 kHz) and the non-volatile memory channels even remember the bandwidth and the mode settings. This is SSB or AM as there is no separate USB and LSB selections available.
Clock is displayed separate from the frequency, and when off the frequency part of the display becomes the time and where the time was shows the alarm time (flashes between timer 1 and timer 2). Seconds display are not available.
LCD is large and most icons are easy to see. However as is the case with other Tecsun receivers over the years it's background is dark and one is forced to use the good back light most of the time (unless you are in very bright light or in direct sunlight).
Sensitivity is good all around and for more kick the included wire can be connected.
External antenna jack works on SW and FM (not on MW or LW). Dynamic range pretty much behaves itself even with good sized outdoor antenna in use.
A 2 step attenuator ("Local-Normal-DX") kills way too much of the signal even in the "Normal"position. This is not the first Tecsun receiver to have this bug. Perhaps not so much of a issue when using a external antenna, but on the whip makes it almost worthless. The attenuator works on SW and FM bands only.
The real major problem with the PL-600 is with it's audio quality. It's very good on FM, above average with a nice bass boost for the size. But on LW, MW and SW bands it's loaded with distortion at any signal level with the first production test sample. The attenuator not helping the cause at all. This makes the receiver MUCH less attractive than it should have been and is a major drawback. There is no fixed "line output " jack on this receiver.
When connected to a external antenna and in the prime time listening periods (say in the 49 meter band at night) 2 additional nasty things pop up. First we discovered local MW bleed through across various spots in the SW bands. Next disconcerting 910 kHz images appeared. So the 55.845 MHz / 455 KHz dual up-conversion design being used here is not as promising as it should be.
5 bar signal strength meter is provided. It over reads, but not as much as some other models around.
One strange gremlin was with the sets external DC input jack. We were forced to try to use aftermarket adapters as the included adapter was 220 V input only.
No contact was able to be made with a number of DC plugs plugs that fit perfect in ALL other devices that it worked in at the test location. We discovered that the center tip of the jack used is smaller than what it should be. If we giggled it a bit we made a connection for a second. Taking a look at the included 220 V adapter "plug", sure enough the center pin (female socket) was much

tighter

(smaller) than normal. So appears to use a nonstandard size DC input socket ?


Uses four AA type batteries, and once these are removed it takes about 90 minutes for the clock to reset. The 4 batteries install and remove great with no problems. There is no hinge on the cover, so loss can be a problem.
If you want to bypass the 1 to 120 minute Sleep Timer, the user has to push and HOLD the power button for a second longer at power up. Almost ditto to turn it off, push and hold it for a second.
Tuning steps with the slewing buttons or with the knob are (slow / fast tuning step) 1 and 5 kHz for SW, 1 or 10 (or 9) kHz on MW, 1 or 9 kHz on LW. FM band is 10 or 100 kHz.
There was a 18 page English manual included with the test sample and was useful. It lacks any specifications however.
Dave N9EWO
©

N9EWO
Ver 2.5



(Update : See the "Miscellaneous Radio Tips" page here for a resistor modification to fix this annoying audio distortion issue)





Links for additional Information (subject to change without notice)


- eham PL-600 Reviews
- Amazon PL-600 Reviews
- PL-600 Schematics (scanned pages as taken from a magazine)
- PL-600 PDF owners manual (via Tecsun Australia)
---
---
---