Japan Radio Co. (JRC) NRD-371(A) Digital HF Monitor Receiver : 1999~2000
Sample of the JRC NRD-371 (A ?) was shown at the 1999 Tokyo Ham Fair (photo below).

Was targeted for Japanese Government issue only (Japanese Defense Forces ?), and that
is IF any samples do exist.
ICOM was selling similar technology "

IC-756 PRO" HF TRANSCEIVER


with a COLOR LCD for about 80% less cost at the time.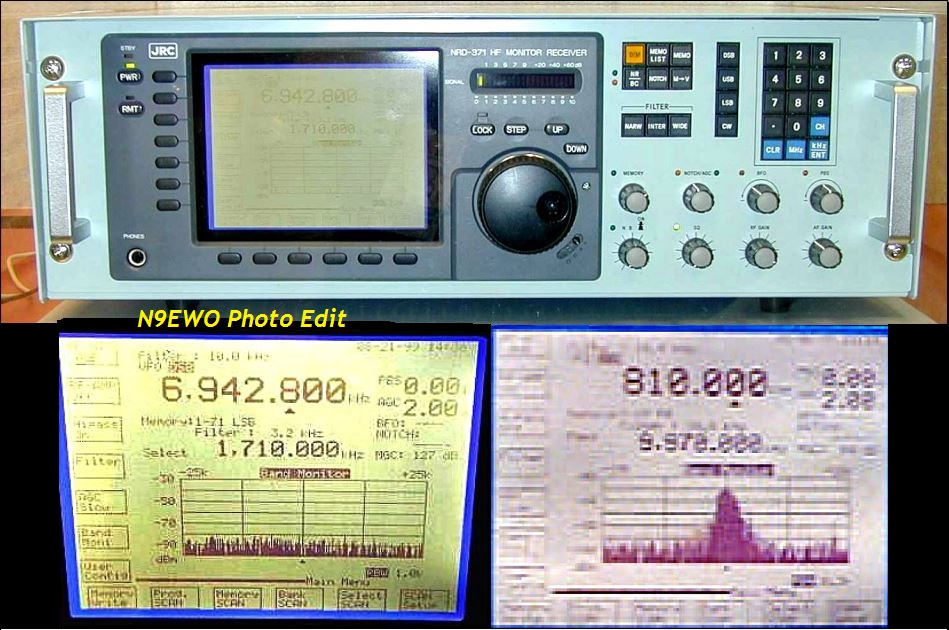 NRD-371 photo credits : Takashi Kuroda (Japan), taken at
the ham radio fair in Tokyo Aug 1999 (N9EWO Photo Edit)


Additional information from Takashi Kuroda in Japan (from 1999) :
"The new NRD371 is a prototype and is fully DSP based implementing 32 bit DSP chips. It controls directly from 455khz 2nd IF unlike the EK895 or NRD545. I do not know much about the DSP technology but a friend of mine says it is ideal which has not been available with other receivers. The NRD371 is expected be launched next summer in Japan mainly targeting maritime and other professional users. JRC is reportedly supplying a similar DSP monitoring receiver to the Japanese Defense Forces already and the NRD371 is developed based on the receiver for defense use. The price range is about Yen 1,200,000.- to Yen 1,500,000.- (approx. $11,000. to 13,500. USD) which will be similar to EK895 or Racal 3791. JRC people say the cosmetics will be modified since they have used the parts which are already available to assemble this prototype (as above)."
RF AMP: approx. 10dB
RF ATT: 0dB / 10dB / 20dB / 30dB
PBS: +/- 2.5khz
Notch Att: >40dB
Notch Bandwidth: +/- 2.5khz
Squelch: all modes
AGC: attack release 10ms - 5s (20ms steps)
IF Digital Filter: 10khz / 6.0khz / 3.2khz / 2.4khz / 1.8khz / 1.0khz / 0.5khz / 0.2khz
Interface: RS232C / GPIB
Band Monitor: Span = 10khz / 50khz / 100khz / 200khz
IF output: 455khz 50ohms (BNC) -10dB
3rd IP+: >+30dB
Dynamic Range: >109dB (BW=0.5khz)
Coverage: 10khz-29.999.999khz
Mode: USB / LSB / CW / DSB / FSK / FM / ISB
Stability: >0.3ppm
Step: 1hz
Memory: 1,000 ch (100ch x 10 groups)
Voltage: AC100V 50/60hz
Dimensions: 480 W x 150 H x 460 D m/m
Weight: 12kg (26.45 Pounds)
---

Kneisner + Doering KWZ-50 : 2007~2009


---
Grove Enterprises
SR-1000 Wide Band Receiver : 1989



Proposed Specifications :
Frequency range: 100 kHz -1000 MHz
Frequency display: 7 digit LED, 100 Hz readout, time base ref.
Tuning method: phase locked loop frequency synthesis
Frequency control: rotary dial, direct -entry keypad
Tuning increments: select 100 Hz, 1 kHz, 10 kHz, 1 MHz
Frequency resolution: Infinite with RIT control
Center frequency indicator: LED
Memory: 1024 channels store frequency, mode; internal backup
Memory access: tuning dial rotation; keypad entry
Memory default: previous settings displayed at turn -on Modes: WBFM, NBFM, AM, USB /CW, and LSB /RTTY
Time base stability: +/- 1 ppm after warmup, 0 -40° C, non -oven Survivable temperature range: -20 to +50° C
Sensitivity: 0.5 uV @ 12 dB SINAD (NBFM mode)
Preamplifier / attenuator: +10 dB, bypass, -10 dB
IF scheme: up- conversion superheterodyne
IF output: 10.7 MHz, 10 MHz bandwidth, BNC connector
Selectivity: 180 kHz WBFM, 15 kHz NBFM, 6 kHz AM, 2.4 kHz SSB; wide /narrow option
Spurious signal rejection: 60 dB or better
Display dynamic range: 50 dB or better
Third order intermod susceptibility: +20 dB or better
Spectrum display: 3" LCD
Spectrum display calibration: center marker switch
Spectrum display dynamic range: 50 dB logarithmic
Spectrum dispersion: selectable 100 kHz, 1MHz, 10 MHz
Signal strength indicator: LED bar graph
Interference controls: ANL, squelch, notch, tone
Audio output power: 6 W max. (1 watt @ 10% THD)
Tape recorder output: 1 V @ 600 ohms (nom.); remote activator
Speaker: internal 4 ", 8 ohms
Audio jacks: 1/4" headphones, 1/8" (3.5 mm) speaker, 8 ohms
AGC timing: 20 ms attack, 25 decay AM, 500 ms decays SSB
Power requirements: 12 VDC
Antenna input impedence: 50 ohms nominal
Antenna connectors: S0239 (30 MHz BNC) 30 MHz; may be combined
Cabinet and panel: heavy gauge aluminum
Measurements: 17" x 5 1 /4 "H x 13 "D
Weight: 20 pounds (approx.)
OPTIONAL ACCESSORIES
RS232C expansion interface
19" rack mount kit
1000 -2000 MHz frequency converter
AC power supply
35 kHz FM filter
4 kHz AM filter
1.8 kHz SSB filter
1 kHz RTTY /cw filter
---
Grove Enterprises
SW-100 HF Communications Receiver : 1992

A non-working prototype was shown at the 1992 Dayton Hamvention.
(was canceled in early 1993)


Proposed Specifications :
Frequency Range: 10 kHz -32 MHz
Memory: 1000 channels (10 banks of 100) store frequency, mode, selectivity, channel number, lockout
Scan: 20 channels per second (varies with mode and frequency) with 2 second delay; A/B VFO automatically follows dual-frequency communications
Frequency Readout Accuracy: 10 Hz (5 decimal places)
Center Frequency Tuning Indicator: LCD
Frequency Accuracy: +/- 5 ppm
Sensitivity (10 dB SINAD SSB, 50 ohms): 0.5 microvolts (8 dB) or better
Dynamic Range: 80 dB min. Intermodulation (3rd Order Intercept Point): +15 dBm min.
Image /IF Rejection: 90 dB min.
Selectivity (2:1 shape factor, -6/ -60 dB): AM /SSB wide 6.0 kHz, medium 3.0 kHz, narrow 2.4 kHz, sharp 1.0 kHz (optional); FM narrow 15 kHz, sharp 6.0 kHz
Tuning Steps: AM 100/1000 Hz, AM synch /SSB 10/100 Hz, NFM 2.5/12.5 kHz, plus user defined 10 Hz -1000 kHz
Conversion Scheme: Up- converted double superheterodyne (45 MHz, 455 kHz)
AGC: 10 mS attack, 10 mS AM /FM decay, 500 mS SSB decay
Receiving Modes: AM, AM synch, USB, LSB, NBFM
Noise Limiter: Low distortion pulse clipping
Overload Protection: Induced lightning and signal overload
Tone control: Bass /treble adjust
S Meter: D'Arsonval movement registers S units and microvolts
Display: Backlit LCD
Notch Filter: Suppresses 450 -5200 Hz tone interference 40 dB
Squelch: Signal activated, all modes
IF Output: 45 MHz for SDU
Power Requirement: 12 VDC @ 1 A; 120 VAC adaptor included
Recorder Activator: Sinks 12 VDC @ 1 A
Record Output: 600 mV @ 1000 ohms
Audio: 4 watts @ less than 10% THD into 4 ohms
Internal speaker: Top mounted, 4" full fidelity
Earphone Jack: 1/4 ", 4 -16 ohm, anti -blast protected
External speaker jack: 1/8"
Dimensions: 4'H x 10 "W x 8 "D rack mountable
Weight: 5.5 lbs.
Warranty: One year
---
ICOM IC-T82A 6 Meter/2 Meter/70cm Handheld Transceiver : 2001

An early version of the IC-T90A
(see N9EWO's review here).


Icom America announcement from April 9th, 2001 :
"Icom America has decided not to proceed with the sale of our latest product, the T82A.
This model in its current form, after careful scrutiny and testing,
did not meet the high standards of technological excellence that Icom sets for all our products.
Therefore, rather than putting a below standard item on the market,
the decision was made in the interst of our customers and dealers, to stop the sale
and advertising of this product."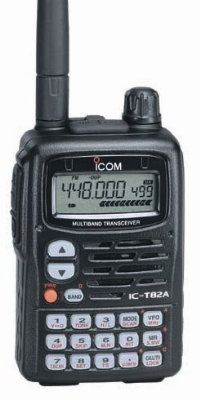 ---
Sangean DRM-40 / MP-40 Portable AM / FM / SW Radio with DRM and DAB : 2006


NOTE : This did actually appear on the market (very limited numbers) under the Roberts MP-40 name (UK).
Performance issues with the early Roberts release is the reason why Sangean just gave up on it all together ?
It was never sold under the "manufacture" Sangean name.

---
RadioShack HTX-204 VHF/UHF Dual Band Handheld Transceiver (cat no. 190-1124) : 1997


This was made by ADI and sold under that brand as the AT-600 (made in Taiwan).
RadioShack ABRUPTLY pulled these from ALL stores DAYS after release.
Can be modified for extended transmit by entering a 10 digit code on the keypad.
Are a few of these floating around under the HTX-204 model badge (but not many).


---
Collins 451S-1 HF Communications Receiver : 1982~1983


Very few of the

Collins 451S-1

were ever made (never made it to production). Has been reported that only TEN prototypes were manufactured. A FEW oozed outside of the factory. Serial number # 002 sold on ebay for $ 18,100. back in December 2014 by Cliff W4NJ. More pictures via DH2FA / KM5VT here of this # 2 serial number sample. Japanese page for additional pictures including internal (Google translated).


---
ESKA "ESCOM 500" Wideband Communications Receiver : 1985~1988


Eddy Visser's dream receiver that never made it to production. Coverage was to be from 10 kHz to 400 MHz (all modes). 12 bandwidths ? Was to be the only ESKA receiver to have a tuning knob. Reported that only 2 prototypes were made (but may be a few more than that...unknown ?). Please email me if you know additional information.



Dave N9EWO
© N9EWO, all rights reserved
Ver 2.8

---
Additional Links (all subject to change without notice)

- Yaesu FT-101TT HF Transceiver - 1980 (via "Fox Tango International" web site) (thanks to Ulis Fleming K3LU)


Palstar's track record with prototype announcements usually points to it never being manufactured.
- Palstar TR30 – HF Transceiver - 2013
- Palstar TR30A – HF Transceiver - 2014
- Palstar TR30A EMP – HF Transceiver - 2019
---