N9EWO Review :
Grundig - eton - Satellit 750
Tecsun S-2000
Eton Elite 750
LW - MW - SW - FM - Aircraft Receiver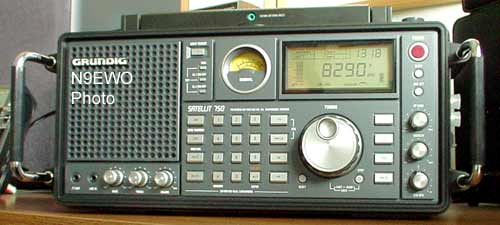 The discontinued Tecsun made "Grundig Satellit 750" (as sold in North America)
It was sold in China as the "Tecsun S-2000"
Elsewhere in the world was sold as the "eton Satellit 750"
Returned in mid 2020 as the "Eton Elite 750" (not tested).
(NOTE : See added block at the bottom of this report for updated information) (Photo: N9EWO)
---
Country of Manufacture : China (PRC)


Serial Number of Test Sample :

Not Documented

I do NOT own a Satellit 750 or S-2000. A test sample was used for this report.

N9EWO's Review of the Grundig Satellit 750
(Please Note : Test sample was from a limited first production run in August 2008.)

---
PRO :

- Good SW sensitivity (whip or external antenna).
- Dual bandwidths that work OK (see con).
- Dual up conversion that tame images very well.
- Decent dynamic range.
- Top mounted 360 degree rotatable LW/MW "loop-stick" antenna (see con).
- MW / LW separate external antenna jack (located on loop antenna)
- Full LW, MW, SW, FM, and Aircraft band coverage.
- 1000 total memory channels.
- RF gain control. 2 step RF attenuator (off, -10db, -20db) with LCD icons.
- 2 tuning steps with dial lock (see con).
- All tuning methods provided : Direct keyboard entry, slewing, memory auto scanning, band scanning , knob with speed dimple (see con).
- SW band presets.
- Generally good ergonomics (see con).
- SSB mode with BFO adjustment (see con).
- No muting when tuning.
- Free from spurious signals.
- Lighted mechanical s-meter (see con).
- Decent audio quality that includes separate Bass and Treble controls (see con).
- Stereo audio line output that has proper level.
- Stereo audio line input on front panel for MP3 players...etc.


-

ATS for FM, LW or MW.
- Separate side mounted BNC external antenna jacks for FM and SW
- 2 alarms (radio or buzzer) with a 10 minute snooze feature.
- Single 24 hour mode clock displays separately from frequency.
- Selectable 9 or 10 kHz MW frequency step.
- Squelch control that works on all frequencies.
- Long reset time after batteries are removed before clock resets.
- Padded protection feet on bottom.
CON :

- MW and FM bands have only so-so sensitivity.
- Dreadful aircraft band sensitivity.
- No synchronous detection and manual ECSS is a total disaster.
- Wide filter is "super wide" and will be an issue in crowed bands (Wide Filter : CFT455F).
- Wide filter sounds on frequency only when tuning 5 kHz off on either side of the actual signal (narrow filter was OK on test sample).
- Audio quality even if above average, non FM signals are not that sparkling (could use a tad more high end).
- Audio distortion appears with super strong signals, decreasing the RF gain helps a bit but not entirely.
- Top mounted LW/MW "loop-stick" antenna is effected by hand placement more than it should and scrapes on top cabinet if not carefully rotated.
- Some tuning cuffing noises present.
- Almost useless LSB - USB setting and filtering (Narrow Filter : CXEL455IU or CQP55I).
- Very wobbly tuning knob.
- Tuning Knob uses that undesirable "rubberized" paint (only early production samples).
- Whip antenna flops around like dead fish and the first 2 top segments bent the first time it was pulled out in testing.
- Keys while having OK tactile feedback, are wobbly and have a spongy feel.
- External DC jack uses un-standard negative tip.
- Display contrast is light when viewed straight on, better viewed from a higher angle.
- Dimly lit S-meter is recessed in cabinet too much and a chore to view.
- S-meter over reads.
- No alpha tags on memory channels.
- Does not remember continuous LCD "backlighting" mode, one always has to hit and press the light button every time it is powered up.
- Only provided "Lock" is for main tuning dial only.
- Crowed knob layout.
- Single 24 hour clock and no seconds display.
- No dedicated buttons for presets.
- Reset button too easy to access.
- Included 117 vac [USA] unregulated transformer type AC Adapter causes minor hum on SW with whip / other indoor antenna's.
- Skimpy owners manual is hard to see being printed in light gray ink.
---
The Grundig Satellit 750 (as it's known in North America) was manufactured by Tecsun in China. It was sold as the Tecsun S-2000 inside China. For the rest of this report we will use "Satellit 750", but for the most part the text is valid for the S-2000 as well. Oh yes, elsewhere in the world it's known as the eton "Satellit 750"..(whew).

One may wish to compare this model to the older Satellit 800 model (my Sat 800 review can be seen here) . But unlike the elder e1 model, Drake's fingerprints are absent from this entry and it shows. No synchronous detection, and a SSB mode that is lacking due to a too wide of a "narrow" filter and poor AGC. The audio quality is most pleasant for broadcast stations and overall is a most enjoyable larger portable. However as we cover in the report below, the wobbly tuning knob and almost useless S-Meter ruins the charm for me. It is certainly no Satellit 800 or e1.
No Gap LW- MW- SW Frequency Coverage

The 750's receive coverage is :

Long Wave : 100 to 519 kHz
Medium Wave : 520 to 1710 kHz
Shortwave : 1711 to 29999 kHz
FM Broadcast : 76 to 108 MHz
Aircraft : 118 to 137 MHz

The FM band limits are toggled in the "System Code Settings"menu . Either as 76 to 108 MHz or as 87 to 108 MHz.

Strange Sized Package with a Cubby Hole In The Rear / Negative Tip DC Input Polarity / Hum Using Included AC Adapter with Whip of Indoor Antenna. Ergonomics OK / Reset Button
Approximate size of the 750 is 14.5 x 7 x 6 inches (length, height, depth). The approx. measured weight without batteries was 5 lbs 6 oz (6 lbs 14 oz with batteries installed).

At least in the case of the 750, a strange compartment is found in the rear , right next to the battery compartment (with it's own separate lid). It's internal size is approximately 2 1/4 x 2 3/4 x 1 1/2 inches. The lid to this mystery cavity has a what looks to be a line cord cut out in it ? It appears that somewhere in the design stage a internal AC cord may have been in the works (or perhaps with other variations of the model) ? In fact the Tecsun S-2000 version does appear to have a internal 230 v ac supply. The Grundig 750 only uses a external wall wart via it's DC jack.

With the tested Grundig version (USA 117VAC), a UL listed unregulated wall wart rated at 6 volt at 500 milliamp current rating was included. It works properly, but as is the case with may of these power supplies we heard hum induced with SW signals when the whip or a indoor antenna was used. Once connected to a outdoor antenna this was not an issue. WARNING : The un-standard "negative tip" is being used with the DC input jack.

Ergonomics are OK. The knobs are a bit tightly placed and are tiny for a larger radio. So for anyone with larger fingers may have a problem here. Memory entry and access are not the easiest either. Of course there are no single touch buttons for memory access.

There is a nice handle that folds out of the way, a huge plus over the e1. 4 stuck on rubber like protection pads are on the bottom to keep it from sliding around. No tilt bail of any kind is to be found on the 750. One can take the "little pinky" finger and push in the speaker grill (in the center) with no problem, so pretty thin plastic here (that's right no metal speaker grill being used)

A reset button is located in the lower left hand corner of the tuning knob. This is to help to get out of lockups (which did not occur during testing). But can easily be selected by accident. Good news is that it does not bother the clock or memory entries. One just has to renter the "System Code Settings".

Antenna Connections / Top Mounted MW Loop-stick Scrapes Cabinet

2 BNC connectors are located on the right side of the cabinet for connection of FM and SW external antenna's. Also a 500 ohm speaker terminal for connection to SW high impedance antennas. There is a switch next to these jacks to select between the whip and the external jacks.

These of course are a bit un-standard for a SW set to use BNC type antenna connectors. No adapters are included. This does allow for a faster "unplug and go" affair over the PL-259 variety.

On top of the set we find a 8 inch long 360 degree rotatable LW/MW "loop-stick" antenna. As it's rotated it "clicks".
[Update : This click all but disappeared with only light use from new. Again our test sample was a very early serial number]

We also found if the antenna is slightly pushed down at all during rotation the bottom of the loop-stick case will scrape on the top of the radio's case.

Also we found one spot in rotation with the test sample where it seemed to be a dropout (bad connection) and a small pop was heard from the speaker. But this was not of any real issue here. The LW and MW bands do have a separate "external" antenna jack located on the loop (untested).

Low Grade Whip Antenna

Whip antenna has a large plastic tip and pulls out fairly hard. Takes a pretty good pull to get the swivel part out at the bottom. As we first pulled it out of the box for testing, the very top two sections of the antenna bent.

The antenna does swivel and rotate. But as with the eton e1, it has a tendency to flop around like a dead fish on it's own weight. It's not as bad as the e1's antenna, but in that direction.

Wobbly Tuning Knob With "Rubberized" Paint / Buttons OK / LCD Display-Contrast-Lightning / Real Old Style S-Meter But Over Reads and Recessed.

The "push on" style tuning knob is on the larger side , It has a finger spinner hole (it does not rotate), also appears to be some added weight installed. It spins most freely too without any hesitation. However , just as it was with the early Sat 800's, we have a nasty amount to play that makes one wonder if it is a tuning knob or a joystick ?? This makes the set MUCH less appealing. This sour trait existed to the end of production in late 2017.

With the black ring on the knob we were thinking, "a neat rubber grip track around the outer side of the knob". Not so fast.......as it turned out to be nothing more than some of that Chinese "Rubber Feeling" paint in use here. Of course it has the potential to wear away with use or even worse get sticky. [UPDATE : With newer samples, the knob style was changed and no longer used this paint].

The 750 has a real mechanical s-meter. Readings appears way too generous on MW and SW. On FM it's either full scale or nothing, so even worse here. So it's not very useful after all. Also it's very dimly lit (only one dim LED) and is recessed back in to make it almost useless for me. It's not easy to see in any event.

LCD contrast is good as long as you view in from the top. Looking at it straight on it's weak. General main LCD brightness is OK, but could be a bit brighter and more evenly lit. There is only one brightness level.

You are able to toggle the LCD backlighting for continuous operation. However it does not remember this setting, so you have to push and hold the light/snooze button for a second every time you turn it on to make the display backlighting stay on all the time in use (other wise it's a 3 second timed thing when a knob or button is pressed).

Alarms / Sleep Modes / Snooze

Sleep mode is provided and is selected as it should with it's own button. Has no forced on selection. It can be set for 01, 05, 10, 15, 30, 45, 60 ,75, 90, or 120 minutes.

2 timers/alarms are featured. You have the choice to have either radio or buzzer (it's really a beeper). The off time are the same selections as the sleep timer above. LCD icons provide the status of both of these. When the radio is turned off the clock is displayed where the frequency was and the alarm times are displayed were the clock display normally is (it toggles back and forth showing both "on" times).

Additionally there is a 10 minute snooze function.

Dual "Up Conversion" / IF Bandwidth Filters / No Synchronous Detection

Dual Up Conversion scheme is used. The first IF is at 55.845 MHz and the second at 455 kHz.

Two IF bandwidth filters are provided. Narrow is good for crowed SW bands. But the "wide" filter will be a problem allowing heterodynes to be heard when the going gets ruff. But gives for great audio when signals will allow it (and I always like having a selection of a wider filter). Other problem is with the Wide filter, one needs to tune off the actual frequency for it to sound centered. This is a engineering bug with circuitry around the IF filter (from reading reports elsewhere it appears it was never fixed either).

There is a LCD icon for indication to what filter is in use. The memory channels even store the filter information. Alas, no synchronous detection to be found.

UPDATE : After viewing internal pictures as found on the internet,
we see that BOTH IF filters are using small (low element) types.

(Wide Filter : CFT455F - approx. 12 kHz /
Narrow Filter : CXEL455IU or CQP55I - approx. 4 to 5 kHz)
No Strange Noises / Great Image Rejection / Some Cuffing But No Muting / Tuning Methods - Steps / 1000 Memory Channels / Lock Is For Dial Only / ATS on FM, LW, MW

Receiver is clean with no strange spurious noises or groans. Image rejection is decent too. None noticed in testing. There is some chuffing when tuning , but lacks any muting nasties.
| | | | | | |
| --- | --- | --- | --- | --- | --- |
| Tuning Steps With Knob | FM | MW | SW | AIR | SSB |
| FAST | .1 Mhz | 9 or 10 Khz | 5 Khz | .025 Mhz | 5 Khz |
| SLOW | .01 Mhz | 1 Khz | 1 Khz | .001 Mhz | 1 Khz |
| | | | | | |
| --- | --- | --- | --- | --- | --- |
| Slewing Button "UP-DOWN" Steps | FM | MW | SW | AIR | SSB |
| FAST | 1 Mhz | 100 Khz | 100 Khz | .1 Mhz | 100 Khz |
| SLOW | .1 Mhz | 9 or 10 Khz | 5 Khz | .025 Mhz | 5 Khz |
The 750 has just about every tuning method available. Of course there the direct access keyboard. The enter button is not required to be used in most cases. Just key in the frequency in kHz and BOOM it pops in, no other buttons prior to the direct entry are needed either . If you wish to enter say just 6 MHz. Hit the 6 and the enter key and 6000 kHz is there. Does not get much easier here.

There are 1000 total memory channels. These are banked in 2 chunks and the how the pages are configured depends how the "System Code Settings" are configured (to the owners desires). These are not the easiest to enter or access however.

10 Pages, each with 50 memories
20 Pages, each with 25 memories
25 Pages, each with 20 memories
50 Pages, each with 10 memories

You can scan up and down the band stopping at a channel for 5 seconds and then it continues on (just like on a car radio). Works on all bands. You can also do the same scanning method with memory channels as well. It works well too and is most useful for lazy band scanning.

ATS feature is usable on LW, MW or FM bands and is stored in Page 0 (P0).

Great Audio Quality With Separate Bass and Treble and a Beefy Speaker, But with a couple of Bug's.

The 700's audio is a aural treat with it's beefy sized speaker and separate Bass and Treble controls. It does sound nice and if one can use the "Wide" filter for a given SW or MW station, then it becomes very nice indeed.

But it's not all wine and roses. First with very strong stations on SW or MW, there is a noticeable amount of distortion the creeps in. Adjusting the RF Gain control helped to reduce this, but this was never a 100% cure all. We were never able to put a handle on what was going on here, but it appears that a AGC bug may be the issue here (that is maybe running out of steam) ??

Next, MW and SW sounds a shade on the dull side. It doesn't have the sparkle on the high frequency end in the audio even with the Treble on at full. FM band doesn't have this restricted sound.

Great SW Sensitivity / Average MW and FM / Aircraft Band a Disappointment / Dynamic Range Respectable.

Sensitivity on SW was very good or better. Whip antenna or external antenna. Dynamic range was equally good as well, never launching into overload in the testing period [Update : Has been reported that Dynamic Range varies with any given sample, not verified].

On MW sensitivity is good, but not to any way above average levels. The top mounted 360 degree rotatable LW/MW "loop-stick" antenna certainly helps with reduction of local interference or with other stations (has a good null factor), but as far as a "hot to trot" DX machine on MW, it was simply is not there with our test unit.

We also found the hand placement can make operation of the MW loop-stick a bit daunting. Sometimes (but not always) once the user moves the hand away, the null point changes. Touching the loop only at the ends seemed to help here.

FM is in a similar boat. Sensitivity is only at a average level, and we found the FM in the Degen DE1121 to out perform the 750 for FM sensitivity.

The real downer with sensitivity on the 750 lies with the Aircraft band. It was a total disappointment not even being able to pull in the local "ATIS" station on 128.250 MHz. This is perfectly receivable on the worst of receivers here for Aircraft (Yaesu VX-2R Amateur handheld on a short rubber antenna), and not a peep from the 750.....nothing.

There is a all mode squelch. It works well enough, but it reminds one of a cheap CB radio out of the 1970's the way it performs.

Separate USB-LSB Modes...But...../ Stability OK / Manual ECSS

The 750 has separate LSB and USB selections. However we were able to tune USB signals in LSB and USB in LSB mode. Mind you it was a bit easier to tune when the proper mode did match the radio setting. But being we have a SSB BFO marked knob, this really tells the story here.

(Update : The wider "Narrow" filter is not as narrow as a normal SSB mode filter would be. From looking at the block diagram, there is indeed the use of real offset oscillators in the BFO. So the start of the poor showing with SSB performance must be with the IF filter used ?)

Mind you the stability all around is good. But for another reason the SSB quality lacking is with the sound of it. A bit of warble and the AGC seems too fast to proper SSB (so one hears nasty pumping). Again the narrow filter is a bit too wide for serious SSB use.

We tried manual ECSS with little success. It was difficult to keep any station in sync for any length of time, and was hard to tune using that BFO control. Forget it.

Long Time To Change Batteries Before Reset / Memories Not Battery Backed ?? / No 12 kHz output for DRM as Planned / Owners Manual Printed In Light Gray Ink

Due to time frame issues with the sample loaner , we were unable to test if the memories are battery backed up ?

But we did leave the set up unplugged for a good 12 hour time frame, and the clock and memories were was still storing all. The LCD fades out in about 2 hours from the screen, but is retaining the clock counting. Again was unable to see how long the clock went before it died (and would be a tough one to unearth as the display dies in a few hours, but the clock is really still counting. No way to tell when the clock actually dies.)

A 12 kHz output for DRM (for connection to a computer) that was given as a feature in eton's pre-production ads. This is one jack that was not found on the test sample. So appears this went MIA before actual production. UPDATE : Most Tecsun S-2000 versions of this receiver do have this jack installed (not tested).

The skimpy multi-language owners manual's text is printed using "light gray" ink. This makes for ruff reading. It also barely gives enough information on how to use the receiver.

Nice Try - But No Cigar / Quality Control Non-Existent ?


Just looking at a picture of the Grundig Satellit 750 , makes for some real excitement. However , in my hands only for a short time the enthusiasm was quickly squashed (for me anyway). It's not all bad, it sounds great on broadcast stations and general performance is OK. But with the lousy SSB performance , wobbly tuning knob, poor S-Meter and the lack of a Sync Detection mode , I will take a pass on this one. From reading reports / other reviews around the internet it suffered greatly from variable quality control issues. The Satellit 750 was discontinued in late 2017.

Returned in mid 2020 as the "Eton Elite 750"

This receiver returned to the marketplace in late August 2020 as the

"Eton Elite 750

". It has been reported to be the same identical radio ? However, we have not tested an actual production sample to verify this (see below).


Dave N9EWO
© N9EWO
Ver. 5.5

Is the new "Eton Elite 750" variant improved (appears NOT !)

The later marked variant

"Eton Elite 750"

that was released in late August 2020 was said to be identical to the old Grundig Satellit 750/Tecsun S-2000. Joseph Bolus checks in with comments to a new Eton Elite 750 sample he purchased in August 2020 and had no disconcerting wobbly main tuning knob. Plus he discovered a way to make the ATS to work on the Short Wave bands. We have to wonder IF the WIDE IF filter issue has been cleared up (where one needs to tune off the actual frequency a couple of kHz for it to sound centered) ?

Still does not compare to the old Satellit 800 for performance (see my review here), but the real question is

"has the set been improved from the old model for quality control"

? It appears NOT as we read on Amazon (click here) with buyer comments and has the same old quality control issues ! As of me typing this update text we have no plans retesting this model due to budget restraints. So please keep in mind that we have not verified any of the information below.

"Caveat Emptor"

(buyer beware) !

Dave N9EWO





"ATS now works on Shortwave, and it works in a very similar fashion to the Tecsun PL-880 ATS: It scans all 14 International bands and skips over the Ham bands. Found stations are stored to Page 00, and that page automatically expands from 50 memory slots for FM and MW to 100 for Shortwave. This enhancement is not documented; and the front panel of the radio doesn't indicate that ATS is functional for shortwave. But all you have to do to activate it is press the SW button once to switch to SW, and then long-press the SW button for 5 seconds."





"The knobs are all metal and feel silky smooth. No wobbling on the main tuning knob. The SSB mode is stable and clear. The narrow filter seems to be "narrower" when in SSB mode, but I have no way of verifying that. But the noise reduction and the clarity seem to be more in line with at 3.5 to 4 khz filter. Zero beat is possible for AM stations, but still very difficult to use for ECSS."





"The rest of the review I would agree with (no changes, still 2 bandwidth filters being used ?): The Wide filter on MW seems too wide. When on SW, it seems to have steep skirts which helps. The S-Meter is too recessed and is poorly lit. There is no bail, but I purchased some rubber feet extenders for it from Amazon, and they work well."





"Bottom line: This radio is not identical to the Grundig 750 / Tecsun S-2000. I have been very happy with my Elite 750. The radio costs about $150 more than the previous models and perhaps some of that additional money went into quality control ?"





Joseph Bolus



---
Links for additional Information (all subject to change without notice)

- Jay Allen / Grundig Satellit 750/Tecsun S-2000 – Another Look

- eham reviews on the Grundig Satellit 750

- Amazon reviews (sorted by date)

- The 2013 Grundig Satellit 750 - Monitoring Times February 2013

---
---
---