PRO:
- Triple Conversion design with dual filtering system plus are independent of mode.
- Very good weak signal sensitivity (with pre-amp 2 on).
- Excellent Dynamic Range, Image and spurious signal rejection.
- Excellent Front End selectivity with 7 separate band filters (for HF).
- Tunes and displays down to precise 1 hz steps.
- Very good ergonomics.
- Twin PBT control works very well with SSB signals (see con).
- Good audio quality (SSB modes) with no strange noises or excessive hiss/distortion (see con).
- Clean "line output" that also has no excessive hiss.
- Fast-Slow AGC selector with off and RF gain control (see con).
- Optical tuning knob encoder with weighted knob that has a fairly good spin dimple to boot.
- Easy to read LCD readout with long lasting, evenly lit 24 LED's for back lighting.
- Nice tilt bail (see con).
- 101 memory channels.
- Extended tuning range to 60 MHz.
CON:
- AM Wide bandwidths exhibit muffled audio (fixed with Kiwa Electronics modifications, see separate reviews on this page)
- Keypad requires MHz entry.
- Only "One" VFO available.
- Sync mode has absolutely no merit (unacceptable).
- On very weak AM signals with heavy fading tend to get washed out in AGC more than it should, so for the mediocre audio recovery in AM mode under these conditions (switching to manual ECSS and turning off the AGC helps improve this issue…see text).
- Twin PBT control does not work on AM signals.
- Strange RF/AGC control (for those that are not used to the Icom way of doing this).
- No schematic or block diagram included.
- Tilt bail has no protective "feet" for table surface.
- No tone control.
- Poor noise blanker.
- Only marginally useful UT-106 DSP option.
- Included Power Supply Issues (see text)
- Keyboard beep appears at line out jack.
BOTTOM LINE :
The HF Receiver tabletop bargain for decent performance. It's a no-brainer, a set that has good ergonomics (aside from the requiring MHz keypad entry), IF bandwidth filters that I feel that are very well chosen, tunes and displays 1 hz steps and SSB performance that are unmatched at this price point. A pity that the Sync detection is a TOTAL washout (not available in later production). Triple conversion with 3 filter selections for the AM mode (455 kHz filter). The Kiwa Electronics audio modifications are highly recommended (review on these separate below). Otherwise AM audio (more so in wide bandwidths) is on the muffled side.
More Than LW / MW / SW ..101 Memories
The ICOM IC-R75 covers a bit more than the normal SW fair. It starts out at the usual coverage "bottom end" for any Icom receiver, that is 30 kHz. But the top end is at 60 MHz. Most people who purchase this set will probably never use this added coverage. But it gives more "Bands For The Buck" which allows for listening up past the 6 meter amateur band. When this band does open up (which is not very often) it can make for exciting listening provided one has the proper antennas at hand.
We have 101 memory channels (99 regular and 2 scan edge memories which can double for regular ones), with one VFO. Knob tuning steps of 0.1, 1, 5, 6.25, 9, 10 12.5, 20, 25 and 100 kHz are available. The 5 kHz step works great for zipping up and down the SW broadcast bands.
4 different scan types and even a auto memory write scan. This will write a frequency to memory channels as it finds active signals.
A clock with on–off timer and even a 24-hour sleep timer are also found. However the clock cannot be viewed at the same time as frequency. It's another button pushing affair to use the on board clock. Better to use an external clock and forget the internal unless one is to use the timers.
Operation modes and filter selection are independent of each other for proper operation in use within the HF bands (excellent).
Included owners manual does not include a block diagram or schematic of the set (you need the optional Service Manual to do that).
Front Panel Controls / Nice Tuning Knob / Frequency Entry / Construction
The R75 has a very easy to use layout with logical one touch buttons for keypad, mode and other functions. This might make you cheer for joy after using a AOR AR7030 for awhile. The keys are made up of a rubber like plastic, it's unknown how these might breakdown in use? They are of a hard variety and have good tactile feedback.
When one is using the keyboard to enter frequencies, it must be done as MHz. That is the decimal point must be entered or you will get "nada" instead of tada. Same scheme that has been used with Icom over the years (
even the wideband IC-R8600 receiver still does it this way
, old habits never die). But really its the only operation bug-a-boo that I have with this set. But is still pretty silly for a 21st century receiver as KHz entry is the most logical way to accomplish this.
Receiver is housed in a very solid all metal cabinet, with the usual plastic bezel. A tilt bail is also provided that gives for excellent viewing angle, but lacks any protection to the table top (this was corrected with the IC-R8600). One that is handy enough might consider slipping some thicker "slit" rubber tubing over the bottom of the bail shaft to help prevent the digging of the it into the table and also to help the set from sliding around. It does have real "rear" rubber feet, which helps the slide factor.
Large main tuning knob has an above average good "smooth" feel. A resistance level slider can be found just below this knob to increase the drag for less touchy tuning. Icom chose to use a optical encoder behind this knob. It's not quite as smooth as the
JRC NRD-545
or the
Lowe HF-250
but in this price range it is very welcomed. Properly weighted with the rubber track and finger spinner hole that actually turns with rotation is another real treat. However in practice this finger spinner does not turn that freely (at least when new). The knob encoder has no play or sloppy feeling, another real bonus.
Other knobs for Vol/RF Sql and for Twin PBT are a bit small for my liking (but OK). But at least these are not of the painted variety, so should not show wear with use.
Pleasant LCD Display / LED Back-lighting / Contrast / Digital Bar Meter
A very large easy to read back lit LCD display is provided. Adjustments for the display back-lighting is provided as well and is most needed. The back lighting is not using low tech light bulbs. It actually is made up of 24 Light Emitting Diodes (LED's). Properly fed LED's have a much longer service life than any light bulb arrangement. Especially if one keeps the display on the dimmer side using the provided dimmer adjustment, these LED's will surely outlive the rest of the set. This was very good to see this and Icom did it right here. It is also very evenly lighted.
Contrast of the LCD is quite good, except if one reads at an angle from below and upward it will become less readable with lighter contrast. It shows just about every function and was well laid out to the authors eyes. It can also display alpha tags to name the memories. But again like the clock cannot be displayed with the frequency at the same time.
The S-Meter continues the trend that JRC started in the consumer table top market back in 1986 with the NRD-525. We have the Digital bar graph meter in the IC-R75. You can select if you wish the to have "peak hold" to work or not (will hold the peak reading for a second). It has many segments, but I would still prefer a good analog meter. But it gets the job done in any case.
Floor Wart Power Supply (2 different types included over it's life on the USA market) / Hum when using "Back Of the Set" Antenna's (AD-55A/E)
The ICOM IC-R75 has no internal power supply. Instead it uses an included dreaded (external) "Floor Brick" power supply. The original AD-55A (AD-55E in Europe) transformer linear supply is almost the size of a brick too, but seems to provide the needed current to operate the set.
A snafu if a local "back of the set wire" was used, hum was heard mixed on most signals. This is due to the fact that the power supply lacks the proper bypass capacitors across it's power supply rectifier diodes. Connecting an external antenna using shielded coax or grounding the set cleared this "diode noise" problem up totally.
Linear "transformer" version of the AD-55A floor brick power supply included with most USA versions is unregulated and provides way too much voltage even when fully loaded (tested at 17.65 volts which is WAY over specs.). So the set runs warm to near HOT as the internal voltage regulator has to burn this excessive voltage off.
Have been reports over the years (IC-R75 "Yahoo Groups" for one) that have pointed to where this has contributed to failures where the receiver fails to power on in time from heat stress.
Switching AD-55
S
AC Adapter was included with
later production
of the
Icom IC-R75
receiver (at least with USA samples). Even being regulated and produces closer to the 15 volt rating, it's still allows the set to run warmer than it should (almost near HOT) as 15 volts is still a bit excessive operational voltage (in our view). Of course using ANY switching power supply with a HF receiver is NOT a good idea anyway, more so with any close / indoor antennas (good old self-inflicted noise).
I will NOT be held responsible for any info that is listed here
ALL DONE AT YOUR OWN RISK !

The best solution is to run operate the set with better external LINEAR TRANSFORMER power supply
such as the ASTRON RS-7A
, and turn it's output voltage down to 12.0~12.2 volts (measured as when loaded, the RS-7A has an internal trimmer in which to do that). Icom does use a bit un-standard size coaxial "donut" plug for DC input with the IC-R75
(3.0 mm ID x 6.3 mm OD size, positive tip)
and are not easy to find. As usual, BE SURE and add a 2 ampere "Fast Blow" fuse in the positive side of the power line as well as using the proper gauge connecting cable (say 18 AWG).
See the top of this review page for more information on the included power supplies.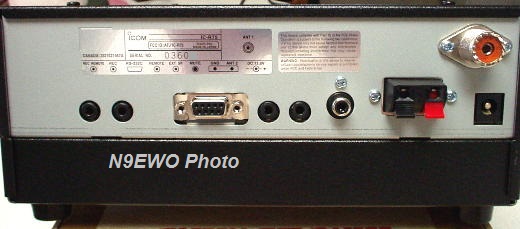 The Icom IC-R75 "Rear Panel" (N9EWO Photo)
Dual Filtering / Triple Conversion / Filters
Even at this price point we have a triple conversion scheme. Many sets at even double the price are using only dual conversion (not that triple conversion is not necessarily better than a dual conversion one for increased performance).
Filter scheme is another Icom tradition that you usually see only in their amateur radio HF transceivers. It uses a first IF of about 69.01 MHz (varies a bit with mode), the 2nd is at about 9 Mhz and the 3rd is at 450~455 kHz.
User can select what filters are actually activated on which icon (sic) on the LCD. Stores these filter choices as well for each mode "set". For example on SSB one can have a choice on the 9 MHz IF of either 2.4 kHz or 15 kHz (or pass). On the 450~455 kHz IF, It can also be set at 2.4 or 15 kHz (or pass).
With AM modes on the 9 MHz IF selections are : 2.4. or 15 kHz (or pass). The 450-455 KHz IF the options are Narrow: 2.4 or 15 khz (or pass), Med : 2.4 or 15 kHz, Wide : 2.4 , 6.0 or 15 kHz. You have other selections for the CW/RTTY and FM modes. The chart that shows this in the manual I felt might buffalo most non-technical people (or who are just starting to use SW receivers). The manual overall is good, but the filter adjustment page was not very clear to me.
Icom offered many additional optional filters for SSB and CW modes that again all toggle from the filter menu.
All the filters performed well to my ears and to see 3 bandwidths offered that can be used in the AM mode was a huge plus. I was also very pleased to find that the IC-R75 is able to select a very wide filter (12~15 kHz ?) in the AM mode when conditions warrant. So many manufactures choose to restrict the widest filter to 6 kHz. This of course will really squash audio quality. Thank you Icom for adding this really wide selection.
Front End Selectivity / Image Rejection / Other weird Noises / Dynamic Range
What weird signals! I was unable to find any strange out of place signals on the test sample. The IC-R75 uses 7 different Front End Pre-selector filters for the SW coverage (a few more exist for frequencies above 30 MHz). This was done right.
I would say top notch image rejection, among other similar traits here.
Was unable to hear any overloading at any time with all antennas used during the test period. It again was excellent.
Stability / Frequency Display
Stability was simply very good. One could improve on this with the optional CR-282 TXCO (not tested).
I found the test sample's frequency only to be off at only 20 hz high with the test sample out of the box (after a good warm up). This is not a problem for me with a HF receiver in this price range.
Twin PBT… A Useful Tool
Another control that has appeared on Icom's amateur transceivers over the years is now found on the IC-R75. Very useful on SSB modes. However It does not work on AM modes, a bit of a shame but not a drawback either.
Being the IC-R75 lacks any kind of a tone control (another downfall), the PBT controls can of course be used as a quasi tone control, especially in manual ECSS mode. Works well indeed.
"Sync Detection" (S-AM) a Total Disaster
Not sure what happened here but, the IC-R75's sync mode, or as Icom has it marked on the display as S-AM, has no purpose. It's simply is a total washout. Only does it not help clear up any interference as it's not selectable sideband, and it seems to add more distortion on fades. Best to forget this even exists on this set. It's one of the worse (if not the worse) "Sync" circuits that I have ever encountered. This was not offered in later production, see the top on this review page for additional on this.
Kiwa Electronics offers a modification to help make this feature useful, but alas is not much. Please see the separate Kiwa reviews below as we did test the sync modification (added module) plus 2 additional audio mods.
Sensitivity Equal To Other Good Sets / Audio Recovery So-So in AM mode
I hear the sensitivity about equal when compared to the
JRC NRD-545
(when "PREAMP 2 is activated). Very good but not any better either. The JRC hears signals better as it's Sync actually works and makes for pulling out audio out the weak signals less of a chore. If one does take the Icom into manual ECSS mode…it works much better, actually a much closer match as compared to the NRD-545 in auto ECSS mode.
During testing I found myself just leaving the set with PREAMP 2 on all the time. I did not hear any bad effects here at my listening post. This it totally the opposite when
compared to the later Icom IC-7300 HF transceiver
and it's 2 pre-amps (here I rarely needed them).
Normal Icom AGC characteristics, very weak signals using AM mode a bit washed out.
For the most part the set's AGC seems to function more than adequately. But to my ears when listening to
very weak signals in AM mode
, I feel signals are being washed into the AGC floor more than they should. That is I have a hard time understanding voices. Turning off the AGC does not seem to help this condition. If the signals contains heavy fading which most weak ones will give, its even worse.
This is the exact same trait
that plagued the IC-756 PRO II transceiver
tests receiving in the AM mode. It might not be quite as bad as the 756 PRO II, but it's a noticeable problem.
Perhaps if the IC-R75's "Sync" worked properly, this might have been the golden combination, but it's does not.
Now, If I switch over the "Manual ECSS" (USB or LSB) this AGC floor problem is not as much of an issue. And as it should, turning OFF the AGC off helps even more with manual ECSS where on AM mode, turning off the AGC really does nothing to help the recovery of weak audio.
When I owned a Icom IC-756 PRO II transceiver, even with it's AGC off and in ECSS mode…it did not help at all with weak signals. So much a downer like it never sounded like I switched off the AGC, so it's a major improvement over this experience.
SSB Audio Quality Good with external speaker, with a touch of above average bass / AM Mode Audio Muffled (fixable).
The IC-R75 has pleasant SSB mode audio. I do detect a touch of out of the ordinary distortion in the AM mode but is not excessive. The internal speaker while being of a very desirable front facing variety, has limited use as it's very small speaker will only give. As with most table top sets a better external one is a requirement.
One might wish to choose one what will not add to the sets tendency to produce a touch of above average bass. This "bit of bass" appears at the line output as well, so is not the sets audio amplifier that is creating this. AM mode audio is on the muffled side. This is more noticeable in the wider bandwidths. If one does at least the Kiwa Electronics "Hi-Fi Audio Modification" (see review below), this improves the AM Wide 12~15 Khz bandwidth audio by leaps and bounds.
Record "Line Out" at a good level / "Beep" emits from the output
Record "Line Out" on the rear panel (1/8 inch phone jack) is at a good level, also is clean without any excessive hiss. The elder
Icom IC-R9000
had low audio from it's "line-record outputs" (as tested) and needed to be boosted it was that anemic. Unlike the JRC NRD-545 but just like the IC-R9000, the keyboard beep also appears at this output, so it will be heard on the device connected to it. This can be turned off in the set mode.
Noise Reduction Tools / Noise Blanker / DSP Option Comments
The noise blanker function on the tested sample here at my location was pretty much a disappointment. It really did nothing to control my type of noises around my house. It also lacks any level adjustment. So it was a unusable button for me.
Optional UT-106 DSP option adds a ANF "Automatic Notch Filter" and a NR "Noise Reduction" function. These are working in the AF stage of the radio.
ANF mode was of use on some (but not all) heterodynes. This is best used with the narrower filters (6 kHz on AM , 2.4 kHz on SSB). One of those things that you try it and if it works it works. So a 50-50 type of thing.
NR operating mode has an level adjustment. I found the setting of 4 worked best without killing the audio too much. It does degrade the audio of the signal, but if the signal is full of static say from a motorized appliance, this is certainly more useful than the Noise Blanker.
Most samples of the IC-R75 included the UT-106 as a free perk. You will find more used samples with this than not.
Decent Digital HF TableTop / Icom's Last "HF Only" Communications Receiver
The IC-R75 is a respectable digital tabletop communications receiver. Decent overall performance / ergonomics and very good SSB audio out of the box. Caveats are it's greatly muffled "AM Mode" audio quality, which can be fixed for the most part with the Kiwa audio modifications (as we cover below). Also be sure and operate it with a better power supply then what is included with it (at least if you praise it).
Icom's IC-R75 had a good run on the market (1999 to late 2015), They decided not to replace the receiver with a more up to date "HF only" model. The MUCH more modern and advanced
IC-R8600 "Wide Band" tabletop receiver (click here for our review)
covers the spectrum (wideband coverage) with SDR technology, digital voice decode and excellent Spectrum Scope. But is of course much more expensive. We feel it's the BEST HF receiver Icom has made to date, wideband or not (and we have tested them all). But if you just can't afford the latest and greatest, a nice "properly working" used IC-R75 is a worthy set. However for any serious broadcast listening the Kiwa Audio modifications are again near required in our view.
Dave N9EWO
© N9EWO, all rights reserved
ver 2.1
Discontinued Receiver
---
ICOM IC-R75 Communications Receiver
with Kiwa Synchronous Detector and Audio Upgrades

Please see the Kiwa Electronics web site located here for current status and prices.
PRO :
- Slight improvement of audio response (a bit more crisp).
- Very slight improvement of "Sync" lock (see con).
- Excellent quality of work / service and turn around time.
CON :
- Only slight improvements noted after these 2 modifications.
- The Synchronous Detector (S-AM) now "screeches or warbles" (dropping out of lock) on really deep fades ,slow AGC sometimes helps greatly.
- Slightly added "Audio Amp hiss" on
narrow bandwidths
.
- Strange ECSS (selectable sideband) operation.
- Distortion level unaffected (no improvement).
- No (easy) way to easily undo these modifications.
BOTTOM LINE :
In a nut shell….forget these, unless one really needs the "very slight" increase in performance. After listening to the digital recordings that I made before the set was sent to Kiwa and after, it comes to my ears that either of these modifications are very minor improvements (unless one is also planning on doing the "Hi-Fi" mod as well then maybe do these as well, see below).
Fast Turnaround Time
First let me say that I was very impressed with Kiwa's fast service. The set was sent in on a Friday and I had it back in my hands on the next Thursday. Less than a week, now that's impressive. (Kasson MN USA).
The quality of the work appears to be very good, but the silicone goo used (as explained below) is a bit of a questionable mark?
Audio Upgrade
"Audio Upgrade"
"Key components to the audio power amplifier are replaced to enhance clarity and definition."
This audio modification seems to be value changes of 3 capacitors near the audio amplifier IC section (that I can tell, see attached picture). One being a surface mounted type that is changed to another standard type (red in color) and the 2 others are of a electrolytic type.
A bit of silicone goo is dabbed around these after installation to help support these "caps" as they are mounted a bit away from their normal spot.
Being in widest bandwidth in the AM mode, I can tell a "slight" increase in high frequency response. That is it's a bit crisper. However this only a very minor change and for many with less than perfect hearing might be to wonder if there is any difference at all ?
I heard this slight improvement while listening to a "Good" AM broadcast station being in the widest bandwidth setting. The downside is I noticed a slight increase in the noise floor (e.g.: Manual ECSS in narrow bandwidth) with no improvement at all with the audio in narrowest bandwidth.
Synchronous Detector Upgrade
"Kiwa provides two major upgrades to the Synchronous Detector. Together they provide enhanced performance where the PLL stays "locked" under the most difficult signal conditions.The first upgrade is best described as a "dual speed control voltage". The control voltage for the PLL filter is tuned within an optimum window that is determined by signal conditions.The response is slow to maintain a "centered" condition. A second circuit provides the control accuracy to react to fast flutter fading and noisy conditions. These two circuits provide a dual speed control for the PLL."
"The second major upgrade is to the Synchronous AM AGC. The dual speed technique is used again to first center the AGC but still allow for quick short changes in AGC characteristics as required by signal conditions. All components are encapsulated in a plastic module and mounted to a side chassis wall."
The added "Synchronous Detector Upgrade" circuit appears to be all housed in a small "potted" cube that is affixed to the back microprocessor shield (see picture below), 3 wires protrude from the module. It is held in place with adhesive "scotch-lock ®" strips, so one could remove the "cube" without peeling away a strip of nasty adhesive.
However actually removing this modification would still not be an easy task as two of the pins on the "sync" chip of the set are lifted up and wired to this added module. Simply no easy way to undo it. So one is pretty much stuck with it after it's done. Another dab of silicone goo can be seen on top of the original sync chip in the set to support the wires that need to be attached.
Does this module really help in "sync-AM" performance? It does, but not to any eye shattering improvement.
It does help the lock of the circuit over a stock unit "slightly" but again this is still not the great either. It continues to drop out of lock and now when it does "unlock" on these certain stations with really deep fades, a nasty warble or screeching sound is now heard in its speaker. We did not notice this before the modification. Before it was just dropping out of lock, now it drops out of lock and you get a nasty sound with it.
Using slow AGC is actually necessary on some signals as it really goes into "hyper-warble" if it's not. It depends on the station being received. But its not a cure all either as many times one is forced to turn it off or use manual ECSS.
S-AM is only useful with the Narrow bandwidth (other 2 forget it). To make that even more interesting, in LSB (both PBT knobs CCW) It works ok (aside from the unlocking problem). However when both PBT are clockwise (USB), audio is a bit more muffled the level goes slightly lower, weird indeed.
The distortion factor to my ears has not changed, the sync still disappoints here.
I feel that both of these modifications are of limited use and one should not be expecting sterling performance from its sync even after the trip back from Minnesota. It's simply not to be. Again however, if one is going to try the MUCH more useful "Hi-Fi Audio Upgrade" modification as covered below, then a good idea to get the "Audio Upgrade" done as well at the same time.
Dave N9EWO
© N9EWO, all rights reserved
ver 1.6
I will NOT be held responsible for any info that is listed here
ALL DONE AT YOUR OWN RISK !

Kiwa Electronics ICOM IC-R75 Audio Modifications (N9EWO Photo)
---
Kiwa Electronics ICOM IC-R75 "Hi-Fi" Audio Upgrade (5.3 kHz)

(IMPORTANT NOTE : This modification is based having the first Kiwa audio modification (capacitors) done as well above, and the text below reflects this.)
Please see the Kiwa Electronics web site located here for current status and prices.
PRO :
- This useful modification clearly adds much increased AM mode audio fidelity using the "Normal" and "Wide" bandwidth positions.
- Excellent quality of work / service and turn around time.
- The "surface mounted resistors" were not just "jumped" as with the original "Yahoo Groups" modification (with the test sample as sent to Kiwa). 4 SMD devices are physically removed and replaced with the required new values (see con).
CON :
- With certain external speakers and devices connected to the "line output" added distortion was heard with some signals in SSB or manual ECSS modes (see text).
- Even with the 4 SMD resistors removed, the replacement values are using the standard 1/4-watt variety soldered in the SMD spots. No way to easily undo this or any of the Kiwa's modifications.
BOTTOM LINE :
A most worthy (both?) audio modification. If the situation stands where an owner is not happy with the muffled sound of his or her Icom IC-R75, this is the cure as it brings in more high audio frequencies along with better capture of spoken words. The minor downside is that with some signals in SSB or manual ECSS modes, mild distortion can appear with certain speakers or the line output, but not always (see text).
Be sure and listen to the "Before and After" MP3 audio file located at the bottom of this review.
Still Excellent Fast Turnaround Time
As we have experienced before, Kiwa's fast service was a pleasant experence. Took 16 days from the day it was sent until it returned (Kasson MN), this includes the transit time.
The quality of the work also continues to be good, but the silicone stuff used in a loose fashion with the other 2 modifications (as explained below) is still a part of it that seems not to be of the same professional level in our view (see photo above).
Audio Upgrade: Take 2
Kiwa Electronics has taken on the duty of a second audio modification first learned via the Yahoo Groups for
the IC-R75 via the Internet (developed by Dr. Phil)
.
This change involves adding 4 filter resistors across existing surface mounted ones near IC-1201. It involves changing the values to some very micro small surface mounted circuitry. Very few people (if any) will take on project like this. For even seasoned electronic "tech types" this could be an almost impossible feat as these parts are extremely tiny.
These added resistors improve the IC-R75's high frequency response on a filter just prior to the line out audio jack. So the output of the "line out" is also affected.
Taken from Kiwa Electronics web site :
"High Fidelity Audio Filter Upgrade"
"The R75 has an inline audio filter that precedes the audio power amplifier. The audio filter comes stock with a bandwidth of 3 kHz. The High Fidelity Audio Filter Upgrade extends the audio bandwidth to 4.3 kHz. This upgrade is similar to dr. phil's upgrade as presented on the R75 Yahoo Group. (Kiwa would like to give credit and thanks to dr. phil and Ken for coming up with this excellent upgrade) The difference between dr. phil's upgrade and Kiwa's is that we set the audio bandwidth to 4.3 kHz while dr. phil extends the audio bandwidth to 5.5 kHz. We adopted the 4.3 kHz because we felt it was more in line with the filters offered and to provide some attenuation to 5 kHz hetrodynes which can be a problem on the SW bands (due to the 5 kHz channel spacing between stations)"
Kiwa Electronics will install these resistors in your IC-R75 for improvement with very little effort on the owner's part.
Also the 4 new value resistors are not just paralleled across the existing ones as with the documented "Yahoo Groups" modification indicates. Kiwa actually removes the old SMD resistors and replaces with the new lower (corrected) values. This is a much better way to go about this and they should be complimented on this very important point with this modification.
Kiwa feels that just about any heat can easily damage the existing SMD resistors on the board while trying to piggyback on the new "larger" non-SMD ones. This makes perfect sense indeed when working with any SMD devices. General components in the IC-R75 are about as tiny as you can get too.
However, Kiwa did not install SMD devices when replacing these resistor values in the test sample. They used 4 standard 1/4-watt versions that were vertically mounted and then smeared with a dab of silicone goo after soldered in place (see photo above). It would have been even a better job if the replacement values were also of the same SMD type.
A Choice of Audio Bandwidths?
As indicated above Kiwa will install the required resistors to give this improved 4.3 kHz bandwidth.
When our sample was sent to be fitted with this "Hi-Fi Audio Upgrade" we asked if the 5.3 kHz could be installed anyway. The answer was yes (for the same cost), so we sprung with the wider 5.3 kHz version and is what was used in testing here within this report and is what the audio file contains (see file link at bottom of this section).
It should be noted that if one desires this wider 5.3 kHz filter setting, one would need to make a special request enclosed with the receiver. This is not an openly advertised offer, and the owner will end up with the untested narrower 4.3 kHz version (at least at time of writing).
PLEASE NOTE : This wider filter may no longer be available ?
(Note: On the invoice included with the returned sample, the upgrade was marked with a 5.3 kHz rating and not 5.5. So perhaps as close as they could get ?)
Does it really help the Audio? / Higher distortion noted in SSB-manual ECSS modes.
This is a modification that is most worthy for general short-wave and MW listening in the AM mode (or AM-S). It really helps reduce the IC-R75's audio to contain excessive bass or muffled sounding.
One will leap for joy when listening to any broadcast in the AM or AM-S modes, and using either the "Wide" or "Standard" bandwidth settings. It will be more noticeable when the "wide" bandwidth position is used.
It does not change the "narrow" audio bandwidth response in any mode, and by rights it should not.
The only (so be it minor) downside to this modification is that with some external speakers or certain "line output" connected devices, an amount of "high end frequency" distortion can be heard in SSB modes (or AM signals tuned using the manual ECSS method). This was not always apparent and may not be heard depending on the signal being received and what the "Line Output" is connected to (say another amplifier and speakers). It already had the first capacitor "Audio Upgrade" installed prior.
This distortion was almost not detectable using the sets internal very small speaker or headphones. With external speakers that have a bit higher frequency response and with the line output (again dependent on the device connected to this output), this can be a detectable issue.
What ones uses the line output for (say the external amplifier and the speakers used on that system) will be a factor here.
Fiddling with the AGC setting proved to be unsuccessful in taming this distortion. There was no noticeable hiss added either from the speaker/headphone or line outputs in any mode. The DSP option operated normally with no apparent drawbacks after the modification.
[The standard untested 4.3 kHz version of this modification may be more desirable as it should decrease the distortion trait? By how much is unknown?]
If one goes for the first "Audio Upgrade" as well as the "Hi-Fi Audio Upgrade" and the "Synchronous Detection" modification all at the same time, this of course would save on shipping charges vs sending it back a number of times.
A Warning before You Take the Plunge !
It must be noted that any of these changes / modifications are irreversible (well at least not easy).
Dave N9EWO
© N9EWO, all rights reserved
ver 1.9
I will NOT be held responsible for any info that is listed here
ALL DONE AT YOUR OWN RISK !