The main subject of this page
Updated 2023 Mar 31
This website offers radio amateurs useful applications to forecast HF propagation conditions. Here you will find basic explanations as well as practical methods, charts, maps, models, real-time measurements, assessments, comparisons, an index, and references.
Table of content

Practical Approach

---

2. click on

MUF map by KC2G

Forecasting MUF for a 3,000 Km path, i.e.
View HF Bands' Conditions at a glance

, or

---

3. click on

Introduction

* Radio Propagation
* How Can We Forecast Propagation Conditions?
* Impact of the Sun
* Real-time Band Conditions
Actual activity (track, listen), Inonosphere (watch, simulate)


Theory & explanations

* Propagation Modes
* Ionosphere * Layers * NVIS * MUF
* Greyline propagation
* Regional HF Conditions
* Global HF Conditions
* Solar Influence Solar Indices
* Solar Activity Sunspots Sol-Cycle
* Space Weather Illustration
* Space Weather Explained
What is the solar wind?


Practical Tools

*

Real-time hams' activity


DX Clusters, PSKR, WSPR,
Beacons, or Self Monitoring
* Recent MUF distribution
*

HF Propagation maps


*

Observations

Solar, Space
Live Solar Events
Solar Wind
Space Weather: Recent 3 days
Space Weather: ACE project

*

Forecasts

:

Predicted Sunspots and 10.7 Flux
Predicted Space Weather
Predicted Blackouts
Total Electron Content (TEC)
*

Summary

Index | FAQ | Epilog
Incredible advances in space technology, SDR (Software Designed Radio), and the internet over the last thirty (30) years have enabled us to study radio wave propagation in ways we never imagined possible.
HF propagation forecasting is the process of predicting how radio waves will travel through the atmosphere. It works by using mathematical models to simulate the behavior of radio waves as they propagate. These models consider signal frequency, the time of day, season, solar cycle, and ionospheric conditions. The predictions are used to determine the best frequencies and times for radio communication. They can also be used to plan antenna systems and optimize radio coverage.
Read below how could HF propagation conditions be estimated?
The Sun is "quiet" on average, steadily emitting Electromagnetic Radiation

across a broad spectrum

that includes Sunlight (infrared, visible, and ultraviolet), radio waves, X-rays, and gamma rays. The Extreme Ultra Violet ionizes

the ionosphere. This phenomenon enables long-range skywave communication.
Sunspots show that solar activity is chaotic, i.e. Solar Storms, which are Flare Eruptions and Coronal Mass Ejections (CME). This chaotic Activity alters the Space Weather, which affects the ionosphere and thus selectively influences HF Radio Communication.
The ionosphere becomes more ionized

during periods of high solar activity, which improves radio wave propagation. During periods of low solar activity, the ionosphere becomes less ionized, resulting in weaker signal strength.

The ionosphere is affected by a number of factors, including day/night, season, geographical location, sunspot number, polar aurora, and the earth's magnetic field.

These topics are explained on this website as it develops.
DX propagation conditions can be predicted by using at least one of the following options:
(1) Tracking actual band activity with DX clusters and/or
(2) Listening with your own rig, or WebSDR / KiwiSDR or Beacons
(3) Watching MUF map
(4) Simulating the current ionospheric condition and its effect on HF radio waves using applications based on models
and data collected from recent Solar Activity, Space Weather reports, and remote-sensing of the ionosphere and its layers.
Actual band activity
can be provided by
DX Clusters

, which are computer networks that collect and distribute data on amateur radio

DX activities.
The most popular DX Clusters

:
DX

MAPS

- shows the most recent QSOs, a view of the propagation conditions in real time
DXZone -

clusters

- captures DX and WWV spots from internet clusters and a local packet.
Reporters
of digital modes:
PSK Reporter - amateur radio signal reporting and spotting network

WSPRnet

map, WSPR Rocks, WSPR Live, etc.
These websites all collect QSO reports, which can show which bands are open and where they are located around the world.
---
Alternatively / additionally
(1) Use your own rig to monitor hams' activity:
For instance, I use Malachite DSP with MLA, and report to PSKReporter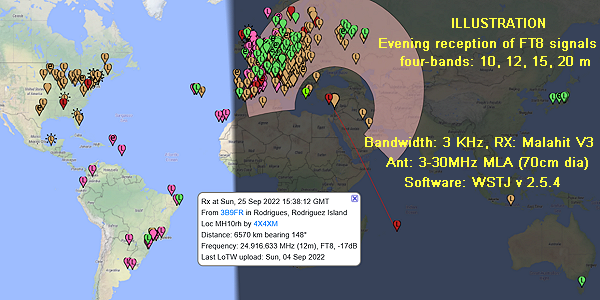 (2) Watch the entire LF-MF-HF spectrum at a glance using a Wide-Band WebSDR
(3) or choose KiwiSDR station from the map
You can also follow Beacons

and in particular eighteen (18) CW beacons on five designated frequencies: 14.100, 18.110, 21.150, 24.930, 28.200, supported by The International Beacon Project

.
1. LOS - Line of Sight

propagation: Free Space / Direct Wave and complex reflections, see below)
2. Ground wave propagation

: surface wave - vertical polarization only, effective over a conductive ground, below 2 MHz
3. Skywave skip propagation: ״reflection״ by the ionosphere, 3-30 MHz
4. NVIS near vertical propagation: ״reflection״ by the ionosphere, 1.8-10 MHz
Usually, Line of Sight signals would propagate directly between transmitter and receiver, but there could be ״complex reflections״ (by conductive surfaces) ElectronicsNotes, Kogelnik, Wiki, and various ducting effects that are illustrated later. LOS propagation is uncommon in the HF bands due to its ineffective short range.
Ground wave: Surface propagation occurs when signals follow the contour of the Earth, over hills and beyond the horizon. It is most effective over salty sea water or good conductive ground (vertical polarization only). The effective distance of ground waves drops significantly above 2 Mhz.
Sky wave is the mode of propagation in which the radio signal is reflected by the ionosphere and returns to Earth. It is most effective at frequencies beween 3 and 30 MHz and can be used for long-range communication.
How does Skywave bounced by the ionosphere ?
EUV sunlight ionizes the atoms and molecules of the upper atmosphere, releasing free electrons and ions that combine to form plasma.
The free electrons has an effect on radio waves. The typical densities are, 104-106free-electrons/cm3 (or 1010-1012 free-electrons/m3).

ionosphere is divided into layers (or regions), D, E, and F from about 48 up to more than 600 Km above the earth`s surface, characterized by different electron densities.


Illustration of Ionospheric layers

(regions)

During the day the F layer splits into two layers called F1 and F2, while the D layer vanishes completely at night. These regions do not have sharp boundaries, and the altitudes at which they occur vary during the course of a day and from season to season.
The free electrons in the ionosphere refract radio waves as they travel through the ionospheric layers, where the free electron density gradually changes, multiple refractions are what cause the ״reflections״ of skywaves from the ionosphere, which are frequency-dependent.

An illustration of Complex Propagation Modes
The shortest Skip zone

is the minimal distance that a skywave can be received. The Dead zone is the region where the ground wave signals (at a certain frequency) can no longer be heard up to the point where the skywave first returns to Earth. The angle for a usable skywave can be shallow or steep.

What differs the D, E, F, ionosphere layers?
Sky-Wave reflection from ionospheric layers at different
angles
---
There is a special mode of propagation, NVIS

- acronym Near Vertical Incidence Skywave, which is used for communication at short distances (less than 600 km), that are not covered by ground waves, which, as mentioned, are ineffective in HF bands (above 2 MHz). NVIS transmission is made directly upwards and the ionosphere returns the signals back downwards.
NVIS from F or E layers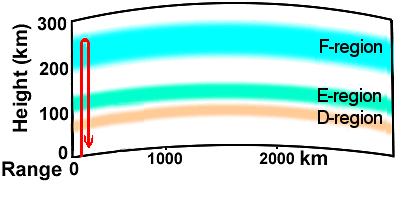 This method provides just local coverage and is mainly applied in the frequency ranges intended for the tropical regions and enables extensive coverage with the help of one transmitter located in the center of the area designated for the coverage of the transmissions.
---
Long range skywave is commonly used at
incident angles
greater than zero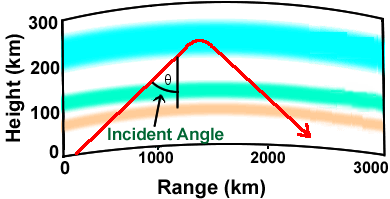 For transmissions with an incident angle greater than zero (i.e. not vertical), the maximum frequency that causes a transmission to bend back toward the earth is greater than the critical frequency. This is known as the maximum usable frequency (MUF).
The MUF is proportional to the critical frequency and the incident angle secant (equal to 1/cosine). As a result, the MUF is greater with a higher critical frequency and a larger angle from vertical.
The greatest MUF is associated with the longest range and the smallest transmission angle. Below see illustration of the transmission angle.
As a result, the maximum MUF occurs at zero transmission angle, i.e. when the transmitted ray is horizontal. This ray will eventually reach the ionosphere and be refracted back due to the curvature of the earth if its frequency is low enough.
Before we define key frequencies for skywave propagation, let's talk about how the ionosphere bounces radio waves.
Complex Propagation Modes:
Ducted
,
Chordal
,
F region propagation
with an intermediate
sporadic E
Ref.
refraction and propagation via the
F then E regions
.
Important frequencies relevant to skywave
foF2 - Critical Frequency: The highest frequency transmitted directly upwards that can be reflected.
MUF - Maximum Usable Frequency: The highest frequency at which radio communications just start to fail.
As a rule of thumb, the MUF is approximately 3 times the critical frequency;
MUF = foF2 / cosθ; MUF factor = 1/cosθ (θ is the incident angle) is a function of the path length if the height layer is known.

LUF - Lowest Usable Frequency, below which a gradual decline in signal strength occurs. The LUF is a soft frequency limit, as opposed to the ionospheric skip MUF, which is a sharp hard frequency limit determined by the critical angle.
OWF - Optimum Working Frequency is usually 85% of the MUF.
References: * How is MUF measured? * The Recent MUF measurements
---
What is Greyline Propagation?
The greyline is a narrow band around the Earth that separates the daylight from darkness. The F layer is illuminated for a longer period of time than the D layer at dawn and dusk.
Greyline illustration

Ham radio operators and shortwave listeners can optimize long-distance communications to various areas of the world by monitoring Grey Line as it moves around the globe. The reason for this is that the D layer, which absorbs HF signals, disappears rapidly on the sunset side of the grey line, and it has not yet been built upon the sunrise side.
Global HF & VHF Radio Propagation Conditions
This is a review of the Solar Indices used to forecast Global average propagation
These indices are based on NOAA's published Space Weather data.

Understanding the Solar Indices may assist you in making the most of your amateur radio

experience.

The banner to the left, courtesy of N0NBH, Paul L Herrman, is a common sight on many Ham Radio websites.
Every three hours, the Current Solar-Terrestrial Data

are updated.
It gives an idea of the Global HF Propagation Conditions, but it cannot show regional variation in HF conditions.
The MUF - Maximum Usable Frequency
The MUF

is the most important index for specifying regional propagation conditions because it can be used for communication between two points via ionosphere return (sky wave propagation or "hopping") at a specific time. It is measured using an ionosond

.
Typical ionodonde modes are vertical and oblique: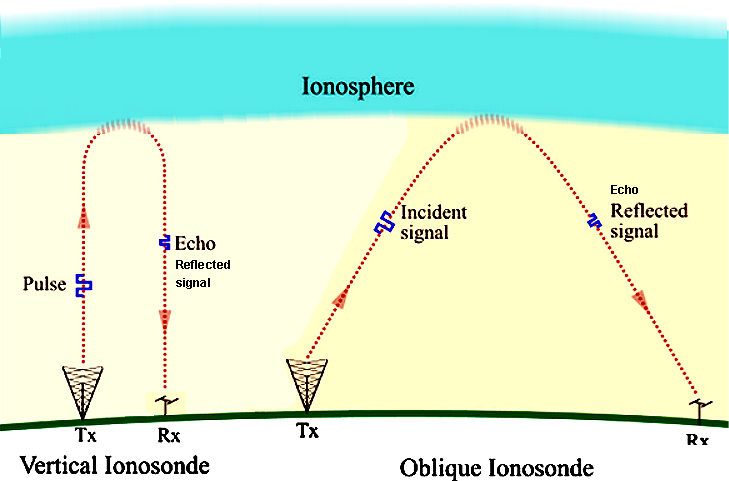 An ionosonde

transmits HF radio waves vertically or diagonally. The received echoes are analyzed to determine the density of plasma at various heights (48-600 km).
The echo analysis generates an ionogram

, which represent plasma density distribution in the ionospheric layers.
Ionograms usually contain a dual representation:
a series of (more or less) horizontal lines indicating the virtual height
at which the AM pulse will be echoed as a function of the operating frequency;


a curve in vertical direction representing the density of electrons per cubic centimeter
as a function of height.
The ionospheric characteristics change in different parts of the world depending on the time of day, the seasons, and the number of sunspots.

Typical diurnal changes

in

frequencies relevant to skywave
MUF - maximum usable frequency
FOT - frequency optimum transmission (or OWF)
EMUF - E layer maximum usable frequency
LUF - lowest usable frequency
References: * MUF, LUF, FOT/OWF explained * Recent MUF measurements
---
Regional HF Conditions
See ballow five maps of regional conditions, all based on recent MUF measurements:
Grayline map with a few regional MUF & Global indices updated every 3 hours [

N0NBH

]
MUF 3000 Km map - Information about HF propagation conditions at a glance [

KC2G

]

The next 3 maps for

Critical MUF

/

NVIS

operation are courtesy of

Australian Gov SWS

, updated every 15 minutes
---

Greyline / Grayline map with "selected" places' local MUF and Global Indices
This map courtesy of
N0NBH, Paul L Herrman
is updated every 3 hours. It shows day/night, local
MUF
, and the
Global Indices
:
SFI

,
SN
Sunspot Number
,
A&K indices

,
304Å

,
Sig Noise, Geomag
.
---

MUF 3000 HF Propagation Map - A quick look at current and near-future HF propagation conditions:
The map below was created for amateur radio operators

by Andrew Rodland, K2CG, and is updated every 15 minutes.
A radio path of 3,000 Km is being considered for unification. It was developed between 2018 and 2021 to assist Radio Amateurs in finding the best times and frequencies for contacts by displaying HF conditions

at a glance.
How to use this map?
The colored regions of this map are rebounded by Iso-Frequency contours illustrate the Maximum Usable Frequency that is expected to bounce off of the ionosphere

on a 3000 Km path.
The ham bands are designated by iso-frequency contours: 5.3, 7, 10.1, 14, 18, 21, 24.,8, and 28 Mhz.
For example, if a given area on the map is greenish and lies between the contours labeled "10" and "14," the MUF in that location is around 12 MHz.
The raw data that powers the site is MUF collected by ionosondes all over the world, which are denoted by colored discs to show where the information is coming from. A number inside a disc indicates the local Critical ionospheric frequency, foF2. The information from the stations is compiled by Real Time Ionosonde Data Mirror Space Weather Service at NOAA and Giro, and processed by the IRI model (produced by a joint task group of COSPAR and URSI).
The MUF along a path between any two locations shows the possibility of long-hop DX between those points on a given band. For example, if the MUF is 12MHz, then 30 meters band and longer will work, but 20 meters band and shorter won't. For long multi-hop paths, the worst MUF anywhere on the path is what matters. For single-hop paths shorter than 3000 Km, the usable frequency will be less than the indicated MUF. As one gets closer to vertical, i.e. NVIS

, the usable frequency drops to the Critical ionospheric frequency, foF2 (as shown in the next map).
Additional Notes:
---

NVIS

Map
shows contours of the
Critical ionospheric frequency - foF2
,
which is the highest usable frequency for NVIS in units of MHz, obtained from
ionograms

;
updated every 15 minutes, courtesy of
Australian Government Space Weather Services
.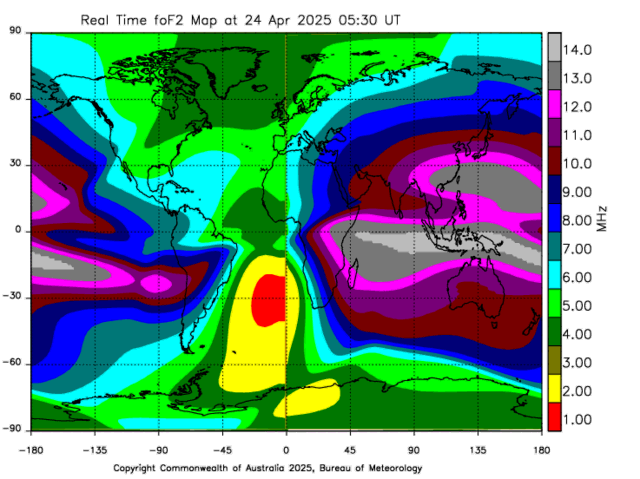 ---

T Index Map - foF2

compared to the monthly global average
Courtesy Australian Government Space Wheather Services

The T index is an ״equivalent sunspot number״ matched to the foF2

obtained from ionograms.
Data is based on Space Weather conditions as reported by the Australian Bureau of Meteorology.
---

Current Anomaly Map of critical frequency, foF2, compared to the monthly median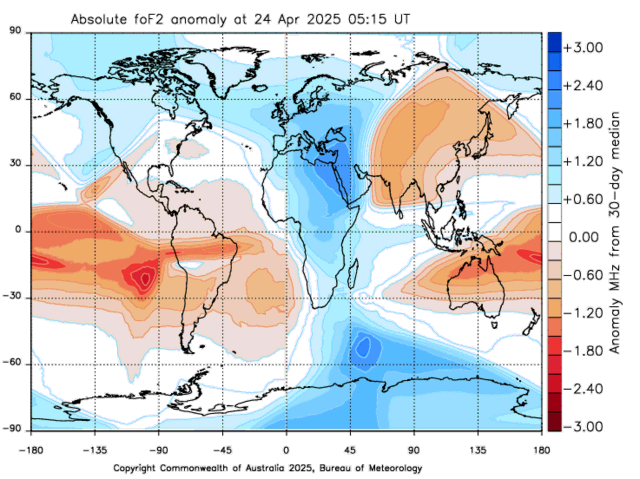 The plot above shows a near real-time foF2 anomaly map. The anomalies are calculated by subtracting the median foF2 for the last days from the currently observed foF2. The current foF2 and dataset are used to calculate the median foF2 the identical time of day and geographical attributes. The anomaly differences are in units of MHz. The regions in red indicate significantly lower frequencies compared to the last 30-day medians.
"Total Electron Content" Estimate (One Hour)
The Total Electron Content (TEC)

of the Earth's ionosphere is an important descriptive quantity - number of electrons integrated between two points along a one-meter-squared-cross-section tube. It is calculated from real-time global foF2 data measured by Ionosondes.
Ionospheric TEC is significant in determining the scintillation and group and phase delays of a radio wave through a medium. It is characterized by observing carrier phase delays of received radio signals transmitted from satellites located above the ionosphere, often using GPS satellites. TEC is strongly affected by solar activity.
TEC/TECU

provides the number of free electrons per square meter (x10
16
) for a shell height of 400 km. This map is based on measurements collected from
ionosonde stations
around the world, it provides near real-time information and data service for the current state of the ionosphere, related forecasts, and warnings.
Credit: Ionosphere Monitoring and Prediction Center (IMPC) of the
European Space Agency
`s network of space weather services.
See additional references

on this topic.
Solar influence
Two types of Solar Phenomena

affect HF skywave communication, regular emission, and chaotic activity:
Regular Solar Emission

: Electromagnetic Radiation of all kinds in a wide spectrum

from below HF to gamma rays

. Extreme UV radiation -

EUV

- is the most important for HF radio communication.
It ionizes Earth's ionosphere.

see below the measured spectral lines of a "quiet Sun" at Extreme Ultra Violet EUV:

The EUV spectrum of the Sun, as measured by the SDO instrument flown aboard a rocket in April 2008

Solar Spectra in the Extreme UV (100-1200 Å) are capable of ionizing molecules by a single-step energy transfer.
This light is emitted from the upper transition region and the chromosphere NASA, UCAR.

Peak (He II) EUV radiation at a wavelength of 304 Ångstroms is the most important solar emission contributing to half of the Ionospheric F Layer ionization.

What makes the ionospheric layers distinct? See graph of plasma density vs altitude.

Illustration of Ionospheric layers at noon

F-layer ~1012 electrons/m3 at 150-600 km, consists H+, He+ Hydrogen and Helium ionized by

100-1000

Å EUV
D-layer ~1010 electrons/m3 at 48-90 km, consists NO+ Nitric Oxide ionized by

1216

Å UVC
Moreover, X-ray Solar Flares, 1-10 Å (hard X-ray), enhance D-layer, causing Blackout events.

Chaotic Solar Activity

can cause geomagnetic storms and interfere with HF radio communication.

For centuries, people have observed sunspots without understanding what they are.
Nowadays we know that these are indicators of Solar Storms that may cause geomagnetic storms and disrupt HF radio communication.

Chaotic activity includes Flares and Coronal Mass Ejections (CME) associated with Solar Wind.

These elements (radiation and ejected ionized matter) affect the Space Weather, which further modifies the ionosphere that has a significant impact on HF Radio Communication.

Sunspots VS Flares, SOHO (ESA & NASA):

Sunspots are small areas of the Sun's surface with particularly strong magnetic forces that appear darker due to their lower temperature.

The image on the left shows Sunspot dots in visible light. The image on the right shows the Sun at an Extreme Ultraviolet (EUV) wavelength of 304 Ångstroms (30.4 nanometers).

---

During solar maximum, there are many sunspots, while during solar minimum, there are few.

Sunspots can take on a variety of shapes and sizes. They can also change size and shape and live for hours, days, or even months. Click here for references about sunspots and their relationship to the solar cycle.
---
Live Solar Events and past Solar Activity
Current Sunspot Regions Space Weather Live Belgium
Solar Synoptic Map


Forecasters at the NOAA Space Weather Prediction Center use synoptic maps to view the various characteristics of the solar surface on a daily basis. They create a snapshot of the features of the Sun each day by drawing the various phenomena they see, including active regions, coronal holes, neutral lines (the boundary between magnetic polarities), plages and filaments, and prominences. This map is a valuable tool for assessing the conditions of the sun and making the appropriate forecast for those conditions.

Recent Hours Solar Events:

Recent Hours CME - Corona Mass Ejection, monitored by LASCO
Recent Month Daily Sunspot Number MET Malaysia
Recent Year Solar Terrestrial Activity Solen-Jan Alvestad
Recent Years Unique Blackouts NOAA
Historic Notable Events Wikipedia

Solar Cycle Progression - The observed and predicted ​Solar Cycles are depicted in

Sunspot Number

terms.

It appears that the new solar cycle 25 is off to a fast start, already surpassing forecasts. Average number of sunspots in January 2023 have reached over 143.6 compared to the predicted 63.4. Solar flux in January 2023 have reached over 182 unites compared to the predicted 100 units.

---

More than 150 years ago extreme events had been observed.

Carrington Event was the most intense geomagnetic storm, recorded on 1 to 2 September 1859 during solar cycle 10.
Comparison of Solar Cycles

Multi-frequency (VHF-SHF) radio bursts superimposed on a persistent background characterize solar flares:

Picture Source: Patrick McCauley Mccauley.pi, CC BY-SA 4.0



Different sunspot cycles can have different radio burst distributions at 245 MHz.
That is to say that the sunspot cycles can vary and that they may not be considered identical.

See an article covering

Burst Comparisons

, Probabilities, and Extreme Events:
Solar Radio Burst Statistics in 8 Bands and Implications for Space Weather Effects
by O. D. Giersch, J. Kennewell, M. Lynch (2017)

Solar radio bursts from the Sun can

interfere

with communication, radar, and navigation systems (e.g., GPS).
The forecast of future solar events will be an underestimate of the true burst rate due to the deficiencies in the data archives.
1 Solar radio emission as a disturbance of radio mobile networks (June 2022).
3 What a Solar Flare *Sounds* Like When It Reaches Earth (2013)
2 An analysis of solar noise outbursts and their application to space communication (1971)
An illustration of the Space Weather environment
---
Space weather refers to changes in space conditions, beginning with Solar eruptions that disrupt the geospace environment and earth's magnetic field (solar storms and geomagnetic storms).

What kind of weather events occur in space
When are they likely to strike?
Why doesn't space weather just torch us?
What are the effects of space weather on Earth?
How do scientists monitor space weather?
Can individuals prepare for space weather events?
What is Solar Wind?
The solar wind

is a stream of charged particles released from the corona (the upper atmosphere of the Sun). It mostly consists electrons, protons, and alpha particles. i.e plasma.
How long does it take for Solar Wind to reach earth?
The first electrically charged particles (electrons) ejected from a sunspot enter Earth`s atmosphere about 20 to 30 minutes after the storm and the heavier particles would arrive later, from a day (protons) up to four days (alpha particles). The speed of any given jet of solar wind depends on the composition and the interaction of the particles.
Geomagnetic Storms

are temporary disturbances of the Earth's Magnetosphere

caused by solar wind

and/or a cloud of the earth's magnetic field, resulting in ionosphere

disturbances.
Space Weather Reports
Real-Time Solar Wind
Real-Time IMF - Interplanetary Magnetic Field
Space Weather Plots in the last 24 hours courtesy Spacew.com
Click above to see:
Solar Wind Velocity, Density
Primary Solar X-Rays
Auroral Storm Potential: Bz, Bt

Example: Recent 3 days Solar X-ray flux, Proton flux, and Geomagnetic Activity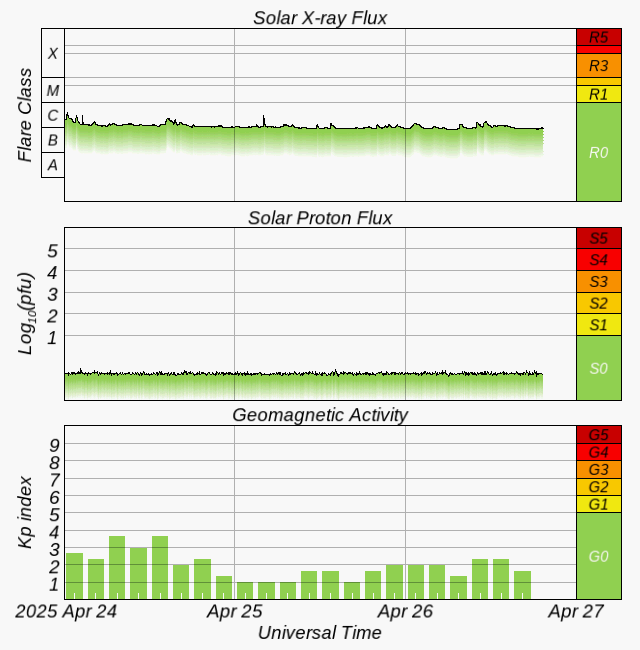 Reference: Index of Space Weather images at NOAA SWPC services
ACE project of Space Weather Prediction Center (SWPC)
Advanced Composition Explorer (ACE) collects data from a satellite that is orbiting the L1 Lagrange point, which is a point in space where the gravitational forces of the Earth and the Sun balance each other.
The data collected by ACE SWPC

includes measurements of solar wind, magnetic fields, and energetic particles that are crucial for predicting space weather events like geomagnetic storms and solar flares. ACE SWPC processes this data and produces alerts and forecasts for space weather events that could potentially impact satellites, power grids, communication systems, and other technological infrastructure on Earth.
The military, airlines, power companies, and telecommunications providers all use ACE SWPC data and predictions to make decisions and take precautions to protect their assets and operations from the effects of space weather.
---

Forecast of Blackouts due to Elevated X-ray Flare and/or Proton Ejections

Explanation: Radio waves are typically reflected near the peak of the F2 layer (~300 km altitude), but along the path to the F2 peak and back the radio wave signal suffers attenuation due to absorption by the lower layers. The D-Region Absorption Prediction model is used as guidance to understand the HF radio degradation and blackouts this can cause.
Skywave HF Radio Propagation
Conclusive Summary
Signals are refracted or absorbed by the ionosphere layers as a function of frequency, incident angle, and the ionospheric structure determined by the free electron density.
Day/Night cycle: Ionization increases during daylight as illustrated above.
Seasonal effects: Electron densities are higher in the summer compared to the winter, and nearer the equator compared to the poles, due to more direct solar radiation. HF radio signals are more efficiently reflected in the summer and closer to the equator.
The seasonal and regional anomalies.
The graph below illustrates variations in HF radio wave propagation as a function of years and seasons:


On the left vertical axis Critical Frequency is shown the highest frequency reflected at noon at near vertical angles from the F2, F1, and E leyers.

The highest F2 layer has greater relative fluctuations in electron density than the lower F1 and E layers, bacuse it is more influenced by the solar activity measured by sunspot sumber, redish line; see units on the right vertical axis.

The information presented above was derived from ionograms collected at noon in Canberra, Australia.

Communication conditions can be

unexpectedly disrupted

due to solar storms, which affect the D region. This layer may completely block signals in all the HF bands (3-30 MHz).

In a typical Solar Flare,

X-rays

penetrate to the bottom of the ionosphere (to around 80 Km) and enhance the ionization of the D layer that acts both, as a reflector of radio waves at some frequencies and an absorber of lower frequencies. The Radio Blackout associated with Solar Flares occurs in the dayside region of Earth and is most intense when the sun is directly overhead. See Sudden Ionospheric Disturbances (SIDs).


Solar Protons

can also disrupt HF radio communication. These protons are guided by Earth's magnetic field, such that they collide with the upper atmosphere near the north and south poles. The fast-moving protons have an effect similar to the X-ray flares and create an enhanced D-Layer thus blocking HF radio communication at high latitudes. During auroral displays, the precipitating electrons can enhance other layers of the ionosphere and have similar disrupting and blocking effects on radio communication. This occurs mainly on the night side of the polar regions of Earth where the aurora is most intense and most frequent. See Polar Cap Absorption (PCA) events.

Solar indices such as SSN, SFI, and A/K are used to quantify the propagation conditions.
See The Current

Band Conditions at a glance

☺