The main subject of this page
4X4XM Personal Bio
Shalom from Israel and thank you for visiting!

My name is Doron, QTH: Karmiel, Israel.

As a child, I got fascinated with radio; seven years later (1964) I got my license.

2020 marks my return to ham radio after a 28-years of absence, and I'm looking forward to "ragchewing" with both old and new friends.

Then I realized that, despite everything we'd learned over the years, I still didn't fully understand how the sun affects radio propagation. Thankfully, advances in Space technology, SDR (Software Designed Radio), and the internet have enabled us to study wave propagation in ways I never imagined possible.

As planned, I'm compiling data on HF Propagation Forecasting, doing research, and assessing the findings.
See the table of contents.
Today I am known by the name Doron Tal (before 1969 my surname was Tirkel)
I Started Radio Hamming as a kid in the late 1950's, licensed in 1964 (Novice), and 1965 (General).
Due to a busy life, I was forced to be QRT in 1992 and returned back to amateur radio in 2020.
I am currently QRV only for RoIP meetings (ragchewing):
at EchoLink daily 05:30-06:00 UTC
and Peanut Hebrew Room: Tuesday & Thursday 15:00-15:45 UTC.
Planning to get back to HF
QTH History:
1963-1975 KM72LT - Haifa, Israel
1972 JO21RK - Eindhoven, Holland (PA9UV)
1975-1984 KM72MU - Q.Yam, Israel
1984-1990 KM72PW - Karmiel, Israel
1990-1992 FN20QH - NJ, USA (4X4XM/W2) see the rig
after 1992 KM72PW - Karmiel, Israel

Amateur Radio Activity:
1957 - The movie that changed my life. At the age of 10 years, I became SWL following the French movie
"Si tous les gars du monde" youtube, wiki, English title: "If All the Guys in the World" Google, wiki.
1964 Novice (6 months, 7065-85 Khz, 5W CW homemade rig) worked 870 stations in 83 countries
1965-1970 CW / AM CW / AM homebrew and modified rig, active on 80, 40, 20, 15, 10 and 2 meters
1966 The first 2m AM QSO from downtown Haifa, Israel to Larnaka, Cyprus, TX: 15W into 16dBi pseudo-Horn Aerial
1970-1972 CW, SSB - All Bands HF, CW, AM, NFM - VHF (2m); unique homemade aerials
1972 July-August PA9UV - SSB @ Evoluon (Philips), Eindhoven, Netherland
1973-1990 CW, SSB, RTTY, Packet radio, NFM / All Bands - HF, VHF TCP/IP. Developed unique RDF and Gadgets
1981-1983 Co-author of the book, "Fundamentals of Electronics and Communication for Hobbyists" 1983, Israel.
1983 Developed the first CW decoder written in Basic for Commodore 64, TRS-80, Acorn Atom, and ZX Spectrum
1990-1992 operating 4X4XM/W2 from NJ, USA (mainly HF SSB), while on Sabbatical Leave
1994- ongoing
2020- Comeback:

My First Homemade QSL 1965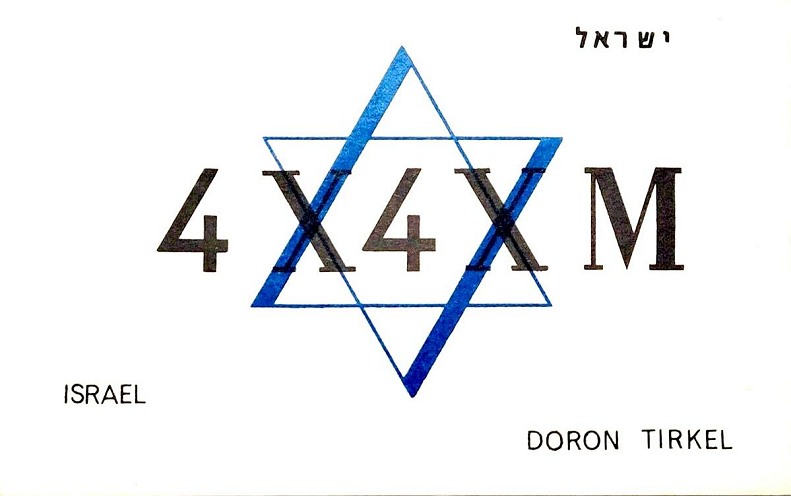 Rig (before 1965) was just homebrew. Post-1966 made modifications of vintage and surplus gear.

See below for a list of the gear I prefer to other gadgets I've collected and used over the years.
In 1966, I bought my first commercial receiver, a

Hallicrafters SX-110

. It was a single conversion (455 kHz

IF

) general coverage receiver in four bands ranging from 535 to 34000 kHz. First, I made a

Product Detector

and a better

Noise Blanker

. Second, I built an external Xtal-controlled

front end

that converted the higher HF and VHF bands to 3.5, 7, or 10.7 MHz with 50Hz stability and image rejection of more than 75dB. It was considered a remarkable achievement at the time.

---

In 1966 I found in a junkyard a broken VHF receiver 130-210 MHz, Hallicrafter S-37, and repaired it. This was a real treasure that enabled me to listen to Amateurs, Air, Ships, and Police as well as hunt spurious signals.

---

In addition, I refurbished and modified the

SCR-522

WWII transceiver,

originally covering 100-156 Mhz in 4 preselected channels.

The transmitter BC625A and receiver BC624A were Xtal controlled.

I added a 10.7 MHz output to the VHF receiver after the conversion stage, which was injected into the

SX-110

. This configuration enabled easy tuning within the 2 meters amateur band and stable clear reception of CW, and SSB modes.

In 1966 the late Erik Friedman MD, 4X4WF (SP5WF), lent me Bandmaster Delux TBS-50D Transmitter (Harvey Radio Laboratories, Brookline, Southbridge, MA, USA) covering 80m through 2m.

I have added a homebrew VFO.

Using this transmitter eight years until 1974,
I made thousands of CW and AM QSOs.

---

16dBi pseudo-Horn Aerial for 2m that was erected in 1966,
enabled S9+ QSOs from downtown Haifa, Israel to Larnaca, Cyprus ~270 Km


---

In 1975 I bought a second-hand Yaesu FT200. It was an SSB/CW transceiver that covered the pre-WARC amateur bands from 80m to 10m and provided up to 180 watts PEP. I added improvements and used it until 1990.

---

In 1977, I purchased ICOM IC-240, a two-meter FM transceiver, and modified it to double the number of channels by adding two diodes. It was my favorite "Taxi Radio" that I'd ever used; it was simple, cute, and durable.

---

In 1982, I won a raffle for a broken Siemens E311 receiver. I restored it until it operated like new and used it as a high-quality receiver for eight years in my shack, with an accuracy of 100 Hz and stability of 20 Hz over 24 hours.

---

While on Sabbatical Leave (1990-1992) in Plainsboro, NJ - the late Sid Gogel, W2FUR (1919-2015) lent me a vintage rig:

This Collins 51S-1 receiver enabled me to listen in New Jersey to the Voice of Israel on HF, and more.

Operating this Swan-350 I kept in contact with Israel during that

Sabbatical Leave

.
Due to a busy life, I was forced to be QRT for 28 years (1992-2020).
I returned to amateur radio in 2020, using SDR devices attached to MLAs, need to set up asap effective HF transmitting antennas that would meet the restrictions imposed by my community. Curently I'm a casual FT8 reporter and will soon be sending WSPR (0.1 W) with a small handheld and a mini Antenna. Also I plan to upload pictures of my new rig.
---

Education: 1977 MSc. Physics (Molecular Physics, Physical Chem., Electro-Optics, Sys Eng.)
Specialties: Scientific R&D, Sys Eng. & Analysis, Management, Planning, Audit, Arbitration, Expert Witness
R&D Physics 1973-1997 (Laser Systems, Combustion, Night Vision, RDF, IDFF, Artificial Soldier)

System Engineering

1982-1997 (Advanced Physical Systems)
Project Manager 1987-1990 (Airborne Night Vision)
Control Boards - Volunteer member of Audit Committees (NGOs) from 2006 until today

Public Networks:
---

Last but not least:
The world is changing as the radio amateur spectrum is being sold off to commercial users since few amateurs operate SHF and above.
If you have comments, questions or requests please e-mail me.
73 de Doron