Ararinha 4 right down, VFO left, FLL frequency counter right up showing locked vfo frequency (no offset). In front my home made Mike with PTT.
Listening a 20min ARARINHA2 QSO (portuguese)
QRP 8W @ 13.8V 1.35A
40m band
This is the end of ARARINHA project, I will add CW and further others bands.
ARARINHA is simple to build and to adjust, I will describe the circuit and add details and tips of building.
This schematics is the ARARINHA 4 normal.
This schematic are the ARARINHA 4 with audio AGC (dont have a external audio control). I build that.
ARARINHA 4 pictures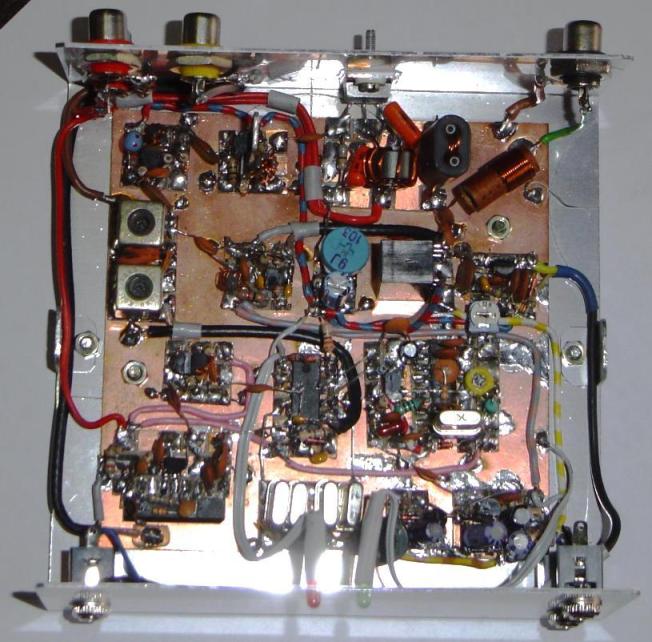 Mixers audio ladder filter detail
TX RF part detail
Description of ARARINHA 4
ARARINHA 4 is an evolution of project ARARINHA that it looks to be a simple radio, cheap and efficient for SSB.
The components of the assembly of the radio are of easy acquisition in the Brazilian market and in we look them to place minimo of components to facilitate the assembly.
Diagram of blocks:
Functioning:
Rx
The signal come from antenna passes in the Low Pass Filter (LPF) and for relays (normallly open contact of rele for reception) going to RF amplifier (BFr buffer), note that: in transmission the buffer input is connected to ground
The RF amplifier (BFr) is only fed in reception (+R). The putput of this amplifier goes to band pass filter 40m (BPF).
The band pass filter (BPF) is a common circuit to the RX and TX. The filter output go to a electronic switch (IC pin 15 ) that it is a part (1/3) of the IC 74HC4053. IC 74HC4053 is a triple electronic switch.
The signal leaves the electronic switch (pin 2) going to first mixer ( TA7358), where the signal 7Mhz to 7,3MHz from antenna is mixed to the VFO signal (the VFO is external) who varies from 3 to 2,7MHz, at out put of the mixer we will have many signals, but we are interested in signals that summ result in 10MHz (7+3 up to 7,3+2,7).
Thus the signal of 10MHz passes to amplifiers b2 and B3 going for another electronic switch (IC pin 5). The Set mixer and amplifiers is common the reception and transmission.
Our signal leaves the electronic switch (IC pin 4) and passes to crystal filter ( ladder filter) that he is narrow and it leaves to pass about 3,5kHz of 10MHzt signal . This filter are common to reception and transmission too.
The crystal filter output goes for another electronic switch (IC pin 14) and leaves in IC pin 12, going to another mixer (detector TA7358), where the signal from filter is mixed to a signal from the BFO (oscillator in TA7358) who has the frequency adjusted near the superior limit of the filter, thus the resultant beating is a audio frequency with a width of circa 3,5KHz or LSB. To listen to USB the frequency of the BFO would have to be adjusted to near of the inferior limit of the filter.
The audio resultant goes finally for pre amplifying (AF pre) and for the amplifier of audio (AF).
TX
The TX functions at pressing button PTT of the microphone, that feds the relays who activate the +TX. We choose electreto microphone, because it is easily found in scrap box or it can be easily acquired.
The amplifying circuit of microphone (MIC), incorporates an feeding to the microphone of eletreto.
The amplifie output goes to the balanced modulator (TA7358 as the now modulator), where the signal of the BFO (10MHz) is modulated by the audio signal, the modulator output is DSB (it has the two laterals, but it does not have carrier)
The DSB signal is amplified by the amplifier (buffer b1) going for the electronic switch (IC pin 13), the key output ((IC pin14) goes to ladder filter, who filters one of side band, being left the signal of 10MHz LSB desired.
The filter output goes to another electronic switch (IC pin 4) and leaves in IC pin 3 going for mixer input (TA7358) where the signal of the VFO (external), that varies from 2,7 to 3MHz is subtracted of the 10MHz LSB signal generating a signal wich varies from 7 to 7,3MHz LSB.
Our signal of LSB in 40m has many espurius resultant of the mixture, than it goes to RF amplifiers (buffers) b2 and B3, and it igoes to a electronic switch (IC pin1) and leaves in IC pin 15, then it goes for the pass band filter (BPF), that eliminates the espurius and it leaves the 40m signal clean for final amplification.
In the final amplification we have one RF amplifier (BFt), one driver (DRV) and the power amplifier (PA), in the output of PA the signal goes to low pass filter (LPF) that eliminates the harmonics and finally it goes to antenna.
Building ARARINHA by modules (Parts List and replacement tips)
1 Audio amplifier (AFpre + AF) = Last update 10/MAR/2007 TKS OM Hugh ZL1UEM
3. Modulator/Demodulator (TA7358) + BFO (TA7358) + RF amplifier (b1)
4. Crystal filter (Ladder filter)
5. Mixer (TA7358) + RF amplifier (b2)
7. Electronic switch (74HC4053)
Optionals
16. Audio automatic vollume control (CAV)
17. CW BFO(BFO2)
18. Semi break in Timer for CW (TEMP)
QSOs DX and comments
If you have some questions write me [email protected] (remove the x)
73 from py2ohh miguel
PORTUGUESE
Foto: ARARINHA 4 com o VFO a esquerda e o FLL mostrando a frequencia real do VFO sem offset. Em frente meu microfone feito em casa e com PTT.
Ouça um QSO do ARARINHA2 = 20min
ARARINHA 4
40m QRP 8W @ 13.8V 1.35A
Com este projeto eu encerro o projeto ARARINHA, falta adicionar o CW e alterar as bandas de operação.
O ARARINHA é simples de montar e de ajustar. Eu descreverei o circuito e colocarei detalhes e dicas de montagem .
Esquema ARARINHA 4 normal :
Esquema ARARINHA 4 com CAV como eu montei, não tem controle externo de volume.
Fotos do ARARINHA 4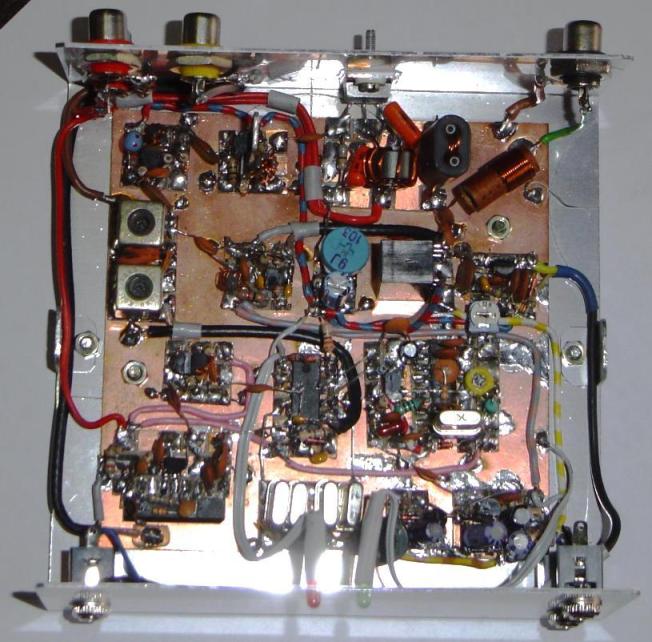 Vista geral
Detalhe dos mixers, fitro ladder, audio e ao centro o 74hc4053
Detalhe do TX
Descrição do ARARINHA 4
O ARARINHA 4 é uma evolução do projeto ARARINHA que procura ser um radio simples, barato e eficiente para SSB.
Os componentes da montagem do rádio são de fácil aquisição no mercado brasileiro e nos procuramos colocar o minimo de componentes para facilitar a montagem.
Diagrama de blocos :
Funcionamento :
Rx
O sinal vindo da antena passa pelo filtro passa baixa ou PI (LPF) e pelo rele (posição dos contatos do rele em repouso ou recepção) indo para o amplificador de rf (buffer BFr), note que em transmissão a entrada do buffer fica conectada a terra.
O amplificador de RF (BFr) só é alimentado em recepção (+R), tambem pelo relê. A saida deste amplificador vai para o filtro passa faixa 40m (BPF).
O filtro passa faixa (BPF) é um circuito comum ao RX e ao TX. A saida do filtro passa por uma chave eletronica (pino 15 do CI) que é uma parte (1/3) do circuito integrado 74HC4053.
O CI 74HC4053 é uma chave tripla eletronica.
O sinal sai da chave eletronica (pino 2) indo para o primeiro misturador (TA7358), onde o sinal de antena de 7Mhz a 7,3MHz é misturado ao sinal do VFO (o VFO é externo) que varia de 3 a 2,7MHz, na saida do misturador teremos muitos sinais, mas o que nos interessa é soma dos sinais que resultam em 10MHz (7+3 até 7,3+2,7).
Assim o sinal de 10MHz passa pelos amplificadores b2 e B3 indo para outra chave eletronica (pino 5 do CI).
O Conjunto de misturador e amplificadores é comum a recepção e transmissão.
Nosso sinal sai da chave eletronica (pino 4) e passa pelo filtro a cristal (ladder) que é muito estreito e deixa passar cerca de 3,5kHz do sinal de 10MHz. Este filtro tambem é comum a recepção e transmissão.
A saida do filtro a cristal vai para outra chave eletronica (pino14) e sai no pino 12, indo para o segundo misturador (detetor TA7358), onde o sinal do filtro é misturado a um sinal do BFO (oscilador no TA7358) que é um sinal com uma frequencia proxima do limite superior do filtro, assim o batimento resultante é uma frequencia audivel com a largura de cerca de 3,5KHz ou LSB. Para escutarmos USB a frequencia do BFO deveria ser ajustada para ser proxiam do limite inferior do filtro.
O audio resultante vai para o pre amplificador (AF pre) e finalmente para o amplificador de audio (AF).
TX
O TX funciona apertando o botão PTT do microfone, que liga o relê e aciona o +TX.
O microfone escolhido foi o de eletreto, pois é facilmente encontrado em sucatas ou pode ser adquirido facilmente.
O circuito amplificador de microfone (MIC), incorpora uma alimentação ao microfone de eletreto.
A saida do amplificador vai para o modulador balanceado (TA7358 agora como modulador), onde o sinal do BFO (10MHz) é modulado pelo sinal de audio, a saida do modulador é DSB (tem as duas laterais, mas não tem portadora)
O sinal de DSB é amplificado pelo amplificador (buffer b1) indo para a chave eletronica (pino 13), a saida da chave ( (pino 14) esta ligada ao filtro ladder, que filtra uma das portadoras, saindo o sinal de LSB desejado em 10MHz.
A saida do filtro vai para outra chave eletronica (pino 4) e sai no pino 3 indo para a entrada do misturador (TA7358) onde o sinal do VFO (externo) que varia de 2,7 a 3MHz é subtraido do sinal de LSB de 10MHz gerando um sinal que varia de 7 a 7,3MHz LSB.
Nosso sinal de LSB em 40m ainda tem muitos espurios resultantes da mistura, vai para os amplificadores (buffers) b2 e B3 , e encaminha-se para a chave eletronica (pino1) e sai no pino 15 onde vai para o filtro passa faixa (BPF) que elimina os espurios e deixa o sinal de 40m limpo para a amplificação final.
Na amplificação final temos o amplificador de RF (BFt), o driver (DRV) e o amplificador de potencia (PA), Do amplificador de potencia o sinal vai para o filtro passa baixas (LPF) que elimina as harmonicas e vai finalmente para a antena.
Montando o ARARINHA por modulos (lista de material com equivalencia)
1 Amplificador de audio (AFpre + AF) =ultimo update 10/03/2007 texto em ingles
2. Amplificador de microfone (MIC)
3. Modulador/Demodulador (TA7358) + BFO (TA7358) + amplificador de RF (b1)
4. Filtro a cristal (Ladder filter)
5. Misturador (TA7358) + amplificador de RF (b2)
7. Chave eletronica (74HC4053)
9. Amplificador de RF recepção (BFr)
10. Amplificador de RF de transmissão (BFt)
12. Amplificador de potencia (PA)
13. Filtro passa baixas - PI (LPF)
Opcionais
16. Controle automatico de volume (CAV)
17. Oscilador de batimento para CW (BFO2)
18. Temporizador para o rele semi break in para CW (TEMP)
QSOs DX e comentarios