ENGLISH begins after portuguese...please look down
Filtro passa baixas (LPF)
Esquema:
Material
60cm fio 22 AWG (0,7mm de diametro)
2 capacitores de 470pF 100V ou mais
Montagem
1. Soldar capacitor de 470 pF entre ilha 4 do PA e o terra.
2. Indutor de 1.3µH
- Enrolar em uma forma de 7mm de diâmetro (lápis) com 60cm de fio AWG 22 (0,7mm) 18 voltas unidas. Este indutor será auto sustentado.
- Cortar no tamanho adequado conforme fotos, retirar cerca de 5mm do verniz isolante das pontas - pré estanhar.
- Soldar um terminal na ilha 4 do PA deixando o outro terminal no ar.
Após montagem soldar capacitor de 470 pF entre o terminal do indutor aereo e o terra, deste ponto conectar a antena.
Montagem no ARARINHA 4 o indutor de 1,3µH esta entre 2 ilhas.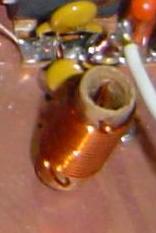 ARARINHA 5 montagem como descrito, fio branco conexão de antena.
LOW PASS FILTER (LPF)
Schematics :
Material
60cm wire 22 AWG enam. (0.7mm diameter)
2 470pF cap 100V ou greater
Building
1. Solder 470 pF capacitor between islands 4 (PA module) and GND.
2. 1.3µH Inductor
- Built in 7mm diameter (pencil) with 60cm wire AWG 22 (0,7mm) 18 turns. this inductor is self supported
- Cut leads to correct size look the pictures.
- Solder one lead at island 4 (PA module) and let another lead in the air.
In the final assremble solder 470pf cap between aerial inductor lead and GND, the aerial lead is also connected to antenna.
In the ARARINHA 4 the 1.3µH inductor is connected in two islands.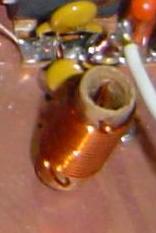 In the ARARINHA 5 is as described, the white wire is antenna connection.