ENGLISH begins after portuguese...please look down
Amplificador de potencia (PA)
Esquema:
Material
Placa de circuito impresso virgem de 20 x 25mm
1 Transistor IRF530N
1 diodo zener de 4,7V (4V7) 1/4W (250mW ou mais)
2 capacitores ceramicos de 100nF (25V ou mais)
1 capacitor poliester 100nF 250V
1 capacitor eletrolitico de 10µF (10V ou mais)
1 resistor de 68R 1/4W
1 resistor 680R 1/4W
1 trimpot de 10k
1 Toroide duro tipo argola de ferrite NT1057
1 toroide binocular pó de ferro N3F1414-3,8 - Balun de TV (focinho de porco)
0,5m de fio AWG 24
Layout
Montagem
1. Cortar placa e serrar as ilhas
2. Soldar o transistor ilhas 1 (gate) 2 (dreno) supridouro no GND.
3. Soldar Trimpot ilhas 5, 6 e terra.
4. Soldar zener e capacitor eletrolitico ilhas 6 e terra.
5. Soldar capacitor de 100nF entre ilha 5 e terra.
6. Soldar resistor entre ilha 1 e 5.
7. Soldar capacitor de 100nF de poliester em pé, para conectar (ilha 2a) transformador de impedancias
8. Transformador casador de impedancias
Rebarbar balun de ferrite e proteger com espagueti (ou fita teflon) para que não tire o verniz do fio ao enrolar.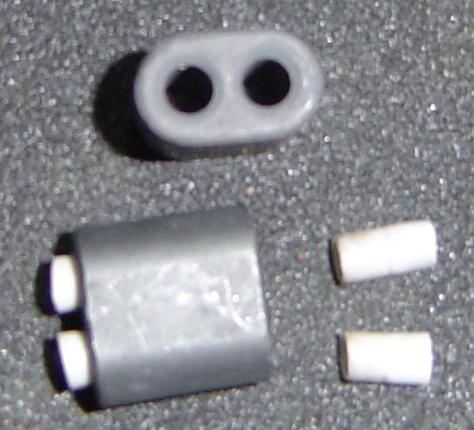 Dobre 25cm de fio AWG 24 ao meio (12,5cm) torça a parte central com 3 dobras firmes,

enfie as extremidades uma em cada furo (1a volta para cada enrolamento),
retorne cada fio pelo outro furo (2a volta),
mais uma vez retorne o fio (3a volta).
Corte as sobras
e esta pronto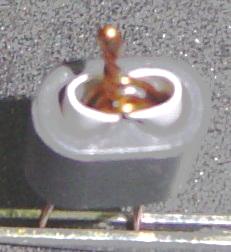 9. Dobrar e cortar os terminais do trafo de impedancias soldando uma extremidade a terra , outra a ilha 4 e uma aerea (centro) conectada ao capacitor de 100nF de poliester (ilha 2a aérea).
10. Choque de RF :
Enrolar 6 voltas de fio AWG 24 (não é importante a bitola mas deve ser de AWG25 ou mais grossa devido a corrente), o núcleo tambem não é critico devendo acomodar as espiras. importante rebarbe tambem este toroide e proteja o fio contra rapagem do verniz ao enrolar.Nosso nucleo foi conseguido em sucata de reatores eletronicos e é do tipo duro de alta permeabilidade Ver fotos da montagem.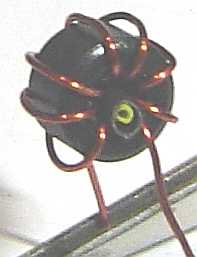 Esta foto o choque aparece com 8 voltas, não foi necessaria proteção pois os fios não se encostam.
11. Soldar choque de RF entre ilhas 2 e 3.
12. Soldar capacitor de 100nF entre ilhas 3 e terra.
Fotos (o IRF530N não aparece soldado nas fotos)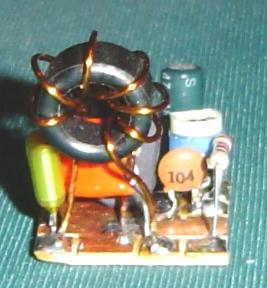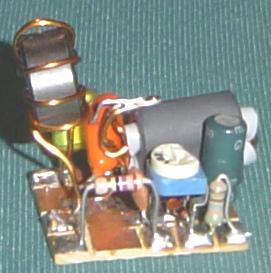 POWER AMPLIFIER (PA)
Schematics :
Parts List
Copper clad PC board 20x25 mm
1 Transistor IRF530N
1 zenner diode 4V7 1/4W (250mW or greater)
2 100nF (104) Disc cap (between 47nF - 220nF greater than 25V)
1 100nF (104) polyester (or 220nF greater than 250V)
1 10µF electrolytic cap (may be 22, 47, 100µF - 16V or greater).
1 68R resistor 1/4W
1 680R resistor 1/4W
1 10k trimpot
1 Hard toroid core (not critical)
1 PIG NOSE (two holes) toroid core - Iron Powder used in TV balun
0.5m wire enam. AWG 24
Layout
Building
1. Cut the PC board and make islands with a hand saw removing the copper layer.
2. Solder transistor island 1 (gate) 2 (drain) source (GND).
3. Solder Trimpot islands 5, 6 and GND.
4. Solder zener diode and 10µF electrolytic between islands 6 and GND, take with polaraty.
5. Solder 100nF capacitor between islands 5 and GND.
6. Solder resistor between islands 1 and 5.
7. Solder 100nF polyester capacitor at island 2 another lead at "air" forming island 2a where impedance transformer will be connected.
8. Impedance transformer
All ferrite cores have some cuting edges, with a drill and a sandpaper remove all these edges and protect with a shrink isolator (or teflon tape).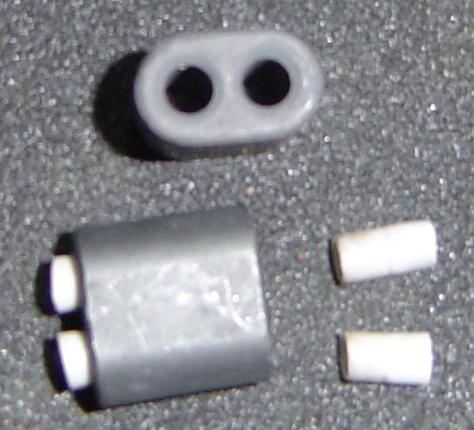 Bend 25cm AWG 24 wire in middle (12.5cm) twist the central part 3 times,

put the two wires in the balun holes (this is the first turn of each coil),
return each wire from the oposite hole (2nd turn),
one more time return the wire (3rd turn).
Cut for desired size
and it is ready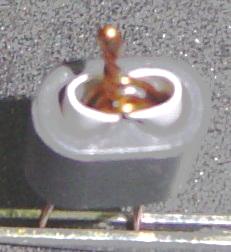 9. Bend and cut the impedance transformer solder one lide to GND, another to island 4 and one aerial (center) connected to 100nF plyester cap 9island 2a aerial).
10.RF choke :
Roll 6 turns of AWG 24 wire (the wire gauge is not important, but the DC current requires gauge AWG25 or greater), the size of toroid core also is not important but it have to suport the current and the wires turns. Look the pictures.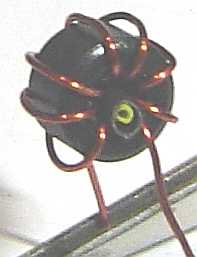 In this picture the choke has 8 turns and dont have protection for cutting edges because the wires turns are too far.
11. Solder RF choke between islands 2 and 3.
12. Solder 100nF cap between islands 3 and GND.
Pictures (The IRF530N is not showed - not assembled)