---
This website can be viewed with:


---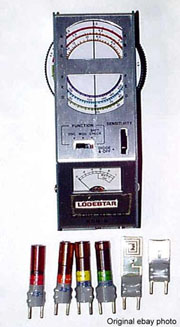 Loadstar KDM-6

in excellent condition. Very similar to the MFJ201. Has a frequency range of 1.5-250MHz in 6 ranges, with 2kHz sine wave modulation available. Its size is 6.9" x 2.6" x 2" and it weighs 1.4lbs. It uses a standard 9V battery, and has provision for external 9V power, as well as an earphone jack for monitoring.
Lowe FX-1 in excellent condition. Obtained from England, the Lowe FX-1 reminds me of an updated (but much prettier) version of the Midland-series. It also has a slightly wider frequency coverage of 0.7 - 250 MHz. Like one of my favorites (the Kenwood DM-81), the Lowe stores its coils within its case: a plate on the back has a small thumbscrew (fingerscrew? <grin> ) and a compartment wherein the coils are stored. Overall, a very nice unit, with several attractive features.

Lysco DipMaster GDO w/all coils & manual, in excellent condition. LYSCO was a transmitter manufacturer in the 40s and 50s.
a McMurdo-Silver Model 903 wavemeter with original box, instruction sheet, and 4 plug-ins,
in
AS-NEW condition
.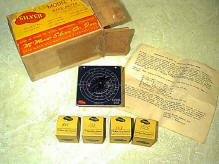 an AS-NEW Measurements 59 complete with the suitcase carry-a beautiful instrument in incredible shape; this unit was believed to have been a 'Salesman's Sample' but apparently was not carried around much, if so. Also I have a partial body for parts; the 59LF Low Frequency Head; and (obtained separately from the above GDO) the 200-900MHz VHF/UHF Head.
a very good Measurements ("div McGraw-Edison") 159

. This unit is similar to, and may be considered a modernized version of, the Measurements 59. If anything, I like this one even better!!!


AS-NEW condition. The MFJ-201 has an FT-243 socket for crystal testing.

Available new, it is a

very good GDO for the money: accurate, portable, and reasonably rugged. Very similar to the

Loadstar KDM-6 etc. series... except for a regular knob-operated injection level (instead of a thumbwheel.) is a band-switching GDO, covering from 1.75 MHz - 34.8 MHz in 5 bands. A frequency counter can be connected to the "FREQ OUT" RCA jack for
higher accuracy. It manages bandswitching-instead of multiple plug-in coils-by putting the coils inside the box, and using a single plug-in coil for coupling. I believe that is the primary reason for the greatly limited bandwidth. It uses the standard 9 VDC battery, mounted internally. I obtained this one some time after manufacturing ceased because Amateur Electronic Supply still had one on the shelf in Florida.
MFJ was absolutely no help in my quest for one-never even replying to my inquiries.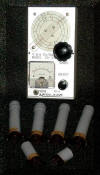 Midland Tr. Grid-Dip Meter Model 23-120

Transistorized dip meter with a 0.5 to 150 MHz range, using 6 plug-in coils. Identical to the THORO-TEST GDM-3. Made in Japan.

To continue browsing the website, please select from these categories:
...and from an Electronics perspective: