---
This website can be viewed with:


---













Industrial model TE-18 GDO tube-type. Very similar to the Lafayette, they have different color switches, and the bottom part of the cabinet is grey wrinkle on one, but not the other. Definitely two different models, with the Lafayette a private label from this unit's manufacturer. The silk-screened labels differ in font and size, as well! The paint of the 'chassis/front panel' is good enough (e.g. not a matter of the silk-screening wearing off) that I am confident it is either a separate model, or was so early in their production for Lafayette that they used no manufacturer's label/logo silkscreen. Either way, it's unique in its own way.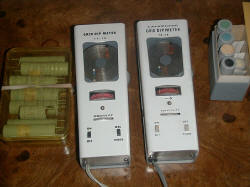 Kenwood DM-81 in excellent condition-my favorite battery powered GDO.

Knight G-30 GDO - in near mint condition, with manual, box, and all coils.

A late 1960's unit, with a cast aluminum case. The frequency range is from 360Kc to 220Mc. All solid state, with 8 color coded coils. A very well made unit! I also have its batter-powered successor. II also have its successor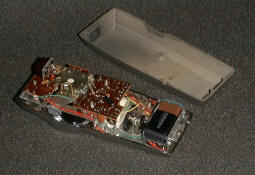 I have an older Lafayette TE-18 in very good-to-excellent condition, complete with the manual and original box; plus the newer TE-57 (Model 99-2503) in MINT condition.
To see my Lafayette GDOs page & part of the manual for the TE-18:
Leader LDM-810 in excellent condition. This is the AC powered unit. I also have the LDM-815 battery-powered version, and have completed a trade for an LDM-811 from France. To see the manual or just the schematic for the LDM-815:


To continue browsing the website, please select from these categories:
...and from an Electronics perspective: