---
This website can be viewed with:


---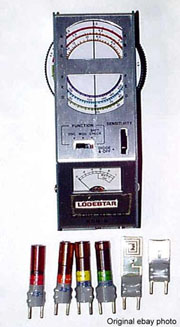 Loadstar KDM-6

in excellent condition. Very similar to the MFJ201. Has a frequency range of 1.5-250MHz in 6 ranges, with 2kHz sine wave modulation available. Its size is 6.9" x 2.6" x 2" and it weighs 1.4lbs. It uses a standard 9V battery, and has provision for external 9V power, as well as an earphone jack for monitoring.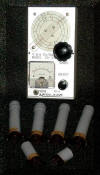 Tr. Grid-Dip Meter Model 23-120 TTransistorized dip meter with a 0.5 to 150 MHz range, using 6 plug-in coils. Identical to the THORO-TEST GDM-3. Made in Japan

.

To continue browsing the website, please select from these categories:
...and from an Electronics perspective: