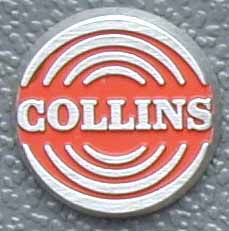 COLLINS RADIOS
The Collins Radio Company in Cedar Rapids Iowa, between 1958 and the late 1970's manufactured a series of transmitters, receivers and transceivers, which together with all their accessories were known as the "S" line. Nearly 40 years on, there is still a large body of collectors and knowledgeable enthusiasts. There is an active market especially in the USA. Any prospective collector should start by joining the CRA-UK
What should not be surprising is that these tube rigs are still most enjoyable to use, and can give a very good account of themselves on today's crowded bands. They may lack the bells and whistles of modern transistorised rigs, but tuning across the bands one soon forgets that they were made about 40 years ago.
Yes OK, I do sometimes find myself reaching for the memory button, or the reverse split, but hey - it's no problem. When I release the switch on my D104 and hear someone reply with a 5&9 it's still a thrill.
If you are really after detailed information, then may I recommend the wonderful little book by KK5IM and of course the individual manuals. What you will find here is mainly my experience in collecting Collins radios, and a number of detailed photographs, mostly my own, for which I make no apology! If you find a mistake anywhere, then let me know and I'll correct it.
PHOTOGRAPHS - I have taken many photographs for this section of my site, They were taken in high definition mode with a Nikon 950 digital camera. I have reduced the file sizes for uploading, but in order to preserve good quality, I have not made them tiny - I work on the basis that you would rather wait a bit longer to see a decent picture than get a smudgy one quickly! I hope you agree. I have also included a number of thumbnails which will optionally download the full files.
Links to other pages on Collins Radios
The equipment mentioned below is not a complete catalogue of all Collins S-Line products, but is a fair representation of what was available particularly in the later years. All opinions are my own
1) I imported a very dirty 32S-3 from the States. it required extensive cleaning and eventually rebuilding. I made a series of photographs to illustrate some of the stages:
2) For those interested in photographs, information and comparisons, have a look at the links below:
75S-3 series KWM-2/A 30L-1 516F-2 312B-3/4/5
3) Other parts of the range included carrying cases and microphones:
Carrying Cases and Microphones
4) Reproduction items:
5) Collins Topics - A selection of items describing various general aspects of Collins Radios:
6) I am secretary of the Collins Radio Association UK Chapter - CRA-UK.
If you are a collector or merely an admirer of this fine equipment, then mail me to become a member
7) At the request of VE3JHU you can read/download his fine articles/diagrams in .pdf form, about the 51-J receiver:
a) Gearbox b) Drum overlay for 51J-3 c) Dial Disk
Apart from what I have learned myself from working on these radios, and studying the manuals, I am indebted to external sources also, such as the CRA archives, comments on the reflectors and Jay Miller's handbook, which at this time is regrettably out of print.