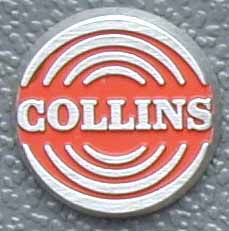 THE COLLINS RADIO ASSOCIATION - UK CHAPTER
As there is no Collins enthusiasts group in the UK, when David Knepper W3ST suggested that we form a Chapter of the Collins Radio Association here , I realised it was an opportunity to bring us all together for the purpose of exchanging information and enhancing our enjoyment of this aspect of our radio interests. It would also facilitate the sale and exchange of unwanted equipment, and hopefully provide a focus for those outside the group who had items to dispose of. The name CRA-UK would, I think, be appropriate, linking us to the US parent organisation.

We have formed an informal group, the membership list of which is available to members. I hope that we will use large meetings as a means to gather as a special interest group. If there is sufficient interest, perhaps a presentation could be arranged - there is certainly enough to talk about.

David informed me that as members of the Chapter we would be able to purchase, individually from him, the bi-monthly CRA Journal at the discounted price of $25 pa. These are forwarded in bulk by air-mail to me for redistribution here. This is not mandatory, but I would grateful if you would let me know if you decide to send him a subscription. At this time I do not think that there is a need for any membership subscription, other than a small amount to cover re postage of the Journal for those who order it.

I copy here a paragraph from David's mailing:

I would strongly recommend that you sign up to the [email protected] list. Simply go to http://www.qth.net and then click on the Collins list to subscribe. Please continue to promote a chapter of the Collins Radio Association by listing your messages on [email protected] All my best to you and you can be assured that the CRA is an open and democratic organization.

We need to remember that the directors of the CCA, who run their own reflector, are not too happy about specifically CRA postings. QTH.net provides us all with a means of easy and rapid communication.

I am prepared for the time being, to undertake any secretarial duties that may arise. These include contacting prospective members and collectors, and maintaining an up to date membership list with e-mail addresses.
To date a we have the following members:
Andrew - G0TFT Peter - G3GGK John - G3GBB Henry - G3GIQ

John - G3PCY Sam - G3PHU Keith - G3VKW John - G3VLH

Graham - G3XTZ Roy - G3ZIG Martin - G3ZQU Chris - G4BGM

Paul - G4CCZ Phil - G4EJN Phil - G4UDU Gavin - G6DGK

Ted - G8AZA Kevin - G8LYV Dick - GI3OQR Simon - M5POO

Jorge Gomes (Portugal)