To jump to my Photo Gallery:


My digital camera is an AGFA 1680. It is not the latest, highest technology, digital camera around, but it takes very good pictures if they are destined for the Internet and my website-or up to an 8x10 print. . It has a 1.3 megapixel CCD sensor and using AGFA's PhotoGenie Image Enhancement Technology is able to achieve a resolution of 1.9 megapixels (1600 x 1200); a 3x optical and 2-more-x digital, continuously variable zoom (equiv. of 6x); a DOCUMENTS mode designed for copying papers; 4 flash modes-incl. fill-flash; support for SSFDC SmartMedia cards; and manual exposure & focus settings.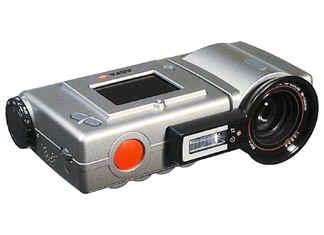 Besides its great photos, I REALLY like two things about the camera: 1) it has a miniature stereo phone jack/cable to connect directly to an RS-232 port; and 2) the 2 inch viewing screen tilts to virtually any angle, allowing high or low photos to be taken without your own physical contortions. I could not be more pleased with it.
For a great photo example, check out my friend Randy's cat, at:
http://www.qsl.net/n4xy/k4odl_1.html
I bought a larger capacity 16MB SmartMedia Card (it came with a 4MB card) for about $60, and now, at 1280 x 960 resolution, I get 48 (!!!) photos, more or less. And even then, if I got desperate, I could pull out the 16MB card, and get 12 more of the high resolution 1280 x 960 shots using the original 4MB card. Best of all, it was pretty reasonable at UBID.COM-it took 3 tries to 'win' one, but a $1500 (list) camera for a good bit less than 1/3 of that isn't too bad.
All it really has to do is last long enough for Nikon-or someone-to come out with a digital back at 4 megapixels or more for my F4-S. Already, I find myself loving the advantage of immediate picture availability-so you can tell if you like it, or if you need to do it again.

The Acer Scanner ScanWit 2720S enables you to scan slides and negative film with one-touch of a button. The auto-loading mechanism can preview or scan up to six frames at one time. The ScanWit is compatible with two film formats: 35mm filmstrip and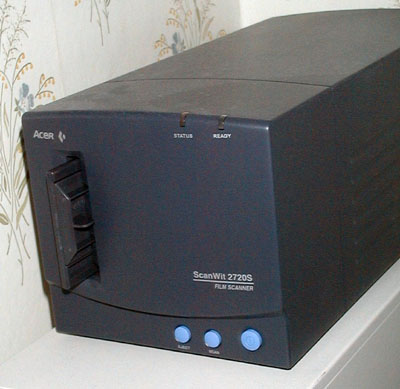 35mm-mounted slide in either color or black/white. Zero-Reflection Optical Design preserves image definition, allowing light to pass straight through the tri-linear color CCD without any reflection.

An enthusiastic professional user has created a website dedicated to the ScanWit 2720S. Click to read his review and tips and tricks.
http://www.photoscientia.co.uk/Review.htm
http://www.photoscientia.co.uk/Usingmira.htm
Description:
36-bit, over 68.7 billion colors for true-to-life accuracy

2700 x 2700 dpi optical resolution

3.2D Dynamic Range

Fast scan speed: Complete 2700 dpi scan within 40 seconds

Auto positioning and focusing technology to secure a sharper image

Advanced zero-reflection optical design for an undistorted scan image

Specifications:

Scanner Type: 1 pass, film scanner
Resolution: 2700 x 2700 dpi
Scanning Mode:
Color: 36­bit
Gray Scale: 12­bit
Max. Scanning:
Positive Slide: 35mm mounted size (Max. batch scan 4 units)
Negative Filmstrip: 35mm size (Max. batch scan 6 units)
Interface: SCSI II


I also have a very modest collection of older cameras. Some of them include a very nice Kodak Brownie Hawkeye with original box and flash. I have several other Kodak cameras, including a 314 Instamatic, a Brownie Holiday Flash, and my oldest camera: a Brownie Target SIX-20 Box Camera, made by Canadian Kodak.
Then there's another neat camera: the Kodak Junior SIX-20 Series II... it is a small fold-out bellows camera with everything mechanical-even focusing is done by a guessed-at setting for distance, and a look through the guide. There is no light-sensing of course, so an external lightmeter is a necessity.
Finally, I have a Zeiss-Ikon Nettar (620 format) Fold-out Bellows Camera with a 105mm Novar-Anastigmat lens by Carl Zeiss. Also all mechanical. While not an expensive "collectible", it is a fine camera with great glass!
There are many good deals to be had from the on-line auctions. I got another Brownie Hawkeye several months ago for a final bid of $6.27... a very nice price. If you like cameras, and want to see-and perhaps collect-some of the older style cameras, they can often be had very reasonably!

Almost all of the photographs that will wind up here were taken with the film above-with the possible exception of some low light / action situations where I used Fuji Super-G PLUS Professional Color Negative Film for its great color (considering the speed is 800!) and fine grain resolution. And some slides from 1969-1972.
Also, I am experimenting with some new, super-brilliant KONICA Impresa 50 Professional. According to KONICA: "Impresa 50 Professional achieves the finest grain and highest level of sharpness of any color print film available. With a range of tonal expression that is unmatched, for exquisitely precise prints to satisfy the perfectionist. Special photofinishing is not required to achieve optimum results, so serious amateur photographers can now enjoy professional quality results."
Exposure Index: (Daylight or Electronic Flash) ISO 50/18°
Compatible Light Sources: Daylight, electronic flash, photographic fluorescent lamp and blue flash bulbs
Format: 135 size, 24 - 36 exposures; 120 size
Type: Color print film
To continue browsing the website, please select from these categories:
and from an Electronics perspective: