My wife Theresa is a Systems Analyst, and owns her company Omnitec Services, Inc. (http://www.omnitec-svcs.com). The company has approximately 20 employees, mainly consulting to large insurance companies in the USA, Canada, and Australia. Take a look at their website-my son Rusty completely designed and implemented it.
Rusty is a 23 year old graduate of the University of Tennessee, in Knoxville, TN, who majored in English with a focus in Technical Communications and a minor in Journalism. He worked for the University of Tennessee 'newspaper' (The Daily Beacon) and was promoted to columnist for his final semester. He was offered an internship with a local magazine, but left Knoxville seeking full-time employment here in the Atlanta area instead!
In addition to his work on the editorial staff at The Daily Beacon, he has worked for two years as the Webmaster for a national, off-campus (only slightly) bookstore (Rocky Top Books). He had his
own office, and was responsible for digitally photographing ALL of the 2,000+ products they carry. This was still a "part-time" job, but he was completely responsible for integrating the local store's E-commerce website with the 'national' software. Going to look great on his resume'!!
Rusty primarily works with straight HTML programming, and Photoshop 6 for the graphics design part-as opposed to the relatively simple program (WebExpress) I had to use for my web pages! (I'm now using MS Frontpage2002... and am very pleased-so far-with the transition.) He put together his own LINUX-based Server last winter, over the Christmas holidays; and presently has his apartment networked (for the hi-fi and multimedia TV/etc. etc.) with his own separate Server using MS WIN NT 4.0 Server.
Also, he was an intern at Kinetic Design, an Atlanta-based webpage design company, summer before last, where he worked on some very large companies' websites. He was also was the Webmaster of the Univ. of Tenn Student TV Station as part of a Communications Course for one semester.
After a stint as a newspaper reporter, and a period working for Best Buys, Rusty has taken a job in Midtown as a Project Manager for Civic Strategies-a research and consulting firm specializing in civic leadership issues.
Rusty did play baseball, but, once in college, took up golf. He also backpacks, hikes, and camps thanks to the nearby Great Smoky Mountains National Park (and other National parks) there in Tennessee AND thanks to most of my camping and backpacking gear!
You can see Rusty's website complete with resume' portfolio at:
http://www6.brinkster.com/rtanton/

Chris is a 2
4 year old graduate (Spring 2004) of
Berry College
, a 4 year private college near Rome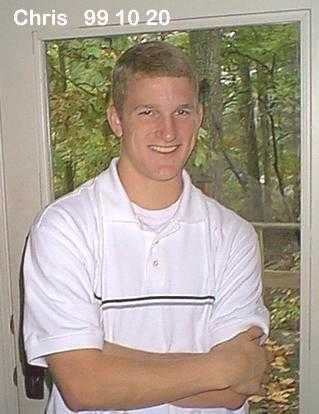 , GA. He was very involved with Baseball, and received a Grant-in-Aid baseball Scholarship to Berry. Chris pitched a (complete) 6 inning
PERFECT GAME
at the age of 12. He pitches left-handed, and was the 5th pitcher in Cobb County (for strikeouts with 53) and the 14th batter out of ~ 500 players (with a batting average of .423) as a 15 yr old High School Junior. After HS graduation, he played tournament baseball for the Villa Rica Bisons. His ERA after ~39 innings pitched was 1.07, giving up 20 hits, 10 walks, and 41 K's. He was pitching fastballs, that Fall, at 86mph on the radar gun, and his curveball was 72mph.
Chris played NAIA College Baseball in the following Spring at Berry. The Vikings have had a winning season every year since 1988. The team has been ranked in the top ten in the NAIA national polls for the past three seasons, and in 1997, Berry finished with a record of 44-13 and a number two national ranking.
During Berry's brief Fallball season his first year, Chris was the only Freshman to pitch (in the 'regular' games-as opposed to the inter-squad games.) He had the best
ball-to-strike ratio of any of the Berry pitchers, and was 2nd in first-pitch strikes. His ERA (for the 5 innings he pitched-most IP by anyone else was 9, by the way) was 0.0 !! They only played 6 games-I think (again, not counting Inter-squad games. While Chris is a location pitcher -as opposed to a 'hurler'-he was clocked with the radar gun on a pretty cold day (we were freezing: lots of wind) at 87mph... so that's getting better.
Chris pitched ~ 41 innings his first year for Berry. He frequently was the "go-to" pitcher in middle relief. He warmed up almost every game, and, ultimately, developed shoulder problems. The surgeon described it as a problem where his arm was loose in its socket.
Chris had orthoscopic surgery on his shoulder on Tuesday, SEP 25, 2001; and came through it very well. He will be on the bench for more than 18 months! He can pick up a baseball for beginning exercises/rehab after ~9 months. Hopefully, he will be better than ever for the 2003 season!
UPDATE:
2003 10 22:
Chris is now midway through his Senior year at Berry College. There was no way he was going to be able to graduate on time without taking 17 hours this semester-a very heavy load. Between that and full-time Practice Teaching next semester, baseball simply cannot fit in. The 2003 season ended just as his arm got to full strength, and yet a decision had to be made. So... after playing baseball every year since he was 5 years old, this year will be different.
Last fall (2002) Chris was designated a Scholar-Athlete due to his grades and leadership qualities. For his Senior Year, instead of a Baseball scholarship, the combined Georgia Hope and academic scholarships he applied for have Chris on a full scholarship program.
Chris has been nominated and approved as a member of Who's Who In American Colleges and Universities. We are very proud of him.
Sports are not over for Chris. Although he did not play baseball this Fall, he did help coach the Girls' Softball Team at Model High school-near Rome, GA-and the school where he has been doing his preliminary Practice Teaching in Math.
Now that the softball season has ended, he has been working with the Model Baseball Team, getting to know the players and coaching staff, and will likely help with the Spring Season at Model while he is doing his full-time Practice Teaching.
Chris will graduate this Spring (2004.) He will teach HS Math and coach baseball somewhere in Georgia. He recently received two major accolades: he was selected to be among Who's Who in American Colleges and Universities and received a Certificate of Excellence for his score on the Praxis Teacher's Examination. This was for scoring among the top 15% of anyone who has taking the test in the past 5 years.
MORE: After graduation from Berry in Mathematics Education, Chris accepted a Math teaching position at Mt. Paran Christian High School in Kennesaw, GA. This past year, Chris coached the Mt. Paran JV Basket- ball Team and their Middle School Baseball Team-which he led to a 13-2 record. Next year, he will be an assistant coach for the Varsity Basket- ball Team, and likely continue as Head Coach of the Mt. Paran Middle School Baseball Team.
Chris will be married on July 23rd, 2005 to Abby Brook Whitton of Bremen. Abby is an Honors graduate in Communications from Shorter College in Rome, GA. She was on the Shorter Dance Team and Interned as a weekend announcer for a Rome radio station. She is employed as a Property manager in Vinings, GA. They will live in Marietta, GA.
I am 57, and have been married since 1968. I attended Auburn and Georgia Tech-and later Kennesaw State. I have worked with various electronics companies over the years, including Tektronix (where I developed my appreciation for test equipment.) I have spent the past 14 years working on computers, primarily PCs. I got in on the PC revolution early, building a PC-XT from a $500 BARE pc board! I still have it, and it works perfectly to this day!
I am employed by Kodak Dental Systems as the Technical Advisor for the Implementations Group. Basically, my job is to make certain installations of our Digital Imaging Products have been performed correctly and completely-and if not, to correct them-before our Trainer(s) go to the office for their training.
My interests and hobbies include:
- I read from 3 to 4 books a week. Mostly fantasy/sci fi stuff, with the usual best sellers thrown in. I need a bumper sticker that says: "I'd rather be reading".
Ham Radio
- This subject gets covered pretty well elsewhere. But I do a
LOT
of radio and electronics-related activities.
Photography - This one is also covered elsewhere. I've been taking serious pictures since about 1968. I use a Nikon F4-S and a variety of Nikon-ONLY lenses (with the exception of my 1000mm Celestron C-90.) For quick NET pictures, I use an Agfa 1680-or the Kodak Photo CD from the developer (I only use Wolf Camera. I have always been very pleased with their products and service.)
Tropical & Marine Fishes
- I have kept fish off and on since high school. Right now I have several empty tanks, waiting for a location to be cleared out in my basement electronics lab/ham shack/etc. etc. I
REALLY
miss having my fish to watch, and intend to correct that deficiency very soon.
Orchids & Ferns
-
Same thing about these guys. Waiting for some space in the basement. I had an entire wall of various miniature orchids and a dozen regular sized orchids until I had to remove them for a remodeling thing-personally, I think the wall faced in light cork, and practically covered in green and blooms looked a whole lot better than the painted blankness that replaced it. Oh well... that was one of those compromises... she said clear it, and I said OK.
Reptiles
- Currently my only reptile-in-residence is
Lumpy
, my
Desert-Phase Banded California King Snake
. He is a great snake, very well behaved (unless you're a frozen-but-thawed-properly mouse) and fairly photogenic. Click on his name (above) for his pictures.
So, that's about it... except maybe my car could be a hobby-and somehow, that seems a lot less than it really is to me! It's a 1995 BMW M3... and has been a joy to own. Still runs like a scalded dog, corners unbelievably, yet rides great in town or on the highway-plus it gets ~20mpg +/- 3-6 depending on that scalded dog business. Over and above the best car I have ever owned or driven. Click on the name, above, for two pictures.
By the way, it presently (OCT 2002) has > 96,000 miles on it... and-hopefully-will make it for ~ the next 3 or 4 years. If so, I hope to replace it with the newer M5, with seriously more HP (>400). My dream would be to take factory delivery, and take the one day driving school they offer there.


To continue browsing the website, please select from these categories:
and from an Electronics perspective: