Welcome to the Website of John, KD2BD
---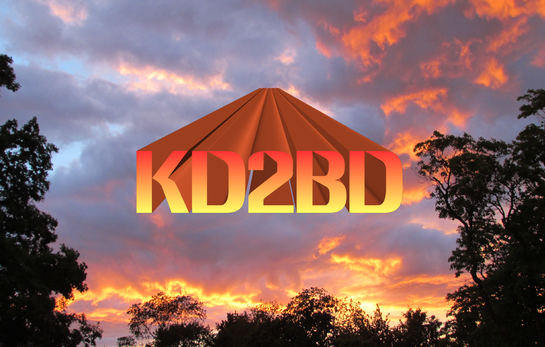 ---
Welcome to my little corner of the 'net. This page is served to you by QSL.NET, and it describes some of my personal interests and recent accomplishments related to electronic circuit design, RF communication systems design, technical writing, and software development that have had some positive influences on the world.

If you should find the information presented here informative or my work in these areas beneficial to you, please consider supporting QSL.NET to help keep this website alive. Thank you.


Amateur Radio Service
For more than a century, the Amateur Radio Service has set forth rules, defined standards, and allocated frequency spectrum for the purpose of promoting technical investigations into wireless communication systems by duly authorized individuals having non-pecuniary interests in advancing the state of the radio art. The Amateur Radio Service is not a hobby.

Amateur Radio Operators are self-trained individuals who are tested and licensed by their federal governments, and who develop new communication technologies, establish new industries , build economies, empower nations, and save lives in times of emergency.

My Amateur Radio Page provides details regarding some of the more interesting accomplishments I've made as an Advanced Class Amateur Radio Operator, including:
Service to my local community through membership and participation in the National Weather Service's Skywarn program
My design of high-performance BPSK and FSK modems for application in digital store-and-forward "Pacsat" satellite communication systems
My contributions to the field of Amateur Television (ATV)
My reception of slow-scan television (SSTV) images from the Space Shuttle Challenger, the space station Mir, and the International Space Station
My successful two-way radio contacts with astronauts living in space, and reception of radio signals bounced off the surface of the Moon.
My service as Advisor to the Brookdale Amateur Radio Club (BARC)
Related telecommunications software development (also see the Software Development section below)
My successful participation in Frequency Measuring Tests using hardware of my own design
My development of a high-quality Slow-Scan Television Scan Converter for the reception and display of vintage SSTV video signals
Numerous publications, book contributions, and radio interviews
Some related audio clips, including a brief Amateur Radio contact International Space Station astronaut Frank Culbertson and I had in October 2001 that was featured on the BBC in January 2013.
My Eclipse Experiment Page describes a very successful LF radio propagation experiment I conducted during the August 21, 2017 Solar Eclipse, and the results that I presented to the first gathering of the HamSCI Ham Radio Science Citizen Investigation Group in February 2018.

I am also a member of the Straight Key Century Club and hold membership number 16486T.



---
Software Development
I develop computer software mostly for personal use in Amateur Radio Service applications. Over the years, some of my software has attracted the favorable attention of professionals employed in the scientific, research, terrestrial broadcast, telecommunication, aerospace, and wireless networking fields. As a consequence, some of my software has been adopted for use at some very prestigious organizations such as NASA, the Goddard Spaceflight Center, the European Space Agency, Stanford and Cornell Universities, the California Institute of Technology, Steven's Institute of Technology, NBCUniversal, Alcatel-Lucent, Space Data Corporation, the University of Massachusetts, the U.S. Army, and the U.S. Naval Academy, just to name a few.

My Software Development Page provides general information on some of my most popular software products, including:
SPLAT!: A powerful RF path-loss and terrain analysis application for the Linux/Unix operating system.
PREDICT: A multi-platform satellite tracking and orbital prediction program.
PacsatTools: A collection of Linux-based utilities for use in "Pacsat" digital satellite groundstations.
Portable PREDICT Plus!: An application specific Linux distribution that includes a small suite of satellite communication applications (including PREDICT, MoonTracker, PacsatTools, Fodtrack, PB/PG, Minicom, and AX.25 libraries and utilities) that can be booted from a pair of floppy disks.
I prefer writing software using the 'C' programming language under a Slackware Linux operating system environment, thereby making my software compatible with all POSIX-compliant computing environments. When writing code for PIC Microcontrollers, I use Assembly Language.



---
Hardware Development
My exposure to the world of electronics began at a very early age and it remains a major passion in my life. I possess Associate's and Bachelor's Degrees in Electronics Engineering Technology, as well as an Advanced Class FCC Amateur Radio Operator's License and a Commercial FCC General Radiotelephone Operator's License.

I develop electronic hardware mostly for personal use, and generally with an aim toward Amateur Radio Service applications. Details of some of my published hardware designs can be found on-line:
My FMT Methodology Page provides an overview of instrumentation I developed for making precise, long distance frequency measurements and Ionospheric Doppler shift studies.

My First Generation Slow-Scan TV Page describes my introduction to Slow-Scan Television at an early age, and my more recent design of a TriplePIC SSTV Video Scan Converter for the purpose of viewing vintage SSTV video images on a standard NTSC video monitor.

Additional technical articles I've authored on-line may be found through the following links:
---
Publications
In addition to creating and authoring SpaceNews for more than 13 years, I have had a host of technical articles published in a variety of books and periodicals, including:
Radio!
CQ VHF
Satellite Times
The ARRL Satellite Anthology, Fourth and Fifth Editions
Packet: Speed, More Speed and Applications, First Edition
I have also served as a regular columnist for Satellite Times magazine, as a cover model for CQ-VHF magazine, and as a guest on several radio programs. My SpaceNews newsletter was read by Cosmonaut Musa Manarov while living on the Russian space station Mir in 1991. The design of my ATV Modulator is described in The ARRL Image Communications Handbook, by Dr. Ralph E. Taggart, WB8DQT.
---
"John-A-Tronix"
From a very early age, long before the "Maker" movement started gaining traction, I have been creating ideas, bringing them to life, and sharing what I have gained through my experiences with others. A few examples:
---
This site is a winner of the Philadelphia Web Design International Multi Media Design Excellence Award.

This site is best viewed with any browser.
---




No animals were harmed, nor any Micro$oft products used in the creation or distribution of this page.
This page was last modified on September 18, 2023. Thanks for stopping by!
---
John Magliacane
Electronics Engineer
FCC General Radio Operator Licensee
Open Source Linux Software Developer
Advanced Class FCC Amateur Radio Operator (KD2BD)