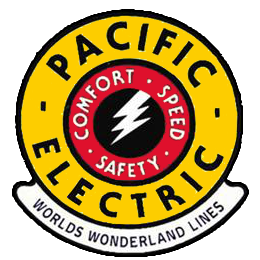 The largest electric railway in the world at its greatest extent, around 1925, the system interconnected cities in Los Angeles County and Orange County, as well as in San Bernardino County and Riverside County.
The greatest transportation system ever built.
Electric trolleys first appeared in Los Angeles in 1887. In 1895 the Pasadena & Pacific Railway was created from a merger of the Pasadena and Los Angeles Railway and the Los Angeles Pacific Railway (to Santa Monica). The Pasadena & Pacific Railway boosted Southern California tourism, living up to its motto, "from the mountains to the sea."
You can find a lot of information about the Pacific Electric System on the Internet. I have a few links to some good sites but many more out there.
I picked this as my qsl card design. We do get out and ride the Pacific Electric cars in Perris, CA.
---
---