Hallicrafters S20R 'Sky Champion'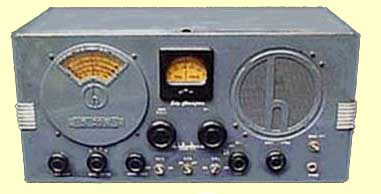 This was gifted to me by a YL who's now a silent-key.
I repaired & used this beautiful WWII RX till I got hold of a Phillips D2999 PLL synthesized general coverage HF RX with a resolution of 1KHz and a tunable BFO.
The S20R, however, is still in working condition though I've replaced the original speaker with a separate inductor/ line filter (in place of the old field coil) and a normal 8 ohms speaker.
This RX is ok up to 40 Mts. Any serious work above 40Mts will call for better image rejection and sensitivity.
Here's a brief description.
General Coverage Communications Receiver

Sky Champion S 20 R

Made In: United States 1939-1945

Voltages: 117/ 220 VAC

Coverage: 550 - 44000 kHz

Readout: Analog

Modes: AM/CW

Selectivity:

Circuit: Single Conversion Superheterodyne. 9 Tubes.

Physical: 18.5x8.5x9.375" 32 Lbs. 470x216x238mm 14.5 kg

Circuit Complement: 6SK7 RF Amp, 6K8 1st Detector-Mixer/HF Osc, 6SK7 1st IF Amp, 6SK7 2nd IF Amp, 6SQ7 2nd Detector/AVC/1st Audio Amp, 6F6G 2nd Audio Amp, 6H6 ANL, 6J5GT BFO and 80 Rectifier.

Features: • ¼" Head. Jack • Standby • ANL • Bandspread 0-100 • Mute Terminals • AVC ON/OFF • BFO • Speaker Terminals • Speaker 5" • RF Gain • Tone Hi/Med/Lo • Jack for S-Meter • Dial Light • Flywheel Tuning • Hinged Top Cover • Dial Light

Comments: Ranges: .55-1.78, 1.74-5.4, 5.3-15.8 and 15.5-44 MHz. Gray metal cabinet with stainless steel trim.