My first homebrew QRP TX was a simple solidstate CW transmitter using SL100, SK100 and BD139 giving about 5Watts on 40 Mtr band. This circuit was popular in South India and was known as ' VWN' circuit.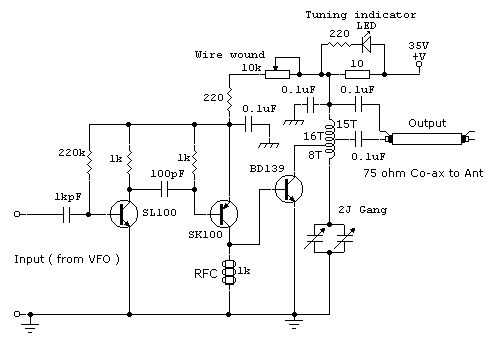 A RFC similar to the one used in the VFO circuit is used in SK100 collector to ground end.
BD139 Tank coil is 4.4 uH and is wound with 24 swg enameled copper wire on a piece of polythene pipe of 1.7 cms OD & lenght 3 cms. Tap at 13th , 15th and 16th turns. 13th tap can be used for 50 Ohms coax/ inverted 'V' Ant or 15th tap can be used for 75Ohm coax/ Dipole Ant.
Mount BD139 on a heatsink.
Keep input current (BD139) at less than 200mA.
The VFO was a Colpitts oscillator using two BFW10's.
Use RFC in place of 1K2 Resistor if Oscillator doesn't start

RFC can be constructed by winding 150 turns 36 swg enameled wire on a 100K, ˝ W Resistor.