Home
>
Hawaii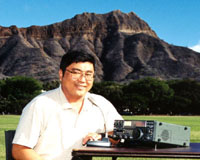 Information on Hawaii
These pages offer information on amateur radio in Hawaii.
Enjoy, and feel free to drop me an e-mail if you have any questions.
January 18, 2010
The American Radio Relay League in Newington, Connecticut supports amateur radio at the local, regional and national level. It is sponsored by the members in return for a number of benefits, including the monthly magazine QST.
April 6, 2008
There is another set of pages set aside for those who'd like to learn to become a ham radio operator in Hawaii.
June 6, 2009, updated March 10, 2017
Effective July 1, 2014, a new state-wide law Act 175 (14) for mobile electronic devices takes effect. Mobile amateur radio is exempt.
Previously effective July 1, 2013, a state-wide law Act 74 for mobile electronic devices takes effect. It supersedes the county laws. Mobile amateur radio is exempt.
Previously, effective July 1, 2009, you'll need to use a hands-free device if you wish to use your cellular telephone while driving on Oahu. Additionally, mobile amateur radio is exempt. Randy, KH6IB passes along the tip to keep a copy of Bill 4 (2009) the glove compartment of your vehicle.
A similar bill went into effect on the Big Island on January 1, 2010. Kauai's bill passed the full Council on February 3, 2010, and the cell phone ban is effective May 23, 2010. Maui's bill passed the Maui Council on June 18, 2010, and is effective July 6, 2010. You can get further information and the links to the PDF files of the signed bills at the Hawaii mobile cellular telephone legislation web page.
Recapping the cell phone bans by island:
Oahu, effective July 1, 2009
Big Island, effective January 1, 2010
Kauai, effective May 23, 2010
Maui, Molokai and Lanai, effective July 6, 2010
On January 25, 2017, Bill 6 (2017) was introduced into the Honolulu City Council which affects the use of mobile electronics. Bill 6, CD1 restricts the use of mobile electronics while crossing the street or highway, and exempts the use of mobile electronics while operating a vessel near Oahu. The exemption for amateur radio is intact. See Bill 6 (2017) for details. On March 7, 2017, it passed out of Committee and scheduled to pass on second reading at the Council. See How A Bill Becomes An Ordinance for details.
October 24, 2009
If you're interested in the changes to the radio and television industry in Hawaii over the years, this web page will be of interest. There's been so much change, only a portion of it has been captured.
April 14, 2006, updated July 22, 2016
November 11, 2011
The first Missing Man formation overflight over Punchbowl with the new F-22 stealth fighter. This was at the same time amateur radio operators provided backup contingency communications in support of the APEC Conference in Honolulu.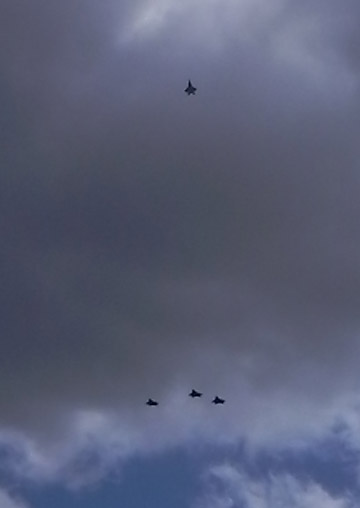 March 1, 2009
The EARC sponsored a special event station as a public education for amateur radio, and the movie "Frequency".
Find out more by contacting: rhashiro(remove this part)@hawaiiantel.net
Copyright © 1997-2020 Ron Hashiro
Updated: July 24, 2020
DISCLAIMER: Ron Hashiro Web Site is not responsible for the content at
any of the external sites that we link to and therefore
are not necessarily endorsed by us.