Home
>
Hawaii
>
Hurricane/Tropical Storm Guillermo - August 2, 2015+
Hurricane/Tropical Storm Guillermo - August 2, 2015+
Amateur radio operators throughout Hawaii prepare to respond to Hurricane/Tropical Storm Guillermo that arrives in Hawaiian waters on Wednesday August 5, 2015. This page provides progress information on the event. It is updated infrequently, so check the latest advisories from the National Weather Services and Emergency Management agencies. Last update is Sun Aug 23, 3:00 am
Activities are chronicled here. It's not a question of "If", it's a question of "When".
Enjoy, and feel free to drop me an e-mail if you have any questions.
Overview
Early storm track forecasts had the track approaching close to the northern shores of the Hawaiian islands.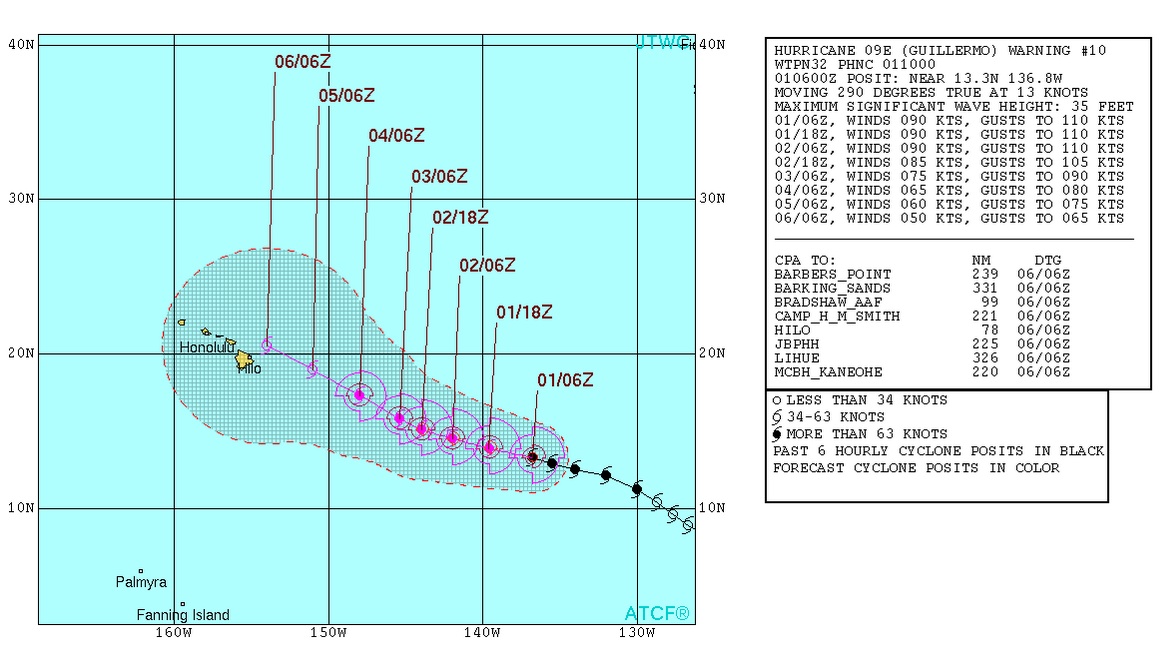 The storm track is to the north of the Hawaiian Islands.
Harvey AH6JA in Hilo reports a power outage since 8:20 am Sunday August 2nd, hampering the ability to notify SKYWARN personnel via the Internet. Standard telephone service is available. 8:40 am: Hawaiian Electric Light Company reports via Twitter that 1650 custumers without power in the Papaikou to Kalopa mauka & makai area. First HELCO responder has been dispatched. 9:10 am: Approximately 1310 customers without power in the Honomu to Ookala area. Power lines reported down near Kole Kole Beach Park. 4:18 pm: Harvey AH6JA reports power and Internet services restored in Hilo ATT.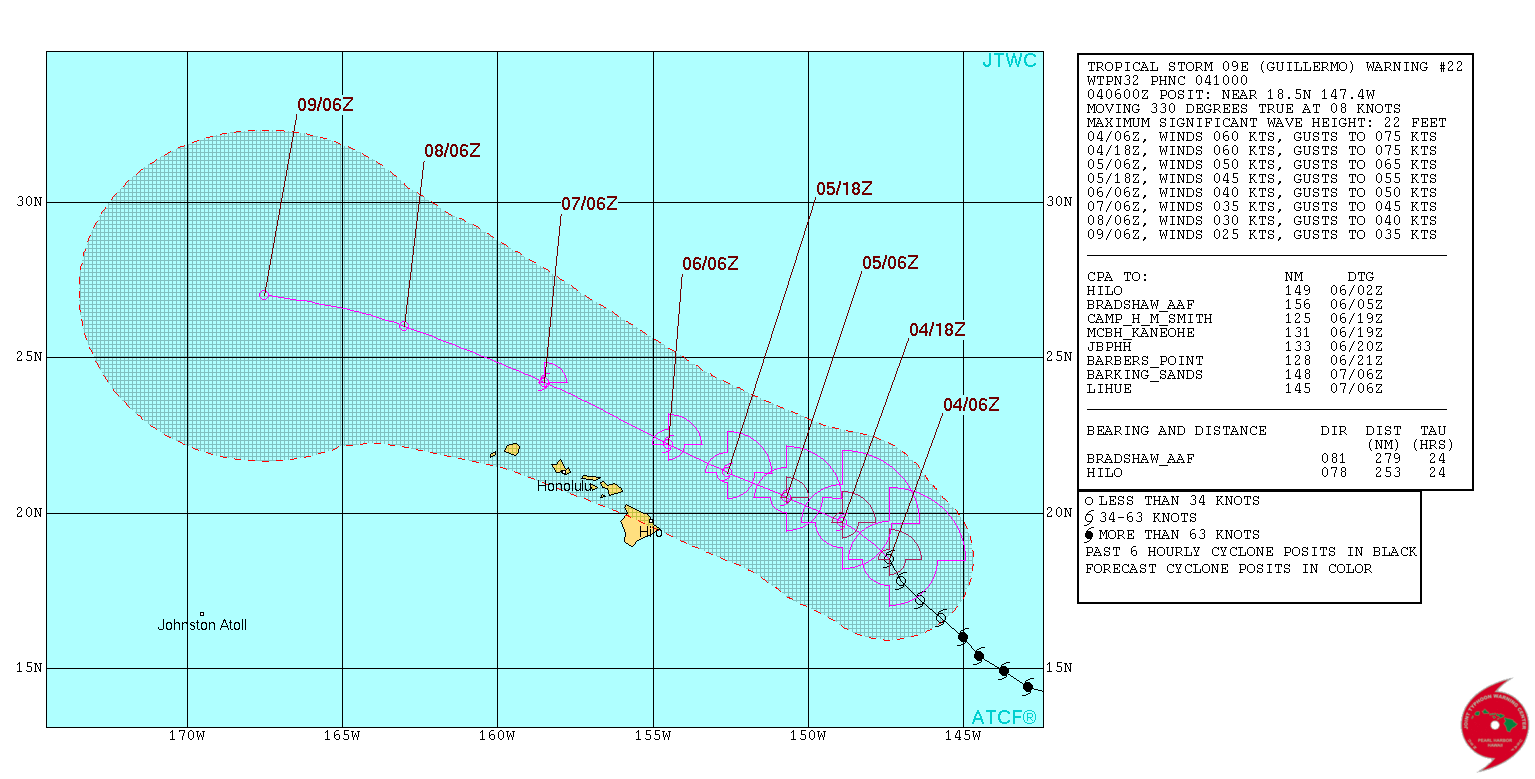 Hurricane/Tropical Storm Guillermo information
Information on Hurricane/Tropical Storm Guillermo and personal preparations can be found at these links:
Amateur Radio
The amateur radio leadership of NWS SKYWARN and Hawaii (State) Emergency Management Agency RACES and DEM (Department of Emergency Management) RACES coordinated a joint net on the state-wide VHF Repeater system for passing storm information to the National Weather Service Honolulu Forecast office at HIG Building, University of Hawaii at Manoa campus, with supplemental traffic for SCD and DEM. The repeaters of DEM RACES (Oahu County) and SCD were linked using ALL-STAR VOIP linking to create a eight node repeater cluster of both State-wide and around-the-island repeaters for Oahu for reporting and monitoring purposes.
The repeaters linked from State Civil Defense
147.02+ PL 103.5, Mt Haleakala, Maui 9,769 ft, currently standalone
147.04+ no PL, Mauna Loa, Big Island 8,200 ft, currently standalone
147.04+ PL 103.5, Lihue, Kauai, currently standalone
147.06+ PL 103.5, Diamond Head, Oahu
444.325+ PL 103.5, Waimanalo, Oahu
444.350+ PL 103.5, Diamond Head, Oahu
and Department of Emergency Management, Oahu County
146.76- no PL, Mokuleia, Oahu
146.98- PL 88.5, Frank Fasi Municipal Building, Oahu
Big island operations scheduled for:
146.82-, BIWARN Mauna Loa
146.76-, BIWARN Kulani Cone is currently stand-alone
146.86- PL 100.0, Naalehu
146.72-, HSVOAD Mauna Kea
HF operations were scheduled for:
3888 kHz LSB, Hawaii County
3993.5 kHz LSB, State Civil Defense RACES
7080 kHz USB, SKYWARN (Monitor this frequency first)
7088 kHz LSB, HI EMA/State Civil Defense RACES
7095 kHz LSB, Hawaii County
7178 kHz LSB, HI EMA/State Civil Defense RACES alternate
7195 kHZ LSB, Hawaii County
TBD, DEM RACES
TBD, American Red Cross
TBD, Healthcomm
NWS SKYWARN
For planning purposes, the HI NWS SKWARN operations is scheduled for 8:00 am Wednesday to 10:00 pm Thursday and is subject to change.
Shift
Operators
Wed Aug 05 7:30 am - Wed 12:30 pm
Jack (KH6DQ), Bart (KH7C), Ophemia (KH6OH), Clem (KH7HO)
Wed Aug 5 12:15 pm – Wed 5:15 pm
Doug (KH6U), Ophemia (KH6OH), Clem (KH7HO) (late returning from a meeting)
Wed Aug 5 5:00 pm – 10:00 pm
Darrell (KH6XL), Mark (AH6PR), Keith (WH7GG), Odell (WH76EAO) (from 7 p.m. to 12 midnight); go to the EARC 7:30 p.m. net, 146.880 to check in for any weather reports.
Wed Aug 5 9:45 pm – Thu 2:45 am
Fred (KH7CR), Betty (WH6GR), Odell (WH6EAO) (9:45 p.m. to 12 midnight)
Thu Aug 6 2:30 am – Thu 7:30 am
Fred (KH7CR), Betty (WH6GR)
Thu Aug 6 7:15 am – Thu 12:15 pm
Jack (KH6DQ), Bart (KH7C)
Thu Aug 6 12:00 pm – Thu 5:15 pm
Rick (KH6OM), Clem (KH7HO)
Thu Aug 6 5:00 pm – Thu 10:15 pm
Steve (KH6WG), Randy (AH6Q), Mark (AH6PR)
The net was started on Wed Aug 5 at 8:00 am, and secured at 1:56 pm.
FLdigi mode MT63-1KL.
Use form Storm Report and ensure the detail portion is filled out.
Encourage all amateur radio operators, whether SKYWARN or not, to call in reports of significant weather giving the following information:
Callsign
Name
SKYWARN Number (if have one)
Location
Significant weather reports, specifically,
heavy rain at a rate of an inch per hour or more lasting more than 15 minutes;
any tornado, funnel cloud or waterspout,
high winds strong enough to cause property damage;
any reports of hail and size of the hail, for example, pea, quarter size;
any time of flooding that is threatening or causing damage, flooding over roads, storm surge over roads, etc.;
landslide, rock slides, mudslide blocking roads and damage to structures;
electrical outages;
any weather related death, injury, or significant damages.
Hawaii State Emergency Management Agency
HI EMA RACES operations is currently not scheduled to activate
Hawaii County
CERT operations to start at TBD.
Maui County
Oahu County
DEM RACES operatons to start at TBD.
Information from City and County of Honolulu.
Kauai County
Healthcomm
Healthcomm is TBD. Healthcomm to be operational post-landfall.
Reminder
A reminder: Being prepared is a personal responsibility. Stock up ahead of time, and don't get caught in the mad rush to the store to buy stuff. The Star-Advertiser offers a list of items for preparedness and planning.
A reminder for the general population (and amateur radio operators alike) that the primary means of timely notification of an alert is via the NOAA National Weather Service Weather Alert radios.
Find out more by contacting: rhashiro(remove this part)@hawaiiantel.net
Copyright © 1997-2015 Ron Hashiro
August 2, 2015. Updated: August 23, 2015
DISCLAIMER: Ron Hashiro Web Site is not responsible for the content at
any of the external sites that we link to and therefore
are not necessarily endorsed by us.