Home
>
Hawaii
>
Queen Charlotte Island Tsunami - October 27, 2012
Queen Charlotte Island Earthquake and Tsunami off British Columbia, Canada - October 27, 2012
Amateur radio operators throughout Hawaii responded to the tsunami caused by the magnitude 7.7 earthquake off of Queen Charlotte Island, British Columbia, Canada that occurred on October 27, 2012, 5:04 pm HST.
Activities are chronicled here. It's not a question of "If", it's a question of "When".
Enjoy, and feel free to drop me an e-mail if you have any questions.
Amateur radio operators responded to a tsunami warning issued by the Pacific Tsunami Warning Center at 7:14 pm following the magnitude 7.7 earthquake off of Queen Charlotte Island, British Columbia, Canada.
The alert was received at 7:22 pm, and the inter-island call tree was immediately put into effect by Ron AH6RH and Kevin AH6QO. Key ARES/RACES leaders started their on-island call down tree. ARES and RACES radio operators responded to EOCs at the State and county Civil Defense EOCs, and other locations.
The event was similar to the tsunami scenario for the Simulated Emergency Test 2012 that was exercised just three weeks earlier. The expected wave arrival was 10:28 pm. Hanalei, Kauai received the first wave at 10:43 pm. At 10:46 pm, KITV at PTWC reported that the tide gauges at Makapuu recorded a one meter change peak-to-trough. At 10:53 pm, WH6KX reported the water receding 2-3 ft at Kahului Harbor, Maui. At 11:07 pm, WH6KX reported the water returning at Kahului Harbor, Maui at +1 or +2 feet.
Operations ended early in the Sunday morning of October 28, 2012, after the PTWC message 10 downgraded the tsunami warning to an at 1:01 am.
The ARRL posted a web article on the operations in Hawaii. The Amateur Radio Newsline carried an audio news report.
Hawaii State
State CD amateur radio operations in the EOC, KH6HPZ, started at 8:02 pm on 147.06/147.04/147.02 MHz, and on 7088 kHz. The microwave link to Mauna Loa was out of service. The SCD tsunami net opened at 8:02 pm, and closed at 1:05 am.
The sirens on Oahu sounded at 8:00 pm, 8:15 pm. 8:42 pm.
The net on the SCD RACES VHF linked repeater network had 24 stations checked in.
AL4A North Kihei, Maui
WH6DJC Maui
WH6DXT Maui, Check-out
WH6EAL Maui, Radio Check
KB7GRB Paia, Maui
KH7FX Maalaea, Maui
KH6HE Wailuku, Maui
WH6IH Makawao, Maui, Check-in
WH6KX Waiehu, Maui
KH6PO Haiku, Maui
KD0RPD N. Kihei, Maui
WA6TTR Evacuation in Kihei, Maui
WH7XO Upcountry, Maui
WH7XS Makawao, Maui
KH6CED Lanai City, Lanai
KH6BLA Radio Check, Oahu
WH6DWF Waikiki, Oahu
KH7HO Kailua, Oahu
KH6HS Nuuanu, Oahu
AH6RR Kailua-Kona, Big Island
NY7Z Waikiki, Oahu
W6NBK
AH6QO State CD EOC, Diamond Head
AH6RH State CD EOC, Diamond Head
The All-Star net (146.76, 146.98, 444.325, 444.35) had contacts with:
WH6FM Hilo, Hawaii
AH6JA Hilo EOC, Hilo, Hawaii
KH7HO Kailua, Oahu
KH6OCD DEM, Oahu
AH6CP State CD EOC, Diamond Head
AH6SP State CD EOC, Diamond Head
The HF net had three check-ins and no formal reports. Operations was on 7088 kHz and 3993.5 kHz. Traffic could be heard on 3922 kHz.
KH6DQ Manoa, Oahu
KH6GL Manoa, Oahu
AH6JA Hilo EOC, Hilo, Hawaii
AH6CP State CD EOC, Diamond Head
AH6SP State CD EOC, Diamond Head
Kauai County
Bob KH6AS was notified by Kevin AH6QO. Bob reports four stations were active on their local linked repeater system. Bob was able to establish contact with Oahu via the 146.76 MHz Mokuleia repeater.
Oahu County
Ron AH6RH notified Chuck N6NCT, DEM RACES Coordinator, who initiated the call tree for Oahu DEM. Tom KH6BLA initiated the tsunami net on the 146.88 MHz repeater with 45 check-ins. At 10:48 pm, these operators were present at the DEM EOC: Darrell KH6XL, Ralph WH7PD, Linda Miranda, Kele Miranda, Jeff AH6IX, Chris KH6CS, Jeff AH6IX, Elsie WH6BB, John NH7LL.
The 146.88 MHz DEM RACES net had 45 check-ins:
WH6BNA, Joseph, Diamond Head Theater
KH6CS, Chris, Ala Moana
WH6CVI, Gabrial, Nuuanu
KH7CX, Alex, Ala Moana
WH6DLS, Jason, Mililani
K7DUD/KH6, Bud, Hale Koa Hotel
WH6DWF, Todd, Waikiki
WH6EAK, Curtis, Makiki
KH6/VK4FSCC, Glen, Pacific Beach Hotel
KK4GFT, Chris, Kailua
WH7GG, Keith, Enchanted Lakes
KH7GK, Adrian, Manoa
KH6GL, Gordon
KH6GLO, Gloria, Moiliili
KH7HO Clem, Kailua
KH6HPZ, State Civil Defense, Diamond Head
KJ4HUH, Bob, Ewa Beach
KH6IB, Randy, Salt Lake
KH6IR, Alex, Kalihi
WH7JA, Cyndy, Moiliili
KH6JBS, Peter, Hawaii Kai
WH7JC, Lawrence, Moiliili
AH6LL Lovell, Waimanalo
NH7LL, John, Makiki
KH6MEI, Wayne, Middle Street
KH7MY, Fran, Punahou St.
NH7NM, Rick, Mililani
KH6OM, Rick
KH6PRD, Mario, Mililani
NH6PY, Ralph, Monseratt Ave and Leahi
AH6QS, Glen, Makakilo
AH6RH, Ron, State CD EOC, Diamond Head
KH6TG, Tony, Waipahu
WH7TT, Ed, Wahiawa
WH6UG, Mel
N7WAP, Zeph, Pacific Palisades
KH6WB, Andy, Makaha
KH6WG, Steve
KH7WM, Henry, Wahiawa
WH7WP, Bill, Chinatown
WH7Y, Jan, Kailua
NH7Z, Doc
NH7ZD, Steve
WH7ZB, Richard
Jack KH6DQ held a net with some of the stations on the Healthcomm 80 meter frequency of 3922 kHz.
Bob KH6KV in Sunset Beach, Oahu reports that the Intelsat employees opened an access road that was normally secured and allowed 300 persons in 100 vehicles go above Sunset Beach to a clearing which served as a tsunami refuge center.
On Wednesday, October 31, 2012, Mayor Peter Carlisle thanked the amateur radio participants on the EARC nightly net for their efforts during Saturday night's tsunami activation.
Oahu County, District IV - Windward Oahu
Chuck N6NCT initiated a call down tree notification of DEM RACES and informed Clem KH7HO to notify the Windward Oahu DEM RACES phone tree to be on standby for possible tsunami activation. Clem completed his call down notification for District IV.
Clem KH7HO and Rick KH6OM activated ARES/RACES in District IV on the Windward side of Oahu. Operations were on 146.505 MHz simplex, 146.66 MHz Olomana EARC repeater and 146.64 Laie EARC repeater.
Clem talked with Harold KH6HB, DEM Communications Officer, on the linked All-star 444.325 repeater as Harold was driving toward the DEM EOC using the linked All-star 146.98 MHz repeater. Harold was unsuccessful in contact Chuck by phone to activate the DEM RACES in response to the Tsunami Warning for Hawaii and requested Clem to contact Chuck, tell him to activate DEM RACES and to have the members report to the DEM EOC. Clem contacted Chuck and passed on the activation notification for DEM RACES.
Clem then contacted Rick KH6OM and together activated the Windward Oahu Emergency Net on the 146.66 MHz Olomana repeater. Rick served as the NCS with the following check-ins:
KK4GFT, Chris
WH7GG, Keith
KH7HO, Clem
AH6LL, Lovell
KH6W, Ann
KH7Y, Jan
Clem phoned Larry WH6DWN in Hauula about the tsunami warning. Larry notified his community to respond to the tsunami warning. Later, Larry found out that he could hit the 146.64 MHz Laie repreater with his HT. Clem asked Larry to monitor this repeater for any tsunami information relayed from Kailua.
Clem asked Rick to call on the 146.64 repeater and pass on the tsunami warning message. Rick was able to make the following contacts on the 146.64 repeater:
KG6KPD, Brent
WH6DWW, David
Chris KK4GFT evacuated and relocated to the Kailua Tsuanami Refuge Area (Kailua District Park). Chris reported no one was reporting to this site and drove to his friend house near Castle Medical Center. He reported many cars were in the parking lot of various churches along "church row" on the outskrit of Kailua Town next to Kawainui Marsh.
Clem reported directly to DEM EOC via the 146.88 MHz DH repeater that there were no activity at the Kailua Tsunami Refuge Area but many vehicles were in the "church row" parking lots. Fortunately, no tsunami damage was reported on Windward Oahu.
The Windward Oahu Emergency Net was disbanded at approximately 1:10 am Sunday, October 28, 2012 after the Tsunami Warning was downgraded to a Tsunami Advisory.
Maui County
Mel KH6H was notified and Maui County EOC was activated. Operations was on the 147.02 MHz repeater and the linked KH6COM County of Maui IRLP repeaters. Reports of ocean level changes were copied from the SCD RACES VHF repeater net, and forwarded to MCDA staff.
Nancy WH7XO activated communications for the Upcountry CERT teams.
Hawaii County
Harvey AH6JA was notified and Hilo County EOC was activated. Operations was on the linked BIWARN repeater system, All-star, and HF.
On All-star, AH6JA reported at 0:02 am that two cameras, one in Kailua Pier and one in Hilo Bay, observed minimal wave action due to minimal lighting. Police and fire were evacuated. No field reports were available.
Pacific Tsunami Warning Center
Wave heights reported by the Pacific Tsunami Warning Center were:
Location
Time (HST)
Height
Period
Comments
DART 46419
5:44 pm
.2 ft
20 mins
48.8N 129.6W
Winter Harbour, BC
6:13 pm
.8 ft
30 mins
50.5N 128.0W
DART 46404
6:23 pm
.1 ft
30 mins
45.9N 128.8W
Langara Point, BC
6:24 pm
.7 ft
26 mins
54.2N 133.1W
DART 46410
6:28 PM
.1 ft
32 mins
57.6N 143.8W
DART 46409
6:44 PM
.1 ft
38 mins
55.3N 148.5W
DART 46407
6:56 pm
.2 ft
28 mins
42.6N 128.9W
DART 46403
7:28 pm
.1 ft
28 mins
52.7N 156.9W
Sitka, AK
7:42 pm
.3 ft
30 mins
57.1N 135.3W
DART 46402
8:09 pm
.1 ft
24 mins
51.1N 164.0W
Arena Cove, CA
8:33 pm
1.1 ft
6 mins
38.9N 123.7W
Crescent City, CA
9:37 pm
1.4 ft
24 mins
41.7N 124.2W
Hanalei, Kauai
10:43 PM
.6 ft
22 mins
22.2N 159.5W North facing
Haleiwa, Oahu
10:44 pm
1.4 ft
10 mins
21.6N 158.1W North facing
Makapu`u, Oahu
10:49 PM
1.3 ft
8 mins
21.3N 157.7W Northeast facing
Hilo, Big Island
10:53 PM
1.2 ft
16 mins
19.7N 155.1W Northeast facing
Waianae, Oahu
10:55 pm
.6 ft
6 mins
21.4N 158.2W Southwest facing
Mokuoloe, Kaneohe Bay, Oahu
10:58 PM
.2 ft
8 mins
21.4N 157.8W Northeast facing
Honolulu, Oahu
11:03 PM
.5 ft
12 mins
21.3N 157.9W South facing
Kahului, Maui
11:07 pm
2.5 ft
12 mins
20.9N 156.5W North facing
Midway Island
11:23 PM
.3 ft
10 mins
28.2N 177.4W
Kawaihae, Big Island
11:31 PM
1.4 ft
8 mins
20.0N 155.8W West facing
At 1:01 am, PTWC issued a bulletin 10 with this evaluation.
BASED ON ALL AVAILABLE DATA THE TSUNAMI THREAT HAS DECREASED AND IS NOW AT THE ADVISORY LEVEL AND NOT EXPECTED TO INCREASE. SEA LEVEL CHANGES AND STRONG CURRENTS MAY STILL OCCUR ALONG ALL COASTS THAT COULD BE A HAZARD TO SWIMMERS AND BOATERS AS WELL AS TO PERSONS NEAR THE SHORE AT BEACHES AND IN HARBORS AND MARINAS. THE THREAT MAY CONTINUE FOR SEVERAL HOURS. MESSAGES WILL BE ISSUED HOURLY OR SOONER AS CONDITIONS WARRANT.
Amateur Radio Reports
The amateur radio reports on ocean level changes received at SCD in real time were:
Time (HST)
Callsign
Location
Ocean Level Change
Kahului
Harbor
Wave
Maalaea
Wave
Comments
10:36 PM
AL4A
Maalaea, Maui
No change.
10:37 PM
WH6DWF
Waikiki, Oahu
No change.
10:41 PM
NY7Z
Waikiki, Oahu
No change.
10:42 PM
WH6KX
Kahului Harbor, Maui
No change.
10:53 PM
WH6KX
Kahului Harbor, Maui
Water receding 2-3 ft.
10:58 PM
AL4A
Maalaea, Maui
Water higher by six inches. Not receding yet.
11:07 PM
WH6KX
Kahului Harbor, Maui
Water returning +1 or +2 ft.
1
11:09 PM
AL4A
Maalaea, Maui
Water risen. +1 ft.
1
11:12 PM
To WH6KX
Kahului Harbor
Reported to WH6KX that PTWC Bulletin 8 reports max wave height at Kahului Harbor of +1.9 ft.
11:12 PM
WH6DWF
Waikiki, Oahu
Reported hearing air horns off of Waikiki Beach. Advised to contact DEM RACES.
11:23 PM
WH6DXT
Maalaea, Maui
Water risen. +1.5 ft.
2
12 minutes apart.
11:24 PM
WH6KX
Kahului Harbor
Water receding. -1 ft.
11:26 PM
WH6DWF
Waikiki, Oahu
Reported several boats, about 30%, returning to Ala Wai Yacht Harbor.
11:26 PM
AL4A
Maalaea, Maui
Water receding. -1 ft.
11:33 PM
WH6KX
Kahului Harbor
Third wave. Water surging. +1-2 ft.
3
11:45 PM
AL4A
Maalaea, Maui
Ten minutes ago, was +18 inches. Now, -1 ft.
3
11:53 PM
WH6DWF
Waikiki, Oahu
Ten mins ago, +2 ft. Now, -1.5 ft.
Kuhio and Ahua, across from Burger King.
11:55 PM
WH6KX
Kahului Harbor
-1-2 ft.
11:56 PM
AL4A
Maalaea, Maui
+18-20 inches. Highest seen yet.
4
11:59 PM
WH6KX
Kahului Harbor
Rose quickly to +1 ft. Dropped quickly to -2 ft.
4
00:04 AM
WH6DWF
Waikiki, Oahu
At 0:02, +1 ft. At 0:04, -1 ft.
00:06 AM
WH6KX
Kahului Harbor
At 23:59, -3-4 ft. Now rising.
00:09 AM
AL4A
Maalaea, Maui
Receding 24-36 inches.
00:10 AM
WH6KX
Kahului Harbor
Wave just came. +1 ft. Now receding.
5
00:14 AM
WH6KX
Kahului Harbor
Dropped to -2 ft. Now rising.
Changes pretty fast.
00:30 AM
WH6DWF
Waikiki, Oahu
At least 2 ft above normal.
00:44 AM
AL4A
At home of WH6DXT
Receding 24-36 inches.
Check out.
00:56 AM
WH6KX
Kahului Harbor
Check out.
01:04 AM
WH6DWF
Waikiki, Oahu
Check-out
Tsunami Model and Data
The NOAA Center for Tsunami Research produced an analysis of the tsunami. It contains a propagation model of the wave activity, a map of the expected wave heights and charts comparing the model data against the actual DART bouy data. The propagation model demonstrates the multitude of ocean level changes that persist after the main series of tsunami waves have passed.
Moon Phase
The quake occurred with the usual coinciding with a full moon. The moon was 97% and just short of a full moon, and British Columbia, Canada was rotating past the terminator towards the view of the moon.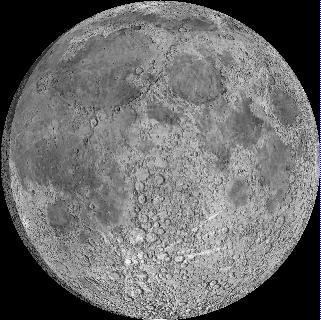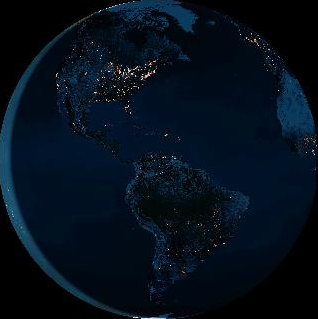 Moon image courtesy of the BMDO/NASA's Clementine satellite, Earth image courtesy of the NASA Earth Observatory and computation courtesy of Fourmilab.
Solar Conditions
These were the prevailing solar conditions.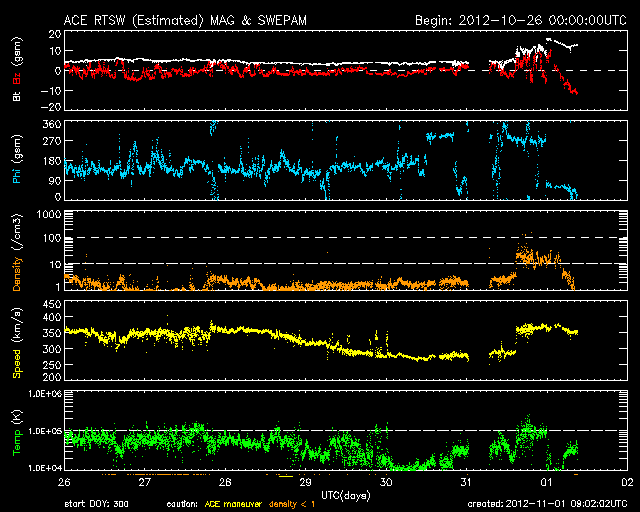 Data, images and plots are from the NOAA Space Weather Prediction Center FTP site and the NASA Solar Dynamics Observatory .
Analysis
The earthquake event was consistent with the timing of the full moon. The event was also consistent with the added stress cause by the deformation of the earth's crust caused by the tidal gravity near the terminator with the sun and the moon. Other than an increased Phi reading (direction to the sun and the magnetic field line in the solar wind), no material solar activity coincided with this event.
As visible in the wave propagation models, the wave propagated north of the Hawaiian Islands, then traveled south. The wave arrived at Kauai first and the Big Island last, which is confirmed in the NOAA tide gauge data.
From the amateur radio reports, one can see that the wave in Kihei occurs about one to two minutes behind the wave in Kahului Harbor, demonstrating the wrap around effect of the tsunami around the island of Maui.
Reminder
A reminder: Being prepared is a personal responsibility. Stock up ahead of time, and don't get caught in the mad rush to the store to buy stuff. Keep your gas tank at least half full at all times. It will help you get by, and will also speed up the time you're in the gas station topping off. That will get you home faster, or evacuate faster to safety.
Being aware of emergency response and recovery procedures before an incident is also a personal responsibility. Tear out the tsunami maps from a Hawaiian Telcom yellow page directory from 2010 or later, and store it in the glove compartment of your car. Keep a roll of toilet paper in a zip lock bag in your car trunk. See: Personal Preparation
A reminder for the general population (and amateur radio operators alike) that the primary means of timely notification of an alert is via the NOAA National Weather Service Weather Alert radios. NWS has radio coverage over much of the Hawaiian Islands, and will activate the alerts as soon as they receive them, including the tsunami watches and warnings issued by the Pacific Tsunami Warning Center (PTWC). On a secondary basis, State Civil Defense and/or the Counties will sound the sirens on their respecitve islands, but the sirens may not sound immediately upon receiving an alert condition.
Lessons Learned
The telephone call down for this event took longer than usual due to the confusion between the previously issued no-warning condition and the subsequent escalation to a tsunami warning for Hawaii. The delay caused by the confusion further caused incoming telephone messages to go into cell phone message boxes, which further slow down the notification.
As a result, a bulletin station has been designated, where one of the leaders will call the bulletin station to put out an alert bulletin on 146.88 MHz and 147.06 MHz immediately, and inform the stations to standby while the net is assembled.
Amateur radio operators should remember that initial EOC operations during a tsunami alert will be erratic until additional operators arrive. The first operator on site is: (a) turning on the radios and computers, (b) testing the equipment for viability and clearing problems that may exist, (c) coordinating with EOC staff and responders and (d) dealing with interruptions. During this time, exercise patience while the EOC operators are working through these items.
Amateur radio operators should not expect to hear information that's being given to the general population repeated on the amateur radio repeaters. The time on the radio net is too valuable to provide redundant information that is available elsewhere. Net operators are not listening to the radio and the TV stations while in the EOC is in operations. If you need/want information, tune to your local designated broadcast radio station, or to local TV channels.
Stations in Maui County should be prepared to use the radio communications plan already in place for Maui County. Local traffic should be passed on simplex. Traffic for the EOC or other parts of Maui County should be passed via the KH6COM IRLP-linked repeater system. Traffic for other islands should be passed via the SCD RACES VHF repeater system, or via HF.
Similarly, Kauai's simplex plan and emergency communications plan are on the Internet.
Oahu's EOC repeater systems are the EARC/DEM 146.88 MHzrepeater with 444.50+ Crossband UHF and the linked DEM 146.98 MHz repeater, and the Oahu simplex plan are on the Internet.
The Big Island's EOC repeater system is the BIWARN repeater system.
Stations must remain flexible to work around changes in conditions.
November 3, 2012
These are links to videos of the tsunami action in Hawaii.
October 31, 2012
These are links to articles from The Hawaii Tribune-Herald.
October 31, 2012
These are links to articles from Maui News.
October 31, 2012
These are links to articles from The Garden Island.
Find out more by contacting: rhashiro(remove this part)@hawaiiantel.net
Copyright © 1997-2015 Ron Hashiro
October 31, 2012. Updated: November 15, 2012
DISCLAIMER: Ron Hashiro Web Site is not responsible for the content at
any of the external sites that we link to and therefore
are not necessarily endorsed by us.