Home
>
Hall of Fame
>
Richard LaChance, WH6T
Richard LaChance, WH6T
Richard LaChance, WH6T was influential in the renaissance of amateur radio in Hawaii. He was active in quite a number of aspects of amateur radio. His enthusiasm for radio led him to touched the people of Hawaii in a number of ways behind-the-scenes.
This page includes information and photos from Brec, WH6EU's previous web page tribute to Richard at www.brex.com, which has since disappeared. Brec, I hope you don't mind if I borrow your photos of Richard. -- RH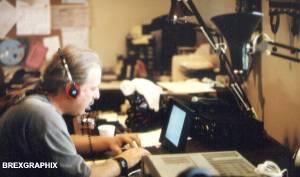 Richard WH6T contesting at Ken KH7R's super contesting station at Pupukea, North Shore, Oahu.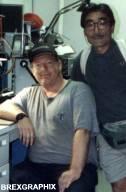 Richard WH6T with JR1RCQ.
Richard LaChance enjoyed and shared the joy of radio with many people during his short time with us.
Richard came to Hawaii in the early 1980's from Texas. Among the early jobs that Richard held was being a manager at a Radio Shack store at Kahala Mall. He later became a repair technician at Honolulu Electronics, and also helped out with the sales.
Enthusiasm for Amateur Radio
Richard enjoyed amateur radio, and took advantage of the islands to make many DX contacts. Originally licensed as NH6FS, he upgraded to the Advanced class and received the callsign AH6IO in Feb 1981. Richard enjoyed HF and 6 meters, operating both SSB and CW. He was an avid contester, and could be heard regularly on the bands. He was active in the CQ 160 contest on CW and SSB in January 1994. He was also active on ATV (Amateur Television).
Richard got others their first entry into amateur radio. He was a ham radio instructor, teaching classes at a number of venues, including one series of sessions at the then Oahu Civil Defense Agency. He also was a W5YI volunteer examiner.
Richard also was enthusiastic about putting other rare locations on the air. He operated:
Christmas Island as T32IO on Aug 2-9, 1989
Kalawao County at the Kalaupapa Peninsula on the island of Molokai on Nov 13-15, 1992
Kwajalein at V73IO on January 18-20, 1993
Bikini Atoll on January 20-27, 1993
Planned a DXpedition to Johnston Island on May 4-9, 1994 with NH6UY
Wake Island
Richard operated the 1994 CQWW SSB contest station V7X at V73AX on Kwajalein Island. He's pictured here along side Ken, KH7R who provided the photos.

Richard AH6IO with Ken KH7R operating CQWW SSB 1994 at V73AX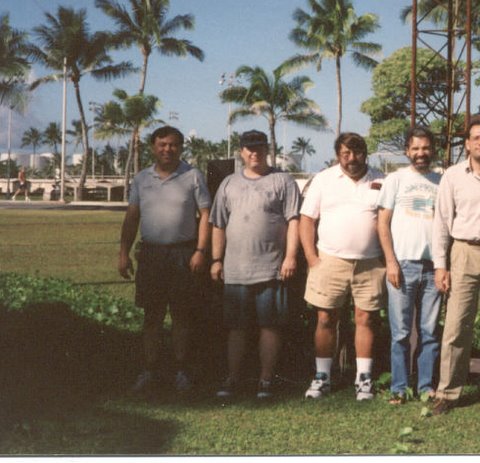 Richard AH6IO with Ken KH7R and 1994 CQWW SSB crew at V73AX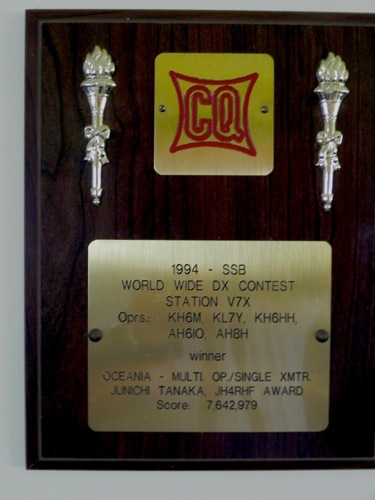 The 1994 CQWW SSB plaque
He also was involved with students at Pearl City High School making contact with the Space Shuttle mission STS-67, as part of the SAREX (Shuttle Amateur Radio Experiment) program in March 1995.
Eventually, he opened his own business Starcommm Electronics in Kalihi, providing radio communications equipment, rental and services. Starcomm was active in providing the field setups and remote broadcasting links for high school ports activities, such as football and basketball games, to local AM sports radio stations. Over time, that pioneering effort in live high school sports opened doors and led up to today's HDTV programming coverage of high school sports for OC-16.
AH6HY documents the November 1992 DX-pedition to Kalawao County and Kalaupapa on Molokai, of which Richard participated. This was soon after Hurricane Iniki.
In November 1996, Richard changed his callsign to WH6T. He hosted the second Oahu Packet Conference in February 1999.
Personal Rememberances by AH6RH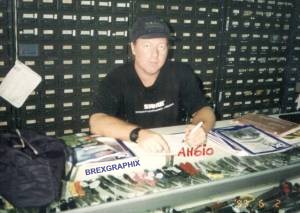 Richard AH6IO behind the counter at Honolulu Electronics, Keeaumoku St
I recall bumping into Richard behind the counter at Honolulu Electronics on Keeaumoku St. A true sales person, in his gentle, soft-spoken way, he'd casually run down the latest happenings and items of interest in the store, and around the community. Those were the days before the commercial Internet, so if it wasn't in a magazine, Professor Nose's weekly newspaper column, a club newsletter or a flyer at the store, one might not get the word. Richard's tips, insights and suggestions often turned into sales at Honolulu Electronics on a variety of things. And that was if he wasn't in the back testing, fixing, or installing options into a radio.
Richard shared his enthusiasm for radio at the Koolau Amateur Radio Club. It was there at KARC that he and other contesters were inspired to create Hawaii QSO Party in 1998 as an annual event to get Hawaii on the airwaves for others looking to make contact with Hawaii.
One of the last memories I had of Richard was taking the Extra amateur radio exam at the Ala Wai Yacht Club clubhouse in February 2000. I practiced hard to get the 20 WPM code speed, and managed to pass the morse code exam. After administering the written portion, Richard came up and congratulated me on passing. I left the testing session, got on the Diamond Head 146.88 repeater and had the thrill of making contact with Dennis, now AH6P, by signing AH6RH temporary AE.
Richard knew he had a medical condition that would eventually claim him. He passed away on May 1, 2000 at the age of 44, having lived a life textured with the richness of ham radio. His ashes were scattered in Kailua Bay, and over the lighthouse at Kalaupapa Peninsula.
At the ninth anniversary event of the KARC Hawaii QSO Party at Camp Mokuleia, on Sunday, August 24, 2008 -- at the close of the operations -- we held a short service of remembrance and gratitude for Richard's life and his gifts to us before disassembling the station and camp site.
In 2010, Joe Speroni AH0A traveled to all the major clubs on each island and promoted the Hawaii QSO party. The KARC eleventh anniversary event station KH6J operated at Camp Mokuleia. By the close of operations on Sunday, August 29, 2010, the station logged over 1,600 contacts. The event netted over 40 Hawaii stations. The Koolau Amateur Radio Club station KH6J made over 1,600 contacts, and the Emergency Amateur Radio Club station KH6CE made over 1,200 contacts. Richard's dream of a statewide event featuring amateur radio in Hawaii had been realized.
Sign My Guestbook
View My Guestbook
Find out more by contacting: rhashiro(remove this part)@hawaiiantel.net
Copyright © 2006-2012 Ron Hashiro
Created: September 10, 2008 Updated: August 26, 2013
DISCLAIMER: Ron Hashiro Web Site is not responsible for the content at
any of the external sites that we link to and therefore
are not necessarily endorsed by us.