Home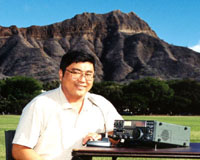 The Art of Making a Contact By Radio
While "amateur" means "for love", many amateur radio operators approach the pastime and contributions of amateur radio with as much zeal and passion as their professional interests. It is more than a hobby. It's a world of continual discovery, knowledge, and friendships beyond compare. Lifetime friendships and knowledge that enhance careers, families, your community.
The menu on the left will take you to my regular web pages. The notes below capture recent activities and tell of upcoming events. You can also get news at the ARRL Pacific Section web page.
There's so much to write about amateur radio, and there's just not enough time to make all the web pages that I would like. Enjoy, and feel free to drop me an e-mail if you have any questions. -- Ron, AH6RH
The Tinyurl shortcuts to this web page are: http://tinyurl.com/ah6rh-0 and http://tinyurl.com/dzrwel
"Amateur Radio -- Staying connected in times of emergency." - Robin, AH6CP January 18, 2010
"Get knowledgeable and proficient in amateur radio now. There's not enough time to learn during an emergency." - Ron, AH6RH October 24, 2010
December 31, 2015, updated January 27, 2016
Amateur radio clubs and organizations around Hawaii sponsor or participate in a variety of operating events and meetings. This is a list of key events around the state.
Date
Event
Tues December 31, 2015 2:00 pm HST - Sat January 1, 2016 1:59 pm HST
ARRL Straight Key Night
Sun January 3, 2016 8:00 am to 2:00 pm HST
ARRL Kids Day
Sat January 30, 2016+
ARRL January VHF Contest
Fri February 19, 2016+
ARRL DX Contest - CW
Fri March 4, 2016+
ARRL DX Contest - Phone
Fri March 25, 2016+
CQ WPX Contest - Phone
Fri April 1, 2016+
Kalaupapa, Molokai NPOTA-HP18
Sat April 9, 2016(?)
Big Island International Hamfest, BIARC and KHRC, Keeau Community Center, Big Island, 9 am - 2 pm
Fri May 27, 2016+
CQ WPX Contest - CW
Fri June 3, 2016+
Museum Ships Weekend (See USS Missouri)
Sat June 11, 2016+
ARRL June VHF Contest
Sat June 18, 2016 8:00 am to 2:00 pm HST/td>
ARRL Kids Day
Sat June 24, 2016+
ARRL Field Day and Hawaii Field Day
Sun July 10, 2016(?)
Geek Meet IX
Fri July 15, 2016
Makani Pahili - Annual Hurricane Exercise
Sat July 16, 2016
Makani Pahili - Annual Hurricane Exercise
Fri August 26, 2016+
Hawaii QSO Party
Fri Sept 2, 2016
USS Missouri, KH6BB, Anniversary of the End of WWII
Sun Sept 18, 2016
Hawaiian Islands Grid Madness, 1:00-5:00 pm HST
Sat October 1, 2016
ARRL Simulated Emergency Test
Fri October 28, 2016+
CQ World Wide Contest - Phone
Fri November 6, 2016+
ARRL Sweepstakes Contest - CW
Fri November 20, 2016+
ARRL Sweepstakes Contest - Phone
Fri November 25, 2016+
CQ World Wide Contest - CW
Fri December 2, 2016+
SKYWARN Recognition Day
Fri December 9, 2016+
ARRL 10 Meter Contest
Sun December 11, 2016
Communications for Honolulu Marathon. Email Greg NH6ZS for more details.
Updated Monthly
ARRL Pacific Section News