Home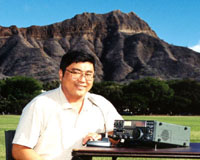 The Art of Making a Contact By Radio
While "amateur" means "for love", many amateur radio operators approach the pastime and contributions of amateur radio with as much zeal and passion as their professional interests. It is more than a hobby. It's a world of continual discovery, knowledge, and friendships beyond compare. Lifetime friendships and knowledge that enhance careers, families, your community.
The menu on the left will take you to my regular web pages. The notes below capture recent activities and tell of upcoming events. You can also get news at the ARRL Pacific Section web page.
There's so much to write about amateur radio, and there's just not enough time to make all the web pages that I would like. Enjoy, and feel free to drop me an e-mail if you have any questions. -- Ron, AH6RH
The Tinyurl shortcuts to this web page are: http://tinyurl.com/ah6rh-0 and http://tinyurl.com/dzrwel
"Amateur Radio -- Staying connected in times of emergency." - Robin, AH6CP January 18, 2010
"Get knowledgeable and proficient in amateur radio now. There's not enough time to learn during an emergency." - Ron, AH6RH October 24, 2010
January 11, 2015, updated July 20, 2015
Amateur radio clubs and organizations around Hawaii sponsor or participate in a variety of operating events and meetings. This is a list of key events around the state.
Date
Event
Tues December 31, 2014 2:00 pm HST - Sat January 1, 2015 1:59 pm HST
ARRL Straight Key Night
Sun January 4, 2015 8:00 am to 2:00 pm HST
ARRL Kids Day
Sat January 24, 2015+
ARRL January VHF Contest
Fri February 20, 2015+
ARRL DX Contest - CW
Fri March 6, 2015+
ARRL DX Contest - Phone
Fri March 27, 2015+
CQ WPX Contest - Phone
Sat April 11, 2015
Big Island International Hamfest, BIARC and KHRC, Keeau Community Center, Big Island, 9 am - 2 pm
Fri May 29, 2015+
CQ WPX Contest - CW
Sat May 30, 2015
Makani Pahili - Annual Hurricane Exercise
Fri June 5, 2015+
Museum Ships Weekend (See USS Missouri)
Sat June 13, 2015+
ARRL June VHF Contest
Sun June 21, 2015 8:00 am to 2:00 pm HST/td>
ARRL Kids Day
Sat June 27, 2015+
ARRL Field Day and Hawaii Field Day
Sun July 12, 2015
Geek Meet VIII
Fri August 21, 2015+
Hawaii QSO Party
Tue Sept 2, 2015
USS Missouri, KH6BB, Anniversary of the End of WWII
Sat Sept 19, 2015?
EARC Mini-Field Day, 4 pm
Sun Sept 20, 2015
Aulani Hui ARC, Big Island Grid Madness, 1:00-5:00 pm HST
Sat October 3, 2015
ARRL Simulated Emergency Test
Fri October 23, 2015+
CQ World Wide Contest - Phone
Fri November 6, 2015+
ARRL Sweepstakes Contest - CW
Fri November 13, 2015+
ARRL Sweepstakes Contest - Phone
Saturday November 14, 2015?
EARC Swapmeet, 10 am - 2 pm
Fri November 27, 2015+
CQ World Wide Contest - CW
Fri December 4, 2015+
SKYWARN Recognition Day
Fri December 11, 2015+
ARRL 10 Meter Contest
Sun December 13, 2015
Communications for Honolulu Marathon. Email Greg NH6ZS for more details.
Updated Monthly
ARRL Pacific Section News
July 20, 2015
Hurricane Guillermo is tracking just north of the Hawaiian Island chain, and is expected to be an intense tropical storm when it makes first contact with the Big Island around Wednesday, August 5. You can get more details of the amateur radio preparations and response at Hurricane/Tropical Storm Guillermo web page.
July 20, 2015
Stan AH6KO confirms that the Hawaiian Islands Grid Madness is on for Sunday, Sept 20th from 1300 to 1700 HST. It is sponsored by the Aulani Hui Amateur Repeater Club. You can get more details at gridmadness.blogspot.com.
June 12, 2015
Bill Pasternak WH6ITF became silent key on June 11, 2015. Bill along with Bill Orenstein KH6IAK/KH6QX created the Westlink Radio News Network and the Westlink Report (now the Amateur Radio Newsline), which was heard weekly on the Hawaii State VHF Repeater system for many years. You may wish to donate or volunteer to Bill's cause at www.arnewsline.org.
May 30, 2015
The June ARRL VHF/UHF contest is on for June 13-15. Starting this year, assistance (announcing your operations or finding others on DX spotting nets, APRS, Internet chat rooms, Facebook, etc) is allowed. See the ARRL article for details.
May 30, 2015
The FCC is eliminating the regulatory fee to apply for an Amateur Radio vanity call sign. See the ARRL article for details.
May 17, 2015
Amateur radio participation in the annual State hurricane exercise Makani Pahili 2015 will be from Saturday May 31 till Saturday June 6. See the Makani Pahili 2015 webpage for details.
March 20, 2015
From Bob Schneider AH6J. The Big Island International Hamfest (swap meet) will be on April 11th at the Keaau Community Center from 9AM to 2PM. This year BIARC is the lead club. The plans are for next years event to be earlier (perhaps February) since the past scheduled month of October is just too congested and during Hurricane season. It is hoped that by changing the date, we will have better weather and perhaps attendees from the mainland.
There will be the normal swap meet, card checking, refreshments, prizes and Testing in the afternoon. Admission if free with donations and registration at the door.
Parking may be limited so try to come early. Early set up will be 8AM.
February 20, 2015
On February 27 and 28, 2015, the Telecomm section of the Hawaii Emergency Management Agency will conduct a voluntary test of its emergency backup communications systems as a Winter Communications Exercise.
The purpose of the exercise is to functionally test the availability of the various systems in advance of the annual Makani Pahili exercise scheduled for June 2015. For this exercise some pre-planning will be required – primarily scheduling of participating personnel – but will consist of minimal preparation as the exercise is intended to simulate a "standing-start". The heart of the exercise will be to simply make one-to-three "calls" on each identified piece of equipment to test equipment availability and user familiarity.
The Friday morning portion of the exercise will be primarily for participating State and County agencies. The Saturday morning portion of the exercise will be for RACES elements unable to participate on Friday.
The exercise objectives for Saturday February 28 from 9:00 am to 12 noon are:
Update the Fldigi Flmsg software in the two computers in the State EOC amateur radio station KH6HPZ.
Check and operate the State EOC amateur radio equipment
Practice the sending and receiving of FL messages and the printing of the messages in the State EOC.
Generate a report of the communications exercise and what needs to be fixed prior to the start of Makani Pahili 2015.
Operations will be on the State RACES linked VHF/UHF repeater system for voice and Fldigi as well as from 7088 kHz LSB for voice and Fldigi. The Fldigi mode will be initially be on MT-63 1KL. Depending on propagation the frequency may be higher or lower than 7088 kHz LSB and other modes and speed may be used.
All stimulated messages will be begin and end with "This is an exercise message."
All messages will be stimulated for situation reports (SITREPs), requests for assistance (RFAs), damage reports, and stimulated weather messages.
Ron Hashiro AH6RH and Jack Tsujimura KH6DQ will be at the State EOC. The neighbor island State RACES members will participate from their home location to simulate the county EOCs and may invite other radio operators from their counties to participate. Oahu ARES members will also participate.
January 29, 2015
Effective February 17, 2015, the FCC will no longer routinely issue paper amateur radio and other licenses. See the ARRL article for details.
The official notice DA 14-1846 from the FCC is at this link.
January 15, 2015, updated January 15, 2015
From ARRL News. The Yasme Foundation Board of Directors has announced the recipients of several awards and monetary grants. The Foundation named four individuals to receive the Yasme Excellence Award for 2014 as well as eight specific grant recipients. Kimo Chun KH7U was recognized for his contributions to DXpeditions and Dick Flagg AH6NM was recognized for his contributions to the ARISS and SAREX programs and the Radio Jove project. See the ARRL News for more information.
January 10, 2015, updated January 12, 2015
The 2015 SKYWARN radio operators took a tour of the new NOAA Inouye Regional Center on Ford Island as guests of acting NWS Regional Director Ray Tanabe. See the NOAA Inouye Regional Center webpage for highlights.
Find out more by contacting: rhashiro(remove this part)@hawaiiantel.net
Copyright © 1997-2015 Ron Hashiro
Updated: August 2, 2015
DISCLAIMER: Ron Hashiro Web Site is not responsible for the content at
any of the external sites that we link to and therefore
are not necessarily endorsed by us.