JOCK WHITE MEMORIAL FIELD DAY CONTEST
Last full weekend of February
This annual contest has been named to honour Jock White ZL2GX, NZART Contest and Awards Manager for over 40 years, for the service that he gave to NZART during that time. This contest, like many others, results from Jock's initiatives. See Full rules and the latest results.


Year 2006
Team: ZL1AAR, ZL1AFU, ZL1AJR, ZL1BRC, ZL1TM, ZL4RR, ZL3TE, ZL1JI
with the assistance of ZL1FS and XYL Christine, ZL1GH, ZL1NST, ZL1CY, ZL1TEZ, ZL1UMC and XYL Marina, ZL1WMP
Northern Region - 2nd Place with Total Score = 435870
Band

Contacts

Branches

PH
CW
DX
PH
CW
40 M
360
185
18
27
16
80 M
458
237
5
36
16
Gwynne Rowe, ZL1AAR
Another Jock White Memorial Field Day Contest has come and gone and it was pleasing to see that Branch members rallied to help in greater numbers this year.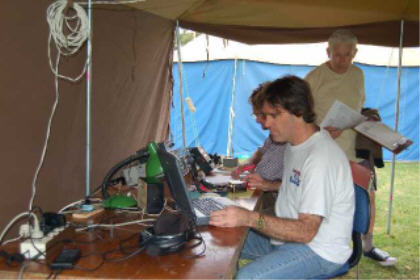 Every year after the contest we resolve to plan well ahead of time for the next year's contest, but as usual, the end of year rush, then Christmas and the summer holidays seem to sabotage our worthy planning resolve! However this year as we knew we were going to use the same aerials as in the last few years along with a similarly-organised contest station the preparation resulted in a meeting a week or so out when President Graham, ZL1GH, ran through the check list and allocated tasks! Our stations were once again accommodated in two tents one of which was loaned to us by the Girl Guides. During the week prior to the Contest, Ray, ZL1AJR, Bob, ZL1AFU, and myself did a lot of preparation work such as getting masts and rigging out of storage, testing the generator, rigs and several long lengths of coax. A myriad of other minor things like the printing of back-up log sheets also needed to be sorted. However the Saturday morning schedule ran like clockwork because after years of following this routine members carried out their familiar jobs smoothly and both stations were ready and operational with time to spare.
The weather this year treated us well being fine and warm for the whole time. A huge contribution to the success and fun of the weekend came from Steve, ZL1FS and Christine (pictured left) when they kindly offered to provision and feed the team for the weekend. They had their mobile home on site, extended the awning, fired up the gas BBQ and treated us to morning and afternoon teas, lunch, dinner, supper, breakfast and Sunday lunch. We haven't been treated like that since the days of ZL1AZR (SK); more recently it has been 'fend for yourselves!' So with this all going well for us, how did the contest pan out?
Computer logging was used on CW on both bands and on 40m SSB. This was an improvement on past years. There is no doubt that in 2007 we will be computer logging one hundred per cent. Band conditions were average with 80M phone suffering high noise mid-morning on Sunday making ZL3 stations hard to raise. On 40M propagation kept shifting between ZL2 and ZL3 during daylight hours and as usual was very poor in the early periods on Sunday morning. These observations seemed to be similar to earlier years. As the contest progressed our totals and branch multipliers built nicely, but we could see that a couple of our rival branches were slowly creeping ahead in contact numbers and continued to do so through to the contest's end.
Operators were changed regularly throughout the weekend spreading the load but also widening the experience base of some members by getting them actively involved. For the first time in many years we also enjoyed a surplus of CW operators. Home stations were again appreciated because they increased the number of possible contacts, thus keeping the bands busier and operators on their toes.
The Auckland Branch team is keen to participate again next year. Many thanks to all those who took part and shared in the camaraderie.

We will be back in 2007!