JOCK WHITE MEMORIAL FIELD DAY CONTEST
Last full weekend of February
This annual contest has been named to honour Jock White ZL2GX, NZART Contest and Awards Manager for over 40 years, for the service that he gave to NZART during that time. This contest, like many others, results from Jock's initiatives. See Full rules and the latest results.


Year 2004
Team: ZL1AJR, ZL1BRC, ZL1SWW, ZL1AFU, ZL1TM with assistance of ZL1AAR, ZL1UMC, ZL1BNL, ZL1CY
Northern Region - 2nd Place with Total Score = 346640
Band

Contacts

Branches

PH
CW
DX
PH
CW
40 M
328
164
14
22
14
80 M
343
260
6
27
17
Gwynne Rowe, ZL1AAR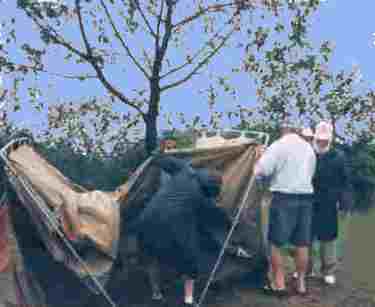 The 2004 year Jock White Memorial Field Day contest will never be forgotten by the Auckland Branch team. The weather was bad leading up to the Saturday and became steadily worse as the contest started. A southwesterly wind was the problem for masts and aerials being erected and the velocity increased throughout Saturday accompanied by rain. The two tents which were on loan from a "friendly" Girl Guide group, started to tear apart around 1800 hours on Saturday and at 2000 hours, the decision was made to collapse the tents and shift into a nearby permanent shed on the field day site. To have the tents destroyed was not acceptable and safety considerations involving the AC power from generators mixing with the rainwater was of concern! The final decision to move was determined by the warning from the Met. Office that a 65 Knot northerly wind would come in on the Sunday morning being the tail end of a tropical cyclone, forecasted to pass over Auckland, the Coromandel, Bay of Plenty and East Cape. No way could we stay on in the tents! However apart from our relocating in the permanent building, both the stations continued in field day format, i.e. independent power, same aerials, cold food, wet clothes etc.! This enabled the Auckland Branch team to remain in and complete the contest.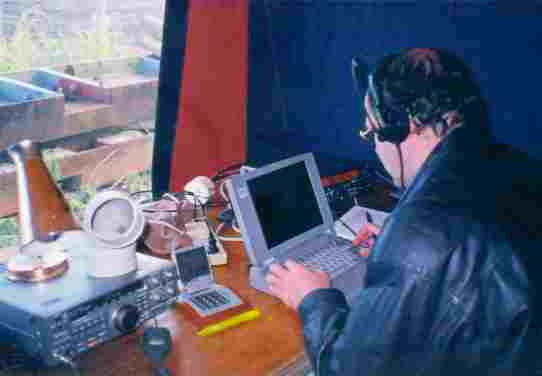 The aerials this year proved able to mechanically cope with 100 KPH winds -- something, which would not have been possible in recent years.
Computer logging was introduced this year and although not every operator coped, we transferred the paper log into the computer so that the log as attached has been computer generated.
The inclusion of Home Stations in this years contest we consider was a good idea proving to be popular and involved more stations, activity and interest.

The Auckland team morale was dampened but not extinguished.
We will be back in 2005!