JOCK WHITE MEMORIAL FIELD DAY CONTEST
Last full weekend of February
This annual contest has been named to honour Jock White ZL2GX, NZART Contest and Awards Manager for over 40 years, for the service that he gave to NZART during that time. This contest, like many others, results from Jock's initiatives. See Full rules and the latest results.


Year 2005
Team: ZL1BRC, ZL1TM, ZL1AFU, ZL1AJR, ZL1UF, ZL1AAR
with the assistance of ZL1UMC, ZL1BNL, ZL1NST, ZL1GH, ZL1SWW, ZL1AMZ and Marina (ZL1UMC's XYL)
Northern Region - 2nd Place with Total Score = 435870
Band

Contacts

Branches

PH
CW
DX
PH
CW
40 M
372
165
8
24
11
80 M
419
295
9
35
20
Gwynne Rowe, ZL1AAR
This February the ZL1AA team once again entered into the fray during the annual Field Day Contest. Some better than usual prior judicial planning and preparation enabled the ZL1AA team to erect the tents for operations and accommodation, set up the generator power supply, ready the cooking facilities and generally assemble the other paraphernalia of a field day site in a much shorter time this year.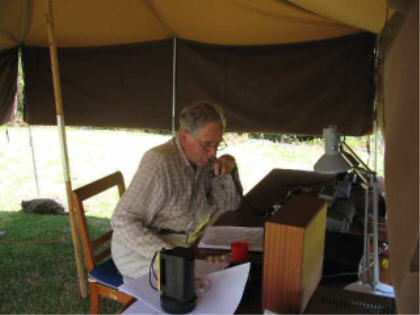 Most of the time gained was through Marina (Iain, ZL1UMC's XYL), who, while demonstrating her skills gained as a Guide Leader, erected our tents on site in no time at all! Therefore with the time saved we could concentrate on erecting the 80m folded dipole, the 40m wire beam and NVIS dipole. An intermittent PL-259 that came to light just 15 minutes before start time caused a minor panic in some quarters but was replaced with time to spare. With Kenwood TS440S and TS570DG rigs occupying the operating positions the first CQs went out promptly on Saturday at 1500 hours, and we were into it for 18 hours.

The long-range forecast promised fine weather and so it proved to be for the whole weekend. What a contrast to the violent, stormy conditions that caused a myriad of problems at the same time in 2004. Our operators this year were Selwyn ZL1BRC (pictured left), Andrei ZL1TM, Bob ZL1AFU, Ray ZL1AJR, Derek ZL1UF, and Gwynne ZL1AAR (pictured below). The team used partial computer logging but some members of the operational team still need more experience in this field.
Band conditions for 80m were good all weekend, but 40m fluctuated, with late Saturday evening and early Sunday morning producing severe QRN, other unwanted interference and of course very few contacts. As our contacts mounted during Saturday and through Sunday, ZL1AA seemed to be keeping in touch with the competition. More ancillary members helping the team this year coupled with their involvement around the contest site, contributed to a convivial atmosphere and general good humour that made this year's contest most enjoyable. Not to be missed was ZL1AAR's expertise in coaxing his mini-barbecue to function as intended. And no, the sausages were not burnt !! ZL1AA finished with a strong run and felt reasonably optimistic about a good result. On Sunday afternoon all hands set about dismantling the field day site. Luckily the tents remained dry and were packed away also in double-quick time (a bonus) and everyone went home tired but happy the effort had been worthwhile.
Results later indicated that ZL1AA did not quite contact enough branches to take the trophy and again scored second place in the Northern Region. However the enthusiasm remains for another attempt next year when hopefully we may field two teams to involve more newcomers who want to learn the ropes

We will be back in 2006!