50 MHz frequency meter with PIC 16F84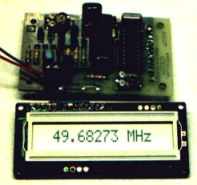 This is a nice frequency counter that reads frequency from 1 Hz to 50 MHz and displays it on a 16 character LCD display. Auto-range feature provides floating decimal point and automatic placement of suffix (Hz, KHz, or MHz). Gate speed automatically decreases to one second below 100 KHz to display frequency with a resolution down to an amazing 1 Hz.
Auto-ranging with floating decimal point.
Up to 7 digits displayed.
Auto-adjusting gate speed (0.1 sec to 1 sec).
Microcontroller-based circuitry provides for simplicity, ease of assembly, and highly stable readout.
Sensitivity approximately 100 mV RMS (100 Hz to 2 MHz), 800 mV RMS @ 50 MHz.
Input overload protected.

---
[ About me | Acronyms | CW | Data Sheets | Docs | Download | E-mail | HOME | Ham projects | Hobby circuits | Photo galery | PIC | QTH photos |
Sign in my guestbook | View my guestbook ]
---
© 2001 - YO5OFH, Csaba Gajdos