---
PreMuLoc
version v1.0.2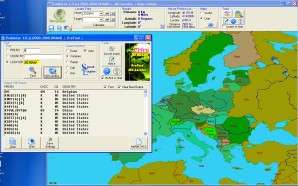 A Prefix, DXCC and Locator program
for Windows
It's powerfull, It's easy to use and It's FREE!
---

What is PreMuLoc?
PreFind + MU-Locator = PreMuLoc
This program combines the formerly know programs PreFind and MU-Locator into one but with many improvements to find the location of any prefix, country or Maidenhead locator! Display and find locators on any map and calculate the distance and direction between two locators.
Many changes and vast improvements have been added in this version and so in PreFind and MU-Locator and still compatible with both!
Nine new quality maps (although PreMuLoc is still compatible with all "old" previous maps)...

This program searches a prefix or country in a database of more 2200 registered DXCC prefixes of the world used by Ham's which can be edited or updated.

Calaculates the distance, azimuth, longitude and latitude between two Maidenhead locators and graphically displays it on a map. One locator can also be located (JO20AW > Aalst Belgium)

Show the Longitude, Latitude (and Maidenhead) location and direction on a map.

Maps can be added! As many as you want. UI-View APRS maps can easily be modified to be used in PreMuLoc.

Powerfull and fast search engine for finding prefix, country, CQ-zones etc..

It's easy to use.

Has a build-in little notebook

Easy to build and add your own maps without limit.

Five different types of search methodes, including a automated one (uses all search methodes if needed)!

Draw distance points between locators on a map and save it.

Convert IARU locators to world coordinates.

Batch and commandline parameters.

and more...

FREEWARE!

Hardware/software:
Works on any Windows version 95/98/2k/Me/NT/XP

You need at least a 486DX, but a 100MHz Pentium or faster CPU is recommendedI.

1024x768 screenresolution recommended, or higher.
If you only have 800x600 screen resolution then please download the appropiate maps below or rescale them using IrFanView or such.)
---
Screenshots
---
DOWNLOAD PreMuLoc v1.0.2
PreMuLoc v1.0.2 Setup (mirror PE1PQX)


PreFind v1.1 for DOS (prefind1.zip 80kB) No longer updated
---
PreMuLoc Maps
You can add as many as you want. APRS Maps can easily be modified to be used in PreMuLoc (MU-Locator).
PreMuLoc Maps and UISS-MapView maps (UISS addon) are exchangeable, compatibel with both programs.
If you convert or make maps then please mail me, if you want to share those maps with your fellow radioamateurs. I'll gladly put them on this website with full credits.
There are already 9 quality maps included in the package.
DOWNLOAD

UI-View to UISS-MapView Map Converter, de LU4UG
Convert any UI-View map to be used UISS-MapView or PreMuLoc in simple click!!
It copies the converted map to your UISS-MapView directory automatically. It doesn't get any easier then this! Freeware!
---