HOME
HF activities
FIRST STEPS

Probably each of us is interested in DXing - connecting people around the world, building a Friendship among Hams in rare countries. One of the definitions of DX says it is a QSO with the station which distance is 3000 km at least. From this point of view I still remember two QSOs I've provided as an operator of the club station OK1KIX. The first one was UA9CM on 80m and 7G1A on 40 m. Especially the QSO with 7G1A operated by Josef OK1PD left deep traces in my mind. Not even from the reason of very rare country but also for the excellent traffic provided by Josef. Long hours I only listen his perfect CW in hope I would manage key in the same quality.
As I was very active and spent lot of time on the bands my DXCC score grown up fast. My DXCC award is dated Oct 3rd, 1967 (let me remind - 90W, LW 84m and very old RX). Despite of the poor equipment my DXCC score increased slowly and beside the mentioned DXCC I received many other awards as WAC (all bands), WAZ, WPX, WAE, DUF, etc.

1971-1989
In this period as an army officer I was not allowed to provide QSO with Hams which country has not been member of the Warsaw pakt so I decided to move on VHF where the "danger of troubles" was a bit less. Even I was on HF in the time period the most activities were on VHF, focused mostly on MS (meteor scattering).More details you can find in the "2 m" on this page.

MY HF COMEBACK
Immediately when the internal situation in our country changed after revolution in November 1989 I've started thinking about the return to HF. Few months later I used a chance to buy an used IC701, build up power supply and erected simple vertical antenna on the roof of the block of appartments I lived in. The first results were surprisingly good and ejoyed the bands full or rare DX (comparing with the noise only on VHF). In the time I have also incresed my activity in SSB as I had only few countries confirmed. Very soon I learned the DXing with the vertical and 100W is pretty hard job so I tried to improve my working conditions. After short period I was QRV with 2 el HB beam for 10m, later I bought A3S (3 el tribander from Cushcraft) and as "....the life is too short for QRP.." also YAESU FL2100Z.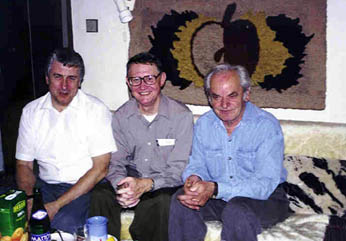 Beside DXing I enjoyed hunting the US counties and continue with it till now. This activity, except a number of rare US counties, gave me also good chance to make a lot of friends there among the mobile stations travelling thru the States and giving the exceptional opportunity for rare counties on The County Hunters Net (14.336 SSB or 14.056,5 on CW) One of the well known "mobiles" is Rick AI5P which even visited me in my shack in 1999. Unfortunately, he could not spent here more than few days we had a nice time and good opportunity to test our language knowledges.
After some changes in next few years my equipments stabilised nearly into the todays form. The most remarkable changes (dated a few years ago) were new antenna for WARC bands (again Cushcraft A3WS) and the amazing power amplifier APLHA 91.

TODAY'S SITUATION AND RESULTS
The increasing Sun activity, followed by nice opennings of the highest HF bands, gives the chance improve our score on these bands. As we are heading to the maximum of the 11-years cycle of the propagations my activity is concentrated mainly on WARC bands where I still have a lot of to do.
As the biggest success of the last year 2002 I count the QSO with P5/4L4FN on 15 metres.
My up to date score of confirmed DXCC.

| | | |
| --- | --- | --- |
| CW | 331 | |
| SSB | 328 | |
| MIX | 334 | |
| | | | | | | | | | | | |
| --- | --- | --- | --- | --- | --- | --- | --- | --- | --- | --- | --- |
| CW | 90 | 152 | 240 | 240 | 269 | 218 | 243 | 179 | 239 | 73 | 57 |
| SSB | 28 | 72 | 83 | 0 | 257 | 188 | 226 | 153 | 210 | 96 | 32 |
| MIX | 96 | 163 | 252 | 240 | 322 | 278 | 305 | 253 | 276 | 116 | 58 |

The table was updated January 12, 2003.