HOME
HF activities
HISTORY
When I bought IC706 I decided to try the "magic band" as soon as possible. First of all I needed build an antenna but before them I tried my 10m high vertical which gave quite good SWR on the six. In June 1996 I made my first attempts on the band and to my surprise I made the first contacts very easy. After GU/DL5LYM which was the first, I made a number of QSOs with 9H, OK, 4X, SM, OY etc...
There was no doubt that vertical is not the best antenna, despite of rules for 6m operation in Czech Republic, which doesn't allow traffic with omnidirectorial antennas. After the first tests I put up simple HB beam (2 el) and the number of new countries and squares grew up very quickly.
Last year, together with OK1VD and OK1ZE we constructed and builded few pieces of the 5 el Yagi, designed on PC and during the tests we had confirm the antenna works very well. It was actually in time as the Sun activity started increase and we had bigger chance to work "true" DX.

YEAR 2000 RESULTS
From many aspects the year 2000 was the most succesfull as regards my six metres activity. Despite couple DX QSOs provided in 1999 (PY, LU, 9J, ZS, etc..) I was present on the air at some strong Aurora openings as well as many Es. It brought me a number of new squares and some new countries. Except a few ZS stns worked in March, the new ones were LU2FFD, 7Q7RM, 5H3US and JY9NX in May (not QSLed till now, sri), followed EA8BPX in June, TA/G3ZYY, ZA/N7BHC and nice openning to the USA (W3EP,W1GF,W1JJM,VE3RM,K2SPO,W1RA,K3KYR,W1JZ,KA1A and W4DR). For the first time I recognized the disadvantage of the East EU stations, desperately calling US stations after big "wall" of the UK and Western EU stations.
Very interesting was the Aurora opening on Aug 12, when I have worked a number of stations on 6m and the same on 2m a bit later. Beside this the on ly new points in the summer season was Julien, FR1AN. The right DX season started later, in October. First DX were 3C5I and XT2OW, followed by VR2XMT and VR2JK, DU1/GM4COK (first OC qso),4F2KWT, UN3G, UN6P, XU7AAP and 9E1C/9E1S. The last one in Oct was 9M6BAA and some Phillippines stations worked again. The best of all was the last day in October. Formerly I thought I would repair my antennas relay switch, fixing some interface and make some "honeydoes" which I owed to my wife.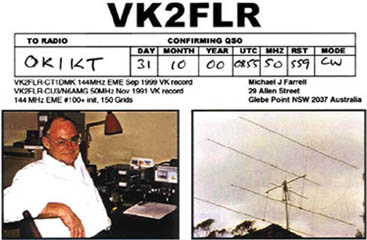 All was in plans only as the openning started early morning working VR2LC and an hour later with few JA stations (JE2KDN,JF2MBF,JA3IW,JR2AUE,JH0BBE and JA1BK). Trying to find up some another Japanese stn I suddenly heard strong signal exactly on 50.100 calling CQ. It was VK2FLR (peaking S9)and after first call he was in my log. The next ones were in few minutes in the order of VK2QL (he sended me the audio file of our QSO on SSB - really amazing to hear my own voice from the distance of 16 000 km), VK2APG and VK2EDB. Anyone doubt the six metres band is "The magic band"? Not me...
The last DX QSOs were EY8MM, EY8CQ and KP4A in November.

WORKING CONDITIONS
I am living in very tall block of appartments which gives me a chance to put up antennas on the roof in height about 45 m meters above ground. A number of metal boxes there (air condition) probably decreases the diagram of antennas but the results are still not too bad.
Transceiver : FT 847 (20W allowed in this country)since May 2001
Antenna : 5 el YAGI designed by OK1VD

SOME DX QSO (a ".wav" format)
VK2FLR
THE SUMMARY OF 2001

Extremely good propagations, mainly at the end of the year made me very happy as I succeeded with improving my DXCC and grid locators score. Except 22 new DXCC countries I had the chance be present at several openings to JA, VK, USA and Caribic. The first rare QSO was on Oct 20, with XW0X (the second QSO XW - OK, as the first was OK1DDO), followed by 9G5AN, UK9AA, 9M6US, PY0FM (first PY0F - OK), EX2T, D44TC, XV3AA (again second behind OK1DDO), VP5/K5CM, TG9NX, EY8CQ, HZ1MD, CO2OJ, ZF1RC, FG5BG, C6AGN, YV4YC, P43JB, FM5WD, KP2BH, KG4DX (another "second OK" - you can bet who was the first) and 9Y4AT. Amazing was the openings to US. I was surprised so strong signals from CO, TX and LA. Some times the strenght was 40 dB plus! Really nice Autumn.

THE SUMMARY OF 2002
First few days in January were marked again by extremely good props to North America. Anyone who had the chance spend some time on the "magic band" had to be surprised by strong signal from many US states available on CW or SSB as well. Some stations were 40 - 50 dB ovesr S 9 in Europe. We could work with many rare states like New Mexico, Colorado, etc..as well as some rare Central America´s countries.
Just the brief list of worked DX : VP5VAC, VP2VI, HP2CWB, OX3SA, PZ5RA, 7Z1SJ, HZ1MZ, TT8DX, 7P8Z, FR1GZ, D2EB, YI9OM, JX7DFA, 9M2TO, 3XY7C, YA4F, XY1M, XT2WP, C56R, 9L1AB.

UP TO DATE SCORES...
My activities on this band were concentrated to work as many DXCC points as possible as well as gathering squares. Up to date I have the following scores:

DXCC : 143 countries in all six continents

SQUARES: 646 worked
The longest distance QSO is VK2APG - 16 006 km.