Western Samoa

5/20 March
Perspired, tired and sleepy we landed at Faleolo Airport in Western Samoa at 4.30am and were immediately attecked by taxi drivers offering "the best servis on the island".After an hour and half of very slow driving we eventually reached the Kitano Tusitala hotel in Apia at 6am. After three or four hours of rest we started with antenna building and unpacking our baggage. As we had no power for at least three hours we were able to make the first QSOat 06.14z with RA0CVK on 20 metres CW.
Step by step we put up other antennas while one of us kept the pile-up going. One of the first contact was with Perry, 5W1PC, who visited us the next day. He is an English language teacher living in Samoa for three years. He came from Hawaii and his call there is WH6XY. After visiting him in his shack, he took us on a trip around the island and showed us some sights and interesting places there in Apia, the capital city of Samoa (formerly Western Samoa - since June 1997 the Government changed the name of the country to SAMOA only).
As we were unaware of the local restaurants, we decided to have only one hot meal a day, and as the only clean place was McDonalds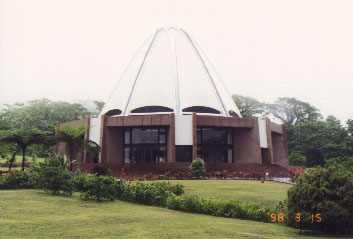 we had very simple menu for the next three weeks - Big Mac, McDonald chicken, cheeseburger and McChicken nuggets, with french fries and a coke!
When we had planned the trip we thought about the possibility of using our US licences and to split the group into two parts - OK1VD (who does not have a US licence ) to stay on Samoa, and for OK1TN and me to fly to Amwerican Samoa for a few days. The idea became reality when we had a QSO with Don Barclay, KH8/N5OLS. It was after being on the air for about ten days and we were "fed up" with the European pile-ups and needed the rest. The American Samoa story you can read on the another place this web.
After our return from American Samoa we received the information that the other two guys from the Czech Republic wanted to visit us on Fiji (the next announced stop of our trip). As they were keen to take part in the WPX contest from Fiji, we had to change our plans a bit. The estimated time of their departure was announced as 23 March and so we reduced our stay on Samoa and on 20 March we made the last QSO. In total we made 23160 QSOs with more than 100 DXCC countries.
In the early morning of the following day we departed Samoa and landed at the International Airport in Nadi ( Fiji Islands).
---
HOME PAGE | Email | QSL.NET